It's recommended to change your password on important platforms like PayPal to keep your account safe. If you don't know how to change your password on PayPal, you've come to the right place. Changing your password on PayPal is quite simple and you can do it in a few minutes. Therefore, it's a recommended precaution to protect your account, money, and data.
We'll also show you how to increase your account's security beyond changing your password, so keep reading!
How to Change Password on PayPal: In 3 Steps
Changing a PayPal password is a simple process that you can do in the PayPal settings. But even if you forgot your password, you can recover your account and set up a new password. Down below you'll learn how, so keep on reading.
Step 1: Log Into Your PayPal Account
The first and most important thing you need to do is log into your PayPal account. If you forgot your PayPal email or password, it'll be harder to recover your account, but it's still possible. Check out the end of the article for that.
However, if you have your password, you can log into your PayPal account in seconds. Just open the official PayPal website, click on the login button, and enter your email address and password to get to your PayPal account. In some cases, you'll need to confirm your login details. This is often done with a confirmation code that is sent to your cell phone.
Step 2: Head to Settings and Security
To change the password, you need to go to the settings menu for your account. You can do that by clicking on the cog next to the logout button in PayPal's taskbar. In the settings, you'll see a second taskbar menu. Click on the second tab labeled Security.
Under the Security items, the first option is a password, and that's what you need to click on to create or change your password. When you click on the Update Password box, a new pop-up window will open. The pop-up will guide you through the process of changing your PayPal password.
Step 3: Changing the Password
At this step, you should see a pop-up window asking you to enter your current password once and then a new desired password twice. To keep your account secure, you shouldn't use your name in the password. PayPal will tell you directly in the pop-up window, as it's very likely that many people use their name in the password.
Instead, try to find a combination of upper and lower case letters combined with special characters. Longer passwords are always better and harder to crack, memorize or even type correctly for someone who hasn't set the password. If you entered the current password and the new one correctly, PayPal will send you a notification about a successful password change.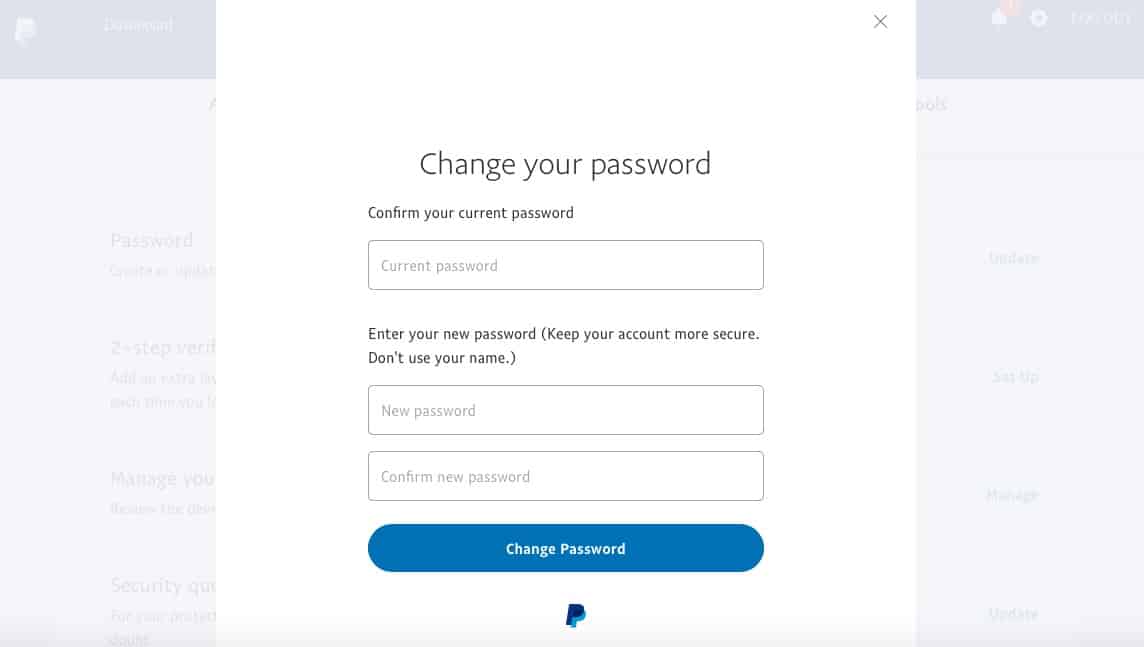 How to Better Protect Your PayPal Account
To protect your account, you must change your password regularly. In addition, choose a strong password that is hard to guess or crack. However, PayPal introduces additional security measures that you can use to protect your account.
The 2-step verification is one of the most secure methods, which ensures that PayPal will ask for additional verification after you enter the correct password. Even if someone can guess your password, they won't be redirected to your PayPal account right away. You must verify each login with a code sent to your phone or via the PayPal app.
This provides extra security measures when making payments with PayPal, so no one but you with your smartphone verification can spend your money. If you think someone else has logged into your PayPal account, you can manage your logins in the same security tab we mentioned earlier. This way, you can see where your PayPal account is being used, and if it's a device you don't recognize, you can block access.
What to do if You Forget Your PayPal Password
If you don't remember your PayPal password, on the login page, you need to click on the "Forgot password" button just below the field to enter your password. You'll need your email address or phone number so PayPal can help you set up a new password. You'll also need to know the answers to the security questions you set when you created your PayPal account. When you finish the process, PayPal will set a new password that you won't need to change. Just remember it for future use.
Conclusion
It's quite easy to learn how to change your password for PayPal. You just need to know where to look. Once you do, you must change your password regularly so that your account is safe at all times.
Also, we recommend you enable 2-step verification so that your account is safe even if someone can guess your password. If you forget your password, you can easily recover the account by providing information and details that only the account owner knows. Resetting your password requires a bit more work, but it's doable.