A hundred years ago, we could never have imagined how technology evolved so rapidly. From telegraphs to text messages, we have come a long way. But in that time, we have become a little spoiled. No, it is not enough to send an instant message halfway around the world on a whim — it must have the right color to match our mood, too! If you're an iPhone user, you might have tried changing the color of the bubble that your iMessage texts appear in at some point. You might be surprised that many people are unaware that they can change the color of their iMessage bubble. Like many other users, we have not been able to stop using iMessage, which shows how powerful Apple's texting platform is. Let us discuss iMessage color change options in detail in today's guide — including how to make messages dark blue.
Is It Even Possible to Change iMessage Colors?
One way to make your iPhone your own is to learn how to change the color of iMessage. But the problem becomes apparent if you dig a little deeper. Apple has always had very strict rules related to what users can change or customize.
With newer versions of the device, widgets that can be changed have given iPhone owners much more control over how they look. You can now use custom fonts on your iPhone, or you can switch to Dark mode for a whole new look.
The company cannot keep up with the new features that Android phones are adding, and customization is a big part of that. Apple added Animoji, Memoji, and Stickers, which changed the level of interaction in the texting platform.
But they didn't think of adding any user-customizable options for the color of the iMessage bubble. In other words, they don't let you change your iMessage color! Instead, you must use a third-party app. But, fear not, because it is a relatively straightforward process.
What Do the Different Message Colors Mean?
Most of the time, you only have three different colors for the message bubbles, and each one stands for something different.
1. Blue Colored Bubble: This is the color for iMessage, which are messages sent using Apple's proprietary text-message service to an iPhone, iPad, or Mac.
2. Green Colored Bubble: This is the SMS color, which means that any user can receive SMS messages (Apple or Android).
3. Grey Colored Bubble: It is the color of any message you receive, whether it's an iMessage or an SMS.
How to Use the Color Text Bubbles App to Change iMessage Color
If you are unable to change the color of the iMessage bubble, you can use apps that are built for this purpose. Different guides across the internet will recommend different apps to get the job done, and that's fine.
But, speaking from experience — this is the easiest app to change your iMessage color without signing up for anything or paying for a subscription.
If you do not want to be charged for any one of the countless apps available, you can use Color Text Bubbles in the iMessage app to change the color of the bubbles for free, but you will have to deal with ads. Not a huge drawback considering you get to enjoy some fancy new colors.
To use the Color Text Bubbles app to change the color of your iMessage, you first have to follow these steps:
Download the Color Text Bubbles from the App Store.
Open the Messages app.
Once you've done that, you can get Color Text Bubble on iMessage. Let's explore the process one step at a time.
Step 1: Open a Conversation and Click New Message
To change iMessage color, start by clicking on any conversation that is already started. After that, click on the icon New Message.
Above the keyboard of your chat, you will be able to see a list of apps. Click and hold them.
Step 2: Open Color Text Bubble
While you are touching the screen of your device, you will have to swipe to the left side to find the app Color Text Bubble.
Important note: Color Text Bubble will not be available on iMessage until you download it first from the App Store.
Type 3: Type Custom Message
It is up to you to choose from the available styles or messages. You can also click on the option Type Custom Message to make a new style of your own.
Step 4: Choose Your Color Options
Now, you can choose the color from the available options. In the free version, you can access almost 12 colors and grayscale options.
Once you are done with the above-mentioned steps, click on Send. Your friends won't see the new color but you will!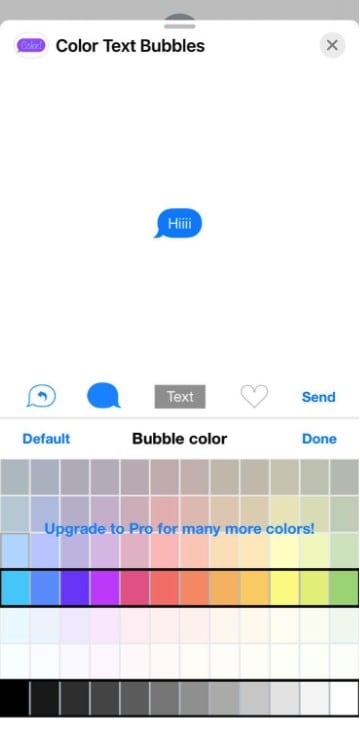 For a simple walkthrough of how to use this app to change the iMessage bubble color, check out the following video:
How to Make Messages Dark Blue
If, for some reason, you are unable to change the color of the iMessage bubble, you may at least want to make the blur a little darker, and the effect will make the bubble appear pretty neat.
It is possible that you saw a friend's iMessage bubble color set to a dark blue, and now you want to set it to the same color. Following these simple instructions, you will be able to learn how to make messages dark blue. 
Step 1: Go to the Settings Menu
On your iPhone, navigate to the Settings menu.
Step 2: Click Accessibility
Scroll down and choose Accessibility from the menu.
Step 3: Click Display and Text Size
Locate the option Display & Text Size under the Vision menu.
Step 4: Increase Contrast
Activate the switch labeled Increase Contrast.
Your iMessage will take on a dark blue appearance as a result, and you will not even need to download an app from a third party or jailbreak your iPhone to do it!
Be warned that this look isn't for everyone, but no worries because you can always change it back by toggling off the switch.
The image featured at the top of this post is ©Dedi Grigoroiu/Shutterstock.com.