Whether you're a buyer or seller, choosing an eBay username is the first step to creating an account. eBay autosuggests usernames, which can lead to poor choices as many names have already been taken. The good news is you can change eBay usernames if you're unhappy with your initial pick. We'll show you how to change eBay username on the mobile app and the web.
eBay Usernames Explained
Usernames are an important part of your online presence. They are tied to your identity and allow you to log in to websites and chat with users. Some services allow users to have different usernames for different areas, and eBay is no different in this regard.
An eBay username allows you to log into your account and is something you can change quickly. Your username can reflect your personality, interests, or business as long as you follow the company's guidelines. While the username is helpful when selling, it's not the only way to identify yourself on the platform.
As a seller, you can set up a storefront with a completely different name from your eBay ID or username. Your eBay username will still show up in the store. Ebay's community hub allows you to post with your user ID or another moniker for a degree of privacy.
How to Change eBay Username from the Web
To change your eBay username from the web, you'll need access to a secure browser and your current login credentials.
1. Login at eBay
Open a browser and head over to eBay's official website www.ebay.com. Click on the sign-in prompt in the upper left-hand corner of the page. Enter your current eBay username and password to proceed.
2. Account Details
Once logged in, go to the same area where you went to log in and hover over your username. From the pop-up box, choose Account Settings.
3. Locate Personal Details
This screen provides users with access to key information on their eBay accounts including security, permissions, and payment info. Click on Personal Information and follow any security prompts until you have access to your personal details.
4. Change Username
From the personal information section, you should see your current username along with data on your account. Click on Edit when you're ready to change your eBay username.
5. Save and Confirm
Go to the username box and remove your old username. Type in the username you want to replace it with and select save to finalize the changes across eBay.
How to Change eBay Username from the App
If you don't have access to a PC or want to change your username on the fly, you can do so in less than 5 minutes from within the eBay app.
1. Open the App
Open the eBay app on your smartphone or tablet. Log in with your username and password, and follow any security prompts.
2. Settings
From the main screen of the eBay app, tap on the menu with three lines next to the eBay logo at the top of the screen. Scroll down until you see an area marked Settings, and select it.
3. Personal Information
Under the settings section, you will see options tied to your account. Tap the area that says Personal Information and enter your password when prompted.
4. Change your eBay Username
Choose Username from the personal information section. When the new screen appears, enter a new username into the field then save to confirm your selection.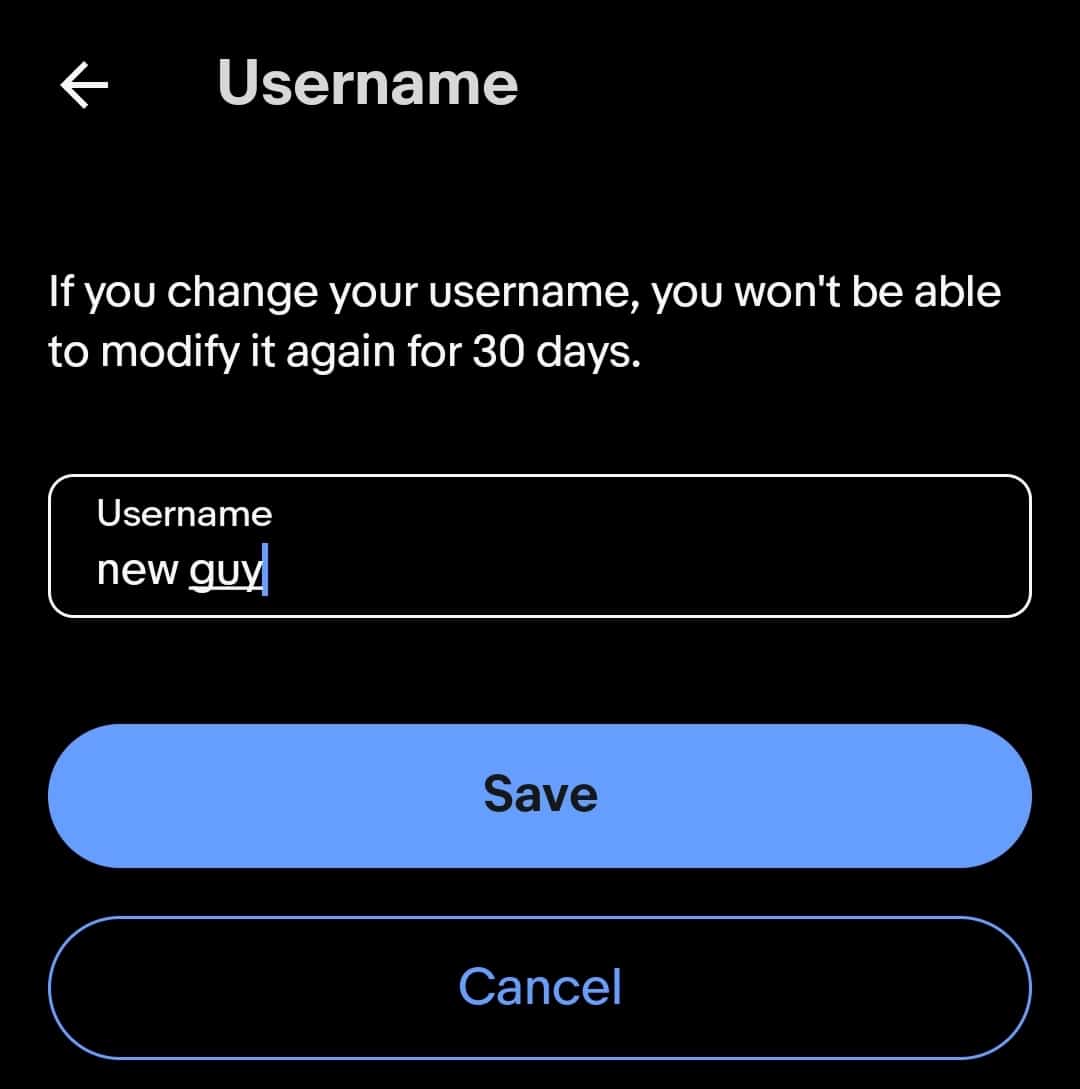 Changing eBay Usernames: Pros and Cons
As mentioned, your username says a lot about you as a person. When you see someone called LakersFan209224 on eBay, you can rightly assume they're fans of the Lakers. While it doesn't have a major impact for buyers, it could make your account harder to locate on eBay.
Sellers or other users you've interacted with before may struggle to find you unless they've favorited your account. As a result, saved conversations or previous sales can easily slip under the radar. However, if you've been harassed on the platform, a name change is a good way to get a fresh start.
If you're an eBay seller with a great reputation, changing your username can do more harm than good. For businesses or sellers, think long and hard before selecting or changing an eBay username. If you want to carry a different line of products, it may be better to open a new account.
You can also start an eBay storefront to extend your brand without changing your username. It's also important to remember that once your name has changed, a special icon will appear next to it for 30 days.
The Wrap-Up
Millions of users buy and sell on eBay every day, so signing up with a good username is paramount if you frequent the platform. That's especially true for sellers, as changing your name can have a negative effect on sales.