Amazon Prime gives you access to thousands of movies and TV shows. And it comes with many other perks, like free two-day shipping, unlimited music streaming, and more. But, one of the best parts about Prime is that it includes access to the Showtime TV network.
If you have an Amazon Prime membership, you can also stream Showtime shows through the Showtime app on your computer, smartphone, or tablet.
But, for whatever reason, you may want to cancel your subscription. Canceling Showtime on Amazon is a straightforward process that you can do from your computer or mobile device.
Here's how to cancel your subscription in simple, easy steps!
What is Showtime on Amazon?
Showtime is a premium cable network that offers a wide range of programs, from award-winning original series to the most popular feature films.
The service is available through Amazon Channels and costs $9.99 per month for access to Showtime.
If you subscribe to Amazon Prime, you'll get your first three months of Showtime included at no additional cost. If you're not a Prime subscriber but want to try out Showtime for free, you can do so with a 30-day trial subscription.
Amazon also offers Prime members access to Showtime's live TV schedule online or on mobile devices via the Amazon Video app.
How Much is a Showtime Subscription?
The Showtime channel is available on Amazon, and you can purchase a subscription. There are two types of subscriptions that you can choose from:
A free trial for one month
A monthly subscription for $9.99 per month
The free trial comes with the same content as other Showtime channels, but if you want to watch the full range of content, you need to pay for it.
There are advantages to using an Amazon Showtime subscription over cable or satellite TV.
One advantage is that you can watch on your computer, phone, or tablet without paying anything extra. This means you don't need a TV set in your home, making it easier to watch when traveling or away from home.
Another advantage is that Amazon doesn't lock users into contracts as traditional cable companies do; once you've signed up for Showtime through Amazon, there's no obligation to keep paying after your free trial period. You can cancel at any time.
2 Ways to Cancel Your Showtime Subscription
If you want to cancel Showtime, you must do so before your billing date; otherwise, you'll be automatically charged the next month.
That said, there are two ways that you can get out of your subscription with little hassle and without any penalties. Here's how.
How to Cancel Showtime on the Amazon Website
If you have an Amazon Prime subscription without Showtime, then canceling your subscription can be done through your Account Settings on the website.
Step 1: From the homepage of Amazon.com, hover over Your Account & Lists from the top menu bar.
Step 2: Select Your Apps & Devices from the drop-down menu under Your Account options.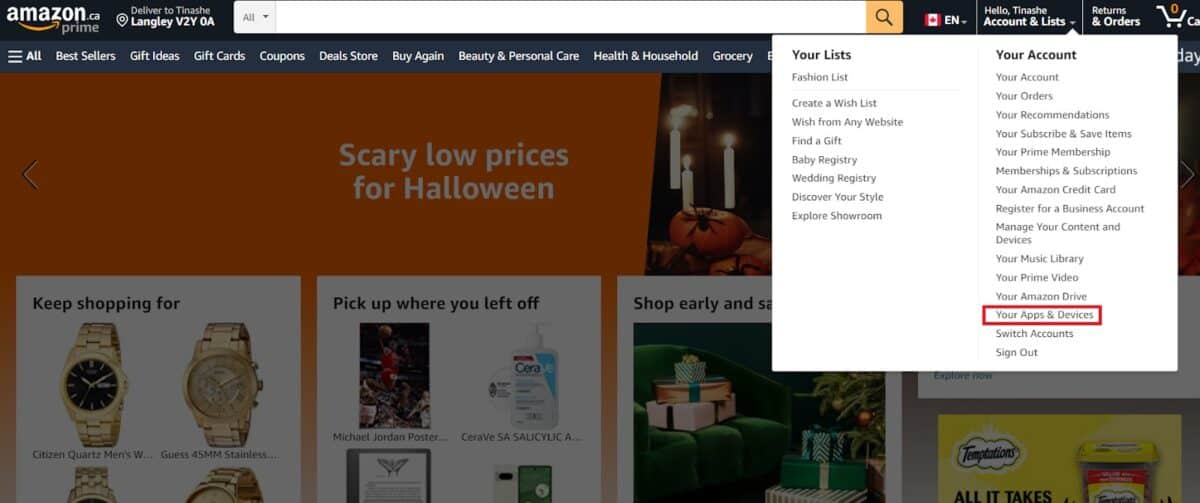 This will take you to a new page where all your current subscriptions will be listed.
Scroll down until you see Showtime in bold letters. Click on it and then click Cancel Subscription at the bottom of the page.
How to Cancel Showtime on the Amazon App
You can cancel your Showtime subscription using the Amazon shopping app.
Open the Amazon app on your phone and login into your account.
Tap on the Menu icon and then choose Your Account.
Click on Membership and Subscriptions and then Prime Video Channels.
Tap the Showtime subscription, then choose Cancel Channel. Follow any prompts.
Here is a brief, step-by-step video for further reference:
Final Thoughts
Amazon Prime is one of the most popular services on the internet. It's a subscription service that gives you access to Amazon's library of movies, music, and TV shows and free two-day shipping on many items.
One of the perks of Prime is that it comes with add-ons like Showtime and Starz. You can cancel your subscription to Showtime, and Amazon will stop charging you after the free trial period expires.
The image featured at the top of this post is ©goffkein.pro/Shutterstock.com.