Etsy is a global e-commerce website with a focus on custom, vintage, and unique products. Almost anyone can sell their items or crafts on the site. With millions of sellers, Etsy boasts an impressive, unique product catalog. But what if you sold an item off of Etsy and don't know how to cancel the order? In this guide, we will discuss how to cancel orders on Etsy.
Before you try the method shown below, first check to see if your situation meets the requirements for the cancellation policy. If your cause does not meet the requirements as listed by Etsy, your transaction will not be canceled.
How to Cancel an Etsy Order
Once you are sure the order meets the cancellation threshold, follow these steps:
Step 1: Sign in to your Etsy account and Go to Orders & Shipping
Navigate to the Etsy website in your browser and log in with your credentials. When you log in, go to the Order & Delivery option listed.
Next, open orders and shipping in your seller account. You can access this page from the Shop Manager.
Step 2: Cancel the Order
Now that you have access to the Order & Delivery page, click on the "Cancel an order" page. You can do this from your desktop or smart device.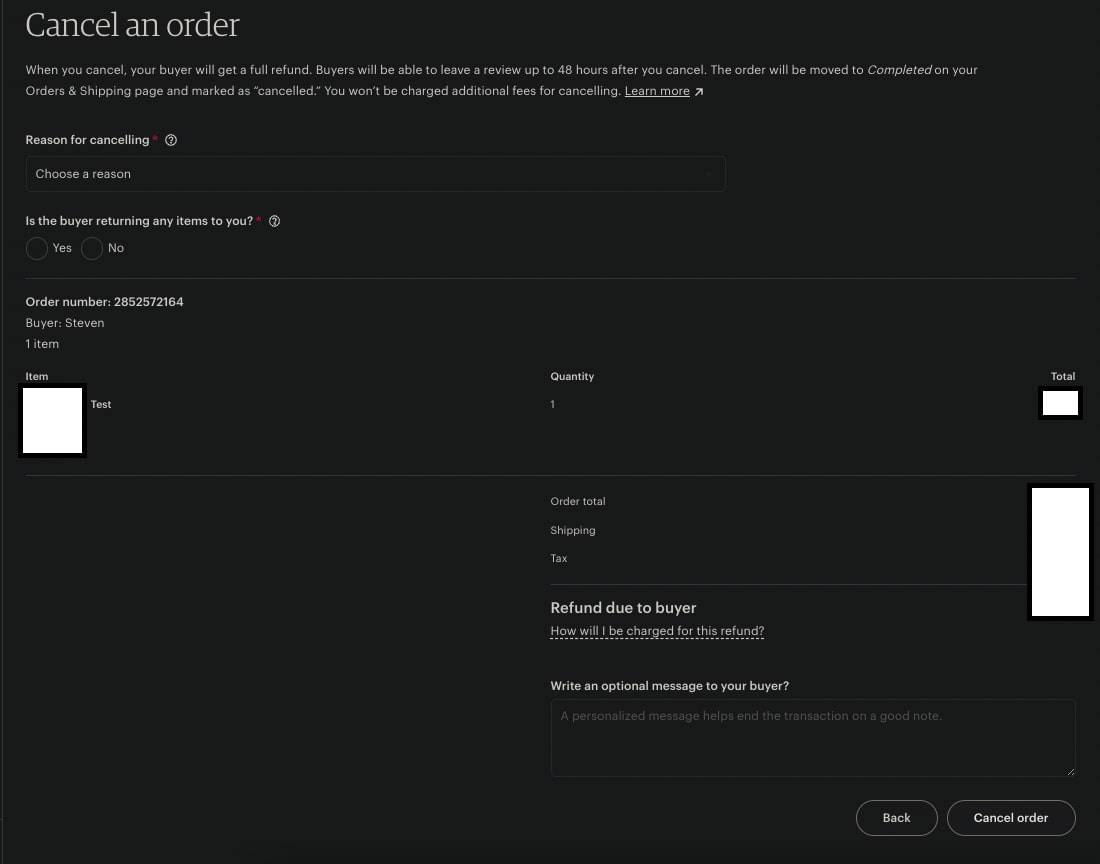 On the desktop, you will be taken to the order page when you click on the three dots next to the order you want to cancel. Once you click on the three dots, click more actions, and then finally click on Cancel. On your smartphone, the Order Detail panel should be listed as soon as you log in. Click on more actions, and then finally hit Cancel.
Step 3: Indicate the Reason for the Cancellation
After you cancel the order, you will now need to select the reason why from the dropdown menu that will appear. Select one of the reasons from the options provided, or provide your own. Once you fill in your reason, you will see the refund amount that will be provided to your buyer.
Step 4: Message the Buyer
Next, you will see a text box that you can use to message the buyer. While you do not have to provide a reason for canceling the order, it might be in your best interest to provide one. Remember, the buyer can still leave reviews that might affect future purchases.
Step 5: Cancel the Order
Finally, hit cancel and end the transaction. If the buyer had paid you using PayPal, you will need to send them a refund using that method. 
Check out this informative video guide that walks you through the simple steps to cancel an Etsy order hassle-free. Don't let confusion hold you back – watch the video now to ensure a smooth cancellation process!
Wrapping Up
Congratulations! You now know how to cancel orders on Etsy. Be sure to keep your client updated and send them a full refund via their primary payment method. If you hit a snag while canceling the order, feel free to contact Esty's customer support and have them help you resolve any issues. Best of luck with continuing your Etsy provider journey!
The image featured at the top of this post is ©rblfmr/Shutterstock.com.