Building your own PC is a rewarding yet challenging experience. In fact, you may feel overwhelmed because it is a daunting task. Most of the challenge is simply selecting what parts to use since putting them all together is rather easy. Thankfully, there are many resources on the internet that can help you choose which components are right for your PC build.
Picking parts out isn't the only problem; you need to make sure they are all compatible with each other. Modern advancements like DDR5 RAM make getting the right components a little more challenging. But with simple guidance and by following our steps below, you can get all the right parts and start building your own PC in no time.
Let's break down everything you need to know.
Why Are You Building a PC?
Before you start buying components, it's a good idea to determine your intended uses. If you're building a PC, then you most likely want to use it for gaming or some type of productivity. From there, you must choose the components that fit your use. We will cover each component in more detail below, but it is a good idea to write down any components you have in mind.
Now that you have an idea of what you want out of your computer, you should take the time to check its capability. Use a site like GPU benchmarks to simulate the computer running various games. Computers for video editing or design purposes are a little more difficult to check, so it's a good idea to look up the requirements or recommendations for any software you plan to use.
Choose a Form Factor
If you've never built a computer before, then you may be surprised to find out that there are different types and sizes. Small form factor cases are great if you don't have a lot of room. However, they may not provide ample space for graphics cards or other special components. The most common choice for a basic PC is a mid-tower case.
Mid-tower cases fit standard ATX motherboards, which will comfortably house a couple of hard drives and even a water-cooled radiator and optical drive. You may want to go up to a full-size case if you plan to use a very large GPU or other large components. After choosing a form factor, you can go ahead and pick out a case that works best for your needs; just make sure it offers sufficient airflow.
Best Overall
We earn a commission if you make a purchase, at no additional cost to you.
Battle of the Processors
The next major component you need to select is the processor. The biggest decision you must make is whether to go with an AMD or an Intel processor. From there, you can choose which generation and model fits your needs. The good news is that you don't need a super expensive processor for gaming, as most games are not CPU intensive.
However, other applications, such as video editing and rendering programs, require a lot of processing power to operate smoothly. The processor you choose partly dictates some of the other components, such as the motherboard and RAM. If you're still not sure which processor is best, check out the latest generation of Ryzen 5 and 7 from AMD or the i5 and i7 from Intel.
Best Deal
AMD Ryzen 7 7700
8 Cores and 16 processing threads

5.4 GHz Max Boost (unlocked for overclocking)

Can support PCIe 5.0 on select 600 Series motherboards
We earn a commission if you make a purchase, at no additional cost to you.
Budget Friendly
Intel Core i7-10700F Desktop Processor
Boasts 8 cores and 16 threads, providing powerful multitasking capabilities
Can be boosted up to 4.8Ghz with Intel's Turbo Boost 3.0
Specifically designed to integrate with Intel 400 series chipset-based motherboards seamlessly
Ensures optimal thermal performance right out of the box, with an included cooling solution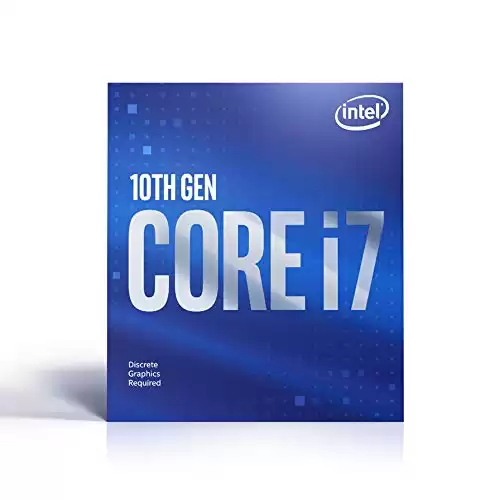 We earn a commission if you make a purchase, at no additional cost to you.
A Motherboard That Meets Your Needs
Now that you have a processor picked out, you can go ahead and select a motherboard. At first glance, there are tons of options, but you can quickly narrow them down based on your processor and case size. It is critical that you get a motherboard with the correct connection for your processor. Beyond that, there are a few other things to look for.
A major part of the motherboard is its connections. You should make sure that it has enough connectors and supports all the outputs you intend to use. For instance, check to see that it has enough PCIe slots. Additionally, some motherboards have built-in Wi-Fi antennas and Bluetooth, while others may only have Ethernet support.
Great for Different Uses
MSI MAG B660M Gaming Motherboard
Best-in-class design for its price
Two standard M.2 connector
Available in both DDR4 and DDR5 flavors
A good number of ports
2.5G LAN and Intel Wi-Fi for fast, stable connection
We earn a commission if you make a purchase, at no additional cost to you.
Building a Cool PC
Cooling is critical to ensuring your computer runs at peak efficiency. There are two parts to keep your computer cool. The first is cooling individual components like the CPU and GPU, while the other involves moving air in and out of the case. GPUs typically have a heat sink and fan built-in; however, the CPU may or may not come with its own cooling system.
Even if your processor does come with a heat sink and fan, you may want to upgrade. To get the best results, you can use liquid cooling, which uses a small radiator and pump, as well as fans to blow air through the radiator. Most of the liquid cooling setups are sealed units with soft lines that can be easily adapted to fit in any case. But there are other custom systems that require you to run hard lines.
Keeping the CPU cool is not enough because, eventually, the air around it will also heat up. This is why you need a constant flow of air coming into and out of the computer. PC cases usually come with at least one fan, but you can add more as needed. You can orient the fans to either take care in or blow air out. Just make sure the case has plenty of ventilation.
Best All-Around Cooler
We earn a commission if you make a purchase, at no additional cost to you.
Find the Right RAM
RAM is an important yet often misunderstood part of the computer. Most motherboards provide two or four RAM slots. You may think this is good for later upgrades, but it is actually best to have two equal chips in place. But before we get to that, you need to determine if your processor and motherboard are designed to work with DDR4 or DDR5 RAM.
DDR4 RAM remains the most commonly used type in PC builds. However, some people are choosing to upgrade to DDR5. Do this if you need the absolute fastest speeds or want to be 100% future-proof. If you're on a budget, you can choose to get one large RAM stick. This way, you can add another one later. It is a good idea to have at least 16GB of RAM as a minimum, with 32GB being ideal.
High Performance Choice
HyperX Fury 32GB 3200MHz DDR4 Ram CL16 DIMM Black Desktop Memory with low-profile heat spreader
Updated low-profile heat spreader - The sleek-looking new heat spreader is a great upgrade for your battle station's style.
High-performance, cost-effective upgrade - HyperX FURY DDR4 is the perfect choice for a system builder, or someone looking for an upgrade to jumpstart their sluggish system.
Intel XMP-Ready - Our engineers have predefined Intel Extreme Memory Profiles designed to maximize the performance of our memory modules, reaching speeds up to 3733MHz.
We earn a commission if you make a purchase, at no additional cost to you.
Storage Options
Now that the RAM is out of the way, you can think about a drive to store files and the operating system. Traditionally, computers used spinning platters known as hard drives, but modern computers really benefit from a solid-state drive. This is a form of flash memory that has no moving parts and is not only more reliable but faster. The downside is that it does cost more than an equally sized hard drive.
Within the category of solid-state drives, there are two types. The first plugs in with a SATA port and is roughly the same size as a standard hard drive. The other technology is called NVMe, and although it is still a solid-state drive, it connects directly to the motherboard via a special PCIe slot. An NVMe drive is very small and provides even faster speeds but at an even higher price.
A common recommendation is to get both a traditional hard drive and a solid-state drive. Doing so means you can keep the operating system and games on a smaller solid-state drive to benefit from its faster load speeds. However, you can get a very large conventional hard drive to store larger files. Just be sure that you have at least 500 gigabytes of space as a bare minimum.
Reliable Choice
SAMSUNG 980 SSD
Ideal for heavy graphics
Sequential writes up to 3,000 MB/s
Sequential reads up to 3,500 MB/s
Up to 600 TBW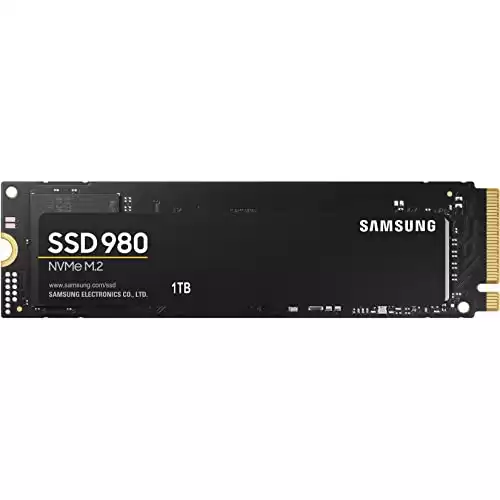 We earn a commission if you make a purchase, at no additional cost to you.
Powering the Beast
One of the most overlooked components of a computer is its power supply. Unlike some of the flashier parts, the power supply shouldn't need upgrading if you buy a large enough one. Power supplies are relatively cheap, even for powerful ones. You need to ensure the power supply you purchase not only fits in your computer case but also meets the demands of the other components.
Power supply outputs are calculated in watts. You need to add up the demands of all the components you plan to use in the computer to determine just how much you need. There are also some online tools you can use to get a rough estimate. Keep in mind that you can always get a larger power supply than you currently need, and you should definitely do so to accommodate later upgrades.
Good Option
We earn a commission if you make a purchase, at no additional cost to you.
Add a GPU to Your PC Build
The final major component to purchase is the GPU or graphics processing unit. The GPU is an additional board that connects to a PCIe slot on the motherboard. You then plug a display into the card via an output on the back of the computer. Most GPUs have a built-in cooling system which usually consists of heat sinks and fans.
In most cases, the GPU is the most expensive part of the entire computer. In fact, the GPU may even cost more than the rest of the parts entirely. However, it is a critical component if you plan to play games. Otherwise, most processors and motherboards support a standard HDMI output which will suffice for basic computing.
It is critical that you size the GPU for both the games and the display type you intend to use. For instance, playing a game like Grand Theft Auto V has a much lower demand if you only need to run it at 1080P with a low framerate. However, if you have a 4K monitor and intend to play at that resolution with a high framerate, you will need a very powerful GPU.
Within the GPU market, there are two main chip manufacturers. The first is NVIDIA, which makes cards like the RTX 3070. The other is AMD with their Radeon lineup. There are plenty of arguments as to which is better, but much of it boils down to personal preference. Numerous other companies also sell GPU cards with either NVIDIA or AMD chips.
Budget Pick
We earn a commission if you make a purchase, at no additional cost to you.
Extras
With all the major components out of the way, you can think about purchasing additional accessories at this time. Most people don't fool with CD drives anymore, but if you still like to watch movies or play old games, then you may consider adding an optical drive. Some accessories that you will need, though, are a keyboard and a mouse.
Similarly, you should get a display that matches the power of your computer and a GPU. Be sure that the monitor has compatible inputs and meets all of your needs. One final touch is to purchase lighting. Many gamers love to deck out their gaming computers with all sorts of RGB lights. Some cases and cooling systems come with controllers, so you may want to purchase lighting that works with these systems.
Best PC Keyboard
We earn a commission if you make a purchase, at no additional cost to you.
Building the PC
With all the parts purchased, it's time to finally start putting together your computer. Although we will give you a quick run-through of how to assemble a PC, you should also carefully read the instruction manuals for each component before getting started. Additionally, you should never work on a computer that is powered on. This can not only cause damage, but it is also a shock hazard.
Be sure to wear an anti-static wrist strap when working with electronic components. Not doing so can cause damage and wreak havoc on the brand-new parts. Finally, you need a very clean workspace, preferably a large table or desk where you can spread out all of the pieces. Small bins or even Ziploc bags are handy for storing extra pieces while you're assembling.
Very Protective
We earn a commission if you make a purchase, at no additional cost to you.
Installing Components
The first thing you need to get out is the case. If there are protective wrappers over glass sections, you can leave those intact to prevent scratching. Otherwise, remove all of the packing materials and make sure the case is free of any other debris. With the case opened, you need to locate where all of the various components go. Now is also when you should install the radiator if you have liquid cooling.
Then, mount your power supply with the included screws. If the case has a built-in cable management system, you can run the wires through it now. With the power supply installed, move on to the motherboard. It should sit squarely in the center of the case and attach with the appropriate screws. Take careful note of where the screws go because not all of the holes in the motherboard are used.
With the motherboard installed, go ahead and connect the power supply to it. Then, move on to snapping the RAM into its appropriate slots. The most critical installation is the processor, which most newer models have special methods for. Ensure that there is either thermal paste already on the processor or add some before installing the cooler. Some coolers may require a mounting bracket behind the motherboard.
Finally, you can install the hard drive by mounting it in an available bay or slot. If you have a GPU, go ahead and insert that into a PCIe slot with metal support, remembering to remove a slot on the back of the computer. All you have left is to install any extra components, such as lighting, optical drives, and fans. Don't forget to plug the power button and any other case connectors into the motherboard.
Setting Things Up
Now that you've connected all of the components inside the computer case, you can go ahead and close it up. Then, proceed to plug the computer into an outlet as well as hook up the monitor, keyboard, and mouse. With all that done, you can finally press the power button and start your computer for the first time. However, once started, there are still some steps to take before you can begin using it.
We didn't go in-depth on operating systems simply because there aren't a whole lot of options. Nearly all custom PC builds run Windows, but you could also use something like Linux. In order to get a copy of Windows, you need to purchase a license through Microsoft or another authorized retailer. With it, you are essentially purchasing a code that allows you to activate the operating system.
However, before you can activate it, you must first download the installer on another computer and create a bootable flash drive. Then, take the flash drive and put it into your new computer, and boot it. Windows will then walk you through the installation process and should add drivers for all of the other components. Once complete, you've successfully finished building a desktop PC!
Sometimes, watching someone do something is the best way to learn and to improve your confidence. The following video from YouTuber TechSource provides an excellent step-by-step guide to building your first PC.
The image featured at the top of this post is ©iStock.com/PaulMaguire.