Key Points
Most pre-built PCs are assembled in a proprietary manufacturing facility and shipped as fully functional units.
PC builders purchase parts from retailers like MicroCenter or Newegg then put them together manually.
Building a PC is relatively simple if you have some basic knowledge of what to do, although laptops are much harder to put together.
Building a PC is one of the geek rites of passage. Because, unfortunately, every avid computer user has run into an issue that could have been avoided if they'd built the computer themselves. After all, it's much easier to service a computer with standardized components, especially if you have a receipt list for every part of your PC.
But the process can seem daunting to people who haven't done it before. With PC parts costing hundreds to thousands of dollars, it makes sense to want to do as much research as you can before starting your journey.
That's why we'll cover all the standard components slotted into your PC, including what they do and how to install them.
Building a PC: Complete Explanation
As the name implies, building a PC requires the user to purchase standalone computer parts and slot them into a fully functional PC. The term used to describe PCs constructed by anyone other than the intended user is a "pre-built" PC.
Most pre-built PCs are assembled in a proprietary manufacturing facility and shipped as fully functional units. However, purchasing parts and having a professional assemble them for you in a store or a private company is also possible.
PC builders purchase parts from retailers like MicroCenter or Newegg, then assemble them in their homes. This process bypasses the manufacturing fee typically tacked onto a pre-built computer. It also allows the user to choose individual components, tailoring the computer to their needs.
Thus, many people interested in computers decide to build their own machines to have more agency over the final product.
Homebuilt PC: Exact Definition
A homebuilt personal computer, or custom-built personal computer, is purchased as parts. These are generally commercially available and found at standard computer parts retailers. They are then assembled in the user's home. This concept contrasts with pre-built computers, made by a manufacturer and sold as standalone units.
Compatibility Between PC Parts
Building a PC is relatively simple unless you're making a laptop. Desktop PC parts are highly standardized and are generally interchangeable.
Furthermore, tools such as PC Part Picker, Newegg's Custom PC Builder, and many other options allow you to quickly check the compatibility between various parts.
Even laptops exist in a state of primarily standardized parts. However, these are not as touch-and-go as desktop parts, or as interchangeable. Therefore, checking the parts' compatibility is essential when purchasing laptop parts.
How Do You Build a PC?
Building a PC starts with understanding the function of each individual part. Once you have a grasp of the essential components of the PC, it's easy to begin slotting in components; they generally fit together with minimal human involvement, like a puzzle.
Let's run through all the parts you'll need to get your computer up and running in no time. Remember that almost every standardized computer part comes with a comprehensive instruction manual that covers all of its possible configurations.
#1: Anti-Static Accessories
Remember to ground yourself. You'll be working with sensitive electronic circuitry. While you may not feel an electric charge, humans carry a light positive electric charge throughout their bodies.
When this positive charge comes in contact with a negatively-charged object, it can create an electric shock that jumps between the two objects. A harmless example is when you touch a doorknob after walking on the carpet, which shocks you.
However, if a charge jumps between you and your computer components, it could fry them for good. Not only would this render the component useless, but it would cause it to no longer be protected by the warranty. So, grounding yourself is necessary.
Anti-static wrist bands are one way that professional computer builders change the electrical dynamic between themselves and the components. You can also get anti-static mats underneath your workstation to drain the electric charge from your parts. In addition, you can touch the metal frame of your computer case as the structure acts as a Faraday Cage and is a grounded object.
Finally, ensure that you place the unit you're servicing on a hard, non-plastic surface like wood, and detach any cables connected to the unit, even ones that don't lead anywhere.
#2: Computer Case
All computers need to be affixed to some housing. While it is possible to leave open circuit boards lying around, this is irresponsible at best and outright dangerous at worst. Cases come in many sizes, from microcomputer cases (think Mac Mini) to super towers that can weigh more than a human.
Your computer case protects your computer components from outside forces and elements. Unfortunately, it doesn't do much more than protect your components. (Though you can outfit it with LEDs that make it look fancy.)
How to Install a Computer Case
Installing a computer case is relatively simple. First, you'll want to lay it down on a hard, non-plastic surface like unpainted wood. This methodology will ground the case and prevent it from having an electric charge when you go to install components.
Next, open up the side of the case to access the inner frame and chassis. Here, you should find a packet with all the screws, some zip ties, and any other unusual tools you may need for your computer case.
#3: Motherboard (MoBo)
The Motherboard is the central communication board between the components. More specifically, it's a circuit board that allows all your components to communicate. And so, the Motherboard is the platform and interface that allows all computer components to work together as a unit. It's the backbone of the system.
How to Install a Motherboard
Installing your motherboard starts with finding the stands in your computer case. Some cases come outfitted with stands, while others have only a socket, to which you can affix individual proprietary stands. If your case doesn't have stands, something's wrong. Your motherboard should have come with a set or two of stands that are compatible with the case.
Affix the motherboard to the stands, raising it over the case frame. This element acts as a Faraday cage that protects the motherboard and various affixed components from electrostatic energy. It does so by redistributing outside electrical charges to the cage and into a grounded surface.
#4: Central Processing Unit (CPU)
CPU is the most important part of your computer. It's the "brain" of the machine that processes all the data. CPUs are benchmarked using a few different metrics. Firstly, there's the clock speed. This metric tells you how many data processing cycles your CPU can perform in one second. It's measured in Hertz (Hz); Gigahertz (GHz), to be exact.
In the olden days, processors would be measured in Megahertz (MHz). Typically, speeds above 1.5 GHz are considered standard. Still, most people aim for a clock speed between 3.0–4.0 GHz if they're planning on doing heavy task loads.
Some CPUs also function as graphics processors. For example, Intel chipsets with Intel Onboard Graphics and AMD's APU series chipsets can run a computer independently, without a dedicated graphics processor. However, this puts additional strain on your CPU and is not recommended if you plan on doing graphically intensive tasks, like gaming or photo/video manipulation.
How Does a CPU Work?
The CPU receives energy from the Power Supply, which sends electrical pulses through the unit. These electrical pulses allow the CPU to carry out hardcoded instructions that enable the unit to interface with the other components, namely the memory units.
This interfacing lets the CPU process the Read-Write Memory (RWM), pulling information to perform further calculations from the software on your computer. The CPU executes calculations based on a master timing signal that monitors every component in the computer. This ensures that they work in tandem, rather than against each other.
How to Install a CPU
Installing a CPU is very simple. First, you must ensure that your CPU is compatible with the slot on your motherboard. CPU sockets are often backward compatible but rarely forward compatible. So, installing an older CPU on a newer motherboard is more common than a new CPU on an old motherboard.
Still, ensure that your CPU socket is compatible with the CPU. There is no way to seat incompatible units. You will have to purchase an entirely new CPU if the unit is incompatible.
The CPU will fit into a chassis that typically includes a metal plate that's secured over the unit to keep it in place. It will be seated underneath the chassis for the cooling system.
To install your CPU, simply place the CPU onto the socket. The CPU does not need to "snap" into place; it only has to be seated flush against the socket. Then, lower the metal plate and lock the plate into place with the motherboard's proprietary lock.
#5: Random Access Memory (RAM)
Random Access Memory or RAM is a type of volatile memory, meaning that the data stored in this memory will be wiped when the computer shuts down.
RAM is where your computer saves all of its session data, allowing you to multitask seamlessly. RAM is sold in sticks with a memory bus. These sticks come in sets of one, two, or four, and they have four possible modes of performance.
Single-channel mode is when your RAM sticks use an individual bus per stick. In dual-channel mode, the sticks run in pairs and have twice the memory bandwidth of a single-channel configuration. In quad-channel mode, the sticks use four channels instead of two, further increasing the data transfer speeds between the RAM and the CPU.
Finally, there is a triple channel mode for motherboards with three RAM slots instead of two (single-channel) or four (dual or quad-channel). However, triple-channel motherboards are increasingly rare as quad-channel memory becomes more accessible to the consumer.
How Does RAM Work?
RAM uses flash memory to store information processed by the CPU. This memory is retained until the data is no longer available (the computer or program shuts down) and allows users to navigate between tasks without losing information.
RAM's read and write speeds are much faster than a slower, permanent storage device such as an SSD or HDD. These speeds allow the memory to save processed information, store it in the volatile memory, and retrieve it as soon as needed.
Here is a brief video that further explains how RAM works:
How to Install RAM
RAM is straightforward to install. You just need to line the pins up with the slot and push it in. The RAM should lock into place on its own, and from there, it will be secured to the motherboard. In some older systems, the RAM was soldered to the motherboard. This is not necessary with modern computers. Attempting to do so will destroy your RAM and motherboard.
Additionally, if you're installing dual-channel RAM, you'll need to match the RAM with same-colored slots. Dual-channel boards have RAM slots that work in two pairs; the 1st and 3rd slots are one pair, and the 2nd and 4th slots are the other pair. So if you only have two RAM sticks (of the maximum four), you'll need to slot the RAM into a matching pair of slots, or they will run in single-channel mode instead of dual-channel.
#6: Power Supply
As the name suggests, your power supply is the component that powers all the other parts of your system. There are two types of power supplies: modular and non-modular. Modular power supplies have connections on the side of the power supply unit, which you can link to the pin connectors. Non-modular power supplies have all the cables you need hard-wired into the unit.
Modular power supplies are recommended for people looking to keep their cable management squeaky clean, but non-modular power supplies are more affordable. However, both have merit and will be used in different applications.
How Does a Power Supply Work?
A PC power supply has a grounding wire that uses a typical wall outlet to power the power supply, generating power for the rest of the system. While the power supply typically uses a regular 120 or 240-volt connection, it works like an electric or gas generator, outputting more energy than is put into it.
Power supplies have wattage ratings that will determine how much power is output by the system. Thus, determining what components your computer is capable of handling. If you're planning on using a lot of luxury components, you don't want to cheap out on your power supply.
#7: Storage
Computer storage refers to any permanent disk repository in a computer, such as a solid-state or hard-disk drive. We'll cover both in this section, as both are still used today.
Hard-disk drives are an older technology that uses a spinning magnetic disk to write to permanent memory. Solid-state drives are the newer, shinier, faster, and more reliable replacement for hard-disk drives. They use NAND flash memory as the primary storage space, allowing faster data transfer and more reliable long-term use.
How Does Computer Storage Work?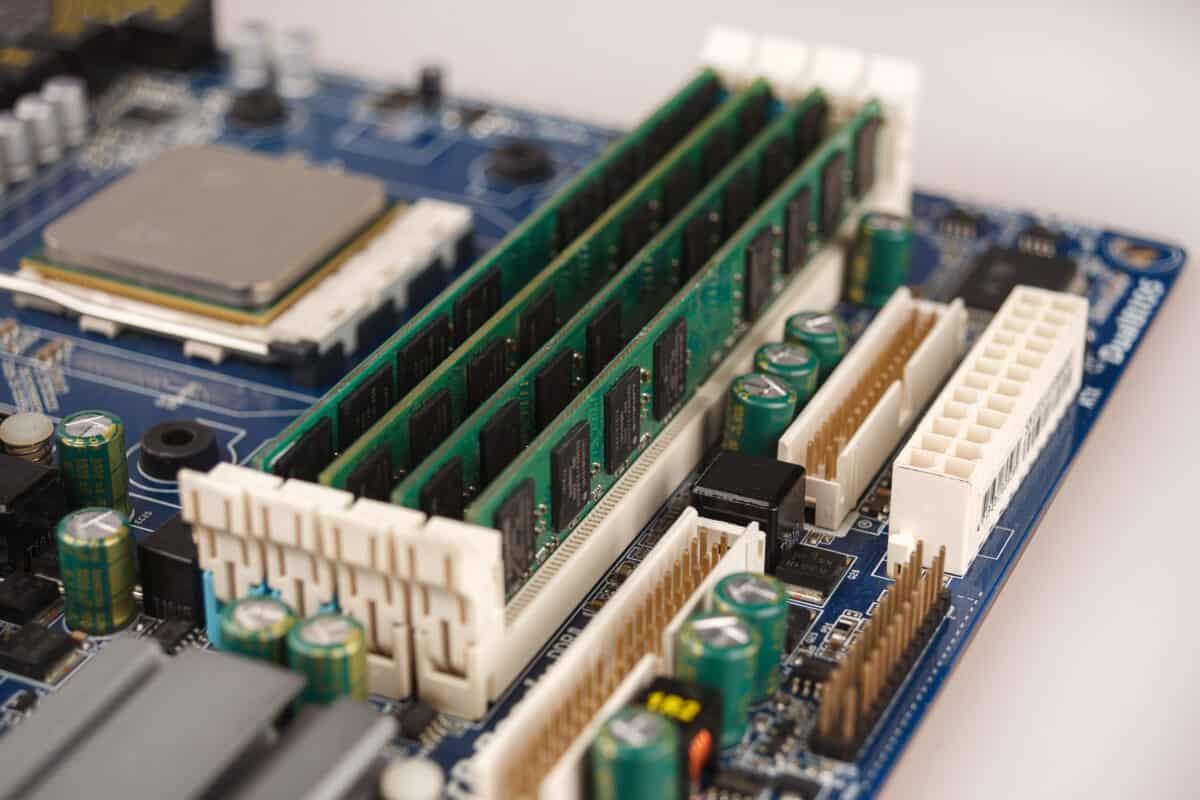 Your computer storage's mechanisms depend on the storage type. For example, hard-disk drives use a spinning magnetic platter moved by a motor. As the platter moves, the disk head writes magnetic poles into the disk—either North or South—representing ones and zeroes.
When the computer goes to read the disk, it must move the disk to the exact position of the encoded data, then read it back as binary code (a series of ones and zeroes that tell the computer what to do and how to do it.)
Solid-state drives use non-volatile flash memory—the same kind used in flash drives and RAM—to permanently store data in the disk without moving parts. As a result, SSDs are more reliable and last longer than hard-disk drives, with many moving parts that can break.
How to Install Computer Storage
There are two methods of installing computer storage. Which one you go for will depend largely on your chosen storage type. First, many SSDs plug into the PCIe expansion slots on your motherboard, meaning you can add an SSD to just about any build as long as you have remaining PCIe slots.
However, some SSDs and HDDs use an interface known as Serial ATA (SATA), which plugs directly into the motherboard using a SATA cable, and is powered by the power supply directly through a pin connector.
How to Build a PC: Non-Essential and Luxury Parts
Some people add a series of non-essential and luxury parts to their computers. You can leave these out of your computer if you're looking for basic browsing and light tasks, such as word processing. However, if you intend to do any processing-intensive tasks like gaming, programming, photo manipulation, video editing, simulations, or artificial intelligence, you'll probably want to include some of these parts.
#1: Graphics Processing Unit (GPU)
The GPU is the favorite component of gamers everywhere. When it comes to bragging rights, this is where gamers place most of their pride. As the name suggests, the graphics processing unit will process your graphics. Some CPUs have an internal chipset that allows them to do so, but not all. If your CPU doesn't have onboard graphics, you'll need to purchase a graphics card, or your computer will not be able to boot.
How Does a GPU Work?
A GPU outfits its circuit board with an onboard processing chip, much like the one that powers the rest of the computer (CPU). The only real difference is that the chip is optimized for rendering graphics and doesn't have the same processing capabilities as the CPU, such as onboard sound and computation.
How to Install a GPU
GPU installation is mostly the same as any other PCIe card. First, you'll need to line the pins up with the bus and push the card into the slot until the locks on the side lock.
You'll also need to open up the expansion slot on the back of your computer; there will be several removable slats that allow expansion with PCIe cards. Just take those slats off, and you'll be able to seat your graphics card with the outputs sticking through the space where the slat used to be.
It's crucial to remember that you must secure the GPU to the frame next to the slat holes using the screws provided. Not securing your GPU can cause it to sag or fall out, and could damage the GPU.
#2: Sound Card
The sound card does the same thing as the graphics card, but for sound. Like the GPU, this will plug into one of the PCIe slots and have outputs on the back of the computer that allow it to interface with your peripheral equipment.
Sound cards are typically only necessary for people performing sound-intensive, severe work. For example, people working with high-fidelity audio equipment will want a dedicated and high-quality sound card to process their sound signals as faithfully as possible. Unless you're working with high-fidelity audio, though, there's probably no need to include this in your build.
How Does a Sound Card Work?
Sound cards use a Digital-Analog Converter, which converts recorded sound footage into analog signals. These can be processed and heard through analog sound equipment, like wired speakers and headphones. Sound cards provide better sound quality than onboard sound cards, as they're dedicated to processing your computer's sound data.
Where Did Building PCs Originate?
Traditionally, computing machines have always been built at home. However, the concept of purchasing a computer for home use is actually relatively recent. The father of the modern computer, Charles Babbage, built the first "computer" in his home. He built several models using government funding.
Early prototypes of his steam-powered computers suggested that computation could be automized; they just had to find the right tools and techniques to do it. However, the government lost faith in Babbage's work somewhere around the £17,000 mark and pulled their funding, leaving the projects largely unfinished.
While Babbage's computers were large, mechanical, and extremely unwieldy, they served as the starting point for future endeavors in the tenets of mechanical computation. Moving ahead one century, we have Konrad Zuse, a German scientist who built his computer using the electromechanical relay technology of the time; he called it the Z1.
The Z1 was a massive mechanical calculator with limited capabilities. Hit the fast forward button again, and we have James Sutherland in 1965, who built a computer in his home using surplus parts from his warehouse job at Westinghouse. This feat, coupled with the introduction and dissemination of modern microprocessors, catapulted the hobby of building computers from the land of dreams to reality.
Soon, every geek on the block was building a computer in their home. Capitalizing on this craze, the Newbear 77-68 and Nascom designs from the late 70s allowed people to purchase a kit with all the computer parts, which they could then assemble themselves.
What Are the Benefits of Building a PC?
Most people looking to build a PC are doing so because they need a PC that perfectly suits their needs. While most computer owners don't have intensive requirements they need to satisfy, gamers, programmers, graphic artists, video editors, and musicians need a suitably powerful PC to perform the necessary functions of their day-to-day jobs. They are the target group for building computers, as they're the most likely to reap the benefits of a custom-built PC.
Examples of Building a PC in the Real World
Gaming PCs
Gaming PCs are almost always custom-built because the gamer in question will want to control every aspect of their computer's functionality. By designing their own computers, gamers can determine in advance what functions their computers will be able to handle while playing.
Building a PC is especially important for people who want to stream video games, whether for friends or as a career. Without building your PC or paying a premium for a pre-built PC with the necessary components, it would be nearly impossible to achieve high-fidelity video while streaming.
Workstations
Workstations for programmers are an excellent example of commercial computer-building. Here, the workstations are custom-built to ensure that the software engineers suffer no hiccups when developing and testing their work. Workstations have always been historically a bit "extra."
Often, the workstation is far more powerful than necessary to ensure that software engineers have the smoothest possible experience, especially during crunch time right around the time of a release. These heavy-duty workstations are also popular among sound and video engineers.
By outfitting the engineers with powerful workstations, the company can get the best possible results when recording a song or editing a video.
Final Thoughts
Building a PC might sound daunting, but it's very straightforward. Just ensure that you read and follow all the instructions for your PC parts, and you'll be able to slot them together like a puzzle. One last tip? Line the parts flush against each other.
You don't have to push until they click. If something has a lock that must be clicked, you'll be able to spot it easily.
Next Up…
Check out these awesome space articles:
The image featured at the top of this post is ©Preechar Bowonkitwanchai/Shutterstock.com.