eBay allows sellers to connect with customers anywhere in the world within a few clicks. It's a great way to expand your reach as a seller, but occasionally you come across a customer that causes problems. In those cases, you'll need to know how to block a buyer on eBay.
Whether you're getting hassled over pricing or someone is attempting a scam – buyers can drag sellers down at times. While it's something we hope you'll never have to do, our guide will walk you through the process of blocking buyers on the platform in four steps.
Why would you want to Block a Buyer on eBay?
The goal of a seller on eBay is to move merchandise, so it may seem counterproductive to block a potential buyer. That's true, but there are some instances where it's necessary and a block can help you avoid plenty of headaches down the line.
A few reasons to block a buyer on eBay would include harassment through messaging or bidding and not paying for your items. You could also have buyers trying to circumvent fees by asking for off-site sales or simply hammering you for a better deal. Regardless, eBay strives to make its platform safe for all parties, which is where blocking comes into play.
As an eBay seller, the company gives you a degree of control over who can purchase your items. Setting buyer requirements is one way to keep buyers off your naughty list, but not the only option. When you need to block a bidder quickly or deal with a potential scammer, you just need to take four simple steps.
How to Block a Buyer on eBay
If you have access to a PC, follow these steps to block any buyer on eBay in seconds. The only thing you'll need is your login credentials and password.
1. Sign in at eBay
Fire up a web browser on your PC and head over to eBay's official website. Click on the Sign In prompt and then enter your credentials into the fields on the new screen.
2. Go to your Block List
Go to your Seller Hub on eBay by clicking on My eBay and choosing Selling from the drop-down menu. From the hub, scroll down until you see a section called shortcuts. Look for the blocked bidder shortcut in this area, and select it to proceed.
3. Blocked Buyer List
From this page, you'll see "Buyer Management" options where you can set up exemptions and manage buyers. Choose Manage Blocked Buyer List as shown in the screenshot below.
4. Block Buyers
Now you have access to your blocked buyer page. To add a buyer, type their name into the box and click submit. For multiple users, make sure to add a comma between the names. You can add or remove blocked buyers from this section as needed.
If you want to see exactly how this process works then check out the video below.
How to Setup eBay Buyer Requirements
Now that you know how to block a problem buyer quickly, we want to talk about a few ways to keep them out of your listings. While you can't do anything about some buyers having a bad day, you can set buyer requirements beforehand.
To adjust and set new buying requirements for bidders on eBay, you'll need to go to the Buyer Management section. You can access this area by following step #2 in our guide.
Have you had issues in the past with bidders that are new to eBay? That is a common problem, and challenging as using the platform can be new for beginners. Seeing a bid on an item can make your heart race – or drop if that bidder has a feedback score of zero.
To alleviate this problem, scroll down and check the box that allows you to block buyers by feedback score. At the moment, you can block people from bidding if their feedback score is less than 5, but that could change in the future.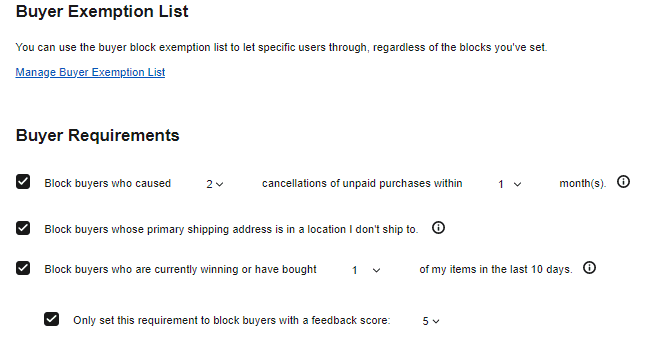 You can also block buyers that live outside of an area where you don't ship. This may seem like a no-brainer but is something that many new sellers overlook. This prevents a buyer from agreeing to a BIN or making a bid on an item from a location where you don't ship. The same is true for buyers that tend to avoid payment or cancel sales.
One issue eBay sellers commonly face with popular items is shill bidding from competition or other unscrupulous parties. If you're selling an item that's "in demand" people can buy your listing but not pay to take you out of the action temporarily. That's not always the case as buyers may misread your listing and decide not to pay as well.
In either instance, if you block an eBay buyer who has a history of cancellations, you can avoid these types of problems before they begin. The same applies to buyers who bid on multiple purchases in a short period of time. You can adjust seller settings to deal with issues there if you sell in bulk and have dozens or hundreds of live listings.
How to Stop Blocked Buyers from Contacting You on eBay
One feature buyers and sellers have taken advantage of for years is eBay's on-site messaging system. It's a great way to address concerns and ask questions before a purchase. It can also become a problem if you have buyers that harass you, but it's an issue that's easy to fix.
At this time, eBay doesn't allow sellers or buyers to "block" anyone without cause from messaging them. You'll need to address it from the Buyer Management Section instead. If you want to stop a buyer from sending messages, you'll need to block the buyer first. After that, you can use the toggle shown in this screenshot to remove the contact button from their end.
The Wrap-Up
When you know how to block a buyer on eBay, you can rest easy as a seller. The platform is a great way to get rid of old collectibles or start a business selling goods but comes with its fair share of headaches. Opening a selling account doesn't have to be a bad experience, however, if you follow our tips and keep an active block list.
The image featured at the top of this post is ©Sergei Elagin/Shutterstock.com.