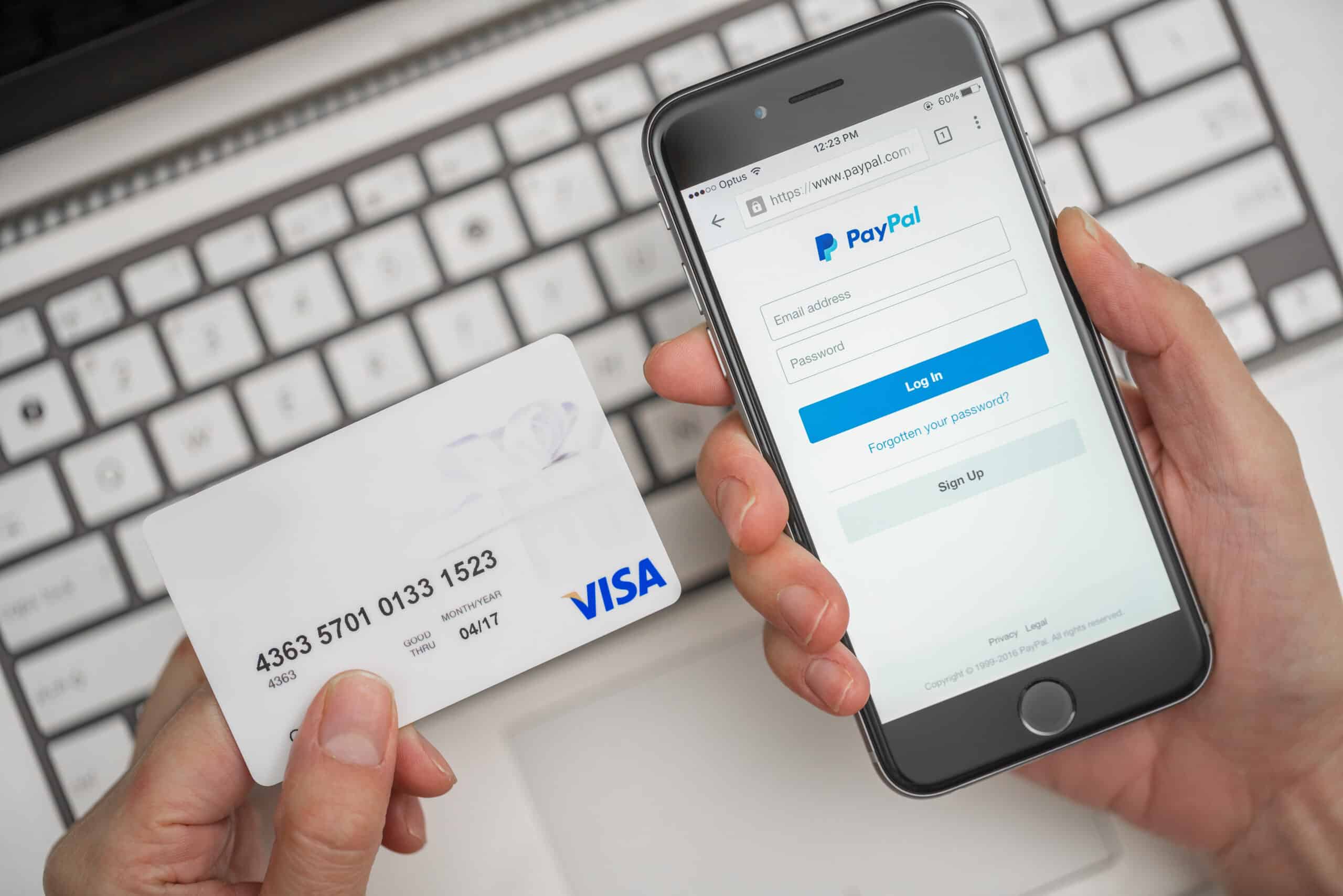 PayPal is a super convenient and easy-to-use payment method for online purchases. Since its founding in the late 1990s, the fintech (or financial technology) company has grown to become one the most trusted names in online retail today. One of the most useful features on the PayPal app is the inclusion of a digital wallet that displays all your most-used payment methods for ease of use. But have you ever wondered how to add cards to PayPal Wallet? Keeping in line with what we'd expect from PayPal, the process is incredibly simple. Just follow along with the steps and photos below.
Why Add Cards to PayPal Wallet?
Before breaking down the process of how to add cards to PayPal Wallet, it's worth asking the question: Why add cards to PayPal Wallet in the first place? As it turns out, there are a number of very good reasons to do so. PayPal gives users the option to link their bank account information, their debit card info, their credit card info, and even their Amex Send account information.
Adding any one of these payment methods to your PayPal Wallet will result in greater ease for you when using PayPal or simply when online shopping. All in all, here are two major reasons to add cards to PayPal Wallet.
Convenience
First and foremost, there's the simple convenience of having all your cards in one place: within the Wallet feature on the PayPal app. When they're all arranged and sorted in digital form, you can easily swipe through them and select the particular payment method you'd prefer to use at that specific point in time.
No need to go grab your purse or your physical wallet — It's all arranged and stored right inside the PayPal Wallet on the app. Best of all, when shopping online and choosing PayPal at checkout, every one of the cards and payment methods in your PayPal Wallet will pop right up.
Security
Just as important as convenience is the peace of mind that comes from security. When you add cards to PayPal Wallet, you know they're safe and secure within PayPal's state of the art digital security framework. No need to lug around your purse or your physical wallet on the off-chance you might want to make an online purchase.
When in public, you run the risk of you losing said purse or wallet. But, when everything's stored digitally, you won't even have to worry about bringing your physical card out to make an online purchase. It's all stored safely and securely in the PayPal Wallet.
How to Add Cards to PayPal Wallet
With this, let's break down exactly how to add cards to PayPal Wallet. It's a relatively simple process, involving just five steps in all. Alas, it's nevertheless a process that requires close attention be paid to these specific steps. No matter if you're adding a bank account, a credit card, or a debit card, the process will remain the same.
Follow along with the steps and photos below, then check out the FAQ for any other lingering questions you may have. (This process should look identical whether you're on an Apple or Android device. For the sake of this guide, we're using an iPhone.)
Step One: Log In to PayPal App
Firstly, you'll need to download the PayPal app if you haven't already done so. Then, you'll need to log in to your PayPal account on the PayPal app. If you have two-factor authentication enabled, you'll have to follow the prompt to ultimately gain access to your account. Usually, this is as easy as a code texted to your phone and entered into the appropriate space. Sometimes, you may be asked to complete a CAPTCHA as well.
Step Two: Go to Wallet
Secondly, once you've logged into the PayPal app, you'll need to take a look at the number of tabs at the bottom of the screen. You should see five options: Home, Finances, Payments, Deals, and Wallet. We're looking for Wallet. Tap that one, located in the bottom right-hand corner of the screen, to get to your PayPal Wallet.
Step Three: Tap "Add Banks and Cards"
Now on the PayPal Wallet page, you'll see a number of options along the top of the screen. These range from "View Activity" to "PayPal Debit Card" to "Add Banks and Cards" to "PayPal Savings" to "Go to Direct Deposit." We're looking for the one smack-dab in the middle: Add Banks and Cards. Tap that, and make sure you have your payment method ready so you can add cards to PayPal Wallet.
Step Four: Select an Option
Once tapping "Add Banks and Cards," you'll have three options to choose from: Banks, Debit and Credit Cards, or Amex Send Account. These are pretty self-explanatory, but simply put, "Banks" lets you link your checking or savings account to your PayPal account, "Debit and Credit Cards" links the corresponding cards, and "Amex Send Account" is for those with an account with American Express's Venmo alternative Amex Send. Tap the appropriate option for you — in this case, "Debit and Credit Cards."
Step Five: Complete Setup
On the next page, you'll be met with two choices: Link your card manually, or log into a banking account. To link a card manually, you'll enter in your credit or debit card details by hand. PayPal also gives you the option to scan the card with your smartphone camera, which will capture the numbers and information from the front or the back and enter it in automatically.
After selecting one of the two options, you'll be taken to another page to complete the setup. For the sake of this demonstration, we selected "link a card manually." On the following page, PayPal walks you through the act of entering your card number, expiration date, and security code.
Ultimately, you can add up to eight cards in total using this method. Try to add any more than eight, and you'll need to remove one of the existing cards in the account first. PayPal is a very safe service to use, thanks to the site's intricate security measures such as end-to-end encryption and two-factor authentication.