Looking to make the most out of your Apple Watch for fitness tracking? This guide is for you. Whether you've forgotten to wear your watch during a workout or simply neglected to start tracking, don't worry. You can easily add missed exercises later and accurately track your progress toward closing your activity rings.
With the help of the Health app on your linked iPhone, you can manually enter workout data and get a complete picture of your fitness journey. You might already know that you can track your sleep with your Apple Watch, but tracking your workouts will take your fitness game to the next level. Let's get to it!
Apple Watch Guide to Getting Started with Your Workout
Like other fitness trackers, the Apple Watch has its app and unique interface for you to log your activity. If you're starting a workout and want it to reflect on your Apple Watch Activity, then make sure to log in to the Activity app first.
Here's how you can initiate a workout on your Apple Watch:
Step 1. Launch the Workout app
Launch the Workout app that you have installed on your Apple Watch.
Step 2. Browse workouts until you find one that suits you
Navigate through various workouts until you find the right one. You can select from options like going for a walk outside, running, or even hiking. Besides that, you also have options for swimming, biking, and a few other activities.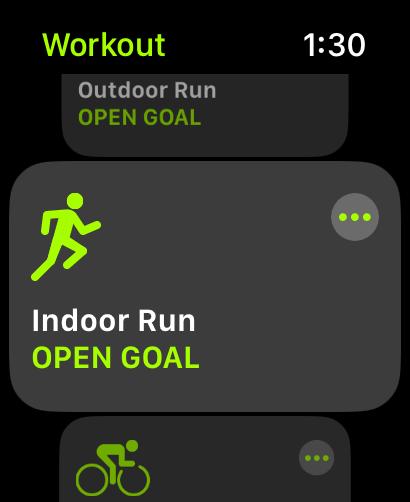 Step 3. Track Your Workout
To start tracking your workout, select the workout option, and it will start automatically
Step 4. Set the Time, Distance, or Calories
Before beginning your workout, hit the three dots to set the time, distance, or number of calories you want to burn.
Step 5. Modify the Parameters
To modify the parameters, such as the distance or the amount of time, scroll down and click on the pencil icon.
For a quick walkthrough of the steps covered above, check out the following video:
Interesting Health Facts About Apple Watch
Apple released iOS 8 with the app and the Health Kit application programming interface simultaneously.
With each new software update, the company has improved the Apple Health app and the information it collects.
The Health app uses the powerful sensors in your iPhone and Apple Watch to measure and store information about your activity and fitness.
It can keep track of things like how many steps you take, your workouts, and your activity goals.
The Health app also uses information from the heart-rate sensor of an Apple Watch that is paired with it to give you information like how much energy you use when you are active and when you are resting.
Activity Rings are the main way the Apple Watch and the Health app show how much you move daily. The layout comprises three red, green, and blue circles.
The number of calories burned is shown by the color red, which stands for "Move." The word "Exercise" is written in green, and the number of minutes is next to it.
The fitness tracker's blue "Stand" button shows how many times you have stood and moved for at least one minute. The goal is to close all your rings at the end of each day.
Apple Health uses sensor data and algorithmic processing to show a complete set of stats. Some examples are how fast someone walks and how well they walk in pairs.