Tesla continues dropping prices to the delight of its fanbase. Teslas's current base price is $40,240 for a Model 3 Rear Wheel Drive and it goes up to $108,490 for a Model S or X Plaid. However, is that the total price regarding how much a Tesla costs? We're looking at the full range of ownership, so you know what you're getting into when purchasing a Tesla electric vehicle. So how much does a Tesla really cost? Keep reading to find out!
Tesla Model S
Tesla's Model S is a luxurious electric vehicle. Talk about staying connected; this car lets you do that and more! For example, there's a 17-inch touchscreen for watching movies or gaming. So who thinks about gaming in their vehicle? Elon Musk, that's who.
Plus, the front and rear trunks offer a ton of storage. With the fold-down seats, you can even fit a bicycle inside. The base model of this five-seater starts at $88,490, while the Plaid version begins at over a hundred grand.
| | Model S Base | Model S Plaid |
| --- | --- | --- |
| Price | $88,490 | $108,490 |
| Range (EPA est.) | 405 mi | 396 mi |
| Battery Size | 100 kWh | 100 kWh |
| 0-60 mph | 3.1s | 1.99s |
| Top Speed | 149 mph | 200 mph |
Tesla Model X
The Model X offers the same luxury as the S, but with a little more room in an SUV. With the optional third row, you can fit 6-7 passengers in the Model X Plaid. In addition to the "interior of the future," Tesla claims its Model X Plaid is the highest-performing SUV, with the quickest acceleration and most power ever built.
With a starting price of $98,490 and a Plaid price beginning at $108,490, the Model X is the definition of luxury.
| | Model X Base | Model X Plaid |
| --- | --- | --- |
| Price | $98,490 | $108,490 |
| Range (EPA est.) | 348mi | 333 mi |
| Battery Size | 100 kWh | 100 kWh |
| 0-60 mph | 3.8s | 2.5s |
| Top Speed | 155 mph | 163 mph |
Tesla Model 3
The Model 3 is Tesla's most affordable electric vehicle model. A base-package Model 3 rear-wheel drive Tesla costs $40,240.
This car is what all other EVs aim to be, setting the industry standard since its 2017 introduction. It receives NHTSA 5-star safety ratings for all categories and subcategories. Plus, it also achieved the IIHS Top Safety Pick award.
However, as you'll see below, mid-price range EVs don't fare as well as internal combustion engine vehicles for the total cost of ownership. So even though the Model 3 has an affordable entry price, the actual Tesla cost is higher.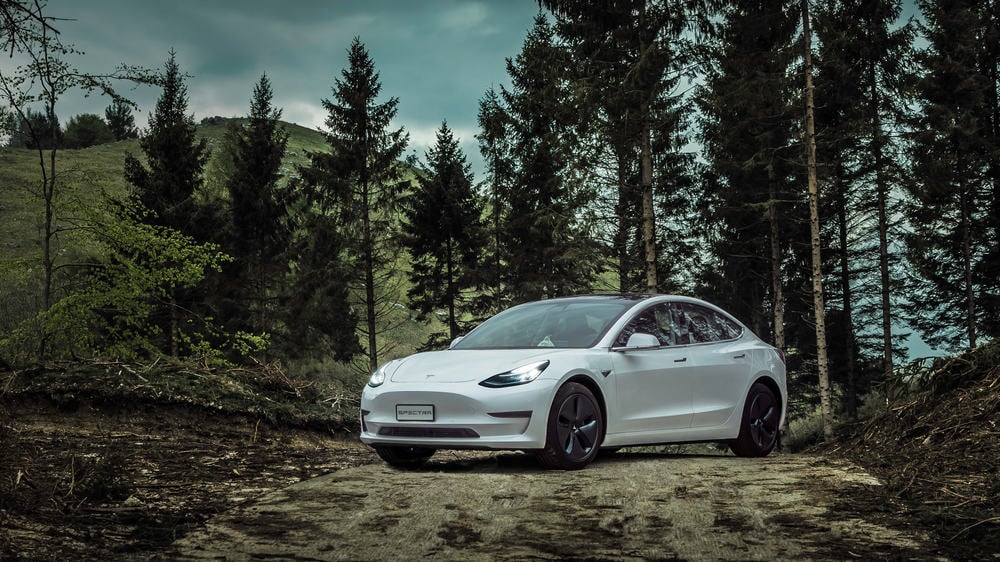 | | Model 3 Base | Model 3 Long-Range/Performance |
| --- | --- | --- |
| Price | $40,240 | $47,240/$53,240 |
| Range (EPA est.) | 272 mi | 333 mi/325 mi |
| Battery Size | 58 kWh | 82 kWh |
| 0-60 mph | 5.8s | 4.2s/3.1s |
| Top Speed | 140 mph | 145 mph/162 mph |
Tesla Model Y
The Texas-made standard-range AWD Model Y has a base price of $47,490. This seven-passenger electric vehicle has second-row seats that independently fold flat. So you can haul buddies and all your ski equipment up to the mountain.
| | Model Y Base | Model Y Long-Range/Performance |
| --- | --- | --- |
| Price | $47,490 | $50,490/$54,490 |
| Range (EPA est.) | 279 mi | 330 mi/303 mi |
| Battery Size | 75 kWh | 75 kWh |
| 0-60 mph | 5.0s | 4.8s/3.5s |
| Top Speed | 135 mph | 135 mph/155mph |
Tesla Cost: Electric Vehicles Incentives
State EV Tax Credit
Many states offer tax credits for purchasing electric vehicles. For example, in Maryland, qualifying car buyers receive a $3,000 one-time excise tax credit. Additionally, drivers qualify to use HOV lanes, saving commute time and lowering charging needs.
Power Company Reimbursements
Tesla owners can apply to a local power company for reimbursement for installing a Level 2 charger in their homes. New Jersey multi-unit dwelling owners may qualify for grants between $4,000-$6,000 to purchase and install Level 2 EV chargers.
Federal EV Tax Credit
Federal EV tax credits are another possibility to help offset Tesla costs. The 2022 Inflation Reduction Act provides up to $7,500 rebates for some passenger electric vehicles. So it's essential to check what incentives and credits are available when you make a purchase.
How Much Does A Tesla Cost: Charging Fees
You'll incur higher prices at public charging stations than at home. For example, public charging costs an average of $0.4 per kWh, while home charging is a bargain at an average of $0.1651 per kWh. So whenever possible, home charging is the best way to go. You can see how much it would cost to charge an EV in your state here.
Types of Charging Stations And Tesla Cost
To know how much a Tesla costs, you must fully understand the charging fees. Electric vehicles are charged using AC or DC outlets. AC charging uses a standard home outlet. But fast charging comes from converting AC to DC, usually found in Level 2 and 3 chargers.
Tesla Cost: Level 1 AC Chargers
You're likely the most familiar with AC since it's how our homes are powered. Realistically, you can plug your Tesla into the same outlet you plug a toaster. 110 to 120 volts is the minimum power needed to charge an electric vehicle.
However, the biggest downside to Level 1 chargers is their slowness. It could take up to 40 hours to charge your Tesla. And that doesn't usually work for anyone.
Tesla Cost: Level 2 AC Chargers
Level 2 chargers cost about $1500 for home installation using a 220-240V plug. An electrician installs the charger quickly. And since that's the amount of electricity required for most dryers, you likely already have an outlet.
Level 2 charges are the most common type at public charging stations. It takes 8-10 hours for a full charge on your Tesla.
Tesla Cost: Level 3 DCFC Chargers
Finally, Level 3 Tesla Superchargers are the fastest to charge your batteries in under an hour. Instead of using AC (alternating current), these chargers tap into the power grid for a massive direct current (DC). They charge your electric car with a whopping 480 volts of DC power.
So using a Tesla Supercharger gets you 200 range miles in 15-20 minutes. And that's what we'd call perfect for long road trips. However, using these superchargers is not free.
Remember that costs vary depending on your location, rate at the time of charge, and how much charging you need. However, the chart below gives an idea of the charging costs for Tesla's most affordable electric vehicle. The standard Model 3 has the smallest battery size and range.
| | Cost per Kilowatt Hour | Cost per Full Charge |
| --- | --- | --- |
| At Home | National Average: $0.16 kWh | $8.00 |
| Level 2 Stations | Range: $0.31 to $0.43 kWh | Free to $21.50 |
| Tesla Supercharge Stations | Approximately: $0.22 kWh | $11.47 |
Are Free Stations Really Free?
You'll find free Level 2 charging stations at grocery stores, malls, and shopping centers. But free isn't always free since there may be a queue before and after you.
Electrify America charging stations charge between $0.31 to $0.43 per kilowatt hour. However, stations like Vota's are supported through ads and retailers, so they are essentially free to car owners.
Verdict: Tesla Costs for Charging
It's hard to grasp the difference between fuel economy and kilowatts per hour economy. Calculate the formula for MPGe like this: 33.7 kWh of electricity = 1 gallon of gas. That's still a little confusing, so we looked to the experts.
The Anderson Economic Group released a comprehensive study in 2022 comparing operational costs for internal combustion engine cars (ICE) and electric vehicles (EV). They reported these findings.
ICE cars beat EVs in the mid-price ranges for driving 100 miles. EVs were about $0.50 more expensive per 100 miles when primarily charging at home.
However, EVs beat ICEs in luxury cars. That's because luxury cars generally have big engines with lower fuel economy.
Look for continued research as electric vehicles gain popularity in the U.S.
| Cost per 100 Miles | Fuel | Mainly Home Charging | Mostly Commercial Charging |
| --- | --- | --- | --- |
| Mid-Price ICE Car | $10.34 | – | – |
| MId-Price EV | – | $10.79 | $14.34 |
| Luxury ICE Car | $17.60 | – | – |
| Luxury EV | – | $11.57 | $15.89 |
Wrap-Up: How Much Does a Tesla Cost?
Tesla's base Model 3 has the most affordable starting cost of $40,240 for a rear-wheel drive vehicle, but the luxury models start considerably higher at $108,490. However, when answering the question of "how much does a Tesla cost," you'll find that the luxury versions save you money in operating costs over a similar internal combustion engine vehicle. Consider rebates, incentives, and tax credits when determining a Tesla's total cost. Then compare fuel versus charging rates for the complete picture.