A top EV car maker, Tesla is understandably synonymous with renewable technology. But its eco-friendly product line is not limited to cars as Tesla also offers solar panels. Knowing Tesla's high-end luxury status, it's natural to wonder, how much do Tesla solar panels cost for your home?
Solar panels are a major investment, so it makes sense to do your research. You're not only paying for the solar panel itself, but you must also account for racking equipment, performance monitoring equipment, and inverters. Plus, you might want to purchase an energy store system too.
How much does all of this cost? Our handy guide will provide you with the answers.
A Brief History of Tesla Solar Panels
Tesla first ventured into the solar panel industry by acquiring SolarCity in 2016. The company aimed to streamline battery storage and solar panel manufacturing. Although Tesa successfully retained SolarCity's marketing infrastructure and sales, it could not produce solar panels per demand.
That's when Tesla partnered with Panasonic in its NewYork gigafactory. Panasonic provided solar cells for Tesla's solar roof tiles and panels in this partnership. The collaboration allowed Tesla to substantially reduce its manufacturing costs and eventually lower the cost of its solar products.
But this partnership came to an end in 2020 due to low product demand from Tesla. Panasonic still produces solar batteries for the company's electric vehicles and Tesla Powerwalls. But the solar cell side of the partnership has ended.
Tesla then started getting third-party-manufactured solar panels from companies like Q Cells, a Korean solar giant. Later, Tesla introduced two lines of self-manufacturer solar panels for residential spaces.
Currently, there are two Tesla solar panel lines for residential installation, namely the S-series and the H-series. Check out their specifications and performance warranties in the table below.
| | | | | |
| --- | --- | --- | --- | --- |
| Solar Panel Model | Power Output | Efficiency | Product Warranty | Performance Warranty (25-year) |
| Tesla T395H | 395W | 20.1% | 25 years | 86% |
| Tesla T400H | 400W | 20.4% | 25 years | 86% |
| Tesla T405H | 405W | 20.6% | 25 years | 86% |
| Tesla T420S | 420W | 19.3% | 25 years | 86% |
| Tesla T425S | 425W | 19.6% | 25 years | 86% |
| Tesla T430S | 430W | 19.8% | 25 years | 86% |
How Much Do Tesla Solar Panels Cost?
We like to preface this section by saying the Tesla solar panels cost in our guide is based on estimates. The actual cost of Tesla solar panels varies depending on your geographical location, solar panel size, monthly bill, tax incentives, etc. Here is a rough estimate of the cost of different Tesla solar panels.
| | | | |
| --- | --- | --- | --- |
| Solar Panel Size | Wattage | Estimated Price | Price After Incentives (30%) |
| Small (12 panels) | 4.80 kW | $20,147 | $14,102 |
| Medium (24 panels) | 9.60 kW | $29,794 | $20,855 |
| Large (36 panels) | 14.40 kW | $39,441 | $27,608 |
If you're a huge energy consumer, you can also get extra-large systems with 48 panels, which cost around $50,000 without incentives. To get real prices, you can request a quote from Tesla's website. Simply provide your home's address and an average of your monthly electricity bill. The website will show you an estimated cost for solar panels in your home.
If you need a more accurate estimate, get in touch with the company's representative. You'll go through a virtual survey in which the company surveys your house through satellite and goes over your energy needs.
Tesla Solar Panels Cost: Which Factors Affect It?
A quote from Tesla is not always the total or final price you'll pay. You may have to pay more if you factor in additional costs, like the Powerwall. Or, you may get discounts depending on your local area incentives and federal credit.
Additional Costs
If you want to add energy storage capability to your solar panels, you can couple your solar panel purchase with Tesla Powerwall, which costs $11,500. Powerwall is a rechargeable lithium-ion battery designed to store energy from solar panels, allowing you to use the electricity stored during non-sunlight hours.
It stores up to 14 kilowatt-hours of energy, which is enough to power most home appliances. These do not include clothes dryers and air conditioners. You'll need more batteries to power energy-demanding appliances.
The Powerwall is guaranteed to hold 70% of its capacity even after a decade of use. So, it's an excellent long-term investment for your home.
Incentives and Rebates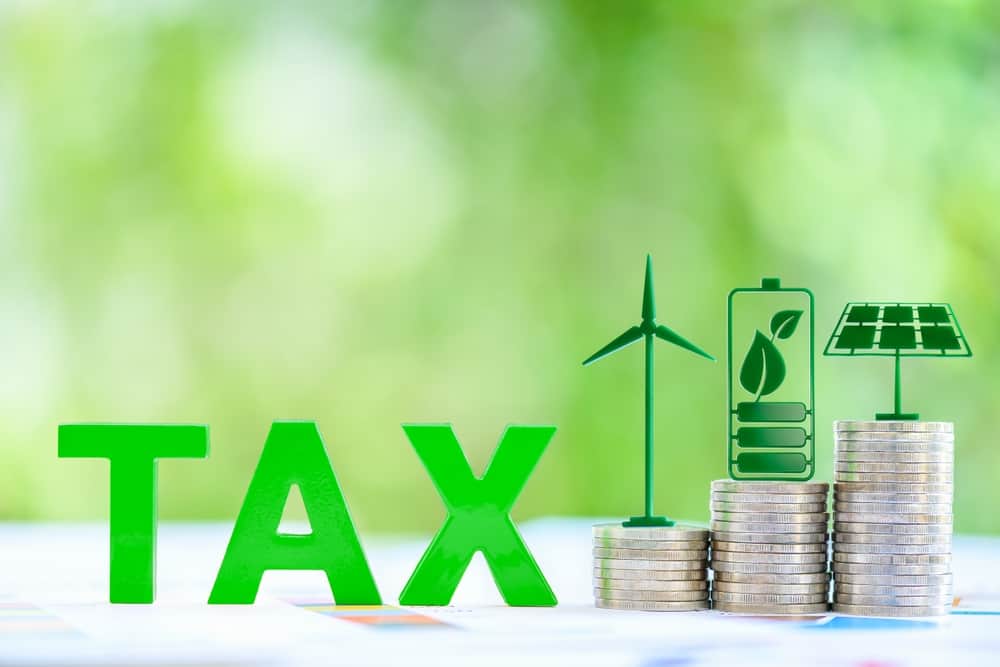 The federal government introduced Investment Tax Credit (ITC) in 2006 to give tax relief to those who invest in solar energy systems. Homeowners that buy a solar energy system get a Federal Solar Tax Credit. They can use this credit on their federal income taxes to reduce their total liability.
In 2021, this tax credit was 26%, but it has been increased to 30%. The federal tax credit covers 30% of the following:
Solar equipment costs, such as mounting hardware, wiring, and inverters
Solar panel costs
Labor costs
Inspection and permitting fees
Storage equipment costs (for batteries with at least 3kWh capacity rating)
Besides federal incentives, you may also get state incentives. Check the State Incentives for Renewables & Efficiency database to learn more. Some states also offer upfront rebates when you install a solar power system. However, these rebates may only be available as long as the state has funds.
You should check your state's rebates to get incentives before they run out. These rebates can lower solar panel purchase and installation costs by 10% to 20%.
Other Incentives
Besides rebates and tax credits, you may also get other incentives. We explain them below.
Local Utility Rebates: Some local utilities incentivize homeowners to install solar energy systems. For instance, you might get rebates on your energy bill depending on the energy production of your solar panels. Similarly, some localities offer one-time subsidies to homeowners who want to install solar energy systems.
Tax Exemptions: Solar panel installation increases your home's value and price. But most municipalities do not include this additional value when calculating property taxes. Some states also give you sales tax exemptions for purchasing solar panels.
Subsidized Loans: Check if your local utility or state offers subsidized loans to finance your solar panel purchase. Some non-government organizations may also provide such loans to homeowners.
As you can see, a couple of things determine the final Tesla solar panels cost. Make sure you do your research and discuss all options with a local installer before making a final decision.
Tesla Solar Panels Cost: Financing Options
The average cost of solar panel installation is $16,000 but can be as high as $35,000. That's a lot of money to spend upfront. Here are some financing options to cover Tesla solar panels cost.
Tesla Solar Loan
Tesla solar panel financing covers the entire cost of purchase and installation. This offer is not available for commercial, business, or trust organizations.
Plus, Tesla solar loan is only available to residents in these states:
Arizona
California
Colorado
Connecticut
Delaware
Florida
Georgia
Hawaii
Illinois
Massachusetts
Maryland
New Hampshire
New Jersey
New Mexico
Nevada
New York
Oregon
Pennsylvania
Rhode Island
Texas
Utah
Virginia
Vermont
Washington
Customers should apply for credit the day their solar panel payment is confirmed. If approved, your acceptance will be valid for 180 days. You can make payments through your phone or online.
You have to make your first payment 35 days from the PTO (Permission to Operate) date and make monthly payments on the same date from then on. Learn more here.
Cash
While paying a huge amount upfront is daunting for some, cash payments are the most beneficial. For one, you don't have to pay interest on top of your solar panel purchase. Second, you only get federal tax incentives and rebates right away if you pay for the solar panels in cash.
Solar Leases or Power Purchase Agreements (PPA)
Some states offer PPA (Power Purchase Agreements) that allow homeowners to lease solar panels. While some PPAs have a set rate, others have a payment schedule with annual increments.
The downside to PPAs is that you do not own the solar panels; a third party does. You make payments to the third party for a set period.
Home Equity Loans
Using your home equity can help you finance Tesla solar panels. In this case, your home is the collateral for the loan. You're only eligible if there's enough equity in your home to get the loan amount.
Since home equity loans have single-digit APRs, they're more affordable than personal loans. The repayment payment can range from 15 to 20 years, depending on your preference.
Tesla Solar Panels Cost vs. Tesla Solar Roofs Cost
Besides solar panels, Tesla offers solar roofs with 24/7 outage protection and a 25-year tile warranty. Because roofs have more components, such as flashing and underlayment, they cost more than solar panels.
Consumer Reports says solar roofs should typically cost $24.50 per square foot to be more cost-competitive than regular roofs. Tesla's solar roofs meet the criteria, costing $21.85 per square foot on average.
The cost of a Tesla solar roof can vary depending on the number of solar tiles you choose. For instance, homes with higher energy needs will require more solar tiles than those with fewer needs or occupants.
Like solar panels, Tesla also has a calculator for estimating solar roof costs. Type your home address and average electricity bill in this calculator, and Tesla will give you an estimate based on your information.
Forbes estimated the cost of a 1,000-square-foot single-story roof with 6.31kW of power to be $46,425. The figure also includes 1 Powerwall. The cost of a 2,000-square-foot roof with 12.57kW power and 2 Powerwalls is $64,193.
Evidently, even the cheapest Tesla solar roof is more expensive than the company's solar panels. As mentioned earlier, Tesla solar panels cost $20,147 to $39,441, depending on their size.
Large systems with 36 panels are cheaper than installing a whole solar roof. Even better, this price does not account for the tax incentives and rebate discounts.
Wrapping Up
Tesla Solar is an option for those switching to clean energy. Regardless of the quotes Tesla provides, you have to account for the equipment rates, incentives, and tax rebates in your state to calculate the total cost of installing a solar energy system. Costs vary depending on your location and home energy needs.
The image featured at the top of this post is ©MAXSHOT.PL/Shutterstock.com.