Cash App is one of the best peer-to-peer mobile payment services. It's revolutionizing how we handle our finances, providing convenience and speed, two top priorities in our increasingly digital world. Users can send and receive money quickly from their smartphones. From splitting a bill with friends to paying back a family member to shopping online, Cash App is a handy mobile payment solution. But how does Cash App work? Allow us to explain.
Cash App: The Basics
| | |
| --- | --- |
| Developer | Square, Inc. |
| Released | October 15th, 2013 |
| Founder | Bob Lee |
| Operating System | Android, iOS |
| Languages Supported | English, French |
| App Type | Peer-to-peer mobile payment service |
| App Cost | Free |
| Bitcoin Trading | Yes |
| Stock Trading | Yes |
| Age Limit | 13 and up |
How Does Cash App Work: 5 Fast Facts
Cash App is a peer-to-peer mobile payment service that allows users to send and receive money with friends and family. It arrived on the market with several similar apps (including Venmo, Apple Cash, and more).
Users can link their bank account or debit card to Cash App and use it to send money to anyone with a Cash App account. However, unlike rival apps, a bank account or card is not required.
Cash App offers a unique feature called Cash Card. It's a physical debit card linked to your Cash App account. Cash Cardholders can shop at stores, withdraw cash from ATMs, and even pay bills. It's like having a traditional debit card, only with your Cash App balance.
Cash Card users enjoy a feature called "Boosts." Users activate the app's special discounts and rewards when purchasing with a Cash Card. "Boosts" can also be applied to specific merchants or categories, such as restaurants or grocery stores.
In addition to peer-to-peer payments, Cash App lets you buy and sell cryptocurrency and stocks. You can invest in Bitcoin or the stock market using the balance directly from their Cash App account.
How Does Cash App Work: Explained
As you might've surmised by now, Cash App is a user-friendly mobile payment service that simplifies sending, receiving, and managing money through your smartphone. How does Cash App work, though? We're talking specifics — not just broadly speaking. What are the intricacies of this innovative payment service? How do you use it? And what sets it apart from all other mobile payment services on the market? To begin with, you need to download Cash App from your smartphone's app store and create an account.
You can sign up for a Cash App account using your phone number or email address. Unlike rival peer-to-peer mobile payment services, you don't need to link your bank account or debit card to finish creating your account. Cash App merely gives you the option — it doesn't make it a requirement. You won't be able to add any funds to your account without one of these two, but you'll still be able to receive payments from other Cash App users. Your account boasts a unique username and $cashtag, which functions like an "@" on a social media site.
Once you set up your account, you can send and receive money. (Or, if you don't have a bank account or card linked, receive money.) Sending money is as simple as opening Cash App, entering a person's username or $cashtag, and typing in the desired amount to send. If all the details are correct, tap the "Pay" button. The recipient will then receive your payment instantly. Receiving money works just as quickly. Someone sends you funds, and the money shows up in your Cash App balance.
Other Features of Cash App
Over the years, Cash App has evolved from mobile payments to various other financial features. Cash App offers a feature called the Cash Card if you prefer physical transactions. It's a special debit card linked to your account balance. To get one, order the Cash Card through the app and wait for it to arrive in the mail. Once you get the card, you can use it to purchase at stores, withdraw cash from ATMs, or pay for services, just like a traditional card.
Beyond the Cash Card, Cash App also lets you buy and sell cryptocurrency. Specifically, Bitcoin. If you're interested in investing in crypto, you merely navigate to the proper tab in the app and enter the amount you want to invest in Bitcoin. You'll only be able to invest as much as is in your account balance — unless you've linked a card or bank account. Then, your limit will coincide with your finances instead of your Cash App balance. Cash App also handles the secure storage of your cryptocurrency.
It doesn't stop at Bitcoin, either. You can also buy stocks or ETFs. Simply search for a specific company name or ticker symbol, then enter the amount you wish to invest. Like Bitcoin, you can use your Cash App balance or funds from your bank account or linked card. Your stock purchase will then be stored and tracked in the investment tab on Cash App. You then have the option to grow, track, and monitor your portfolio right inside Cash App. You can also sell stock and deposit the funds to your account balance or gift stock to friends and family.
The History of Cash App
Cash App was first developed by Square, Inc. Initially launched in 2013 under the name "Square Cash," the peer-to-peer mobile payment service was marketed as a simple and straightforward way to send and receive money using a smartphone. At its start, Square co-founder Jack Dorsey (the same man behind Twitter) hoped Square Cash could become the one-stop shop for effortless money transfers. It was created as part of a larger industry-wide push to provide convenient, mobile alternatives to traditional payment methods like cash or checks.
Initially, Cash App focused on peer-to-peer transactions. Users could send and receive money from their bank accounts, debit cards, or Cash App balance. Dorsey and the team at Square wanted to streamline the process and make it user-friendly. Given Cash App's unique ability to use even without a bank account or credit card linked, it's safe to say they succeeded. This made Cash App more accessible than Venmo and other peer-to-peer services that required such strict financial parameters.
As Square Cash began to gain traction, Square quickly and efficiently broadened the horizons of its peer-to-peer payment app. Several key features were implemented — and its name was officially changed to Cash App. The Cash Card was introduced in 2017. Then, bitcoin investing was introduced in 2018. Stock investing subsequently came to Cash App in 2019. More than 50 million people trust Cash App for their mobile payments and investments. Nearly 15 million of these users have a Cash Card, as well.
How Does Cash App Work Compare to Other Mobile Payment Services?
You don't need us to tell you that Cash App isn't the only peer-to-peer mobile payment service on the iOS and Android app stores. The competition is quite stiff. From Venmo to PayPal to Apple Pay to Zelle and beyond, this industry is as crowded as possible. Nevertheless, Cash App can still distinguish itself from other mobile payment services through various unique features. Whether it be ease of use, the Cash Card and its Boosts, its investment features, or its security measures, these are the key aspects that set Cash App apart.
Ease of Use
Cash App is proud to provide a straightforward, no-frills user experience. From its intuitive, easy-to-use interface to its ability to use without a bank account or debit card, Cash App is far less of a headache than the rival apps in the industry. Cash App can also be used by users as young as 13, regardless of their technical expertise. The reliance on $cashtags over emails, phone numbers, or usernames further underlines this simplicity and ease of use. The competition has nothing on Cash App in this regard.
Cash Card and Boosts
While rival apps are introducing their own physical debit cards, Cash App's Cash Card remains the cream of the crop. Venmo, Apple Pay, you name it — each has its linked card, but Cash App was one of the first to do it. Beating the competition is only half the battle, though. It's just as important to keep the unique features coming. Cash App's Cash Card remains on top with the help of its Boosts. Offering discounts and cashback rewards just for using it on purchases, Boosts give Cash App yet another critical advantage over the competition.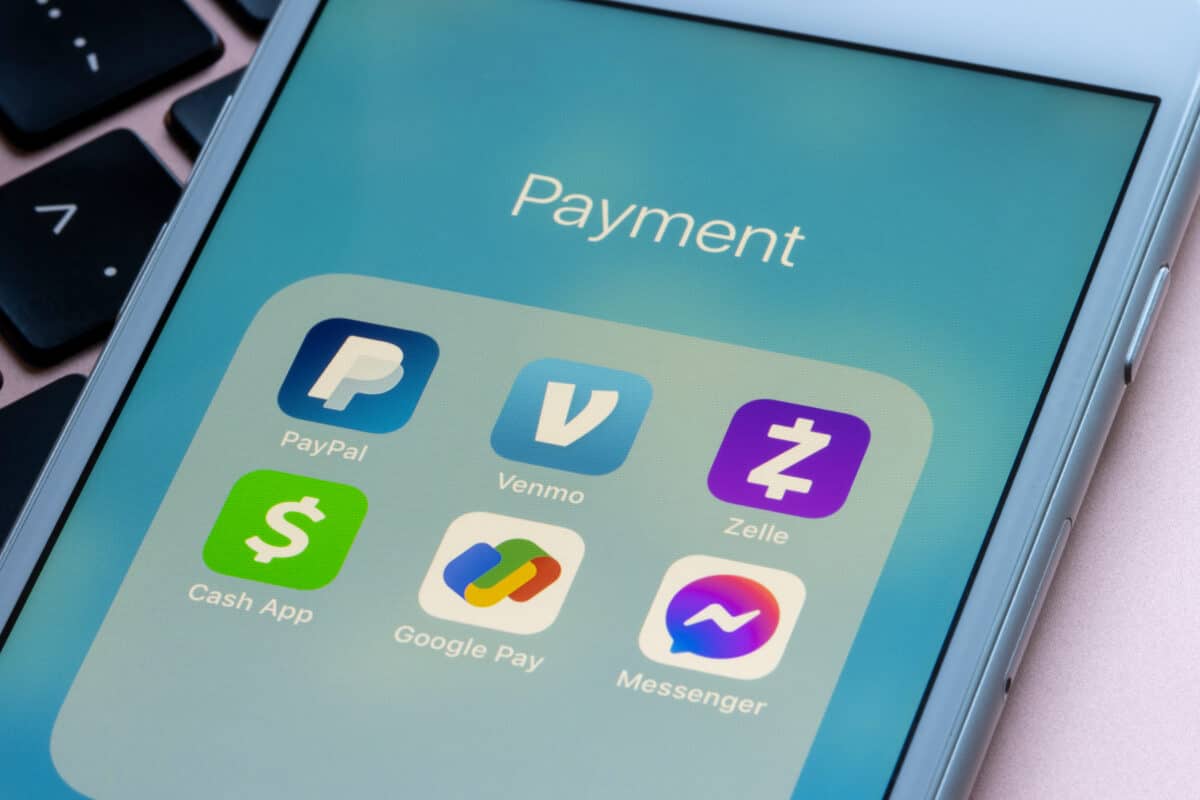 Crypto and Stock Investing
In yet another leg-up over competing peer-to-peer mobile payment services, Cash App's support for crypto and stock investing remains unmatched. Of course, Venmo and other services offer similar features, but Cash App does it better. Buying and selling cryptocurrency, stocks, and ETFs has never been easier. Cash App also supports sending stocks to friends and family — a fun little feature you won't find with many other rival services. Cash App doesn't charge any fees to send Bitcoin, either.
Safety and Security
Cash App puts a huge emphasis on safety and security measures. Venmo, PayPal, and Apple Pay have all been subjected to cyber attacks and hacks in years past. Not even Cash App is immune to this sort of thing. However, Cash App seems to have learned its lesson. It provides safety and security features like PIN codes, fingerprint authentication, and two-factor authentication to protect your account. Cash App is a safe, secure peer-to-peer mobile payment service.
The image featured at the top of this post is ©viewimage/Shutterstock.com.