Key Points
Installing a dedicated QR reader is a great solution.
Quick Response codes have been around since 1994 when they were created to keep track of individual auto parts.
Common phishing techniques are also employed in QR code assaults.
A revolutionary new way to add information to printed material, QR codes now appear everywhere, from billboards to social media to candy wrappers. These codes may be scanned by a smartphone to immediately access various online resources, such as websites, apps, and text messages.
Interestingly, some stores now accept payment via QR codes, and many eateries and bars have already switched to using them instead of paper menus. With QR codes becoming so ubiquitous, you know you're missing out if you don't use your smartphone to take advantage of this new technology.

But, the question is, "How do you scan a QR code on an iPhone?" Let's find out all about it.
An Important Consideration about Scanning QR Codes
If you haven't used QR codes before, you should do so once you become familiar with its security risks as well.
Quick Response codes have been around since 1994 when they were created to keep track of individual auto parts. Over time, the technology expanded into new fields, but it had a hard time catching on with regular consumers. In recent years, smartphones have embraced this technology, making it easier for users to complete actions or acquire more information.
However, QR codes have a lot going for them as an attack tool. Codes can be sent in emails as an alternative to hyperlinks or attachments. Regular usage of this will cause the recipient to be taken directly to a new web page or to initiate some other type of interaction with a designated piece of hardware or software.
Common phishing techniques are also employed in QR code assaults. For example, a call to action is included in an email sent to targets to convince them to scan the QR code. On the consumer end, this might involve features like delivery monitoring and payment, as well as freebies and contests. Invoices and other time-sensitive paperwork may also be utilized in attacks against businesses, as these are recognizable targets.
While the usefulness and convenience of QR codes cannot be denied, it's important to remember that cybercriminals have caught on to their potential and are actively seeking ways to exploit them. But, if you know how to be on the safe side, let's talk about how to start scanning QR codes using your iPhone.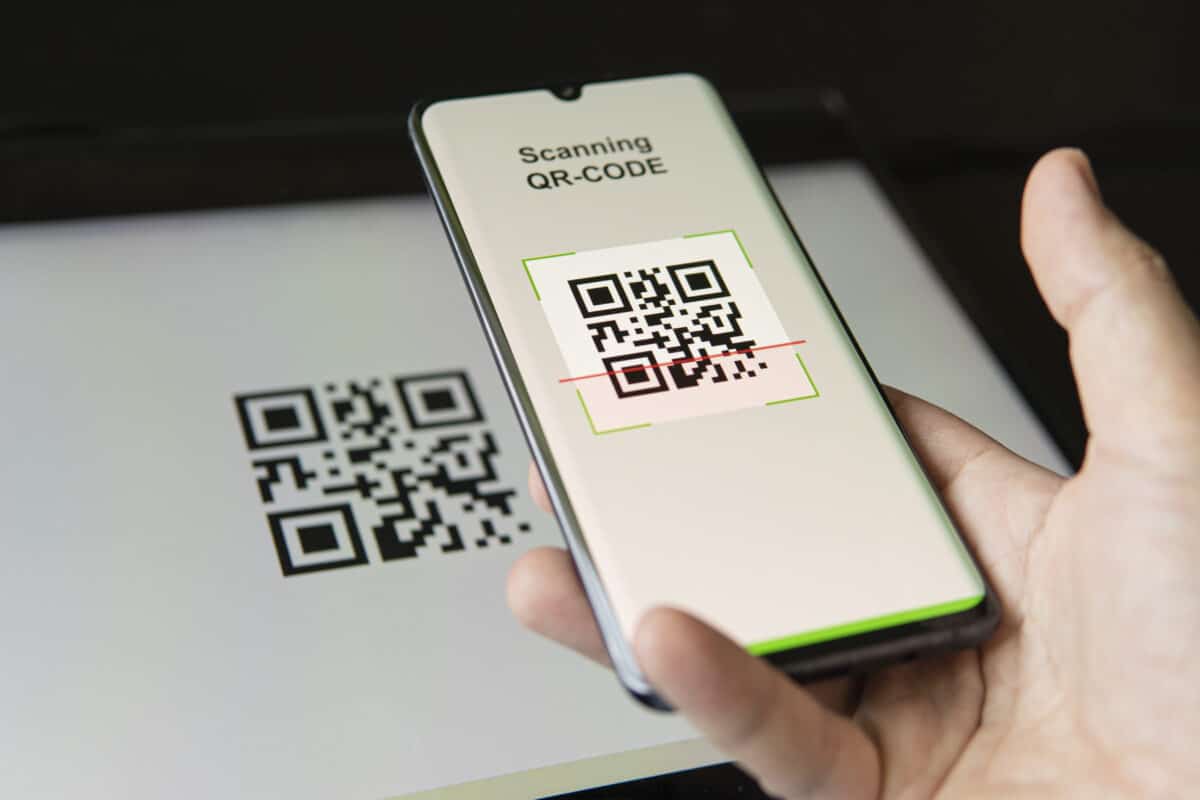 How to Use iPhone to Scan QR Codes
With a variety of applications and a powerful operating system to back them, iPhone becomes an ideal solution for so many tasks. Its applications range from entertainment to navigation to communication. The device is just as capable of reading two-dimensional QR codes to help make things easier for you.
Getting Started
Scanning QR codes with an iPhone is simple. To get started, all you have to do is open the camera app and point it at a real-world code. You can quickly scan the QR code and open a link on your screen.
Here's a step-by-step guide to help you out.
The first step is to open the camera app from the main menu, the lock screen, or the settings menu.
The second step is to switch to the rear-facing camera.
Keep your device still for a few seconds, so the QR code is visible in the camera app's viewfinder.
Hold off till the QR code is read by your iPhone. A notification in the form of a yellow square will show up on the screen.
Tap the pop-up notice to visit the URL associated with the QR code.
That's it!
Scanning a QR code is very easy on an iPhone and can be done in just a few steps. The video below from Tricks Tips Fix quickly walks you through this process.
How Do You Scan QR Codes from Photo Album?
While you can scan codes from various sources, the camera on your iPhone will not be able to read a QR code displayed on your screen. Moreover, you'll need a third-party QR code scanner to read a QR code from an image or a website. The App Store is rife with useful apps for this purpose, like QR Code & Barcode Scanner, Qrafter – QR Code Reader, and NeoReader.
Here are the steps to follow to scan from your photo albums:
Simply open the picture in Photos, and wait for a second or two for a bracketed symbol to show in the picture's lower right corner, indicating that the software has detected a QR code.
In the image's bottom right corner, you'll find a bracketed icon; tap it.
You can choose to open the link on YouTube, Safari, or another supported browser.
Scanning a QR code from an image on your phone seems a little tricker. It's actually very simple, and the below video from The Stuff I Use Channel shows you how.
Using Third-Party App to Scan a QR Code in an Image on Your iPhone
If you frequently need to scan QR codes from images, installing a dedicated QR reader is a great solution. It's possible to get things done by downloading a free program called Simple QR Code Reader. You can use this app to view the results of a QR scan performed on any photo in your gallery.
To begin, you should get the free program Simple QR Reader and install it on your iPhone.
Launch the app by tapping the QR Scanner icon on your iPhone's main screen.
Select Scan from the device's bottom menu.
Tap the photo album icon (found in the top right of the app).
Choose the image with the QR code you wish to scan.
The image you select will expand to fill the entire screen. Select Choose in the lower right corner to bring the image inside the app.
After scanning the QR, the contents will appear on the Result screen.
Many alternative applications are available in the Apple App Store if this one doesn't suit your needs. You may find a variety of QR Code Readers in the App Store by simply searching for the term. Bear in mind that not all iPhone apps support scanning QR codes from the Camera Roll.
Scanning a QR Code on iPhone via Wallet App
The camera on your iPhone isn't the only way to read QR codes. If you need a QR reader, you can also do it through the Wallet app.
Launch the application
Navigate to the "Passes" section
Select the "+" button at the top of the "Passes" section
From there, select the "Scan Code to Add a Pass" option
For the limited set of items that Wallet recognizes as "passes," such as tickets, boarding passes, coupons, and loyalty cards, this is the place to scan their corresponding QR codes. The scanner will give an error warning if you try to read any other QR code.
How to Scan QR Code using the Control Center Scanner
The Camera app does not have a dedicated QR scanner mode that can be toggled on or forced into use. If you're using an iOS device, you may, however, add a QR code scanner shortcut to the system's Control Center.
All that this button does is read a QR code. It has no camera functions whatsoever. This might assist if you have been unsuccessfully trying to scan a QR code with your iPhone's camera. Here's how to activate it:
Start the Settings app by touching the gear symbol.
Simply navigate to the camera selection and select it.
Turn on/off the capability to scan QR codes.
Once the switch is in the green position, QR codes can be scanned.
Why QR Code Scanner May Not Work on Your iPhone?
Using a QR code scanner on your iPhone is pretty straightforward, but sometimes, it just refuses to work. Here are a few issues and quick fixes.
You May Not be in Photo Mode
The Camera app on the iPhone does not include a dedicated setting or switch for scanning QR codes. However, the built-in scanner will only identify and scan the QR code if you are in PHOTO mode.
The camera won't recognize the QR code in other shooting modes, such as Time-Lapse, Portrait, Video, Slow-Mo, or Pano. All you have to do is swipe left or right to enter the camera mode. After that, you can easily scan a QR code by pointing the iPhone at it.
You May Not be Pointing the Camera Correctly
A well-lit, well-readable QR code should be easily recognized and read by the iPhone Camera app.
Sometimes, though, the QR code you're trying to scan will be too blurry or small to read clearly. You can try zooming in on a screen if the QR code is on a screen. You may also find that increasing the screen's brightness (which displays the QR code) aids your efforts.
If you're scanning a paper QR code, experiment with where you point the camera. Try moving the iPhone close by, a little farther away, etc. The scan ought to work after a couple of tries at most.
You May Be Keeping it Inactive for Too Long
When it's working in the background, it's common for QR code apps to stop functioning. If your iPhone's QR code scanner is malfunctioning, try force quitting and relaunching the Camera app.
You can access the list of running programs by double-pressing the "Home" button or by using the swipe gesture at the bottom of the screen. Then, to dismiss the Camera app card, simply drag it to the top of your screen. It's best to wait around 5 seconds and then open the Camera app again while pointing it at a QR code.
You May Have Meddled with the Settings
It means what you do with your phone's basic settings may be the reason why your built-in QR code isn't working. If you haven't rebooted your device in a while, you may find that certain functions no longer work as expected. Just turn off your iPhone and turn it on after waiting 30 seconds. After that, your iPhone scanner issues should be resolved.
Next Up…