Foldable phones are anticipated to be a big thing in 2023, with more and more players entering the market. One of the latest additions comes from HONOR in the form of Magic Vs. Launched in China in November 2022, HONOR's foldable phone brings serious competition to Samsung and Google. However, is it worth the hype? Let's see how the HONOR Magic Vs vs. Samsung Z Fold4 compares.
HONOR Magic Vs vs. Samsung Z Fold4: Side-By-Side Comparison
Announced on the western market at MWC 2023 in Barcelona, HONOR Magic Vs is an already established handset in its home country. Huawei's ex-division launched this phone on the Chinese market in November 2022, mere months after Samsung released its Z Fold4. The western version brings some improvements to the original HONOR Magic V, including an updated OS based on Android 13. Meanwhile, Samsung Z Fold4 promises software upgrades too, and some features that might make you prefer it over the HONOR. However, with an eye-watering price tag, the Magic Vs brings in serious competition.
| | HONOR Magic Vs | Samsung Z Fold4 |
| --- | --- | --- |
| Year | 2023 | 2022 |
| Cover Display Size | 6.45" | 6.2" |
| Inner Display Size | 7.9" | 7.6" |
| Display Type | AMOLED | Dynamic AMOLED |
| Chipset | Qualcomm Snapdragon 8+ Gen 1 | Qualcomm Snapdragon 8+ Gen 1 |
| RAM | 12GB | 12GB |
| Internal Storage | 256GB to 512GB | 256GB to 1TB |
| Primary Camera | 54MP | 50MP |
| Front Camera | 16MP | 10MP |
| Software | Android 13 with Honor's MagicOS 7.1 | Android 12L |
| Battery Capacity | 5,000mAh | 4,400mAh |
| Price | $1,350 to $1,900 | $1,450 to $2,160 |
Best Display
SAMSUNG Galaxy Z Fold 4
7.6-inch Dynamic AMOLED main screen and 6.2" Dynamic AMOLED cover screen
50MP Wide/12MP ultra-wide rear camera and 10MP front camera
30x digital zoom
Flex mode
Multiple windows so you can work on different tasks simultaneously
Supports super-fast charging and S Pen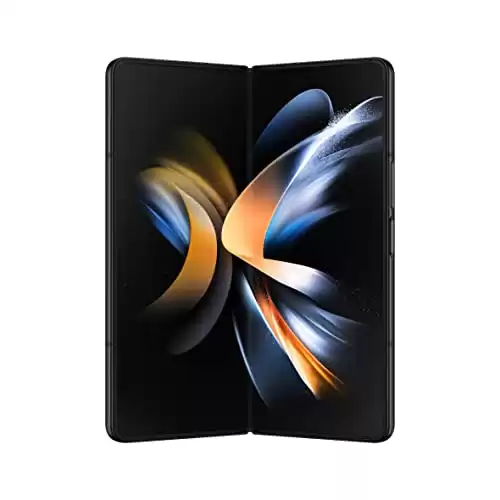 We earn a commission if you make a purchase, at no additional cost to you.
HONOR Magic Vs vs. Samsung Z Fold4: What's the Difference?
At first glance, the HONOR Magic Vs and Samsung Z Fold4 look eerily similar. This doesn't come as a surprise, considering the many HONOR models are reminiscent of Samsung smartphones. The surprising thing is how HONOR managed to build a better-looking phone that promises similar – if not superior – performance at a more affordable price point. In detail, here's how the HONOR Magic Vs vs. Samsung Z Fold4 compare.
Design
For most of us, choosing a smartphone starts with looks, and neither HONOR nor Samsung made compromises in this department. The two handsets share similar lines with smooth, rounded edges, but HONOR seems to take things up a notch with a larger size.
While a larger display sounds appealing, you should consider usability as well. A larger size isn't necessarily better, especially if you have small hands. Sure, both phones are easy to hold and comfortable to use with one hand, at least when folded, but some may appreciate Samsung's slimmer figure.
Another thing that Samsung's got for itself is a wider range of colors. Bold shades range from green-gray to golden cream, black, and burgundy. The Magic Vs comes in a standard black and an eye-popping cyan that is insanely attractive but not for everyone. If you'd like something other than black but less flashy, you're out of luck.
The disappointing thing about the Z Fold4 is the hinge that doesn't allow the two sides to close completely flush with one another. If the gap annoys you, know that HONOR fixed the issue in the Magic Vs with a super-light, gearless hinge. This hinge is similar to the one used by OPPO and the Pixel Fold, and we can't stop wondering why Samsung didn't manage to come up with a similar solution.
Chipset and Memory
The brain of a phone is its chipset, and things are very similar between the two handsets in this department. Both phones feature the same Snapdragon 8+ Gen 1 by Qualcomm and 12GB of RAM. When you come to think of it, it makes sense.
Both handsets were released last year, and even if HONOR enters the western market a few months late, the technology it packs was top-notch when this phone was first released. Compared to the Z Fold4, we can't say one is better than the other.
However, Samsung has already started to release its new lineup in February. Its newest handsets pack Snapdragon 8 Gen 2 chips that bring higher processing speed and enhanced battery life. It is likely that the new Z Series from Samsung will feature upgraded chipsets, too. This puts the brand in front of HONOR – and all other brands that make foldable phones, as a matter of fact.
Regarding the internal memory, HONOR Magic Vs is available in 256GB and 512GB in China. It is unsure whether both versions will be released on the US market or if the choice will be limited to the 512GB variant. Samsung Z Fold4 comes in 256GB, 512GB, and 1TB options. The latter is only available to order on the brand's website, but it's nice to know you have the option.
Display
A difference between HONOR Magic Vs and Samsung Z Fold4 is the display — the former comes with an AMOLED screen, whereas the Z Fold4 has a Dynamic AMOLED. The difference is subtle, but the latter does come with HDR10+ certification for greater brightness, color, and contrast compared to standard AMOLED.
HONOR features the same HDR10+ certification and a wide color gamut. The differences between the displays are not visible to the naked eye, but if you care about technicalities, Samsung is better.
Camera
Something where Samsung isn't better, at least on paper, is the camera department. Both phones feature three rear cameras, but HONOR impresses with more megapixels. Its main camera features 54MP, while the ultra-wide and macro camera has 50MP. The other rear cam is an 8MP telephoto camera with 3x optical zoom and 30x digital zoom.
Samsung has a wide-angle camera of 50MP, plus two other cams of 12MP and 10MP, respectively. They snap impressive images but still can't compete with HONOR. The Magic Vs also wins with its dual front camera that allows you to snap selfies with the phone either open or folded. Samsung has a single front camera on the outer display.
Battery
Another disappointment from Samsung comes in the battery department. The Z Fold4 features a 4,400mAh battery, whereas the Magic Vs has a 5,000mAh one. Both batteries have an impressive life and deliver up to a day or more on a single charge. Fast charging is available from both brands, so you won't have to wait too long for your beloved handset to recharge. However, considering the price tag, a 5,000mAh battery would have been desirable in Samsung. After all, the Samsung 23 Ultra features it, and it is not as expensive as the Z Fold.
Price
HONOR Magic Vs and Samsung Z Fold4 are two premium smartphones, and the prices reflect it. The Magic Vs has not been released yet. However, considering its price in China and speculations around it, most experts believe it will be priced between $1,350 to $1,900. Z Fold4 is not what we'd call a new phone, but even if Samsung has already launched its new lineup, it still is more or less as expensive as it was on its launch. You can expect to pay between $1,450 to $2,160, based on memory size and available deals from various providers.
HONOR Magic Vs vs. Samsung Z Fold4: 5 Must-Know Facts
HONOR Magic Vs is the western version of HONOR Magic V, the first foldable phone from HONOR launched on the Chinese market in November 2022.
Samsung Z Fold4 is the fourth foldable phone from Samsung. It was launched in August 2022.
HONOR Magic Vs comes with an upgraded OS based on Android 13. Z Fold4 is based on Android 12L, but the system will upgrade to Android 13.
HONOR Magic Vs beats Samsung in terms of battery and cameras. The Magic Vs. also features larger displays.
If you care about internal storage, Samsung provides more options, including 1TB of internal memory.
HONOR Magic Vs vs. Samsung Z Fold4: Which One Is Better? Which One Should You Get?
Upgrading a smartphone to the latest model is no longer a necessity but a trend. If you like to brag about the type of phone that you have, you can't go wrong with the Z Fold4. Samsung is a leader and innovator in its sector, and the Z Fold4 packs some of the best technology from the brand.
HONOR Magic Vs is a new addition to the market. Systems based on Android are usually stable, but they can have more bugs and run into more troubles than standalone software. Despite this downside, the Magic Vs comes with a better battery, larger displays, and better cameras at an unrivaled price tag. No doubt, it's worth your attention.
7.6-inch Dynamic AMOLED main screen and 6.2" Dynamic AMOLED cover screen
50MP Wide/12MP ultra-wide rear camera and 10MP front camera
30x digital zoom
Flex mode
Multiple windows so you can work on different tasks simultaneously
Supports super-fast charging and S Pen

Buy Now on Amazon

We earn a commission if you make a purchase, at no additional cost to you.

06/06/2023 06:26 am GMT