Have you ever been frustrated with an HDMI cable that just didn't seem to want to plug in? You try it one way, and it doesn't work. You flip it over, but it doesn't work that way either. Sometimes it's because the numerous connection points make it difficult to insert the cable. Other times it could be because you have the wrong cable entirely. HDMI cables are essential for electronic connections nowadays, but sometimes it can be difficult to tell them apart. Here are three HDMI connector types and what each one looks like.
3 HDMI Connector Types: Type A HDMI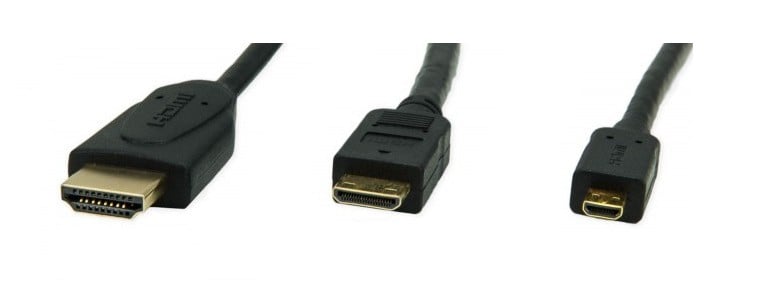 The first connector we're going to talk about is the type A or "standard" HDMI, often simply referred to as just "HDMI." That's where this all gets a little tricky. The term could refer to any number of these three, but more than likely if someone doesn't specify, they are talking about the standard. You can tell them apart, primarily by their size. The standard is the largest of the three. The male end, which is usually found on the cable itself, is typically 13.9 mm x 4.45 mm (or roughly 0.547 in x 0.175 in for my American friends). The female end of a standard HDMI which is usually found on the electronic device is typically 14 mm × 4.55 mm (0.55 in x 0.18 in). These ports can be found on devices such as TVs, game consoles, streaming devices, computers, and monitors.
3 HDMI Connector Types: Mini HDMI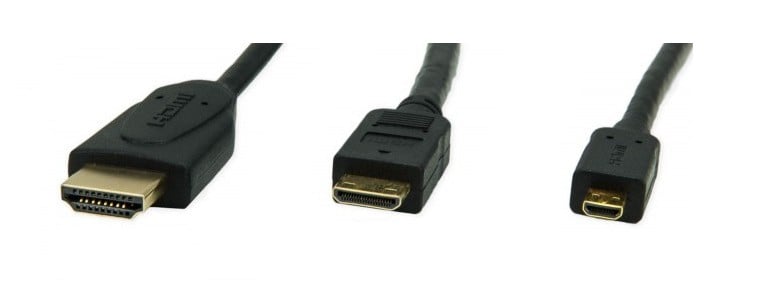 The small but powerful mini HDMI can usually be found on portable electronic devices such as tablets and DSLR cameras. The mini is not as large as the standard, but not as small as the micro. The male end is typically 10.42 mm x 2.42 mm (0.488 in x 0.95 in). The mini HDMI serves the same function and has similar capabilities as the type A standard HDMI. The reason for the reduction in size is so that the port could fit onto smaller electronics. If the end of your HDMI cable looks a bit too large for the device, you might need a mini.
3 HDMI Connector Types: Micro HDMI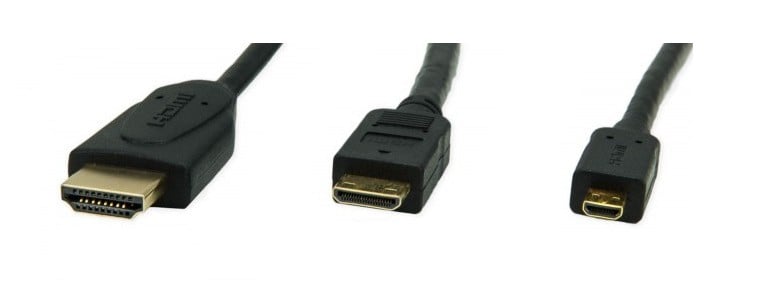 The micro HDMI is the smallest of the various HDMI types. It is typically reserved for small handheld electronic devices such as phones or mirrorless cameras. The male end measures a very small 6.4 mm × 2.8 mm (0.25 in x 0.11 in). The micro is for devices that are even too small for the mini. Why don't they just make all HDMIs minis? Well, its smaller design means there are smaller connectors which means a smaller, tighter cable. This not only increases the chance of loss in quality but also limits the length of the cable. Micro HDMI is perfectly fine for most handheld devices, but there's no reason to replace the type A standard, or even the mini with this tiny counterpart.
What is HDMI?
HDMI stands for High-Definition Multimedia Interface and it was developed by a collection of electronics manufacturers as a way to improve audio and video connectivity standards. It was meant to replace other multimedia formats such as DVI and the old-school component hookups. HDMI delivers a smaller connector than the other hookups while also providing support for embedded audio and giving a higher-resolution video signal. They were so efficient that by 2008 the cables outsold DVI and by 2009 HDMI ports were standard on all TVs. Now almost all electronics that have multimedia functionality include some kind of HDMI hookup.
Benefits of HDMI
Those of you who remember the 3 plugs (yellow, red, white) component hookup, might be wondering why the industry switched and made HDMI cables the standard. And, there are many reasons, maybe most of which, is that TV broadcasts became digital in 2009. This meant that broadcast, as well as home movie players (DVDs and Blu Rays), were all transmitting digital data. There was simply no reason to transmit via an analog cable when almost no video and audio sources were analog. HDMI was created to transmit digital and therefore can offer higher resolution than its analog component counterpart on most of the things you watch.
HDMI also has the benefit of being transmitted over a single cable whereas a component setup will have at least three and sometimes as many as five cables that need to be plugged in individually. Due to the fact that it does not need to convert the signal back to digital, HDMI is also better for most HDTVs such as LCDs. Plus analog signals are more prone to interference than digital, so for the best quality transmission, HDMI is the way to go.
Types of Cables
While connectors are the focus of this article, I thought it might be a good idea to also briefly discuss the types of cables you might find attached to them. HDMI cables are pretty impressive when you consider that they must carry high-resolution digital video, theater-quality audio sometimes containing as high as seven channels, and data commands all through one little cord. You can either buy a high-speed or a standard speed. Plus you can get either of those options with or without ethernet.
High Speed vs. Standard Speed
High-speed HDMI cables are almost twice as fast as standard. That might make you wonder why anyone would ever buy a standard, but there is a catch to high-speed cables. The typical bandwidth for a high-speed cable can accommodate a 4K signal at 24 fps. This is perfect to watch movies, TV, and most Blu-rays. But if you have a 4K source that has a high frame rate such as 30 or even 60 fps, you might run into issues. This means that a lot of games and media with higher frame rates may actually be better on a standard cable.
If you are looking for a high-speed cable that can accommodate 4K at higher frame rates, there are premium high-speed cables available. However, as their name suggests, the cost will be much higher than the other two. Though, if you have the money, such a cable could be a valuable investment towards future-proofing. For a comparison of HDMI cables, click here.
Ethernet vs. No Ethernet
Another factor to take into consideration is whether or not to get a cable with ethernet compatibility. HDMI cables can now provide internet connectivity that can pass from device to device. The idea here is to turn your smart TV into the internet connectivity hub for all your devices. You can plug in one ethernet cable to your TV and allow that connection to filter out to your Playstation, your Blu-ray player, or your Roku Box. It is a wire-saving convenience as well as efficient. Frankly, the only reason not to do it is if your TV isn't HEC (HDMI Ethernet Channel) compatible. You can find out if your device is HEC compatible by checking the specifications provided by the manufacturer.
3 HDMI Connector Types: Conclusion
Ultimately the connector type you purchase will depend upon your specific device. It should be noted that the basic functionality and output of all three connector types are essentially the same. If for some reason you need it, you can always purchase an adapter to marry two types of connectors. Though, hopefully, now that you are better informed such corrective measures won't need to be taken.
The image featured at the top of this post is ©Talaj/Shutterstock.com.