Besides Netflix, HBO Max and Hulu are the two most sought-after streaming services online. Why is that? Both have great libraries of film and television, excellent user interfaces with convenient smart TV apps, buzz-worthy original productions, and exclusive features. But, between HBO Max vs Hulu, which of the two is truly the best of the best? The answer is understandably not so simple. As such, let's compare HBO Max vs Hulu to determine a winner.
HBO Max vs Hulu: Side By Side Comparison
HBO Max
Hulu
First Launched
May 27th, 2020
October 29th, 2007
Price Per Month
$9.99 (with ads)
$14.99 (without ads)
$7.99 (with ads)
$14.99 (without ads)
Available Bundles
None (only available as an add-on service)
Disney Bundle Duo, Disney Bundle Trio
Number of Titles
Approx. 2,000 films and 600 television shows
Approx. 2,500 films and 1,650 television shows
Number of Subscribers
More than 77 million
More than 47 million
Number of Simultaneous Streams
3
2
HBO Max vs Hulu: Key Differences
The HBO Max and Hulu debate involves more than just subscriber numbers, so we'll dive deep into their key differences below.
Price Per Month
Firstly, there's the price per month for both services. Interestingly enough, both HBO Max and Hulu offer ad-supported and ad-free plans. It's a recent trend in streaming, as many are starting to realize the TV industry relies on them so heavily for a reason: They're incredibly lucrative. That said, Hulu's ad-supported plan is marginally cheaper than HBO Max's. The former is $7.99 a month (or $79.99 a year), while the latter is $9.99 a month (or $99.99 a year). It's not much of a difference, but it's a difference nonetheless.
For their ad-free plans, both HBO Max and Hulu cost the same: $14.99 a month. This is the cost of ad-free convenience, it seems. It might seem like a lot, but it's the same price as Amazon Prime Video per month and significantly cheaper than Netflix's Premium plan at $19.99. Streaming isn't cheap once you start subscribing to multiple services. Thankfully, Hulu offers something HBO Max doesn't: a money-saving bundle. For $9.99 a month, you can get Hulu and Disney+ (both with ads), and for $12.99 a month, you can throw in ESPN+ too.
Number of Titles
Secondly, there's the sheer number of titles to consider on each streaming service. Hulu — primarily owned by the Walt Disney Company and partly by NBCUniversal — has a pretty sizable library of around 4,000 titles. A decent chunk of this number comes from recently aired television episodes, which gave Hulu its reputation, to begin with. The service also has a couple of thousand movies, boosted by Disney's ownership of 20th Century Fox as well as Hulu's output of original films. All in all, plenty for TV and movie lovers alike to enjoy.
While Hulu's library is good, HBO Max's is undoubtedly better, despite the recent cuts made to the service over the past year. From HBO to Warner Bros., Turner Classic Movies to DC Entertainment, the HBO Max library is much wider and far-ranging than Hulu's. Plus, with the plan to merge HBO Max with Discovery+ sometime in the first half of 2023, that HBO Max streaming library will grow massively. When comparing the HBO Max vs Hulu libraries, the former is the winner.
Exclusive Features
Every successful streaming service needs a hook, and this often manifests itself in the form of exclusive offerings and features that only the individual service alone can offer. For HBO Max, this manifests itself in the form of exclusive streaming content such as The Sopranos and Game of Thrones as well as Friends and various HBO Max originals. The downside is that Warner Bros. Discovery CEO David Zaslav continues to remove HBO Max originals to cut costs.
On the other hand, Hulu has just as many exclusives to offer. Not only do they boast original films such as Prey and Hellraiser and original series such as The Handmaids Tale and Only Murders in the Building, but they also have something you won't find on HBO Max: Live television. With Hulu + Live TV, subscribers have exclusive access to over 85 live television stations streaming through their Hulu account. With this exclusive feature, Hulu can compete with streaming services such as Netflix and Amazon Prime Video as well as streaming television services such as Philo and Sling TV.
5 Must-Know Facts About Streaming in 2023
Experts predict free ad-supported television (FAST) streamers to boom in 2023. Roku Channel, Tubi, and Peacock's free tier are notable examples. Through ad breaks, these platforms can also show movies and TV for free and make a good profit.
The average American spends around $48 a month on streaming services. This doesn't include 40% of Americans who spend as much as $250 monthly for cable and streaming.
Since 2015, US cable subscribers have dropped from more than 75% to less than 50%. With the advent of services such as Hulu + Live TV, that number is sure to drop further.
For the first time in history, streaming surpassed cable in total screen time in 2022. The figures are close: 34.8% of hours spent watching television was done via streaming, while 34.4% was done via cable.
While Netflix is the streamer with the most paid subscribers at 220 million, YouTube is the most popular streaming service overall, with more than 2 billion monthly users.
The History of HBO Max
First teased in 2018, WarnerMedia announced their plans for a wide-ranging streaming service that would span their massive library of films and television series. HBO Go and HBO Now subscribers knew how great this new WarnerMedia streaming service could be.
The HBO Max name was announced in July 2019. At this same time, WarnerMedia teased the kind of content future subscribers could expect: Close to a dozen original films from top talents such as Reese Witherspoon, Steven Soderbergh, and Greg Berlanti. Numerous original TV series from hitmakers such as Taika Waititi, James Gunn, and Michael Mann. Plus, a significant chunk of the massive libraries of HBO, Warner Bros., Turner Classic Movies, Cartoon Network, DC Entertainment, Adult Swim, and more.
HBO Max launched in May 2020. It was an instant success, garnering nearly 70 million subscribers that year alone. When WarnerMedia officially merged with Discovery, Inc. in the spring of 2022, that number grew exponentially (as did the HBO Max library). At its current rate, the service is expected to hit 150 million subscribers by 2025. While the current Warner Bros. Discovery leadership has proven to be a lot more controversial than expected (due in large part to unexpected and seemingly unwarranted cuts), HBO Max no doubt remains a streaming titan.
How Hulu Competes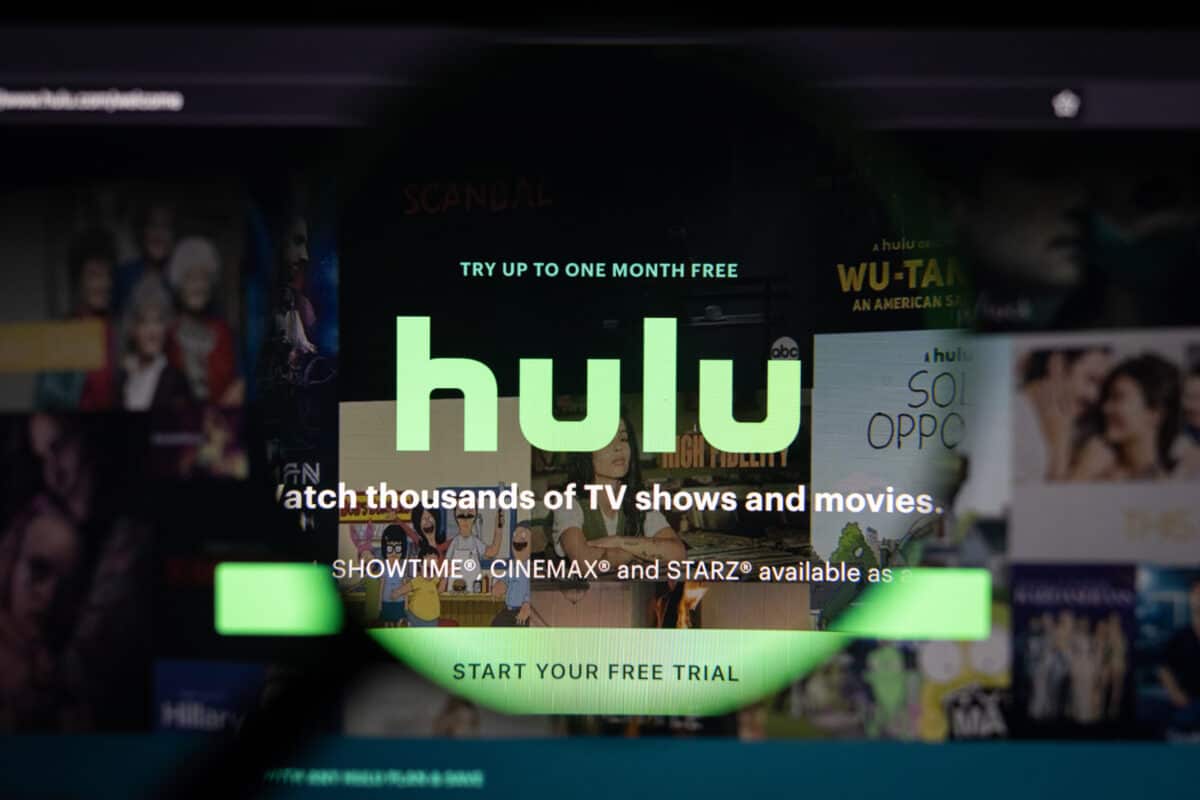 Unlike other rival streaming services, Hulu was not founded by one person or one group striving for industry disruption. As a matter of fact, Hulu more closely resembles a joint effort between some of the biggest studios and companies in television in the late 2000s. Initially conceived as a way to watch the latest television episodes, the service debuted on October 29th, 2007. Pitched as a free VOD service, it allowed users to view the week's newest television episodes from the top networks. All they had to do was sit through some ad breaks.
Everyone on TV in this era collaborated with Hulu, from NBC to FOX, ABC to FX. Surprisingly, it worked. Whether watching Modern Family or Saturday Night Live, It's Always Sunny in Philadelphia or The Simpsons, Hulu served as a hub for those looking for the newest episodes available for free for a limited time each week. Surprisingly, Hulu's business plan was quite successful. However, as Amazon Prime Video and Netflix began to rise in popularity, it was evident Hulu would need to switch things up if it wanted to survive.
Hulu Plus came about in 2010. Bringing along the introduction of complete TV series and films for a monthly cost, the debut of Hulu Plus effectively established Hulu as we know it. It was now operating on the same level as Prime Video and Hulu, competing with the giants of the industry with ease. Hulu Plus later rebranded to simply "Hulu," at which point Hulu + Live TV was introduced in 2017. It was everything great about Hulu, plus more than 85 live streaming television channels. The move elevated Hulu even further, allowing it to become the best possible version of itself.
HBO Max vs Hulu: Pros and Cons
| Pros of HBO Max | Cons of HBO Max |
| --- | --- |
| Massive library of Warner Bros. films and TV | Warner Bros. Discovery CEO is removing original content seemingly at a whim |
| Expected to merge with Discovery+ soon | Cheapest tier is ad-supported |
| Streaming home to hit HBO Max shows | Money-saving bundles unavailable |
| More classic films than most other major streamers | |
| Pros of Hulu | Cons of Hulu |
| --- | --- |
| Allows access to new episodes of currently airing cable television shows | Lots of content overlaps with other streamers, such as Prime Video |
| Award-winning original films and TV shows | Only allows for two simultaneous streams |
| Option to add 85+ live-streaming television channels | Hulu + Live TV can cost as much as $82.99 a month or more with add-on services |
| Can be bundled with Disney+ and ESPN+ | Ad-free tier costs almost twice as much |
HBO Max vs Hulu: Which Is Best?
As it turns out, the HBO Max vs Hulu debate is much closer than you'd think. Both services have plenty of love, each with its unique set of exclusive content and features. However, there has to be a winner, and that's HBO Max. Hulu has a lot to love, including its live TV add-on, but we have to give it to HBO Max. It has superior originals, a better selection of films and TV shows, and an all-around better service.