Are you looking for a new lawnmower? The days of tripping or electrocuting yourself on miles of power cords are long gone. Cordless mowers are the in-thing, with long-lasting battery life and strong build quality that enables them to take on the most arduous mowing jobs. Two latest cordless self-propelled lawn mowers on the market are the HART 40V Cordless Mower and Makita Self-Propelled Lawn Mower. Both mowers are manufactured by reputable power tool companies and boast the performance and battery life to keep your lawn neat. In this article, we compare the HART 40V Cordless Mower vs Makita self-propelled lawn mower. Which one wins?
Hart 40V Cordless Mower Vs Makita Self-Propelled Lawn Mower: Side-by-Side Comparison
| | | |
| --- | --- | --- |
| | HART 40V Cordless Mower | Makita Self-Propelled Lawn Mower |
| Model | 40V Supercharge Brushless 21" Self-Propelled Mower HLPM061US | XML11Z 36V (18V X2) LXT® 21″ Self‑Propelled Lawn Mower |
| What it is | Self-Propelled Mower | Self-Propelled Mower |
| Cutting width | 21" | 21" |
| Deck width | 20" | 22" |
| Cutting height range | 1" to 4" | 1¼" to 4" |
| Maximum speed (RPM) | | 3000 |
| Bag capacity (Bushels) | 2 | 2 |
| Net weight (with battery) | 89.5 pounds | 62.5 pounds |
| Dimensions | 39.7" x 22.8" x 17" | 71.5" x 73.5" x 47.5" |
| Power type | Cordless | Cordless |
| Battery | 40V Li-ion batteries | Two 18V Li-ion batteries (37 V) |
| Motor type | Brushless | Brushed |
| Lawn size | up to ¾ acre | up to a ½ acre |
| Warranty | Tool warranty: 5 years, Battery warranty: 3 years | 3-year limited manufacturer's warranty for tools and batteries |
Great for Larger Lawns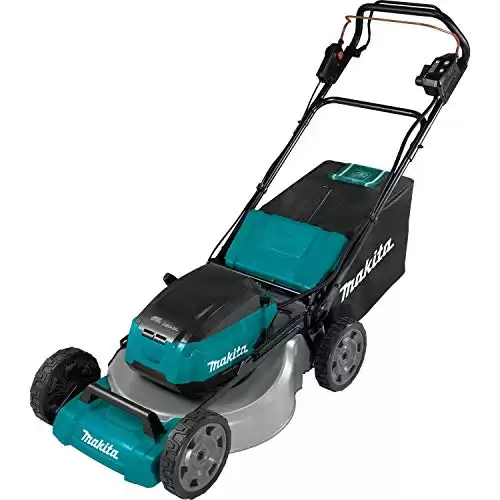 We earn a commission if you make a purchase, at no additional cost to you.
Hart 40V Cordless Mower Vs Makita Self-Propelled Lawn Mower: What's the Difference?
These two cordless mowers are comparable in size and performance, but key differences can help you determine which is right for you and your property. Check out their differences below.
1. Motor types
HART lawn mower has a brushless motor, while the Makita has a brushed motor.
Brushes in a brushed motor generate friction while rotating. The energy supplied to the motor is lost as heat, making brushed motors less efficient overall. A brushless motor is the better choice as it saves energy, preserves battery life and provides a long run time. Not to mention brushes wear out as you run your mower over time. This shortens the mower's lifespan if replacements are unavailable.
2. Mowing acreage on a single charge
The brushless motor and higher voltage of the HART 40 lawnmower make it more efficient. Though battery life varies with terrain and conditions when you mow, you can expect to cut up to ¾ acre with the HART mower versus ½ an acre with the Makita.
3. Buttons and levers
Both motors feature ease-of-use adaptations and a push-button start. The HART uses a knob to adjust cutting height through a greater range of levels, while the Makita uses a lever to change the level of the mowing deck.
4. Bagging
In addition to its 3-in-1 mulching, discharge, and bagging function, the HART mower has pass-through bagging. This makes it much easier to handle the mower bag so you can set up the mower and dispose of clippings without a mess.
5. Battery charge time
One of the downsides of electric power tools is the downtime while a drained battery is recharging. Manufacturers want to minimize this delay to ensure that your yard work gets done quickly. Makita batteries recharge in just 45 minutes, while HART batteries take an hour to be fully charged.
The HART mower runs on a dual-active battery port for two batteries, while the Makita requires four batteries (sold separately) to deliver the full mowing duration.
6. Warranties
Both mowers come with a decent manufacturer's warranty. The Makita mower has a three-year limited warranty. HART mower offers five years warranty for the mower and three years for the battery.
7. Headlights
The HART cordless mower comes with integrated LED headlights. You'll be glad of this feature if mowing dense brush or the light gets lower later in the day.
What is HART 40V cordless mower?
The HART 40V Supercharge Brushless 21" self-propelled mower takes the sweat out of mowing your lawn. It has been designed with various features that simplify mowing and fold down easily for compact and convenient storage.
Battery power with stamina
This high-powered battery mower has the battery life to mow ¾ acre on a single charge! The mower is supplied with two high-quality 40V batteries so you can continue mowing when one battery is drained.
Bag, mulch, or discharge easily
With the HART 40V cordless mower, you can skip the hassle of raking or bagging your grass clippings. This mower features the latest 3-in-1 engineering to bag automatically, mulch, or discharge clippings however and whenever you want.
Easy, intuitive handling
Everything about this mower's design makes getting the grass cut easier. The lightweight composite casing makes the mower easy to transport and fold down. A push-button start, a knob for cutting height adjustment, and fast folding handles for convenient storage make mowing less arduous. If you want to mow late in the day, the HART 40V cordless mower even has LED headlights, so the job always gets done.
About HART
HART tools are made by Techtronic Industries Company Limited (TTI Group), a Hong Kong conglomerate that produces many popular tool brands. It was originally an OEM manufacturer in the 1980s. The Hart 21" 40V cordless mower is made in China.
What is Makita self-propelled lawn mower?
The Makita 36V LXT® 21″ Self‑Propelled Lawn Mower is the latest addition to Japanese manufacturer Makita's expanding line of cordless outdoor power tools. This powerful mower bypasses the emissions and noise of a gas mower and the power cord hassle of a corded model while continuing to cut grass just as efficiently as you expect.
Makes mowing easy
This mower features a plastic deck to reduce the weight and physical effort required for mowing, along with useful features like easy-levered height adjustment and folding handles. The 3-in-1 function of this mower means that you can mulch, bag, or discharge grass cuttings by simply pressing a button.
Built for hard work
This mower is designed to cope with real life in your yard. It has proprietary Extreme Protection Technology (XPT™), a protective seal that keeps water, dust, and grass clippings at bay. Power is maintained by Makita's 18V LXT Lithium-Ion batteries. 2 of these fast-charging batteries are needed to provide enough power for mowing half an acre of lawn.
Smart mower technology
This clever mower uses Makita's Star Protection communication technology to monitor battery life and performance. This prevents overheating, overloading, or over-discharging so you can focus on getting the lawn mowed.
About Makita
Makita Corporation is a Japanese power tools company with over a century of experience in the market. They have been manufacturing power tools since the late 1950s and have produced an extensive range of cordless tools. Makita has manufacturing facilities worldwide, but this particular mower is made in China.
Hart 40V Cordless Mower Vs Makita Self-Propelled Lawn Mower: 6 Must-Know Facts
Cordless mowers have the benefit of not requiring gas, oil, or a pull start. They also have zero emissions, making them a better environmental choice.
The Makita mower's package includes a 21" lawn mower blade, a 2-bushel bag for grass clippings and bag frame, a mulching plug, a lock key, and an owner's manual.
The HART mower includes a two-bushel bag, mulch plug, start key, side discharge chute, two 6.0 Ah batteries with a fast charger, and an owner's manual.
The Makita mower features ball bearings on its wheels. This makes driving and maneuvering this mower much more smooth.
Makita's self-propelling mower function has adjustable speeds of 1 and 3 MPH.
The HART cordless mower folds up for storage, but the Makita doesn't.
Hart 40V Cordless Mower Vs Makita Self-Propelled Lawn Mower: Which One Is Better?
Both mowers have excellent specifications and performance, but the HART 40V cordless mower has an edge over its competitor. Its brushless mower is much more energy efficient, significantly affecting how much run time you'll get from a single battery charge. The HART mower also has unique features, like headlights, that add value to this mid-range purchase.
Makita and the HART 40V cordless mowers are decent buys if you need to mow a yard between 1 and 2 acres. The HART mower is more energy efficient, allowing you to mow much more grass on a single charge. It has great cutting performance, handles easily, and its self-propelled function makes getting out to mow the lawn less hassle.
Updates for the Hart 40V Cordless Mower and the Makita Self-Propelled Lawn Mower
Updates have been made to both mowers since February 2023. In addition to some cosmetic and control panel improvements, the following updates have also been made:
Hart 40V Cordless Mower
New battery: The new battery provides a longer battery life and makes mowing larger lawns more efficient.
New blade: The new blades are more durable and cut better.
Improved self-propelled system: The self-propelled system improvements make mowing your lawn easier and more efficient.
Makita Self-Propelled Lawn Mower
New deck: The updated deck is easier to clean and more durable.
Improved self-propelled system: The mower is much easier to push with the updated self-propelled system.
Possible Future Updates for the Hart 40V Cordless Mower and the Makita Self-Propelled Lawn Mower
Both Hart and Makita have been working on improving their mowers. Even though they haven't announced updates yet, here are some possible updates we might see in the next six to 18 months:
Improved safety features: New features, such as a safety switch or a blade break, might be added to both mowers to improve their safety.
More affordable: The price point for future versions of both mowers could be lower, which would make them more accessible to a wider range of customers.
More environmentally friendly: Additional environmentally friendly features, such as recycled materials or brushless motors, could be added to make them even more environmentally friendly.
New features: Mulching, bags, or a side discharge chute could be added as additional features to both mowers.