In the market for some new audio equipment? Then you've probably seen the brand names Harman Kardon and Bose. From surround sound setups to automobile audio systems to smart speakers and various other branches in between, the Harman Kardon vs Bose debate has been going strong for over 50 years now.
Which of these popular audio equipment brands is superior? And what makes each brand name distinct by comparison? Let's take a look at the specifications and history of each, paying close attention to their individual pros and cons.
Harman Kardon vs Bose: Side-by-Side Comparison
Harman Kardon
Bose
Founded
1953
1964
Founder
Sidney Harman, Bernard Kardon
Amar Bose
Key Figures
Michael Mauser (Harman President and CEO)
Mark Hartje (Harman CFO)
Lila Snyder (CEO)
Jim Scammon (President, COO)
Bob Maresca (Chairman)
Headquarters
Stamford, Connecticut
Framingham, Massachusetts
Parent
Harman International Industries
Massachusetts Institute of Technology
Products
Audio equipment
Audio equipment
Harman Kardon vs Bose: What's the Difference?
With these basic specifications outlined above, it's worth taking this Harman Kardon vs Bose debate a little further. What are some of the key differences between the two popular audio equipment brands?
How do they compare with sound quality, product lineup, or average cost? What's more, how do their ownership and founding compare? Let's break down these key differences below, starting with sound quality.
Sound Quality
We earn a commission if you make a purchase, at no additional cost to you.
Firstly, the quality of the sound from Harman Kardon vs Bose speakers. Is there any consideration more important than this one when comparing two audio equipment brands? Likely not. Harman Kardon speakers are known for having a sound quality that's very heavy on the subwoofer.
Bose, on the other hand, is known for keeping their specific audio specs locked down and out of the public eye. This has led to questions about their true sound quality, with some accusing them of simply boosting their bass to create an illusion of better sound. Harman Kardon wins this round.
Product Lineup
Secondly, there's the overall product lineup for each brand. Let's consider what kind of offerings you can find from Harman Kardon vs Bose. The former is primarily known for its speakers, its headphones, and its automotive line of sound systems.
Harman Kardon also has a line of speaker systems specifically for boats. Bose, on the other hand, has a lot wider range of products. From home and car speakers to headphones to earbuds to Bluetooth speakers to audio sunglasses, Bose has Harman Kardon beat here.
Ownership and Founding
Thirdly, let's consider the histories of both companies. Harman Kardon was first founded back in 1953 and is currently owned by Harman International Industries. (That's a division of Samsung, which obviously has several other audio equipment brands under its corporate umbrella.)
Bose, comparatively, is owned entirely by founder Amar Bose's former employer: The Massachusetts Institute of Technology (MIT). Amar founded the company back in 1964. This matters not only because it shows who came first, but also because it emphasizes who is operating more independently.
Average Cost
Most Versatile
We earn a commission if you make a purchase, at no additional cost to you.
Lastly, there's the difference in average cost for a Harman Kardon vs Bose speaker. By and large, Harman Kardon speakers and products tend to be more affordable than Bose products.
This is the central flaw with Bose, and one of the main reasons why they receive flack today: their products are expensive, but they don't have any specific audio stats to back up the price.
That's not to say Harman Kardon doesn't have expensive products — the company most certainly does. However, on average, Harman Kardon products tend to cost less than comparable Bose products.
5 Must-Know Facts About Harman Kardon and Bose
Harman Kardon saved speaker brand JBL from going out of business in 1969. But, instead of absorbing JBL under the Harman Kardon name, it still exists as JBL under Harman Kardon's parent company, Harman International.
Bose has not put out any official specifications for the sound quality of its speakers since 1968. More than half a century ago, Bose founder Amar Bose made it the company's mission to withhold numerical data.
Sidney Harman — Harman Kardon co-founder — served as the Deputy Secretary of Commerce under Jimmy Carter's presidential administration. Because the law prohibits such high-ranking officeholders from playing a part in the day-to-day business activities, Harman had to part ways with Harman Kardon for the length of his tenure. He then regained control of Harman Kardon after the Carter presidency in 1980.
Before he founded Bose, company founder Amar Bose served as a professor at the illustrious Massachusetts Institute of Technology. Upon his retirement, Amar Bose gave his former employer, MIT, the majority of Bose's non-voting shares. This effectively made MIT the owner of the company.
Harman Kardon has a long list of past and present automobile brand partners, including Harman Kardon supplies and audio equipment, delivered to several vehicle manufacturers including Audi, Volkswagen, Hyundai, BMW, Buick, Jeep, Mercedes-Benz, Kia, Land Rover, Volvo, Buick, Kia, and a long list of others.
The History of Harman Kardon
One of the biggest distinctions between Harman Kardon vs Bose? The very different histories of each company. Harman Kardon predates Bose by about a decade. Back in the early 1950s, a man by the name of Sidney Harman served as the general manager of a manufacturer called the David Bogen Company.
Bernard Kardon, the chief engineer at the David Bogen Company, worked alongside Sidney Harman during the day-to-day at the manufacturer. After some less-than-favorable changes hit the higher-ups at the company, both Harman and Kardon left the David Bogen company in 1953.
Equipped with just $5,000 in investment money each, Harman and Kardon came together to establish the Harman Kardon Company. The newly founded audio equipment company got right down to work.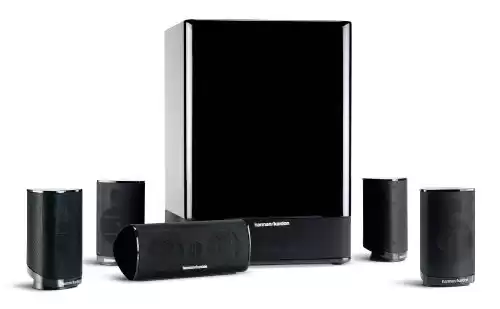 We earn a commission if you make a purchase, at no additional cost to you.
They soon became known for some of the leading innovations of the decade, including some early pioneering Hi-Fi products and an FM tuner. Harman Kardon also worked to revolutionize integrated receiver technology, which had been around since the 1930s but had not been altered much in the decades since.
With the retirement of Bernard Kardon in the late 1950s, Harman was able to grow the company into the internationally renowned audio equipment brand it is today. From in-home surround sound systems to car speakers to receivers, amps, and beyond, Bernard Kardon is more than just an audio brand.
It's also responsible for Harman International Industries, a subsidiary of Samsung that owns JBL, Martin, Lexicon, and other major players in the audio sphere today. It's no wonder the showdown between Harman Kardon and Bose is still ongoing — both are powerhouses in their own right.
How Bose Compares
The Harman Kardon vs Bose debate can truly be seen best in the way Bose's history compares to that of Harman Kardon's. Bose first established itself as a trusted source for audio equipment back in 1964, when founder Amar Bose was still a professor at the Massachusetts Institute of Technology.
Amar Bose was inspired to start his own research and development of Bose speaker tech after realizing how unexceptional consumer-grade sound systems were at the time. And so, instead of settling, he put what he knew about sound engineering to the test. He set out to build the best sound system known to man.
Amar Bose — in conjunction with angel investors, not to mention MIT resources — did eventually accomplish what he set out to do. However, it didn't happen immediately. (Turns out even experts aren't immune to failure.) The first product Bose ever released — dubbed the Bose 2201 — was far from the smash success Amar hoped.
Best for TV
Bose TV Speaker
2 full-range drivers
Designed to enhance dialogue

Bluetooth, Auxiliary, Optical, and HDMI

connectivity
Features

Bass Boost
We earn a commission if you make a purchase, at no additional cost to you.
The Bose 2201 was released in 1964 but lasted less than four years on the consumer market before being pulled from production. This, effectively, sent Amar Bose back to square one. But, by the year 1968, he had something even better to debut.
That new and improved speaker? None other than the Bose 901. The new tech was a tremendous hit for the company. It continued to sell for nearly half a century before being discontinued in 2016. While the Bose 2201 was undoubtedly a disappointment, the success of the Bose 901 more than made up for it in Amar's eyes.
He soon left MIT to grow Bose into the internationally renowned speaker brand we know and love today. From the '70s and beyond, Bose expanded to headphones, PA systems, automotive speakers, and more. Today, they remain globally adored.
Harman Kardon vs Bose: Pros and Cons
| Pros of Harman Kardon | Cons of Harman Kardon |
| --- | --- |
| Generally more affordable than Bose on average | More limited product lineup |
| More vast partnerships with top car brands | Less recognizable as a brand than Bose |
| Superior sound quality to Bose | Many speakers are not waterproof |
| Owned by Samsung, which opens the door to better resources and branding | Some Bluetooth products fall short of industry Bluetooth standards |
| Pros of Bose | Cons of Bose |
| --- | --- |
| One of the most recognizable names in speaker tech | No particular specs about sound quality released in more than 50 years |
| Wide range of products and equipment | More expensive than Harman Kardon on average |
| Many products are waterproof or water resistant | More bass-heavy sound quality |
| Not owned by a conglomerate | Less impressive than other, more high-end audio products |
Harman Kardon vs Bose: Which One Is Better?
The Harman Kardon vs Bose debate is not exactly one with a clear winner. Neither company is exactly perfect, each with its own set of unique pros and cons. In the end, it comes down to a few key considerations: Harman Kardon has the lower average price and the better sound over Bose.
Bose, on the other hand, has more recognizable brands and a wider range of products in its catalog. Ultimately, Harman Kardon deserves to win this debate. There are few things more important to a speaker brand than affordability and sound quality, and Harman Kardon beats Bose at both.
The image featured at the top of this post is ©Syafiq Adnan/Shutterstock.com.