General Motors or GM boldly claims it will be all-electric by 2035 and have 30 electric vehicles (EVs) available by 2025, 20 of those in the USA. With only a handful of EVs currently in showrooms and another few ready for near-future release, these promises might seem grandiose. However, its titanic $35 billion investment in EV development and production through 2025 shows the Detroit automaker is serious about achieving its electrification goals. The investment in GM electric vehicles dwarfs spending on GM's gasoline and diesel vehicle segments and includes funding for R&D, battery cell plants, and EV factories.
GM has EV models across all four big brands – GMC, Chevrolet, Buick, and Cadillac. These include passenger cars, pickup trucks, SUVs, and crossover SUVs. The Hummer nameplate's return as a burly but environmentally friendly EV pickup and SUV rather than the former gas-guzzling ICE vehicle symbolizes GM's fresh direction. It's also planning a Chevy Silverado EV release within the next year, challenging the Ford F-150 Lightning pickup. Many other GM EVs are slated to follow.
Chevrolet EV Models
Chevy Bolt EV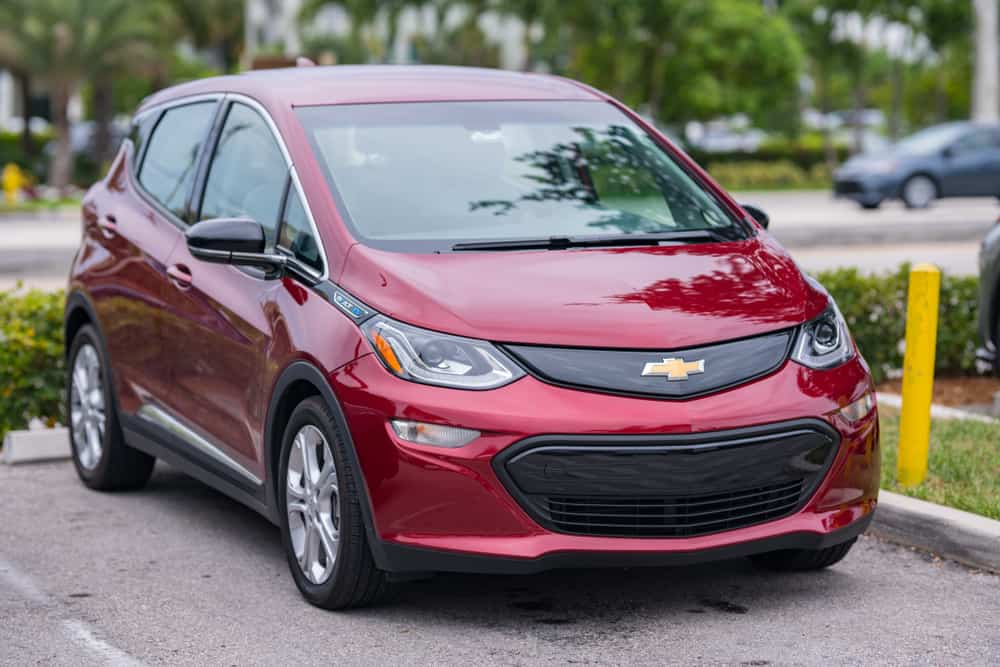 Chevy's designers revamped the Chevrolet Bolt EV for its 2022 model year, making a more spacious interior for the 5 occupants it carries. Even the rear seats have 36-in legroom despite the Bolt's compact dimensions. Options include leather seats and a power-adjustable driver's seat. Affordability remains a key trait of the Bolt, with the base model starting at $31,500.
The Bolt offers a good driving experience with some fun, sporty details. According to EPA estimates, the Bolt can travel 259 miles on a charge. While its 6.5-second 0-60 mph acceleration isn't a race winner, it's still peppy, propelled by 266 ft-lbs of torque. To put it in perspective, the world-famous 1967 Ford Mustang GT muscle car took 0.8 seconds faster to reach sixty.
The Chevy Bolt also features one-pedal driving with regenerative braking for ease and efficiency. Its software includes multiple driving modes, including a sport mode. Driver assist technology helps make the driving experience less stressful and safer.
Chevy Bolt EUV
Also currently available, the Chevy Bolt EUV or "electric utility vehicle" is a slightly bigger compact SUV than the subcompact Bolt. Like the Bolt, it seats 5 people and has similar features and overall design. A CNET review notes the rear seat remains somewhat cramped for three people, but the over 39-in rear legroom significantly boosts comfort.
The Bolt EUV can cram in 56.9 cubic feet of cargo at maximum. It isn't as sporty as the slightly smaller Bolt, taking 7 seconds to reach 60 mph from a standstill. However, it still manages 247 miles of range on a full charge. Charging is limited to Level 1 or Level 2, leaving fast charging to the future.
Buyers can opt for Super Cruise, which uses lane-keeping technology paired with cameras and other sensors to enable hands-free driving. Super Cruise functions on around 200,000 miles of North American roads. On other roads, drivers still benefit from the built-in driver-assist tech.
Chevy Silverado EV
Bringing one of Chevy's foremost pickup trucks to the road in electric format, the 2024 Chevrolet Silverado EV pickup will likely come out in summer 2023. This full-size light-duty pickup offers strong performance that potentially outshines rivals like the F-150 Lightning in places. For instance, Chevrolet claims the Silverado EV's range is 400 miles, exceeding Lightning extended-range variants by 80 miles.
The truck generates 660 horsepower with WOW, or Wide Open Watts, engaged, plus 780 ft-lbs of torque. As a result, the Silverado EV pickup has impressive payload performance, towing 8,000 lbs to 10,000 lbs depending on trim. It can also carry 1,200 lbs of cargo. Chevrolet is planning a model with enhanced, 20,000-lb towing capability.
While the basic bed is 5 feet 11 inches long, the Silverado EV's designers have another trick up their sleeves. A "midgate" in the back of the cabin wall opens, and the rear seats fold down to boost this to 9 feet. Dropping the tailgate gives a potential 10 feet 10 inches of bed space.
Chevy Blazer EV
GM has slated the Chevrolet Blazer EV SUV, one of its upcoming GM electric vehicles, for release in summer 2023. The company says the Blazer will provide a sporty driving experience with a 0-60 mph time of 4 seconds. Occupants can enjoy a spacious, comfortable interior with snappy styling. Multiple driver assistance systems ease driving, including Super Cruise hands-free driving on specific highways. Chevy's engineers also built regenerative braking into the vehicle.
Chevy plans to release three trim levels with multiple options. Purchasers can select the rear-wheel drive, front-wheel drive, or all-wheel drive to match the EV's intended use. The Blazer can achieve between 247 miles and 320 miles of range per charge, depending on the battery option. Ten minutes of charging on a DC fast charger adds 80 miles of range. The company will charge a likely base model starting price of $44,995 for the Blazer EV.
GMC EV Models
GMC Hummer EV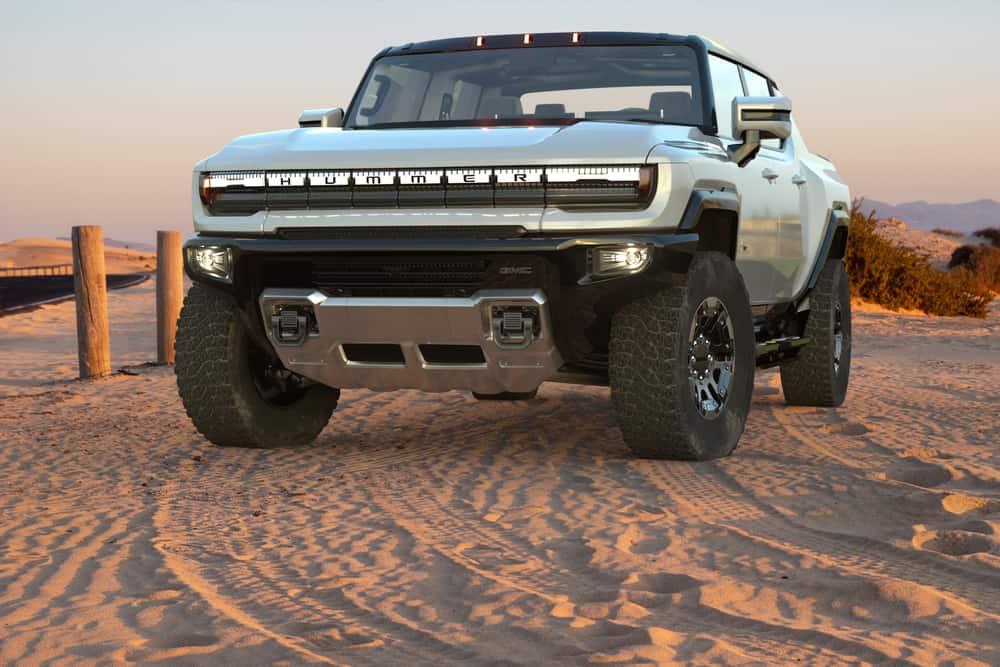 Originally an icon of gasoline-powered wastefulness, the GMC Hummer EV has returned in pickup truck and SUV models. Featuring a massive-looking, beefy layout and style like the original Hummer, the vehicle includes multiple elements intended to make it a juggernaut both on- and off-road.
On-road, the Hummer achieves ranges of 329 miles by EPA estimates, putting it in the upper end of current EVs by range. Thanks to its blistering torque and horsepower, this EV can rocket from 0 to 60 mph in 3 seconds. The Crabwalk feature at low speeds enables sidling the burly SUV or pickup into a tight parking space.
Crabwalk can also help inch around hairpin canyon turns and outdoor, off-road obstacles. Other off-road features include the ability to run on huge 35-inch tires. Ground clearance ranges from 11.9 inches to 15.9 inches. The vehicle can ford between 28 and 32 inches of water, greatly increasing its cross-country mobility.
GMC Sierra Denali EV Pickup Truck
GMC's third EV after the two Hummer variants will be a Denali trim version of its full-size Sierra pickup truck. Almost no details are available about the Sierra Denali EV, which may appear in 2023. GMC says the truck uses the same Ultium platform as other General Motors EVs, including Hummer variants.
Cadillac EV Models
2023 Cadillac Lyriq
Cadillac plans the release of the Cadillac Lyriq premium crossover SUV next year, adding yet another option to the GM lineup. Pre-orders for the 2023 Lyriq are already sold out, but ordering is still open for the 2024 Lyriq. The estimated base price is $62,990, though Cadillac warns the price is likely to change and more accurate information will be available closer to launch.
The Lyriq will come in at least two drivetrain setups, including a rear-wheel drive (RWD) version and an all-wheel drive (AWD) dual-motor option. The RWD vehicle provides the best range, at 312 miles estimated range. A DC fast charger will add 76 miles of range in 10 minutes. The Lyriq also features a 33-inch LED display and control screen and numerous driver assists systems, including hands-free Super Cruise.
Buick EV Models
Buick Wildcat EV Concept
Though it's just a concept car, the Buick Wildcat EV is intended by Buick to test features and design choices for all its future EVs. One of the design elements likely to find its way into other Buick electric vehicles is the Wildcat's wide stance. A spacious but sporty interior with a concavely bent control screen and a flat-bottomed steering wheel may also be included. In other models, massaging seats and aromatherapy dispensers to calm and soothe agitated drivers are less likely to be seen.
Buick Electra
Buick appears to be planning the release of sedan-style EV SUV crossovers under the Electra nameplate. The company will build multiple models for the Electra family, with Car and Driver reporting the first is due out in 2025. Piecing together data from multiple sources, the website predicts an approximate 300-mile range and $50,000 base price. Buick will probably reveal more details sometime in 2023.
The image featured at the top of this post is ©Jonathan Weiss/Shutterstock.com.