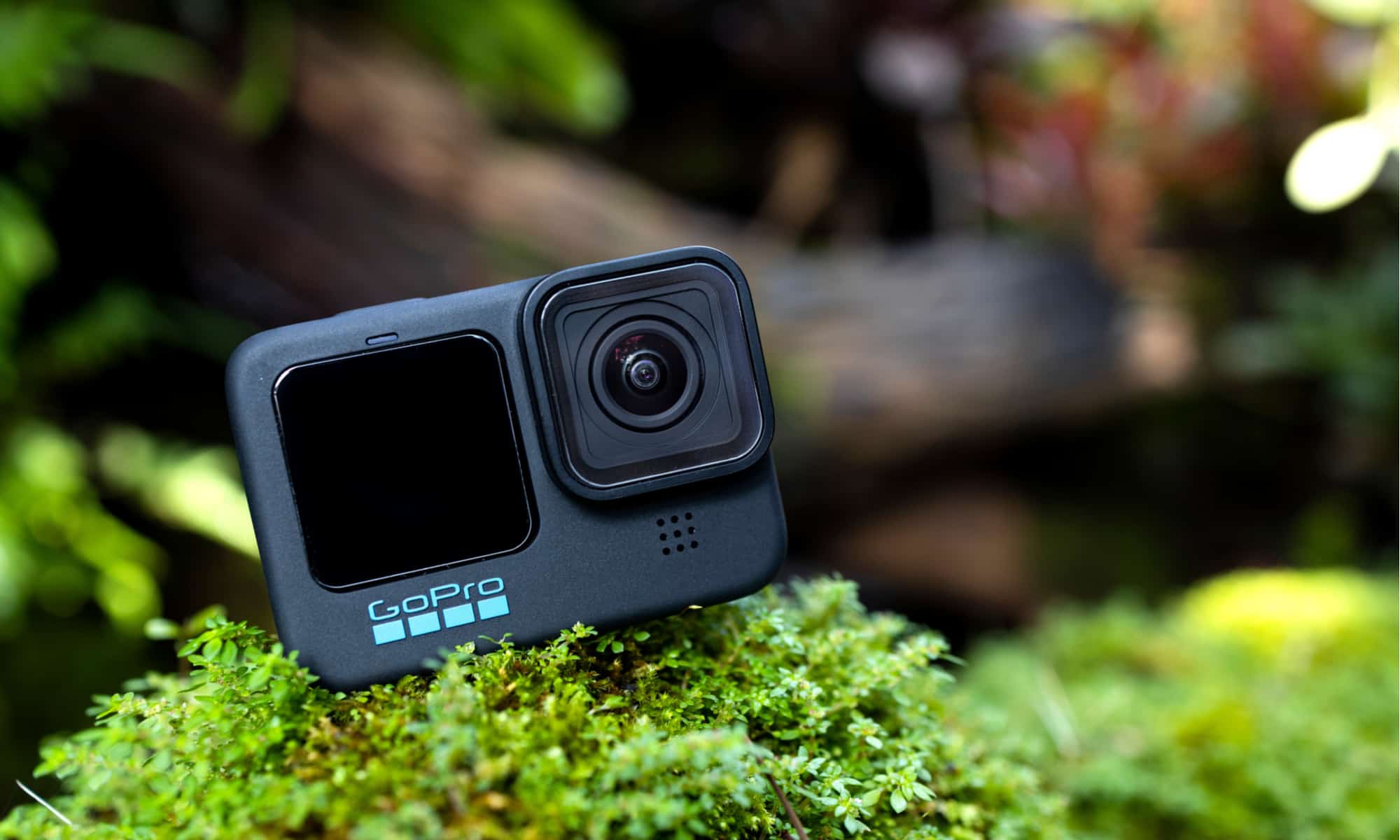 Action cameras are a hot topic, with many brands creating attractive cameras for consumers looking to share clips online. Whether surfing, skydiving, or base-jumping, you know that there's one key piece of gear you need to take videos or photos in the air. That's why so many people narrow down their options to GoPro and the iPhone when buying action cameras. However, before settling on one, you should know some critical differences between GoPro vs. iPhone action cameras.
While each option offers amazing features and specs, only one can make it to the top of your list! The question is, which one? This GoPro vs. iPhone guide explains how the two popular cameras differ in terms of image quality, video format, and battery life. Examining these features will enable you to make an informed choice.
GoPro vs. iPhone: A Side-by-Side Comparison
| | GoPro Hero 10 Black | iPhone 13 Pro |
| --- | --- | --- |
| Wide Angle FOV   | Super Wide: ƒ/1.8 aperture/170°   | Ultra-Wide: ƒ/1.8 aperture/120° Wide: ƒ/1.5 aperture |
| Developer | Nick Woodman | Apple Inc. |
| Release Date | September 16, 2021 | September 24, 2021 |
| Slow Motion   | 5.3K – 2x, 4K/2.7K – 4x, 1080p – 8x | 1080p / 120, 240fps |
| Resolution   | 5.3K/60FPS,4K/120FPS,2.7K/240FPS | 4K / 24, 25, 30, 60fps1080p / 25, 30, 60fps720p / 30 fps |
| Waterproof | Up to 10m (33ft)     | It withstands water for 4m (13 feet) deep— in approximately 30 minutes and this is translated as IP68 |
| Sensor Size | 23.6MP       | Rear: 12MP (3 Lenses)Front: 12MP |
| Stabilization | Hyper Smooth 4.0 | Cinematic video stabilization (4K, 1080p and 720p) |
GoPro vs. iPhone: 5 Must-Know Facts
The GoPro camera has a simple, user-friendly design and is based on an action-sports concept. It is suitable for various activities such as skiing, surfing, snowboarding, and mountain biking.
The iPhone records high-definition video at 1080p resolution and 12-megapixel photos at 30 frames per second (fps). This lets you capture fast action shots without losing details or motion blur.
From the Hero 5 to the Hero 10, these gadgets already include waterproofing features, even without a special case or housing. These tiny devices may be safely submerged to a maximum depth of 10 meters without losing functionality.
 Apple phones have IP67 and IP68 ratings, meaning they are resistant to water, splashing, and dust.
The storage capacity of an iPhone is fixed. You essentially have to rely on your phone's internal storage. However, the GoPro's expanded capacity via Micro-SD card is helpful, especially if you want to capture 4K video.
GoPro vs. iPhone: What's the Difference?
Although they're popular with action sports enthusiasts, GoPro cameras aren't the only option available. The iPhone has also seen a massive uptick in popularity, and there are plenty of reasons to consider using it instead of your GoPro. Both devices can shoot stunning footage, but each one offers slightly different features to help you achieve your goals. Here's how GoPro vs. iPhone differ.
Image stabilization
Sometimes you'll shoot while walking or running. Stabilization prevents your camera from shaking as you move through your environment. The most recent models of the iPhone and GoPro offer excellent image stabilization abilities. While GoPro Hero 9 and Hero10 Black use sophisticated Hyper smooth Stabilization, which provides incredibly stable footage, the iPhone 13 Pro has an incredible Optical Image Stabilization (OIS) feature in addition to Electronic Stabilization.
Additionally, Apple upped their game by putting a sensor-shift IS on the iPhone 12 and 13 models (all variations). This method stabilizes the sensor rather than the lens, distinguishing it from other IS. Most modern DSLRs use this innovation as well.
Waterproofing
This feature allows your camera to be submerged underwater without damaging its internal components. Waterproofing isn't always necessary when shooting action footage in outdoor conditions, but it can come in handy if you want to film activities like surfing or skiing.
GoPro's waterproofing technology allows you to take shots underwater at depths of up to 33 feet without worrying about damage or ruining your footage. In theory, the iPhone 13 is waterproof. However, Apple's most recent iPhone models can withstand water up to 19.6 feet for 30 minutes at maximum (IP68 certification). That being said, it's best not to rely on the iPhone 13 for underwater action photography and videos.
Low light performance
Cameras will perform differently in dim light, or with low amounts of light passing through their lens and sensors. A good example is during photoshoots from dusk until dawn or when taking photos in poorly lit areas with insufficient natural lighting.
The primary lenses on the current iPhone models (X, 11, 12, 13) have a wider aperture than the latest GoPros (Hero 8, 9, 10 Black). As a result, the iPhone outperforms the GoPro in low-light circumstances. When comparing GoPro vs. iPhone, the iPhone 13 Pro Max creates more vibrant videos and photos. Additionally, pictures taken with a smartphone are far crisper and more detailed.
Start-up
You might be familiar with this procedure if you own an iPhone as its camera is accessible with a single swipe. With GoPro, you can instantly take high-quality images and films in any setting after you get used to the few buttons. However, make sure to practice a little first!
The iPhone is unquestionably the winner in terms of speed. Its lock screen can launch its camera in a split second. However, the GoPro Hero 7 and Hero 8 start-up takes roughly 3 seconds. Additionally, GoPro has improved its processing speed with the GP-2 processor on the Hero 10 Black.
Design & Durability
GoPro is much simpler and more durable than an iPhone. Built primarily for outdoor use, they have waterproofing systems that shield them from water damage and harsh conditions. You could drop one into the water without damaging anything — but you wouldn't want to try that with an iPhone!
Pros and Cons of GoPro vs. iPhone
GoPro
| Pros | Cons |
| --- | --- |
| Faster capture speeds. You can record 4K video at 30 fps or 2.7K video at 60 fps | Short battery life |
| Better image stabilization than iPhone. | Smaller viewing angle |
| Being waterproof, it's more durable than other action cameras | Fixed lenses (no optical zoom) |
| User-friendly interface, even for beginners | Fairly costly |
| High-quality video recording under low light conditions. |   |
| Wearable and can easily be mounted |   |
| Very portable and easy to carry around |   |
iPhone
| Pros | Cons |
| --- | --- |
| Take photos with great quality even in dim conditions | Limited storage |
| Feature-rich phone for taking action footage or just for fun! | Costly  |
| Advanced computation photography | Not built for extreme conditions |
| Longer battery life |   |
| High-resolution camera |   |
| Easy to use |   |
GoPro vs. iPhone: Which One Is Better? Which One Should You Use?
GoPro has a durable construction and high-quality lenses and can capture great footage in extreme conditions. The Hero 9 Black and Hero 10 Black are built to withstand the elements and are waterproof up to 33 feet without taking apart their housing. GoPro and iPhone come with touch controls, so you can personalize your experience. You can select the settings/lenses you want to display on your screen while recording.
The iPhone is also well-known for being durable and waterproof. However, it's not as durable as GoPro's products. Some of its features make it stand out from other smartphones today. iPhones typically have better battery life than other smartphones. Users can shoot more footage for longer when hiking or surfing.
If you want to capture action footage in the wild or record yourself doing tricks on your skateboard or biking, then a GoPro might be your best option. It is easy to use, lightweight, and waterproof, so you can take it with you anywhere without worrying about it getting damaged by water or mud. An iPhone will be a tremendous casual tool if all you want to do is shoot pictures for social media.
Up Next…
Interested in more comparisons? Click on the links below: