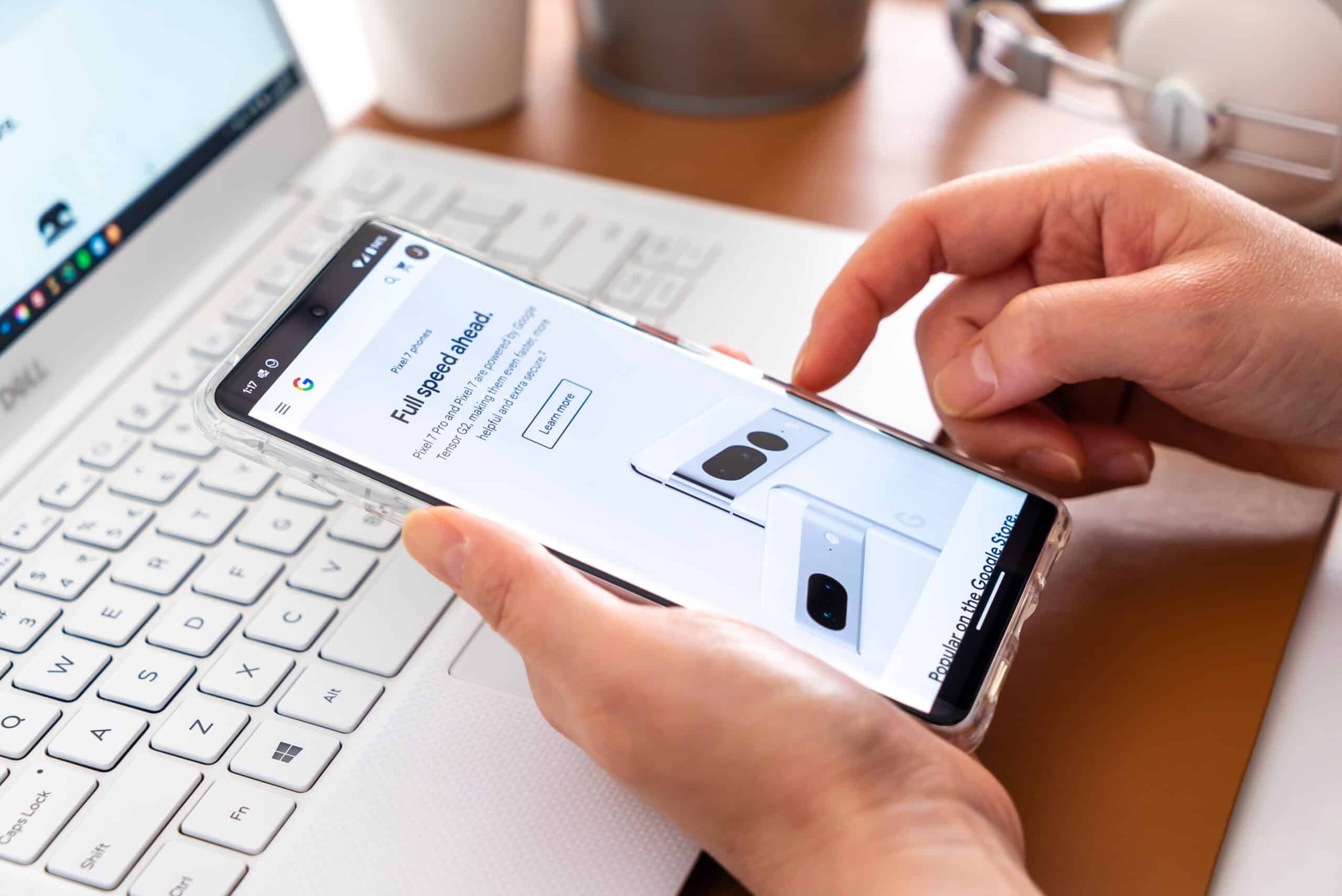 Google's Tensor G2 chip is a processor that is designed by Google specifically for their devices. Last year, Google unveiled its new SOC processor in the Pixel 7 lineup, and it has made some (small) waves in the mobile phone market.
What really sets the Tensor 2 apart from other similar processors is that it is made by Google with artificial intelligence in mind. This allows for a range of new functionality that many never thought possible in a mobile device.
Best Deal Today
Google's Tensor G2 Chip: Overview
The G2 Tensor Chip is the successor to Google's first in-house processor. It uses a system-on-chip design that puts all of the computing functions on a single chip. This is very similar in concept and structure to Apple's M series chips used in the new iPad and MacBooks.
However, the Tensor 2 is designed with a slightly different purpose in mind. While Apple designed its M series processors specifically for computers and iPads, Google designed theirs for mobile use. They will also use the same chip in the Pixel Tablet, so we will get to see just how much power these processors possess.
The Pixel 7 phones do pack a lot of power too, and the Tensor 2 easily runs everything on the phone. But the Tensor 2 really shines when it is used with advanced AI systems. Google specially built the chip around plans for new artificial intelligence technologies.
One of the coolest new features it allows is enhancing photographs using AI. Similarly, it helps with real-time translation that can translate 48 different languages instantly.
Release Date and Price
Google's Pixel 7 and Pixel 7 Pro were released on October 13th, 2022. The Pixel 7 had a starting price of $599 for 128 GB of memory and $699 for 256 GB of memory. The Pixel Pro 7, however, started at $899 for 128GB, $999 for 256GB, and $1,099 for 512 GB. Google also has a tablet in the works that will use the Tensor 2 chip, but they have not yet announced any information regarding the release date or pricing.
Different Models
The Tensor 2 chip is currently used in two phones, the Pixel 7 and Pixel 7 Pro. It will also be used in the soon-to-be-released Pixel Tablet. Here is a quick breakdown of each phone model:
| | Pixel 7 | Pixel 7 Pro |
| --- | --- | --- |
| Memory | 128 GB, 256 GB | 128 GB, 256 GB, 512 GB |
| Color | Snow, Obsidian, Lemongrass | Snow, Obsidian, Hazel |
| Price | $599, $699 | $899, $999, $1,099 |
Features
Google Pixel 7-5G Android Phone - Unlocked Smartphone with Wide Angle Lens and 24-Hour Battery - 128GB - Obsidian
Google Pixel 7 is powered by Google Tensor G2; it's faster, more efficient, and more secure, with the best photo and video quality yet on Pixel[1]
Unlocked Android 5G phone gives you the flexibility to change carriers and choose your own data plan[2]; works with Google Fi, Verizon, T-Mobile, AT&T, and other major carriers
Pixel's Adaptive Battery can last over 24 hours; when Extreme Battery Saver is turned on, it can last up to 72 hours[3]
The 6.3-inch Pixel 7 display is super sharp, with rich, vivid colors; it's fast and responsive for smoother gaming, scrolling, and moving between apps[4]
Google Pixel 7 has wide and ultrawide lenses with up to 8x Super Res Zoom[5]; and Cinematic Blur brings more drama to your videos
We earn a commission if you make a purchase, at no additional cost to you.
Google's Pixel 7 phones are packed full of unique features, but the standouts revolve around photography. First off is the magic eraser function, which allows the removal of unwanted objects and photos. This is handy for removing people in the background and also works with existing pictures.
The next awesome feature of the Google Pixel 7 is its cinematic blur. This keeps the focus of an image on a specific focal area. Then it blurs out everything in the background. But one of the most impressive features possible thanks to the tensor G2 chip has to be live translation.
This feature lets your phone act as a translator in real time and understands 58 languages. In addition to translation, the Google Pixel 7 can also transcribe anything it hears.
Another feature is the phone's always-on display which keeps the most relevant information a glance away at all times. All of these features are possible thanks in part to Google's newest chip, the Tensor G2, which allows for very advanced AI systems to run on this compact device.
Specifications
| | Pixel 7 | Pixel 7 Pro |
| --- | --- | --- |
| Processor | Google Tensor G2 | Google Tensor G2 |
| Screen Size | 6.3 inches | 6.7 inches |
| Video | 90 Hz FHD+ | 120 Hz QHD+ |
| Dustproof/Waterproof | IP68 | IP68 |
| Unlock | Face/Fingerprint | Face/Fingerprint |
| Camera | Wide-Angle, Ultra-Wide Angle, Front Facing | Telephoto, Wide-Angle, Ultra-Wide Angle, Front Facing |
| Security | Titan M2 Chip | Titan M2 Chip |
| Memory | 8GB RAM | 12GB RAM |
| Storage | 128GB, 256GB | 128GB, 256GB, 512GB |
| Battery | 4,355mAh | 5,000mAh |
| Charging | Wired and Wireless | Wired and Wireless |
Google's Tensor G2 Chip: Review
Best Android Phone
Google Pixel 7 Pro
Unlocked 5G

Google Tensor G2 and the Titan M2 security chip

Pixel's Adaptive Battery
6.7-inch display
Intelligently adjusts to 120Hz for smoother, more responsive performance
5x telephoto lens
128 GB memory
We earn a commission if you make a purchase, at no additional cost to you.
Google's tensor G2 chip is a very powerful processor that can deliver industry-leading performance to its line of Pixel 7 phones. However, it is not designed for everybody. Although the pixel 7 offers some great features, they might not be enough to move you away from Apple or Samsung. 
There are quite a few good things about Google's new Pixel line of phones, the first being that they are smaller than their predecessor. Similarly, it looks great, even though it does have an annoying strip that protrudes around the camera. They also feature an AMOLED display that delivers very good and bright images.
Another plus is that the fingerprint reader is embedded in the screen. The operating system is Android, and Pixel phones are not loaded with unnecessary apps like some other Android phones. Google also promises to support the phone with at least three years of updates, which is a decent amount of time for a phone these days.
One downside is that there is no SD slot, so the memory is not upgradeable. A bigger problem is that it is not compatible with some accessories designed specifically to work with Samsung or Apple devices. But that is getting better since Google unveiled their new Pixel Watch and upcoming Pixel tablet.
Google's Tensor G2 Chip: Pros and Cons 
Pros:
More power
Relatively affordable phones
Nice looking exterior
Really good cameras
Plenty of AI-enhanced features
Cons:
Low adoption rates for Google devices
A bulge around the camera lenses
Not as fast as you'd expect
Slow charging
Google's Tensor G2 Chip: Is It a Buy?
Google's Tensor G2 Chip and its new Pixel 7 lineup is undoubtedly impressive to fans of the phones. However, the features and new processor certainly aren't enough to make most consumers dump their current phones and go running to Google.
Buy it if…
You have used previous Pixel phones, and you really like them but need an upgrade
Similarly, the Pixel 7 may be worth a try if you aren't pleased with what Samsung and Apple have to offer. You should also prefer the Android operating system since the Pixel lineup does run on it and uses the Google Play store.
Don't buy it if…
You like using the iPhone's IOS operating system
Everyone has an opinion on which is better, Android or IOS, but you should consider which one you prefer. If all of your other devices are in the Apple ecosystem, then you definitely shouldn't buy a Google Pixel 7. Similarly, if you don't like trying new things, then Google's phones probably aren't for you.