Google and Apple are both some of the largest companies in the entire world, each having a market cap (total company valuation) of over 1 trillion dollars. These huge tech companies are both widely known, although they do compete in roughly parallel industries to one another. Today, we are going to be looking at Google vs. Apple stock to determine which one is a better buy for you, the investor. While there likely won't be one single "yes or no" answer to which one is "better," there are some important things we can analyze from each company. Let's get started.
Google vs. Apple Stock: A Quick Company Overview
Google is a multinational technology company that specializes in Internet-related services and products, including online advertising technologies, search engines, cloud computing, software, and, more recently, hardware. Google's mission is to organize the world's information and make it universally accessible and useful.
Apple is also a multinational technology company that designs and develops consumer electronics, computer software, and online services. The company's hardware products include the iPhone, iPad, Mac, the Apple Watch smartwatch, and more. Apple's software includes the macOS and iOS operating systems, various apps and productivity suites, and the Safari web browser. Apple's online services include the iTunes Store, the iOS App Store, and Mac App Store, and iCloud.
Price and Historical Price
Currently, Google (parent company Alphabet) is trading for around $87 a share. For anyone that hasn't looked at Google recently, this may be shocking since the company was historically trading in the thousands of dollars, not double digits, but don't worry too much. Google recently went through a 20-for-1 stock split, meaning the company issued 20 new shares to every holder with a single share, essentially slicing the same pie into a lot more (and smaller) slices. Importantly, however, Google's share price has been on a rather steady decline for the past year. Covid was really good for the company, but post-pandemic problems have started to rear their heads, heavily impacting the share price. Google shares are down nearly 40% Y/Y and don't seem to be changing course any time soon.
Apple is currently trading for around $126 a share and hasn't gone through a recent stock split as Google has. Still, like Google, 2022 wasn't good for the "most valuable company in the world." The pandemic brought a lot of success to the tech giant, but again, 2022 brought a lot of pain. Of all the tech companies, however, Apple faired much better than most. In the past year, the company only saw a 27.79% decrease Y/Y, but again, the end isn't quite in sight yet for the decline that started in 2022.
What does it matter? Well, it's important to know that both of these companies are currently going for less than they have in a very long time. If their core businesses and/or financials aren't under dire threat and the company is simply suffering from temporary issues, buying while it's low could be a great option… or the company could still need to shed some value before some would consider it priced appropriately.
Recent Financials and Economic Tides
Here are both company's most recent quarterly earnings calls:
| Company | EPS | Revenue |
| --- | --- | --- |
| Google (Q3 2022) | Miss -15.44% | Miss -2.21% |
| Apple (Q4 2022) | Beat 1.44% | Beat 1.55% |
Looking at Google first, it's important to note that Google really missed this past quarter (September 2022). Earnings per share (EPS) was down, and revenue growth slipped. The primary reason behind these red figures is because of Google's main economic engine stuttering a bit; advertising. YouTube Ad revenue fell, and search revenue missed estimates, both of which are paramount to Google's success. Still, it's important to note that slower-than-expected growth doesn't mean a lack of growth. Advertising revenue and cloud computing were still up, with cloud computing barely beating estimates. Essentially, Google saw an overall pullback in ad spending amid greater economic uncertainty.
Apple's financials looked quite a bit better than Google's this past quarter, but that doesn't mean that the company had an easy time these past few months. While both EPS and revenue beat expectations, the company has been fighting to increase hardware sales across the board for a little while now, specifically in relation to its cash cow, the iPhone. Ultimately, there has been less consumer demand for iPhones, although Apple has gotten creative with how they are addressing it. Instead of trying to sell more phones, the company made an intentional decision to widen the gap between the higher-end models (like the 14 Pro) in order to make more per unit. Still, the worry about how long Apple can keep up sales and address slowing consumer demand is clearly not changing. At the same time, the company had silicon and production issues, most easily seen in the Foxconn factory riots.
Competition
The past decades for Google have been nearly free of real competition in the core businesses of the company, but that may be changing. One potential threat to Google's ad revenue is the rise of TikTok, a social media platform that has gained a large and loyal user base, particularly among younger users. TikTok's success could draw advertising dollars away from Google, as companies look to reach this valuable demographic. However, it is worth noting that TikTok is owned by Chinese company ByteDance, which could present regulatory challenges for the platform in certain markets, including the United States. Additionally, advances in AI and its incorporation into search engines could threaten the hegemony the company has had in the space (see Microsoft incorporating ChatGPT into Bing).
There has always been a lot of competition in the computer and cell phone space, but Apple is and continues to sit atop the pile and is pretty much the undisputed king of quality and brand recognition. Samsung is the nearest competitor in cell phone hardware, and Google has made Android the most widely used operating system in the world, but Apple still has a stranglehold in US markets via its world-class silicon and green-bubble repulsion.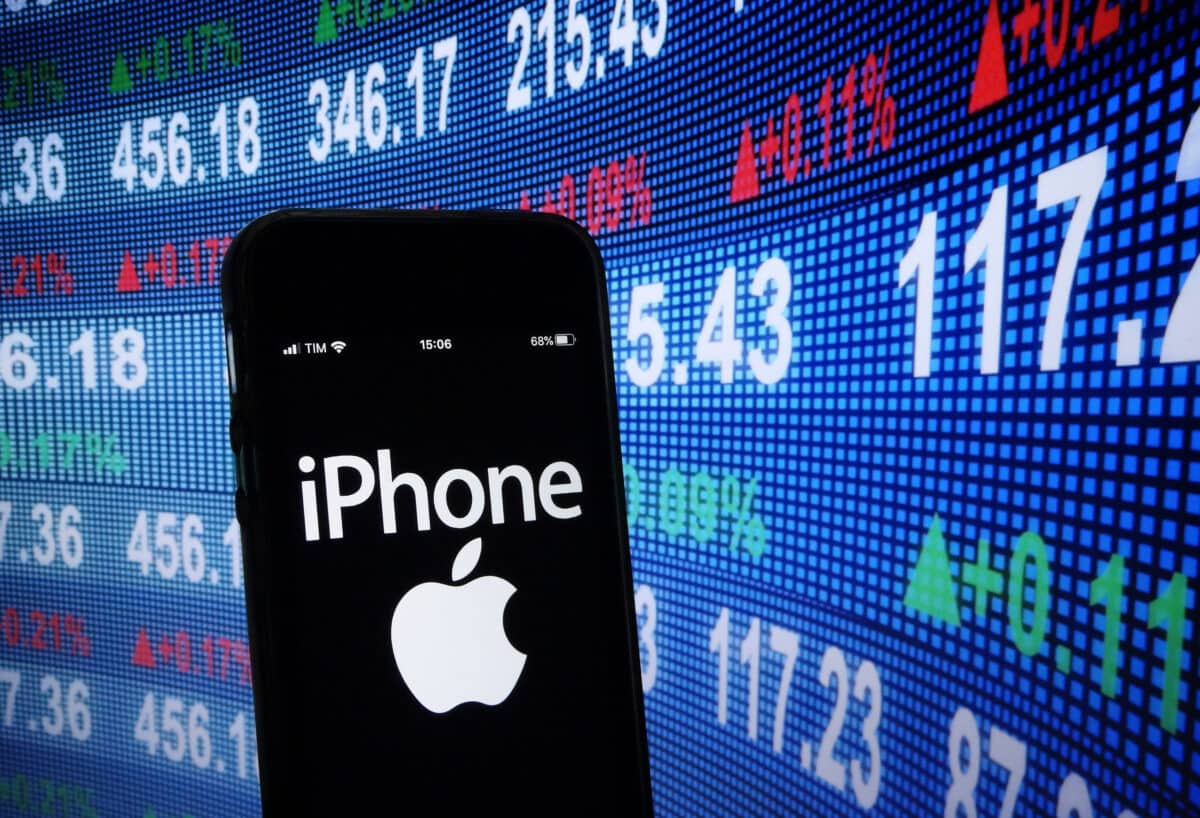 Future Outlook
Google has had a long time to establish its absolute dominance in search and search engine software and its hold on online video content (YouTube) has been pretty much unmatched… but it's clearly time for a reckoning. Digital advertising is changing, forcing Google to keep up and innovate in how it advertises on a mature platform. Additionally, TikTok is a real threat to Google's ad money AND its monopoly on video content via YouTube. That being said, Google still has a lot of other business lines that it can develop (AI, hardware, cloud computing, and quantum computing, to name a few) if it is willing to make the effort.
Apple also has some obstacles to overcome in the future in order to secure its position long term. Historically, Apple has been free from many of the woes that other tech companies have experienced, but that seems to be changing in light of a pile-on of world events. Apple ultimately needs to find a way to make money despite its reduction in overall iPhone sales. The path forward may look like a new augmented system that is set to release in 2023, or it could continue to charge more for iPhones and increase margins like they are currently doing. Regardless, they do have some problems to address.
The Essentials:
Let's take a look at some of the notable things that can help us decide which one is a better investment opportunity:
Apple and Google both had a rough year and are steeply discounted from what they were priced at only a year ago.
Both companies have some issues they need to address. Google is seeing reduced ad spending, and Apple is seeing consumers buying fewer iPhones. Still, both companies have the capital needed to address these problems and innovate in different lines of business that could take them into the rest of the decade.
Apple seems to be doing better financially, while Google is taking the losses a bit more directly and is bleeding in metrics like EPS and revenue.
Overall, both companies are equally viable investments for the future, but the bottom of this current market downturn may not be quite in sight yet. That being said, Apple seems to have a little more stability than Google at the moment, although both of these tech giants have every tool they need to innovate and continue to dominate in their fields, provided they act before things really get bad.
Up Next:
The image featured at the top of this post is ©jamesteohart/Shutterstock.com.