Google TV vs Roku: Three Must-Know Facts
At its heart, Google TV is really just Android TV — the same operating system used by the company for all sorts of different smart TVs and streaming devices. It's what's known as a software layer, which effectively takes the Android TV technology and makes it look more intuitive and user-friendly to improve the overall user experience.
Strangely enough, Roku was initially created in collaboration with Netflix back in 2008. When looking at the total number of hours streamed, Roku is by far the number one TV streaming platform in the world. That's quite a large amount of growth over the past 15 years or so.
Roku offers a cheaper version of its Streaming Stick 4K, the Roku Express 4K Plus, which comes in at $10 cheaper than the Streaking Stick 4K. It's not a streaming stick — rather, it looks more like a small cable box — but it still gives you all you'd want from a streaming device regardless.
In the battle of the streaming services, there are two underdogs that never get included in the conversation alongside the big names like Netflix, Amazon, or Hulu: Google TV and Roku. While they might not be creating as much original content as the big guys — Google TV has none, while Roku is still relatively new to the game in the wake of its acquisition of Quibi's full library — they're still worth considering.
That's because these two streaming devices have nearly 200 million active monthly users between them, effectively giving them an essential role in the streaming wars: that of the middleman.
Of these two streaming stick contenders, Chromecast and Roku, which one is the best streaming device? Let's compare and contrast the similarities and differences below.
Google TV vs Roku: History
Google TV is a smart TV platform which was created by Google in 2010. It was developed with the intention of bringing web-based content to TV screens. It met with some initial problems when several networks and streaming services blocked their content from being accessed on Google TV. In 2014 Google rebranded Google TV as Android TV, although Google TV was reintroduced in 2020.
Roku is a brand of digital media players which was founded in 2002 under the name "ReplayTV" and focused on developed DVRs. Its name was changed to Roku in 2008 and subsequently released its first streaming media player which allowed users to stream content from platforms such as Netflix.
Google TV vs Roku: Side-by-Side Comparison
| | Chromecast with Google TV | Roku Streaming Stick 4K |
| --- | --- | --- |
| Cost: | $49.99 | $49.99 |
| Top video quality: | 4K UHD, 60 fps | 4K UHD, 60 fps |
| Video format: | Dolby Vision, HDR10/10+ | Dolby Vision, HDR10/10+, HLG |
| Size of device: | 6.4 x 2.4 x 0.5 inches | 3.7 x 0.8 x 0.5 inches |
| Size of app library: | More than 6,500 | More than 20,000 |
| Maximum storage space: | 8 GB | 2 GB |
| Color of device: | Gray, pink, blue, white, black | Black |
| Audio format: | Dolby Atmos, Dolby Digital, Dolby Digital Plus | Dolby Atmos, Dolby-encoded audio, DTS Digital Surround, Digital stereo |
| Remote features: | Google Assistant-enabled remote | Roku Voice Remote |
| Best value: | No | Yes |
Google TV vs Roku: What's the Difference?
Now that you've seen some of the basic specs for both Roku and Chromecast's Google TV, it's worth diving into some of the key differences between the two streaming stick devices — especially when there are so many similarities, such as cost and video quality.
By further breaking down these similarities and differences, we can aim to determine the best streaming device overall. Let's break these two down further below.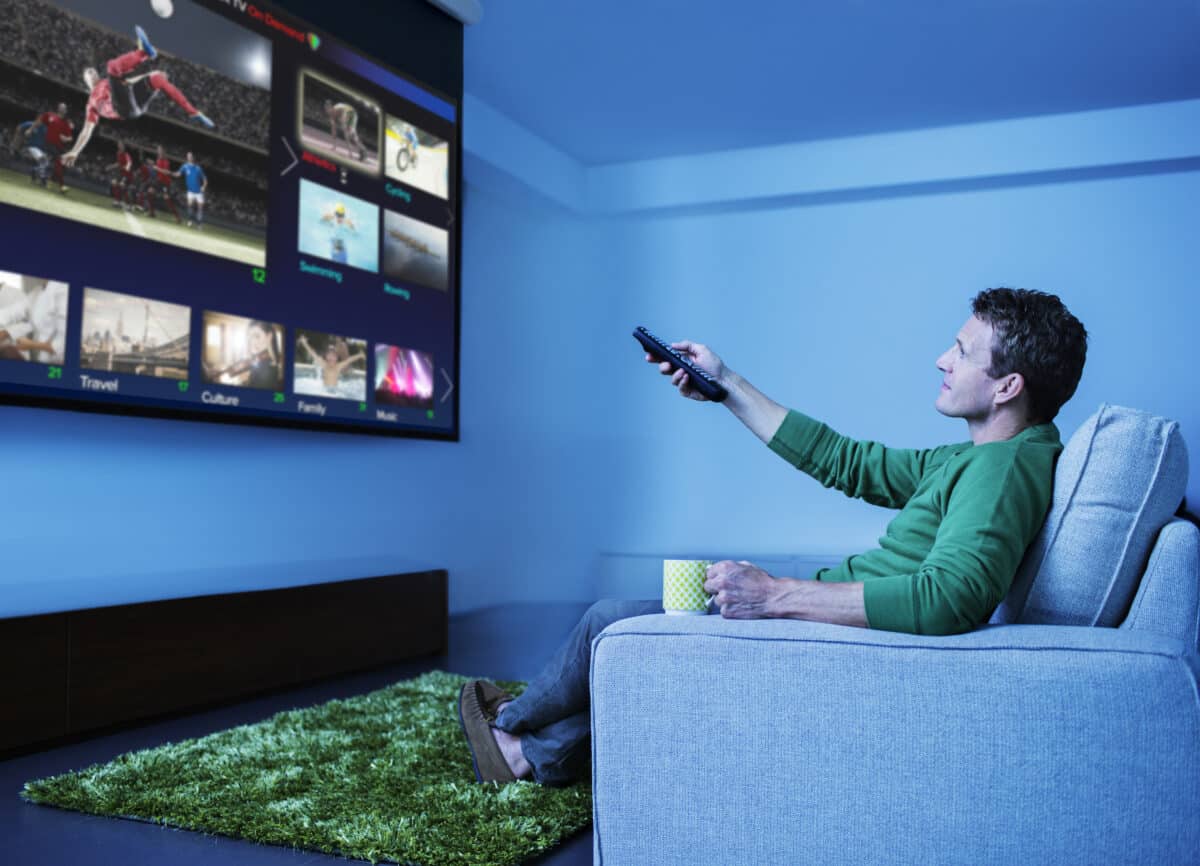 Additional Features
First and foremost, the one thing users will look for in their streaming stick is the number of additional features beyond simply streaming Netflix, Amazon Prime, Hulu, and the like. So, how do Roku and Chromecast's Google TV compare in this regard?
Looking at the number of apps available on each streaming stick, it's clear that Roku comes out on top. The Chromecast stick only boasts around 6,500 apps, while Roku dominates with more than 20,000 apps in its app store. While Google TV has more storage readily available for more apps, Roku has the most apps of all. This is a huge advantage for Roku.
But, while Roku takes the cake with the sheer number of apps available to users, Google TV comes out ahead with its live TV capabilities. Roku doesn't really offer much in this regard beyond The Roku Channel, while Google TV allows users to integrate their live TV from Sling or YouTube TV to its LIVE section with ease. It seems neither truly has its own live TV offering, but Google TV at least lets you incorporate other streamers into its interface.
Picture and Sound
Beyond the number of additional offerings available on Google TV and Roku's devices, it's worth discussing one of the most prominent concerns for any streaming stick: What does the streaming quality look and sound like? The two are more or less the same in this regard, but there are some differences worth noting.
The main one comes in the form of three little letters: HLG. You might not have heard of it in comparison to its closest competitor, HDR, but HLG is something that many users might actually prefer over its more popular competition. HDR10/10+ is undoubtedly the most popular display technology in the game right now, but HLG is actually slightly better-looking.
Roku is HLG-compatible, while Google TV is not. While this isn't the biggest deal in the world — especially since HLG has been slow to catch on — but could make all the difference down the line, should HLG suddenly take the streaming world by storm?
Google TV vs. Roku: Which One Is Better? Which One Should You Use?
Choosing the best streaming device isn't easy, especially when there are so many similarities between Google TV and Roku: the same cost, the same video quality, the same voice-activated capabilities, and a similar dependable overall user experience…Neither one of these streaming devices really seems like a bad choice at the end of the day. However, there is a winner to choose from — even if the win is a photo finish. 
Looking at Roku's larger streaming library, its cheaper alternatives, its smaller size, and its blossoming selection of original content, it feels safe to call it the clear winner. Google TV certainly has its advantages, there's no doubt, but it's these little differences that set Roku ahead of the competition in the end.
Next Up…