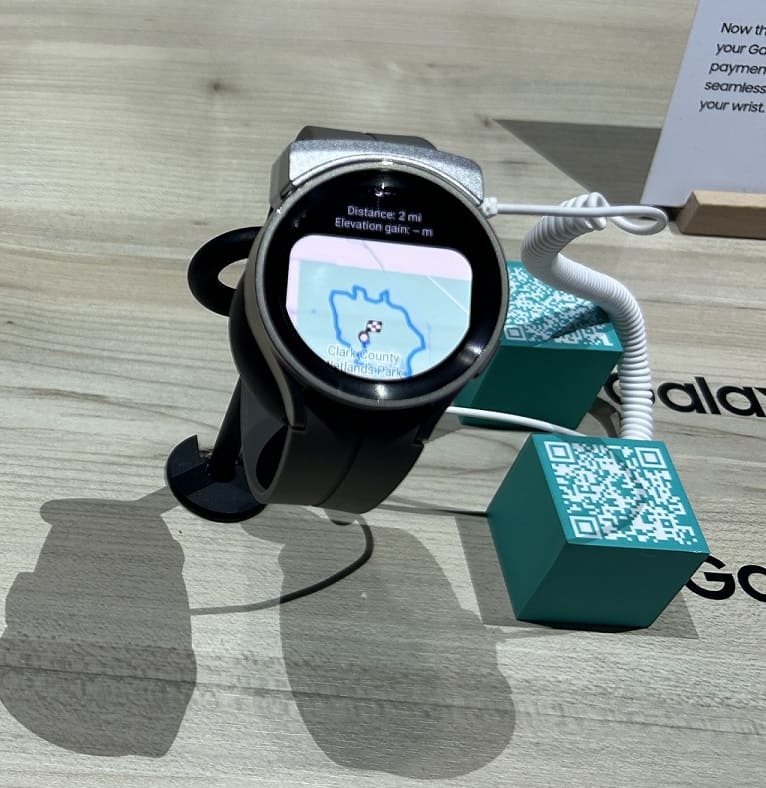 The Google Pixel Watch LTE is Google's way of diving into the smartwatch market in style. A smartwatch is an asset to the modern person, considering how helpful it is to have maps, a compass, a voice assistant, and a health and fitness tracking app available at all times.
After many years of anticipation, Google has launched the Pixel Watch – a sleek, circular smartwatch infused with the superpowers of Fitbit. However, with a hefty price tag and tough competition, is this the future of wearable tech, or is this just another device we shall forget about in a few years? Let's find out! 
Best Google Pixel Watch Deals Today
Pixel Watch deals take time to come by. However, we've rounded up the top four best retailers for the best Google Pixel Watch deals:  
Our Pick
Google Pixel Watch – Android Smartwatch
Beautiful circular, domed design with Wear OS
Convenient activity tracking for fitness enthusiasts
Track heart rate and learn your sleep activity
Contactless payments, notifications and directions
Make calls or respond to text messages
We earn a commission if you make a purchase, at no additional cost to you.
Google Pixel Watch Specifications
| Feature | Specifications |
| --- | --- |
| Display | 320PPI AMOLED Touchscreen |
| Durability | 5 ATM |
| Colors | Matte Black, Polished Silver, Champagne Gold |
| Battery Capacity | 294mAh, 24 hours normal use, 18 hours heavy usage |
| RAM/Storage | 2GB/32GB |
| Materials | Gorilla Glass 5 and 80% recycled stainless steel. |
| Processor | Samsung Exynos 9110 |
| Size, Dimensions, and Weight | Watch alone- 41 x 41 x 12.3 mm. 36 grams, excluding straps |
| Sensors | Compass, Accelerometer, Altimeter, Heart Rate (optical), Light Sensor, Gyroscope, Blood Oxygen Sensor |
| Connectivity | WiF 802.11,  GPS, GLONASS, Galileo, BeiDou, LTE (optional), Bluetooth 5.0, NFC, |
| Price | $349.99/$399.99 (LTE) |
Google Pixel Watch Specifications
Google Pixel Watch In-depth Review 
The Google Pixel Watch 2022 is Google's latest entrant to the smartwatch category. Google had plenty of time to learn from early adopters and design an epic smartwatch. Unfortunately, it doesn't support iPhones so Apple fanatics should stop reading now!
Let's have a detailed look at the Google Pixel watch.
Unboxing  
The Pixel Watch comes in a rectangular box with a depiction of the watch and some minimalistic Google branding. The box shows whether you've picked up the Bluetooth/Wi-Fi or an LTE variant of the watch. Google has also included spare wristbands for people with smaller wrists and a USB-C magnetic charger. Google offers wrist straps such as Woven Bands, Stretch Bands, Leather Bands, and Crafted Leather Bands. 
Design  
Google opted for a minimalist and understated look. The Pixel Watch has a round face with a protective glass layer wrapping around it. It has a smooth, stainless steel dome-shaped case. The small dome shape makes it comfortable to sleep with at night and wear daily. It's easy to forget you're wearing it because it's light and comfortable. Its sleek and curvy design means it doesn't snag on clothing or get in the way while you work with your hands.  
There is a rotating dial placed on the watch's right side, a loudspeaker grid on the opposite side, and a microphone placed on either side of the case.
Google made the flexible Active band that comes with the watch from fluoroelastomer, which makes the watch feel soft. The material is also rubbery, oil resistant, hydrophobic, and unaffected by any temperature stress. It allows the watch to survive in unforgiving conditions.
The Pixel has its trademarked mechanism of removing or attaching the watch band. One only needs to press a button on the side of the watch band simultaneously and then rotate it to release it. In addition, four pogo pins appear on the upper band. These pins may serve as a service port. Google might also plan to release an accessory band with extra features. Certainly, the four pins allow access to both data and power.
Performance and Software 
The Pixel Watch operates on Google Wear OS 3.5 and performs like any standard smartwatch. It includes tracking your workouts, setting timers to get turn-by-turn navigations, moving every hour, responding to emails/messages with Google Assistant, and making purchases with contactless payment methods such as Google Wallet. 
Navigation is straightforward, unlike that of the Galaxy watches. You can call upon the app drawer by pressing the crown and rotating it to scroll through your apps. In addition, Google provides 19 attractive watch faces, all customizable with various color palettes. Several other options for watch faces are available on the Google Play Store.
Display
Google used an AMOLED display for their Pixel Watch that is circular, vibrant, sharp, and protected by a Gorilla Glass 5 dome. The display resolution is 450 x 450px with a 320ppi pixel density. The brightness goes as high as 1000 units, meaning it can handle a color scheme of DCI-P3. In consequence, this display can manage advanced contrast and deeper colors. In addition, the Google Pixel Watch has adaptive screen brightness, allowing one to see well in direct sunlight, as well as sunlight boost, and an Always-on feature. This screen works well in all wrist orientations.
Battery Life  
Unfortunately, the Pixel Watch's 294mAh battery isn't great, with a battery endurance that isn't as strong as expected. For instance, tracking sleep overnight can use anywhere between 9 to 25% with always-on turned off or about 35% with always-on display enabled. Tracking fitness consumes a decent percentage of the battery and consumes even more if you enable GPS during your workout. 
Streaming music over Bluetooth on the watch can deplete a lot of power. It drains about 50% charge if you stream music over LTE with GPS tracking. This is, of course, the most power-depleting activity you can do with your Pixel Watch. 
The Pixel Watch recharges quickly whenever it is connected to the charger. Unfortunately, it warms up significantly once connected, but the heat tapers off as the battery becomes full. A full charge takes 80 minutes. When the battery is fully depleted, the Pixel Watch automatically turns back on after the battery recharges up to about 10%. The Pixel Watch uses a magnetic charger, but doesn't officially support Qi. This limitation means you can't recharge it using a regular generic wireless charger.  
Health Tracking and Fitbit App
The Google Pixel Watch comes with one of the most precise systems ever designed by Fitbit. It measures one's heart rate by sampling the beats per second, so you don't have to wait for a doctor's appointment to know your heart rate. Moreover, the Pixel Watch has an ECG. This heart test detects abnormal heart behavior and thus detects heart conditions early. The test is, however, not passive, and one has to initiate it on the app.
The watch also measures blood oxygen using a sensor. The sensor detects blood oxygen when the user is asleep or throughout daily activities. Information on blood oxygen can help prevent breathing problems such as sleep apnea and may even facilitate Covid-19 detection.
The Fitbit app shows all your fitness tracking stats for the day. You can also scroll through the previous days. You can customize your screen and remove or rearrange items from your screen too. Unfortunately, the Fitbit app has its limitations. For example, it doesn't offer a voice coach to update you on how you measure up during your workouts. The auto-exercise detection feature also isn't reliable for less strenuous workouts like yoga sessions and light walks. 
It is important to know that most comprehensive health insights are only accessible with a $15/month Fitbit Premium subscription. These insights include detailed sleep data, a wellness report that details your sleep, weight, activity, and heart rate, and access to meditation programs and workout videos.
Google Pixel Watch: Pros and Cons
Pros 
It has a solid and consistent design
It can integrate with Fitbit apps
Accurate health and activity monitoring 
It supports fast charging
Cons 
It is expensive 
The bezels are chunky
iPhone and Apple not supported
Google Pixel Watch Review: Bottom Line
The Google Pixel Watch is a great Android smartwatch. It is a good sign that Google can succeed with wearables. The watch fits and looks great, and the user interface provides plenty of customization and works well. It offers the essential features of a smartwatch. However, it has a few awkward functions like the small screen and the small battery. We hope future successors or software updates will take the Google Pixel Watch to a level where it can compete with Apple and Samsung for that top spot. 
Here are a few simple considerations if you're still undecided on whether to purchase the Google Pixel Watch. 
Who should buy the Pixel Watch?
Those looking for a comfortable watch for all-day wearing
Those in love with Fitbit but who are still looking for other smartwatch features
Those looking for the latest technology within this industry
Who should reconsider getting a Pixel Watch?
Those with an iPhone
Those looking for longer battery hours
Those involved in an outdoor activity that may allow the watch to take a hit.
Those looking for advanced insights on their workout.
Our Pick
Google Pixel Watch – Android Smartwatch
Beautiful circular, domed design with Wear OS
Convenient activity tracking for fitness enthusiasts
Track heart rate and learn your sleep activity
Contactless payments, notifications and directions
Make calls or respond to text messages
We earn a commission if you make a purchase, at no additional cost to you.