Samsung and Google are two tech giants who have battled in every domain, from smartphones to earbuds and everything in between. In the battle of the latest flagship smartphones, which is the ultimate winner: the Google Pixel 7 Pro vs. Samsung Galaxy S22 Ultra?
The word "Ultra" in the Samsung lineup denotes its status and hints at its mind-boggling specs, spectacular performance, and unheard-of premium quality. As for Google, the "Pro" version of the company's Pixel series is the most potent smartphone in the entire lineup.
But can the Pixel 7 Pro compete with the extra bright display and top-of-the-chart specs of the S22 Ultra? Or is the S22 Ultra going to bow before the smooth operating software and user experience of the Pixel 7? Stick around to find out!
Google Pixel 7 Pro vs. Samsung Galaxy S22 Ultra: Side-by-Side Comparison
Specs
Pixel 7 Pro
Galaxy S22 Ultra
Starting price
$899
$1199
Weight
212g
228g 
Broadband
Supports 3G, 4G, 5G
Supports 3G, 4G, 5G
Operating system
Android 13
Android 12, upgradable to Android 13One UI 5
Storage
128 GB, 256 GB, 512 GB
128 GB, 256 GB, 512 GB, 1TB
Processor
Google Tensor G2
Exynos 2200 (4nm) (Europe)Snapdragon 8 Gen 1 (4nm) (Rest of the world)
Display size
6.7 inch (88.7% screen-to-body ratio)
6.8 inches (90.2% screen-to-body ratio)
Display resolution
1440 x 3120 (~512 PPI)
1440 x 3088 (~500 PPI)
Cameras
Triple Back cameras: 50MP main camera48 MP: Telephoto camera12MP: Ultrawide Camera
Single front-facing camera: 10.8MP ultrawide camera
Quad Back cameras: 108 MP main camera10 MP: Telephoto camera10 MP: periscope telephoto12MP: Ultrawide Camera
Single front-facing camera: 40 MP ultrawide camera
Battery capacity
5,000 mAh Li-ion battery
5,000 mAh Li-ion battery
Google Pixel 7 Pro vs. Samsung Galaxy S22 Ultra: What's the Difference?
Samsung S22 Ultra and the Google Pixel 7 Pro are top-of-the-line flagships from both companies. These are the leading models that define each company's smartphone lineup.
Samsung, like always, has played it safe and added many features, along with top-notch specs, to keep the buyers interested. Google, on the other hand, has focused mainly on its software.
This is not just any other Android battle. It is a war between hardware and software, between sheer power and beautiful optimization, and between providing top-notch specs and handling them to create the perfect smartphone.
While Samsung delivers impressive hardware performance, Google optimizes its software to provide more efficient performance. So, which one makes the best use of its hardware to provide the best possible user experience? Let's dive into the specifics to find the answer. 
Design
Samsung S22 Ultra and Pixel 7 Pro are pretty different from the outside, and you can tell them apart just by looking at the Screen. S22 Ultra has a boxy shape with sharp edges and a flat screen.
People with smaller hands might need both hands to handle this smartphone due to its more significant dimensions. On the front, there is a slight circular notch on the top in the center. 
If we move toward the back, the phone comes with a matte back finish. There are five rings in the camera setup, four for the cameras and one for the flashlight. The camera design is a bit controversial and discontinuous, which means that the rings are not continuous but separated from each other by small areas of the matte back. 
The Pixel 7 Pro is similar, mainly from the front. It has the same large, bright display with a central camera notch on the top. The edges are rounded, and the display is slightly curved around the edges. These features help you tell both models apart. 
Incredible Refresh Rate
Google Pixel 7 Pro
Unlocked 5G Android Phone
Powered by Google Tensor G2 for faster speeds, more efficiency, and better security
Works with Google Fi, Verizon, T-Mobile, AT&T, and other major carriers
Pixel's Adaptive Battery can last over 24 hours; up to 72 hours with Extreme Battery Saver
6.7-inch Smooth Display makes everything stunning and immersive; intelligently adjusts up to 120Hz for smoother, more responsive performance
5x telephoto lens with 30x Super Res Zoom; the upgraded ultrawide lens powers Macro Focus to capture the smallest details
128GB
Obsidian (black) color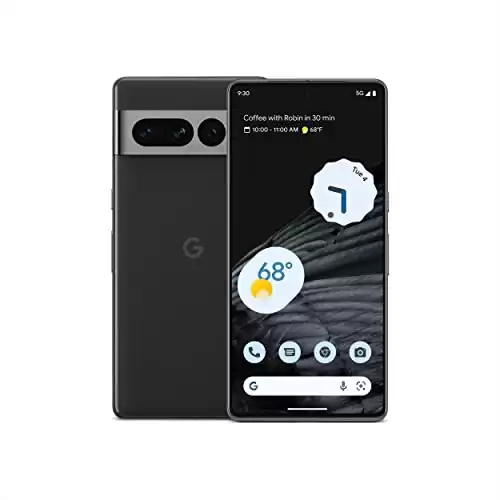 We earn a commission if you make a purchase, at no additional cost to you.
If we move to the back, differences start to become more visible. It has a central camera arrangement, running horizontally through the upper side, just as we saw with the Samsung Note 8 and Galaxy S10 series.
Google has embedded the cameras in a metal bar, which continues with the rest of the phone's metal frame. This gives your fingers an extra place to rest beside the camera itself. It also improves the grip of the phone while gaming.
Camera Bar
Google revamped the design from the previous generation Pixel. As a result, the Pixel 7 Pro and Pixel 6 pro are easily distinguishable because of the camera bar. Pixel 6 Pros had a camera bar of the same color as the body. Therefore, users found it hard to distinguish where the bar ended and when the actual camera module started.
With the Pixel 7 Pro, the bar is of a different color than the back of the phone. This helps pinpoint the exact beginning of the camera module that might be helpful for cleaning purposes. Also, due to its horizontal orientation, the phone sits on the table without a wobble, which we don't observe with the S22 Ultra.
Like Google's phone, the Samsung Galaxy S22 Ultra is also quite distinct from its predecessor, both externally and internally. Camera layout is the primary difference. Cameras in the S21 Ultra are in a metal square with a different color than the body.
Whereas in the S22 Ultra, cameras are integrated within the body. Compared to the S21 Ultra's rounded edge-to-edge display, the S22 Ultra has a flat, edge-to-edge screen that does not curve over the corners. Additionally, it has sharp corners compared to the rounded corners of the S21 Ultra. 
Display
Samsung is arguably the best in the world for producing bright and sharp smartphone screens. Even Apple imports its iPhone screens from Samsung. S22 Ultra is no exception to that rule. It offers a large bright Dynamic AMOLED 2x display with a screen refresh rate of up to 120Hz.
Frame Rate
The frame rate is adaptable and can vary between 10Hz and 120Hz depending on what you view on the screen. If you are viewing a video or playing a game that requires 120 Hz, the phone will bump up the refresh rate.
But if you are reading a news article, that high 120 Hz refresh rate will drain the battery. As a result, the phone will reduce the refresh rate to 10Hz, saving battery life without sacrificing reading quality.
Brightness
A maximum brightness of 1750 nits makes it easier to view the display, even when standing directly in the sun. Featuring 500 pixels per inch, the screen is among the sharpest displays available.
Although the human eye cannot distinguish pixel differences at such high levels, it is still impressive. With a 240 Hz touch sampling rate, this display provides even more responsiveness to your touch.
Display Panel
Regarding the display, the Pixel 7 Pro is not far behind the S22 Ultra. It provides an LTPO AMOLED display with a refresh rate of up to 120 Hz. Out of the box, the panel is set to 1080p, although it can reach up to 1440p.
The display is power packed with 516 pixels per inch, which is slightly better than the S22 Ultra. Testing has revealed that this high-powered display does not impact the battery life due to better optimization. This is a big plus point for the Pixel 7 Pro.
Camera
Cameras are at the top of the list of must-have features for most smartphone buyers. This is reflected in the designs of the latest phones—they all have massive, complex camera systems designed to push the envelope of mobile photography.
It is a rookie mistake to judge the camera quality of any smartphone by the number of megapixels it offers. Companies like Apple have produced stellar camera pictures with a 12 MP camera lens, which even the 108 MP Lens from mid-range smartphones couldn't deliver. 
Camera quality combines hardware and software. Google has always had excellent image processing, while Samsung has always presented bumped-up camera specs. Let's see how each one compares in real life. 
S22 Ultra: Camera Setup
Samsung has set up a tetra-camera setup on the back, with a 108MP primary camera and two 10 MP telephoto cameras, along with a 12 MP ultrawide camera for when you intend to bring a broader view into the picture.
The images from the main cameras are pretty sharp, and the colors have a specific "Samsung touch" to them, meaning they are vibrant and appealing to the eyes, even if they are not natural. The 100x zoom feature is also available.
S22 Ultra: Modes
The portrait mode on this phone is one of the best on the market. It offers sharp edge detection and separates a person from the background. This year they have introduced AI Stereo Depth Mapping, which they expect to cut out things as small as a single human hair.
SAMSUNG Galaxy S22 Ultra Cell Phone, Factory Unlocked Android smartphone, 256GB, 8K Camera & Video, Brightest Display Screen, S Pen, Long Battery Life, Fast 4nm Processor, US Version, Phantom Blac...
8K SUPER STEADY VIDEO: Shoot videos that rival how epic your life is with stunning 8K recording, the highest recording resolution available on a smartphone; Video captured is effortlessly smooth,...
NIGHTOGRAPHY plus PORTAIT MODE: Capture the night with crystal clear, bright pics and videos, no matter the lighting with Night Mode; Portrait Mode auto-detects and adjusts to what you want front and...
108MP PHOTO RESOLUTION plus BRIGHT DISPLAY: Capture premium detail with 108MP resolution— the highest available on a cell phone; Your favorite content will look even more epic on our brightest...
ADAPTIVE COLOR CONTRAST: Streaming on the go, working from your patio or binge-watching late into the night. The Galaxy S22 Ultra adaptive screen automatically optimizes color and brightness, outdoors...
LONG LASTING BATTERY plus FAST CHARGING: Power every scroll, click, tap and stream all day long and then some with an intelligent, long-lasting battery; Dive back into action at a moment's notice...
We earn a commission if you make a purchase, at no additional cost to you.
Night photography, which Samsung called Nightography, is much improved and offers bright and sharp nighttime images with appropriate color balance. The front-facing camera is equally brilliant and provides excellent quality and color-depth selfies.
The software might get a bit laggy, though. Taking continuous shots is slow, affecting your ability to capture fast-moving objects. Understandably, it is because of image processing, but it is still a potential downside. 
Pixel 7 Pro: Camera Setup
The Pixel 7 Pro has a tri-camera setup on the back, a 50MP primary camera, a 48MP Telephoto camera with autofocus, and a 12 MP wide-angle camera. These specs are slightly on the lower side compared to S22 Ultra, but make no mistake: Google's processing has stunned everyone.
This camera takes excellent, high-contrast images in all lighting conditions. The pictures look extra good due to the extensive details.
Zoom
In contrast to the 100x zoom on the S22 Ultra, Pixel provides up to 5x zoom. The primary 50 MP lens provides 1x zoom. The 2x zoom is the middle 12MP portion of the primary image. And as we go from 2x to 5x, the camera does some processing and keeps adding details to the photo by using information from the Telephoto lens.
This is an excellent example of solving hardware problems with software solutions. In short, both cameras provide excellent primary photos. The only difference is the extra zoom on the S22 Ultra and the 8k video shooting feature. 
Software
While both flagship smartphones run on Android, the subtle differences in customization and user interface create the distinction between the Pixel 7 Pro and Samsung Galaxy S22 Ultra. Google offers a raw Android experience, while Samsung has customized it to create One UI, their customized operating software.
Both are optimized for the respective devices, but Google has a slight edge due to better optimization between the software and hardware. Samsung has not yet reached the perfect balance and harmony between the software and hardware.
The experience on both devices is not much different, apart from different icons and some extra gestures. Pixel has its own Google Voice Assistant, whereas Samsung has Bixby. Both flagships are almost evenly matched in the domain of software.
Performance
Any smartphone can claim to have great performance, but the real winners will boast impressive benchmark results to back it up. The best way to analyze the performance of any phone is to check the GeekBench or Antutu scores.
Both devices have incredibly high benchmark scores in both fields, but Samsung still has a slight edge of approximately 20% in both scores. But the question here shouldn't be about the scores alone.
It should be whether your daily smartphone use is so intense as to push the mobile chip to its limits. The most probable answer for 99% of the users would be no.
Most people use their phones for scrolling social media, sending messages, making calls, or watching YouTube videos. None of these tasks will make a flagship phone like the Pixel or Galaxy break a sweat.
SAMSUNG Galaxy S22 Ultra Replacement S Pen, Slim 0.7mm Tip, 4096 Pressure Levels for Writing, Drawing, Remote Control for Apps w/ Bluetooth, Air Command Features, US Version, White
DESIGN FOR ACCURACY: Take advantage of the expansive screen on Galaxy S22; S Pen features a slim 0.7mm pen tip with 4,096 pressure levels to write and sketch as naturally and accurately as putting pen...
REMOTE CONTROL: S Pen becomes a remote control for your apps thanks to built-in Bluetooth capacity; Take pictures, switch between cameras, pause or turn up your playlist and so much more — all with...
AIR COMMAND: Pull up the Air Command menu with a click of the S Pen button; Simply hover S Pen over the phone's screen and click the button on the side to pull up features like Smart Select, Screen...
*Air actions support may vary by app
We earn a commission if you make a purchase, at no additional cost to you.
Multi-tasking and resource-heavy gaming are what test the strength of a phone. Judging by the reviews, both phones can easily handle all the tasks. So, you won't find either phone lagging in performance. 
One feature that is only present in the S22 Ultra is the S-pen. Samsung has decided to bid farewell to the Note series, but they have kept the S-pen alive. S-pen now comes with S22 Ultra, the same super-responsive and lightweight pen that most Samsung users have loved over the years.
People who prefer taking notes on the phone should opt for the S22 Ultra. Apart from that, the sensors on S-pen can also take pictures and do much more stuff. 
Battery
Both phones come with 5,000 mAh of battery. So, on paper, both should have the same battery life. But battery life does not depend upon it alone. It also depends upon the optimization, power-hungry chips, background app usage, and display brightness and quality.
For the S22 Ultra, expect it to make it through the day easily, even with 30-40% of the battery left. The battery has been one of the significant issues for Samsung. And since the Note 8 explosions happened, they have kept the batteries slightly on the safer side.
However, even with an S-pen inside the phone's body, they have done an excellent job of providing mAhs of battery. The phone can easily make it through 7-8 hours of screen time. 
With the Pixel 7 Pro, you can expect 85% of the battery left even after you've driven through an hour-long commute, with full brightness, GPS turned on, and Spotify streaming. The flagship provides effortlessly 6-7 hours of screen time, and you can expect to end the day with 30-40% of the battery left. 
Google Pixel 7 Pro vs. Samsung Galaxy S22 Ultra: 5 Must-Know Facts
Samsung S22 Ultra entered the market on February 25th, 2022. Google Pixel 7 pro joined the market on October 13th, 2022.
Samsung S22 Ultra comes with 4 rear-facing cameras with higher resolutions as compared to 3 rear-facing cameras for the Google Pixel 7 Pro.
Samsung S22 Ultra is heavier with a boxy appearance, whereas the Pixel 7 pro is lighter with rounded edges.
Samsung S22 Ultra is available in 8 different colors, ranging from phantom black to sky blue, whereas the Pixel 7 Pro comes in 3 different color options.
Samsung S22 Ultra provides approximately 18% higher AnTuTu scores and 13% better GeekBench scores than the Pixel 7 Pro. In other words, it performs better.
Google Pixel 7 Pro vs. Samsung Galaxy S22 Ultra: Which Is Better?
If we approach this discussion from the viewpoint of choosing the absolute winner, both on paper and in practice, it would be Samsung S22 Ultra. However, a few factors might sway you in either direction.
The Samsung Galaxy S22 Ultra has a brighter display, a better processor, a bigger size, a good camera, and up to 1TB of storage. It is perfect if you like to take continuous photos and videos, need ample storage to keep everything, and want a phone that makes it through the day with plenty of battery to spare.
For most of us, the phone is just overkill. Honestly, 99% of people will never use the phone to its full potential, and spending $1,199 on such a phone does not seem like a great idea. But if you want the latest capabilities and bragging rights, the S22 Ultra is a remarkable phone.
On the other hand, the Pixel 7 Pro is priced at $300 less. Like the S22, it has improved cameras, an excellent display, immersive speakers, a great battery life, and an interactive operating system.
This phone can easily pull off all your daily tasks and handle those short bursts of high-intensity usage without slowing down. It is an overall better value-for-money phone for most average users.