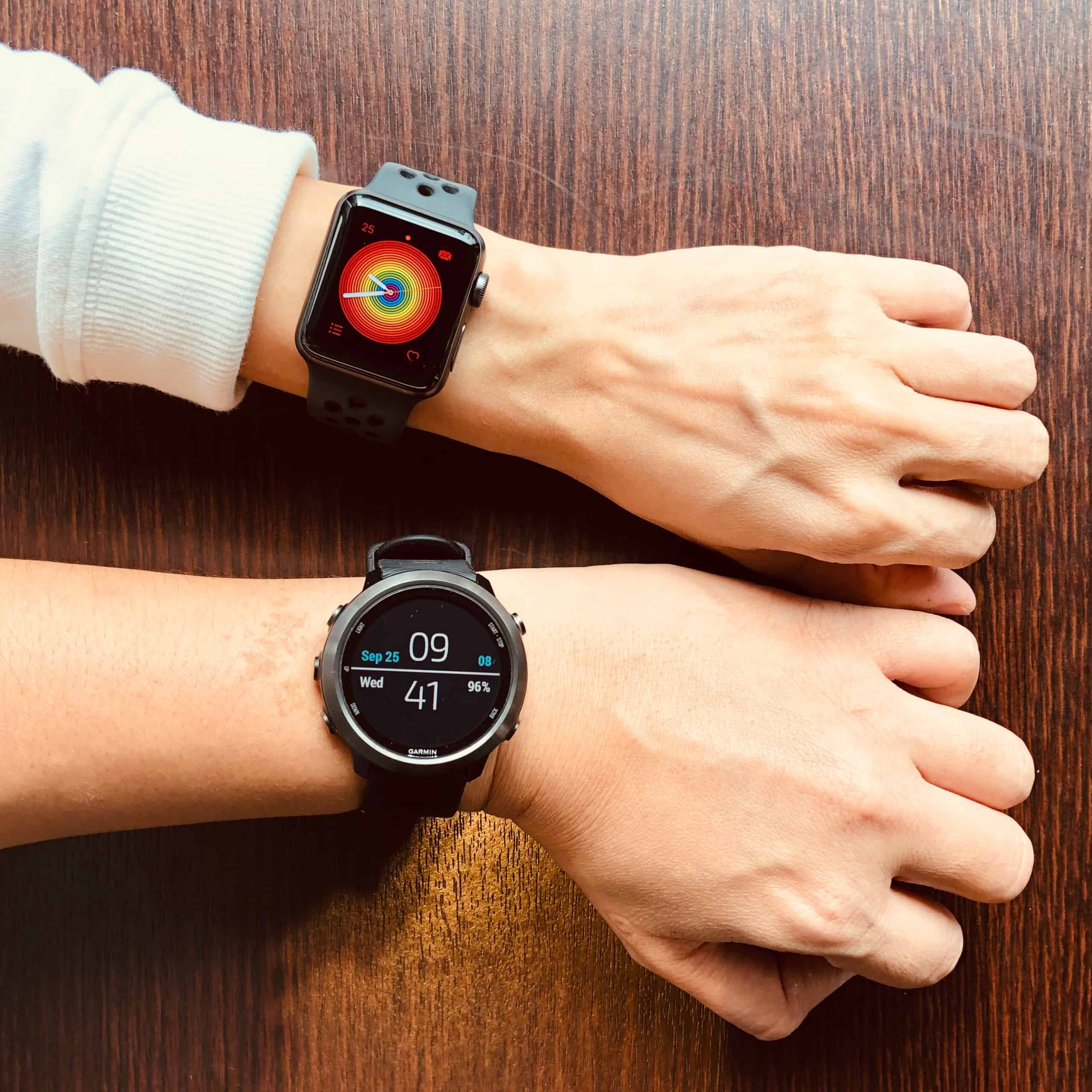 The Apple Watch Series 8 and the latest version of Garmin's flagship sports watch are excellent devices with which you can monitor your activity and record various metrics. Both smartwatches can also connect to your smartphone, let you receive notifications, and control your music remotely, among other things.
They are also good choices if you want a lightweight and unobtrusive device when you go running or play some other sport. However, as with most other things, they also have their pros and cons when directly compared.
In this Garmin Watch vs. Apple Watch guide, we will look at how these two wearables compare in terms of functionality, advantages, drawbacks, and more to help you choose the best fit for your needs.
Garmin Watch vs. Apple Watch: Side-by-Side Comparison
| | Garmin Watch | Apple Watch |
| --- | --- | --- |
| What it is | Garmin is a well-known watch for its smart connectivity with rugged features, like fitness tracking, water resistance, and GPS tracking | A wearable smartwatch that lets users perform a variety of activities, including sending text messages, reading emails, and making phone calls |
| Release Date | 2003 | 2015 |
| Developer | Garmin Ltd. | Apple Inc. |
| Features | Track sleep, steps and heart rate, water resistance, and ability to sync with Garmin Connect (links you to Garmin users' global community and offers a thorough look at your health and wellness data) | You can receive messages and notifications on the wrist, answer calls, track fitness, monitor your heart rate, navigate turn-by-turn, control music, and perform Siri commands – alarms, timers, and reminders |
| Battery life | At least 5-7 days | Up to 18 hours |
| Sensors | A pulse oximeter, sp02, and heart rate sensor | Gyroscope, heart rate sensor, accelerometer, and ambient light sensor |
| Models | Garmin Forerunner and Fenix Series, Garmin Vivosmart 5, Garmin Venu 2 and Venu 2 Plus, Garmin Epix (Gen 2), Garmin Instinct 2 Series, and Garmin Lily | Apple Watch Series 3, Apple Watch Series 6, and Apple Watch Series SE |
Garmin Watch vs. Apple Watch: Overview
Garmin was founded in 1989 by Gary Burell and Min H. Kao. In 2003, the company acquired UPS Aviation Technologies, later renamed Garmin AT. These enabled them to expand their product offering to include panel-mounted GPS and navigation, as well as integrated cockpit systems.
Garmin entered the watch industry in 2003 with the Forerunner series, particularly models 101, 201, and 301. The 201 and 301, and all subsequent models, include a feature that allows the wearer to upload training data to a personal computer.
Since 2003, the brand has gradually expanded into wristwear. Garmin watches were originally designed for running and have evolved into multisport smartwatches. In recent years, the brand has released specific models for a range of activities, including swimming, golf, and hiking.
The Apple Watch was released in 2015 with three definite models, several bands, and software that emphasizes communication. Instead of becoming a fashion icon or a social revolution, the device evolved into today's health and fitness wearable.
There are three types of Apple Watch for purchase available. The standard Apple Watch Series 8, the premium Apple Watch Ultra, and the budget Apple Watch SE. Apple Watches have undergone several design changes over the years, but they all share similar characteristics.
Garmin Watch vs. Apple Watch: What's the Difference?
The Garmin Watch and Apple Watch are incredible wearables that will help you track your fitness as well as monitor your health and well-being. There are numerous devices to choose from across the board, particularly in the case of Garmin, to ensure you get something that fits you. Here are some key differences that will help you decide which device is best for your needs.
Models and Pricing
Best for Budgets
Apple Watch Series 8 [GPS 45mm]
Available in 41 mm and 45 mm sizes
Battery lasts up to 18 hours or 36 hours on Low Power Mode
Health features such as the ECG app, heart rate sensors, and blood-oxygen sensors
Crash detection feature
Numerous customization options
We earn a commission if you make a purchase, at no additional cost to you.
There is a significant difference when selecting between Garmin watches and the various Apple Watch models. The Apple Watch Series 8 price starts at $399, Apple Watch SE (2022) costs $249, and Apple Watch Ultra starts at $799.
They differ slightly in terms of features and design, but they all have Apple Pay, GPS, fitness tracking, and the ability to receive calls or texts from your wrist. Also, you can get an Apple Watch for less if you know how to trade in your Apple Watch for a newer version.
Our Pick
Garmin Venu 2, GPS Smartwatch
Choice of two colors with a bright AMOLED display
Tracks and monitors health, energy, fitness, and more
Over 25 built-in apps for workouts
Free-preloaded workouts + adaptive training plans
Over 600 song downloads to your watch
We earn a commission if you make a purchase, at no additional cost to you.
The cost of Garmin watches varies based on the type of material you choose (materials like titanium and sapphire crystal are costly) and whether or not you want ones that can solar charge. Both the 40mm and 45mm case sizes of the Garmin Venu 2 are available for $399.99, while the Venu 2 Plus costs $449.99. If you are searching for an affordable Garmin smartwatch, you can get the Garmin Venu Sq at $199, or even less.
Design
Apple Watch Series SE 44mm Gold Aluminum (GPS+Cellular) - MYEP2LL/A (Renewed)
LEAVE YOUR PHONE AT HOME: Apple Watch SE GPS + Cellular LTE Model lets you call, text, and get directions without your phone present. It offers multiple connectivity options, including: Bluetooth,...
LARGE RETINA OLED DISPLAY: The SE sports a bright LTPO OLED Retina display, giving you a bright screen you can view at a glance, even in bright sunlight. A variety of watch faces are available for the...
LOADED WITH FEATURES: When paired with your iPhone, you can make calls and send texts from your wrist, navigate with Maps, buy items with Apple Pay, and use your voice to activate Siri. Made to last...
WORKOUTS THAT DON'T QUIT: Cycling, yoga, swimming, high-intensity interval training...the list goes on. You name it, Apple Watch measures it. Set workout-specific goals, see full summaries when you're...
GET LOST IN YOUR MUSIC: With Apple Music on your wrist, you've got 60 million tracks of musical motivation to take you places. You can also catch up on the latest podcasts or listen to an audiobook if...
We earn a commission if you make a purchase, at no additional cost to you.
The squircle shape is Apple's recognizable watch design, with a digital crown and a color touchscreen display with side buttons. It resembles a miniature computer that fits perfectly on your wrist. The only noticeable difference between Apple Watch models is a slight screen difference and bezel thickness.
The screen sizes on the Apple Watch 8 are noticeably larger than those on the Apple Watch SE. If you are more specific about the display, the Apple Watch 8 and Apple Watch Ultra have an Always-on Display Mode.
Garmin Venu Sq, GPS Smartwatch with Bright Touchscreen Display, Up to 6 Days of Battery Life, Slate Aluminum Bezel with Shadow Gray Case and Silicone Band, Slate Band
Fits wrists with a circumference of 125-190 millimeter.GPS mode with music: Up to 6 hours.Supported Application:GPS. Connectivity technology:GPS. Wireless comm standard:Bluetooth
See everything clearly on a bright color display that includes an always-on mode, perfect for quick glances
Health is important to you, so monitor everything from your Body Battery energy levels, respiration, hydration and stress to sleep, your menstrual cycle, estimated heart rate and more
Find new ways to keep moving with more than 20 preloaded sports apps, including walking, running, cycling, mindful breathing, swimming, golf and many more
Use preloaded workouts that include cardio, yoga, strength and even Pilates, create your own in the Garmin Connect app (requires app on a compatible smartphone)
We earn a commission if you make a purchase, at no additional cost to you.
All Apple Watch models are available in multiple metal and color touches, as well as being compatible with all Apple Watch bands for a customized look. You can purchase the best Apple Watch bands from Apple directly or from third-party retailers like Amazon.
Garmin watches are available in a variety of colors as well, though not all of them have interchangeable straps. It's noticeable that Garmin watches have a circular shape (except the Garmin Venu Sq).
Garmin Lily™, Small Smartwatch with Touchscreen and Patterned Lens, Dark Bronze
Small stylish smartwatch complements your look with a unique decorative lens that reveals a bright touchscreen display with a tap
Battery life: up to 5 days
Understand your body by monitoring your respiration, Pulse Ox (this is not a medical device), energy levels, menstrual cycle, pregnancy, hydration, all-day stress, sleep (when paired to a compatible...
When paired with a compatible smartphone, stay connected with smart notifications for incoming calls, text messages, calendar reminders and more
Tracks yoga, Pilates, cardio, mindful breathing and more with sports apps; connects to your compatible smartphone's GPS to accurately track outdoor walks, runs and more
We earn a commission if you make a purchase, at no additional cost to you.
Some of Garmin's rugged models, such as the Instinct, resemble G-Shocks and have remarkable durability certificates, whereas the quaint Garmin Lily could easily seem like jewelry. Some watches also have only button controls and no color displays. It varies significantly from smartwatch to smartwatch — again, you have several options to consider.
Fitness Features
Garmin and Apple Watch provide the most fitness and health-focused platforms. Regardless of the device you choose, you will be able to monitor your heart rate, steps, and calories — active and resting — burned, as well as tons of workouts and sleep patterns.
Garmin typically offers more thorough sleep cycle analysis and overnight SpO2 readings, whereas Apple Watch focuses more on creating a daily sleep goal and a bedtime routine. However, as of watchOS 9, Apple Watch sleep tracking also monitors your baseline skin temperature sensor, tracks overnight respiratory rate, and displays your sleep stages.
You will need to review the specifications of whichever device you purchase. For instance, every Apple Watch has a built-in GPS, whereas some Garmin models lack it. As for the more affordable watches, the GPS company omits independent location tracking. To assist you in figuring out how to train for a marathon, Garmin watches for running get GPS and other run-specific features to improve your outdoor activities.
The two wearable brands also provide more specialized features. Apple offers the Cardio Recovery feature, which enables users to track their recovery after an outdoor hike, a run, or a walk, as well as monitor their recovery through the health app over time.
Meanwhile, most Garmin devices can monitor stress and track your Body Battery, helping users, particularly athletes, plan their workout or rest based on their energy levels.
Battery Life
Battery performance between Apple Watch and Garmin watch varies significantly. The Apple Watch Series 8 can last about a day on a single charge, while the Apple Ultra will last up to 36 hours within normal usage. Garmin devices have a much longer battery life, lasting anywhere from 7 days to several weeks, depending on fitness tracking, display settings, and other factors.
Models designed for outdoor sports, like running, last about 7 hours to several days while actively using the GPS. And that's before you consider battery-saving modes and solar-charging Garmin watches.
One of the reasons Garmin outdoes other wearable sports brands is that some models are available in Solar versions, which extend the device's battery life when used outdoors. Though solar models are costly, you might want to consider them if you have a more outdoor lifestyle.
Garmin Watch vs. Apple Watch: 7 Must-Know Facts
Garmin released its first watch in 2003, whereas Apple launched its first smartwatch in 2015. 

Both wearables offer plenty of fitness and health features like monitoring your heart rate, steps and calories burned, workout activities, and the overnight sleep cycle.
Garmin Watches have better battery performance compared to Apple Watches.
Most Garmin Watches come in a circular design (except for Garmin Venu sq), while Apple's recognizable design is the squircle with a digital crown and a color touchscreen display.
Every Apple Watch has an inbuilt GPS, but not every Garmin.
Unlike Apple, Garmin does not charge different prices for different sizes of the same watch. Some Garmin watches are available in 's' models, which means smaller.
The Apple Watch is incompatible with Android smartphones, whereas Garmin works well with both iOS and Android devices.
Garmin Watch vs. Apple Watch: Which One Should You Use?
So, which one is better: Garmin watch vs. Apple Watch? As we have seen above, both products offer improved health and fitness tracking features, fancy hardware, and data-packed apps.
If you are an iPhone user, the Apple Watch is unquestionably the better smartwatch. Its integration with iOS and the high-resolution display gives it an all-around better experience.
The Apple Watch is stylish, easily customizable, and at times affordable (you have trade-in options to upgrade to a newer version). It's also a great fit for office as well as workout purposes.
Garmin watches have strengths as well. While they can be costly, Garmin's wearables are generally available in every price range, from $150 to $1,500.
Whether you are looking for a basic activity tracker or a versatile fitness watch, Garmin has something for you. It also offers the best models for training purposes. Garmin's workout analysis and fitness platform are more advanced than Apple's, though the latter is still evolving.
One area where Apple can't seem to progress is battery life. The Apple Watch Ultra gives a better battery performance but compared to Garmin devices, it still falls short. For the best battery life and richer sports tracking features, go for the Garmin devices.
Of course, if you use an Android phone, Garmin should be your go-to smartwatch. Review all specs before purchase since all Garmin Watches aren't similar. Ultimately, the winner of this Garmin Watch vs. Apple Watch review will depend on your budget, needs, and preferences.
Up Next