People that are into fitness can track their calories and heart rate through a number of smartwatches, but some do it better than others. That's the case between the Garmin Venu 2 vs. Galaxy Watch5 Pro, as both devices perform similar tasks.
While they are completely different from a style standpoint, we think you'll be surprised by how closely these wearables compare once you peer under the hood.
Garmin Venu 2 vs. Galaxy Watch5 Pro: Side-by-Side Comparison
| | Garmin Venu 2 | Galaxy Watch5 Pro |
| --- | --- | --- |
| Manufacturer | Garmin | Samsung |
| Released | April 22, 2021 | August 26, 2022 |
| Sizes | 40 mm, 45 mm | 41 mm, 45 mm |
| Display | 1.1 or 1.3 inches | 1.4-inch |
| Resolution | 360 x 360, 416 x 416 | 450 x 450 |
| Processor | Unknown | Exynos W920 |
| Memory | Unknown | 1.5GB |
| Storage | 8GB | 16GB |
| Sensors | SpO2, Heart Rate, Temp | SpO2, ECG, Heart Rate, Temp, BIA |
| Battery Life | 7 hours to 11 days | Up to 50 hours |
| Operating System | Garmin Proprietary | Wear OS |
| Weight | 38 to 49 grams | 46.5 grams |
| Water Resistance | 5ATM | 5ATM |
| Price | $399 | $399/$450 |
Garmin Venu 2 vs. Galaxy Watch5 Pro: What's the Difference?
Side by side, you would have no problem telling the Garmin Venu 2 apart from the Watch5 Pro. Samsung's wearables have their own sense of style like Apple, whereas Garmin's watches typically scream fitness tracker. Style is important, and one of the first areas you'll want to compare along with sizing.
Style and Sizing
All wrists are not created equal, which is why many smartwatch manufacturers offer watches in multiple sizes. It's common, and something we've seen from Samsung, Apple, and others. Garmin took things a step further with the Venu 2, which is available in two different sizes at 40mm or 45mm.
The weight fluctuates slightly from one model to the next, so the 40 mm model weighs 32 grams compared to the 45 mm Venu 2, at 32 grams. The small version of the Venu 2 is lighter than the Galaxy Watch5, but the 45 mm version is a bit heavier.
Best for Health Tracking
Garmin Venu 2
Choice of two colors with a bright AMOLED display
Tracks and monitors health, energy, fitness, and more
Over 25 built-in apps for workouts
Free-preloaded workouts + adaptive training plans
Over 600 song downloads to your watch
We earn a commission if you make a purchase, at no additional cost to you.
Samsung's watch only comes in one size and weighs 46.5 grams. It's a little bulkier than the previous model, but that's due in part to the 590 mAh battery. While attractive, it's not ideal for people with smaller wrists for obvious reasons. The Galaxy Watch5 Pro is only available in two hues, as well, compared to around a half-dozen configurations of the Venu 2.
The design language is similar on both devices which have round faces with touchscreen displays. They also have bezels and a few action buttons, although Samsung's watch is capable of a few more tricks. It's a stretch to put either watch in the class of something like the Apple Watch Hermès, but we feel Samsung's is the more casual of the two.
Smartwatch Displays
Samsung has always used top-tier technology in their displays, whether it's a large 4K TV set, mobile phone, or smartwatch. Their newest wearable is in the flagship class, so you can expect the same premium display – just a little bit smaller.
The Watch5 Pro has a 1.4-inch Super AMOLED display with a resolution of 450 x 450. It's bright and vivid and doesn't disappoint whether you're in low lighting or full sunlight outdoors. The touchscreen is responsive and snappy, and larger than the one on the Venu 2.
There are two display sizes on the Garmin Venu 2 with a 1.1-inch or 1.3-inch touchscreen display. The resolution on the smaller model is 360 x 360, while the larger Venu 2 sees an uptick to 416 x 416. It's not quite as crisp as Samsung's display, but the AMOLED panel doesn't disappoint by any means.
Tech Specs
We're not going to spend much time here, as Samsung has a clear edge in performance with the Watch5 Pro compared to the Garmin Venu 2. That's due in part to the fact Garmin doesn't put out much information on their hardware, and we know exactly what the Watch5 Pro has under the hood.
Nobody wants a sluggish smartwatch, and you won't get one if you choose the Watch Pro5. It has a speedy Exynos W920 processor, which gets a boost from 1.5 GB of RAM. Performance is on par with the Apple Watch 8, although Samsung's wearable has more memory. While there are watches with more internal storage, you'll still have 16 GB to work with on the Galaxy Watch5 Pro.
BEST WOMEN'S SMARTWATCH FOR ANDROID
Samsung Galaxy Watch 5 Pro
An advanced tracker that monitors sleep and wellness throughout the day.

Tracks your daily workout activities from running and hiking to swimming.
Amazing battery life for prolonged use outdoors.
Built to last with a titanium case and Sapphire Crystal glass.
Compatible with all Apple devices
Easily customizable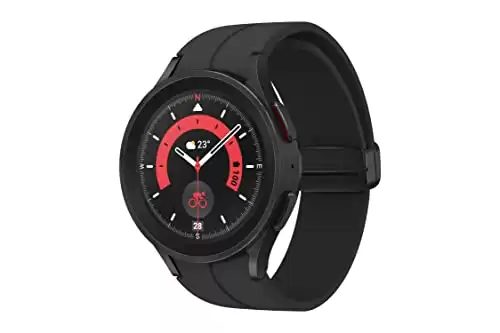 We earn a commission if you make a purchase, at no additional cost to you.
As for the Garmin Venu 2, it has 8 GB of internal storage space. It's enough to store hundreds of songs to listen to during workouts, but applications and the OS itself eat into that space. There's no concrete information on the processor inside the Venu 2, although we believe it's probably a budget-friendly ARM chip.
Sensors for the Garmin Venu 2 include a GPS, compass, gyroscope, accelerometer, ambient light sensor, and barometric altimeter. Bluetooth and ANT+ allow you to sync to smartphones and fitness devices as well. Samsung has the same basic sensors on their wearable, which has Bluetooth 5.2.
Health Tracking
The Venu 2 has a heart rate sensor that can send you alerts if it senses an irregularity, or give you blood-oxygen readings through a SpO2 sensor. It can measure this on-demand or while you sleep to give you a better overview of your health.
All the key information shows up on the screen, so you won't have to open up an app for data like you would with older Garmin wearables. The Garmin Coach and Connect apps play a large part in that, and you'll get a similar experience on the Galaxy Watch5 Pro.
Samsung's watch also has a heart rate sensor and can take SpO2 readings. A thermometer allows for body temperature readings and there's also an ECG feature. As a bonus, it can take body fat measurements. Sammy has an advantage with sensors, but not necessarily when it comes to the data they collect and how it's used.
Features
Samsung may have Garmin beat when it comes to tech specs and the display, but health and fitness features are where the Garmin Venu 2 shines. This "watch" was built for people that want to track their calories or sleep metrics. You can do all that, and more, thanks to the sensors and some nifty apps.
Do you play sports? If so, you'll appreciate more than 20 pre-loaded profiles on the Venu 2 for indoor and outdoor activities. You can get a quick overview of things through a health snapshot, and HIIT modes provide a wealth of options and timers to customize your personal routine. Muscle Maps, intensity minutes, and dozens of other metrics are available through the watch and its companion apps.
On the downside, Garmin's watch uses its operating system, which is a forked version of Android. While you can access some popular applications, your choices are limited with no real app store access. The watch supports basic smartwatch features like music playback and incident detection, but you can only reply to incoming messages from the Venu 2 with Android – not iOS.
Oddly enough, the Garmin Venu 2 works with both Android and iOS smartphones. The Galaxy Pro5 is locked to Android devices. That's a significant downside if you own a smartphone from Apple, but the only one as this watch is packed full of features. It runs Wear OS, so there are more apps to choose from, and it's compatible with most of the same health and fitness apps as the Venu 2.
You can track your heart rate or set custom workouts through the watch, or use Samsung pay with NFC to make purchases on the go. You'll also get access to Google's entire suite of apps, including Maps, Assistant, and Notes, along with Samsung's unique apps. You can do most of the same things on both watches, but the Garmin Venu 2 is compatible with an iPhone, which gives it a significant advantage.
Battery Life and Charging Times
When smartwatches have an "Always-On" display, manufacturers need to ensure they have a battery that can get users through a day. It's also important to remember that battery life is tied to usage, and something that generally varies wildly from the brand's given numbers.
With Samsung, the company says you'll get up to 50 hours of battery life on the Galaxy Watch5 Pro. Well, that's fairly accurate as this watch is widely regarded as having the top battery life for a regular smartwatch. You will certainly be able to go a day without having to use a charger, and many users claim they're getting around 36 hours per charge.
When it's time to charge the Galaxy Watch5 Pro back up, you can do so quickly. It has fast charging along with 10W Qi wireless charging. While the battery life is impressive, so is the length you'll get from the Garmin Venu 2.
Garmin's smartwatch will last for around 11 days in smartwatch mode. That's with limited features, however, so you can expect that number to drop to 8 hours with GPS and music. GPS without music is good for 22 hours, and recharging times are respectable. Samsung's watch has better battery life across the board, but Garmin's fitness tracking watch has enough power for even the most hardcore workouts.
Pricing
If your budget is tight, this is one area where the Garmin Venu 2 makes up ground against the Galaxy Watch5 Pro. The retail price of the Venu 2 starts at around $399 on their official site, but you can pick it up for far less through third-party retailers like Amazon.
The Venu 2s, the smaller version of the smartwatch, is a little cheaper, but the price can rise depending on the color and options you choose. Things are more straightforward with the Galaxy Watch5 Pro, which also retails for $399.
It's only available in one size and two colors, but the LTE variant raises the cost by around $50. There aren't any bespoke editions of the Galaxy Watch5 Pro, although there is a Golf Edition of the smartwatch with some additional features for the links.
Garmin Venu 2 vs. Galaxy Watch5 Pro: 4 Must-Know Facts
Samsung released a line of fitness bands from 2014-2017 with the Gear Fit.
The Venu Sq2 Music Edition is a variant of the Venu 2 with a squared face.
Garmin's Body Battery system monitors your energy levels throughout the day.
The Galaxy Watch5 Pro is MIL-STD-810H certified.
Garmin Venu 2 vs. Galaxy Watch5 Pro: Which One Is Better?
Are you interested in a smartwatch with fitness tracking features or a fitness tracker that doubles as a smartwatch? That's the first question you should ask yourself when choosing between the Garmin Venu 2 vs. Galaxy Watch5 Pro, and something that should have a major impact on your decision.
Pricing is comparable, but the Galaxy Watch5 Pro has better battery life, more power, and double the storage space. It also has more health-tracking sensors than the Venu 2 and provides users with more access to general apps outside of the fitness realm. That said, it only works with Android phones and isn't exactly svelte compared to the Venu 2.
Garmin's wearable is ideal for people that want a watch that can track almost any metric and works with a wide range of exercise equipment. While we feel it's a bit pricey compared to similar trackers, it's hard to argue with the battery life and features it brings to the table if you hike, run, or work out.
Garmin Venu 2 and Galaxy Watch5 Pro: Technology Updates
Recently, both the Garmin Venu 2 and the Galaxy Watch5 Pro have seen noteworthy technological updates.
Garmin Venu 2:
Anticipated Processor Upgrade: The Garmin Venu 2 is reportedly in line for an upgraded processor, potentially the Snapdragon Wear 4100 Plus. This advancement is expected to yield substantial performance enhancements compared to the existing Snapdragon Wear 3100 processor.
Enhanced Sensor Suite: Reports suggest that the Garmin Venu 2 will incorporate novel sensors, potentially encompassing a blood oxygen sensor and a body composition sensor. These additions could enable the watch to monitor blood oxygen levels and body composition metrics.
Fresh Software Additions: Speculations allude to the Garmin Venu 2 receiving novel software features, including a potential sleep tracking mode and an advanced workout tracking mode. These augmentations aim to bolster the watch's utility and functionality.
Galaxy Watch5 Pro:
Envisaged Processor Enhancement: The Galaxy Watch5 Pro is rumored to undergo a processor upgrade, potentially embracing the Exynos W920 chipset. This advancement is expected to usher in noteworthy performance improvements over the prevailing Exynos W900 processor.
Expanded Sensor Array: It is speculated that the Galaxy Watch5 Pro will integrate novel sensors, possibly including a body temperature sensor and a blood pressure sensor. Such additions could empower the watch to monitor body temperature fluctuations and blood pressure metrics.
Fresh Software Incorporations: Similar to the Garmin Venu 2, the Galaxy Watch5 Pro is also rumored to be on the receiving end of fresh software features, potentially encompassing an innovative sleep tracking mode and an enhanced workout tracking mode. These enhancements seek to elevate the watch's comprehensiveness and practicality.
Garmin Venu 2 and Galaxy Watch5 Pro: Looking Forward
Anticipated within the next six to 18 months, a series of technology updates are expected to grace the Garmin Venu 2 and Galaxy Watch5 Pro:
Processor Advancements: Reports suggest that both the Garmin Venu 2 and Galaxy Watch5 Pro are poised to embrace upgraded processors—potentially the Snapdragon Wear 5100 Plus and the Exynos W920, respectively. These advancements hold the promise of significantly enhanced performance, leading to smoother and more responsive user experiences.
Sensor Enhancements: Rumors circulate about the incorporation of novel sensors in both the Garmin Venu 2 and Galaxy Watch5 Pro, possibly including a body temperature sensor and a blood pressure sensor. This anticipated addition could empower the watches to meticulously monitor body temperature fluctuations and blood pressure levels.
Fresh Software Offerings: Both the Garmin Venu 2 and Galaxy Watch5 Pro are rumored to introduce novel software features, potentially encompassing an innovative sleep tracking mode and an advanced workout tracking mode. These features are expected to elevate the watches' functionality and overall utility.
Enhanced Battery Life: While the Garmin Venu 2 and Galaxy Watch5 Pro are already recognized for their commendable battery life, speculation hints at the potential for further improvements with the next-generation watches.
Accelerated Charging: Reports allude to the possibility of expedited charging for both the Garmin Venu 2 and Galaxy Watch5 Pro, enhancing an already-existing feature of fast charging.
Expanded Storage: While currently offering 16GB of storage, there are whispers of increased storage capacity—potentially reaching 32GB or even 64GB—in the forthcoming generation of both the Garmin Venu 2 and Galaxy Watch5 Pro.
Elevated Water Resistance: Anticipated improvements in water resistance standards are on the horizon for the Garmin Venu 2 and Galaxy Watch5 Pro, potentially elevating their water-resistant capabilities to depths of 100 meters or even 200 meters, compared to their current 50-meter threshold.
The image featured at the top of this post is ©AronX/Shutterstock.com.