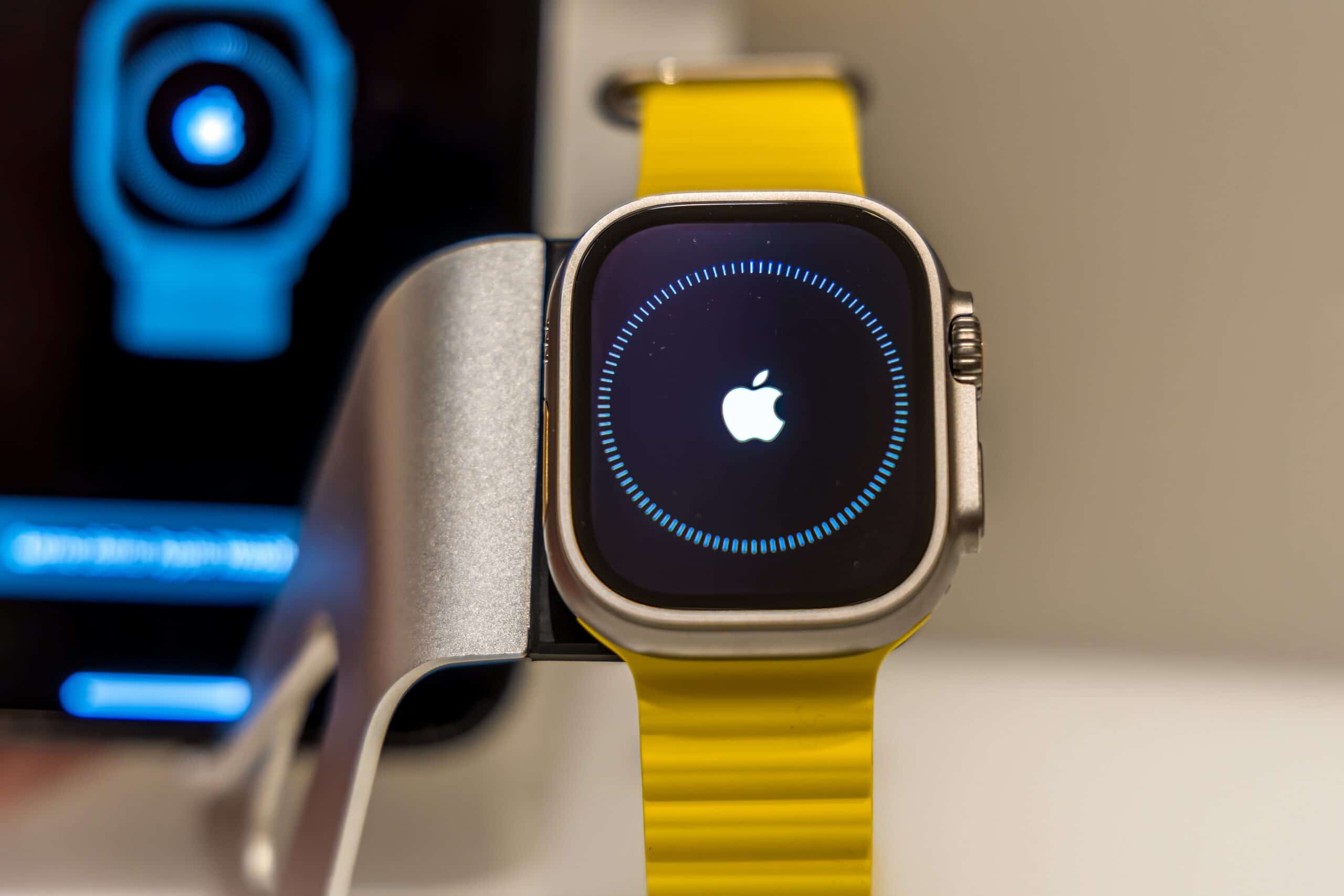 Smartwatches are designed to handle the rigors of daily life, but things can take a turn outdoors. Durability and battery life are important when heading to the gym, office, or winding down a hiking trail. In our Garmin MARQ vs. Apple Watch Ultra comparison, we look at two similar smartwatches built for the outdoors. Both watches have a distinct style with unique features not found on traditional smartwatches. They are also in the premium class with hefty price points, which makes choosing the right one all the more important.
Garmin MARQ vs. Apple Watch Ultra: Side-by-Side Comparison
| | Garmin MARQ | Apple Watch Ultra |
| --- | --- | --- |
| Manufacturer | Garmin | Apple |
| Release date | October 11, 2022 | September 23, 2022 |
| Sizes | 46mm | 49mm |
| Display | 1.2-inch, 390 x 390 | 1.92 inches, 502 x 410 |
| Processor | Unknown | Apple S8 |
| Memory | Unknown | 1GB |
| Storage | 32GB | 32GB |
| Sensors | Heart Rate, SpO2, Temp | ECG, Heart Rate SpO2, Temp |
| Water Resistance | 10ATM | 10ATM, IP6X |
| Battery Life | 9 hours to 16 days | Up to 36 hours |
| Operating System | Garmin Proprietary | WatchOS |
| Weight | 84-92 grams | 61.3 grams |
| Price | $1,900-$2,400 | $799 |
Our Pick
We earn a commission if you make a purchase, at no additional cost to you.
Garmin MARQ vs. Apple Watch Ultra: What's the Difference?
Apple and Garmin manufacture premium goods with cutting-edge tech, including smartwatches. Garmin has been in the wearables business longer than most people realize, and Apple is largely responsible for making smartwatches mainstream.
The Garmin MARQ and Apple Watch Ultra are two of the most high-tech smartwatches on the market today, and both are built to deal with more than your average wearable. While we could put these smartwatches in the luxury class, these two models have some interesting differences.
Styles
Apple hasn't changed its smartwatch's design much since its debut in 2014, so the Watch Ultra still has the same basic design as the original. That's where the similarities end. However, the Apple Watch Ultra is a lot larger and far more luxurious.
Watch Ultra only comes in one style, but it's built to last with a titanium case and sapphire crystal glass. The digital crown on the Ultra is larger and easier to use, like the side button. Only one case color is available, but there are three unique bands in multiple colors. The bands don't increase the price and are designed with users in mind as the Ocean Band is for divers while the Trial Loop is lightweight.
Garmin takes a different approach with the MARQ, which has different bands but comes in five completely different styles. The base specifications remain the same, although there are specific watch faces with unique touches tied to their usage for each model. These watches fall under the MARQ banner with completely different styles and price points.
The Garmin MARQ Athlete is ideal for outdoor enthusiasts, while the Adventurer is geared toward climbers and hikers. If you spend your time on the water, you'll appreciate the nautical stylings of the Captain, and the same goes for pilots, thanks to the MARQ Aviator Gen 2.  The newest addition to this collection is the Golfer, which has a hole indicator on the bezel and a classy French Jacquard-weave band.
Garmin put as much thought into their MARQ smartwatches as Apple did with the Ultra, but they have completely different designs. Ultimately, the best pick depends on the user, although Garmin has more variety.
Sizes
Some smartwatches have svelte designs that sit flush on the wrist and barely feel like they are there. The Apple Watch Series 8 falls into that category, but the company took a different approach with the Apple Watch Ultra. It's the company's largest and heaviest smartwatch.
At 1.93 x 1.73 x 0.57 inches, the Apple Watch Ultra is a beastly device. It weighs in at 61 grams, which is around 10 grams heavier than the Apple Watch Series 8. It's attractive but thick on the wrist regardless of the band. Garmin's MARQ lineup is smaller but considerably heavier than Apple's watch in every configuration.
The Garmin MARQ Golfer Gen 2 weighs 84 grams with a silicone band, while the Athlete is a gram heavier. The weight discrepancy is minimal, but the watch is around 20 grams heavier across the board. The watches are a bit thicker as well, but the difference is negligible as both are larger than your typical smartwatch.
Hardware
Garmin's watches may look different on the outside, but the hardware beneath the glass is remarkably similar. It's also an area where the MARQ line pales in comparison to the Apple Watch Ultra, which sports the company's dual-core Apple S8 processor.
Both watches are snappy, but Apple's chip gives them the edge, whereas Garmin didn't disclose the type of processor they used in their collection. The company was also vague regarding RAM, but there is 32GB of internal storage space on the Watch Ultra and Garmin MARQ.
This watch has a 1.2-inch AMOLED display with a resolution of 390 x 390. Connectivity options include Bluetooth, Wi-Fi, ANT+, and every major GPS system. The MARQ smartwatches also take advantage of multi-frequency positioning and the company's SATIQ technology.
Apple's watch also connects to Galileo, GLONASS and other satellites for positional tracking outdoors. The Apple Watch Ultra has Bluetooth 5.3 and the company's largest smartwatch display at 1.9 inches. The OLED panel has a resolution of 502 x 410, giving it a significant edge over the MARQ with resolution.
Sensors
While the design, style, and tech specs of these watches vary, they each have the same types of health and fitness tracking sensors. The Garmin MARQ includes a wrist-based heart rate monitor that can constantly track your heart rate while providing alerts and a SpO2 sensor for blood oxygen levels.
The SpO2 sensor provides spot-tracking or all-day tracking and has a temperature sensor.  It's essentially the same array found on the Venu 2, and comparable to the Watch Ultra in "most" key areas. The Apple Watch Ultra can also measure heart rate, temperature, and SpO2. It also has an ECG and sensors that enable a unique feature with crash detection.
Crash detection uses the watch's sensors to detect if there's been an accident and gives you the option to call for assistance if needed. There's also fall detection, while Garmin has something similar for the MARQ collection called Incident Detection. Both watches have the type of sensors you want on any flagship smartwatch, but Apple has a few more bells & whistles. 
Features
When purchasing a flagship smartwatch, you should get a wealth of features. The Garmin MARQ and Watch Ultra don't disappoint in that area. Both have exclusive or unique features you won't find elsewhere.
Garmin's MARQ smartwatch collection has the same basic set of features as the EPIX so you can expect a slew of health and fitness tracking features. Users can check cadence or running power, set up interval training, or use a profile for gym activities. All models also have a Jetlag Advisor feature, but each variant brings something unique.
The Garmin MARQ Captain includes a regatta timer, boat data, and autopilot via a GHC 20 control unit. On the Aviator, you'll find a moving map feature, a HIS course needle, and other aeronautical touches. Each watch also has access to a full range of features through Garmin apps, whether it's TOPO maps, hydration tracking, or popular apps like Spotify or Starbucks.
While the Apple Watch Ultra doesn't have quite the same range of features designed for specific activities, it's packed with goodies for outdoor enthusiasts and the average user. Fans of the regular Apple Watch will still have the same features like Siri and fitness tracking, but the Ultra does things bigger and better.
The action button allows for various functions, including setting off an 86-decibel siren for an SOS. Dual speakers improve volume and clarity through the watch, while a depth gauge provides depth and temperature readings down to 40 meters. You can dive with this watch, and it can also track ovulation cycles.
Other noteworthy features of the Apple Watch Ultra include a three-microphone array, an integrated antenna design, and a redesigned compass.  The microphones are smarter than usual thanks to machine learning which increases clarity, and the dive computer was designed with Huish Outdoors. The Garmin MARQ and Watch Ultra have no shortage of features, and both are built to withstand the elements.
Build Quality
Durability has improved considerably with smartwatches in recent years, but most still can't hold up like a traditional timepiece built for the outdoors. Apple and Garmin kept that in mind when they designed the MARQ and Watch Ultra, but one company took things a step further.
Garmin used premium materials in the build of the MARQ smartwatch. It has a case made from Grade 5 titanium, while the bezels are titanium or a combination of titanium and ceramic. The displays are all protected by sapphire crystal, and the watches sport a waterproof rating of 10 ATM. You can swim and take the watch down to a depth of 10 meters.
The Apple Watch Ultra is also waterproof up to 100 meters or 40 meters for diving. It's EN1319-certified for diving and also carries the MIL-STD 810 tag. This means the Ultra has passed rigorous military-grade testing against thermal conditions and shock. Apples used aerospace-grade titanium for the case, which is IP6X dust-resistant, and sapphire glass on the front to protect the display.
Battery Life
Whether hiking up the side of a mountain or taking a leisurely walk at the park while listing to music, battery life is important with a smartwatch. It's also an area where Garmin's collection of MARQ watches has an advantage over the Apple Watch Ultra.
Apple's flagship smartwatch has fantastic battery life. The company estimates around 36 hours between charges, but you can bump that to 60 hours through low-power settings. Either way, you can get through the day with the Ultra, but you'll get considerably more juice from the Garmin MARQ smartwatches.
When used as a smartwatch without all the GPS systems on, the watch can go for up to 16 days before being topped off. The always-on display brings that down to 6 days while battery save mode extends it to 21 days. With all the connectivity options on multi-band, the battery life is still impressive at 22 to 32 hours.
Software
The hardware inside of a smartwatch is critical for performance and user experience, but it works alongside the operating system. Each of these smartwatches runs software unique to their ecosystems, which impacts the apps you can download. It also affects what type of smartphone you can use with each wearable.
Apple's wearables run WatchOS, an operating system based on iOS used on the iPhone. It's tied to the App Store and runs smoothly, considering the Ultra runs the 9th version of the company's operating system. It works flawlessly with an iPhone, but you cannot sync the watch up to an Android device like the Galaxy series smartphones or Pixel.
Garmin's watches run their proprietary operating system. The selection of apps is smaller than what you'll find on the Apple Watch, but the Garmin MARQ smartwatch will work with Android smartphones or an iPhone. With that in mind, you can't reply to text messages on an iPhone now.
Pricing
Our Garmin MARQ vs. Apple Watch Ultra breakdown has more differences than similarities in key areas. However, these wearables are both in the premium category, so they cost more than a traditional smartwatch.
Apple has put out some confusing configurations, but they kept things simple with the Apple Watch Ultra. It's priced at $799 as there's only one size. With Garmin, the price depends on the style of MARQ smartwatch you're interested in and begins with the MARQ Athlete at around $1,900.
Apple's watch is significantly cheaper but only comes with a 1-year guarantee. Garmin MARQ smartwatches have a 2-year warranty, although you'll want to consider an extended plan with these high-end wearables. Both watches are easy to acquire through official storefronts or online retailers.
Garmin MARQ vs. Apple Watch Ultra: 5 Must-Know Facts
Garmin's MARQ Golf comes with over 42,000 color pre-loaded courses.
The Watch Ultra is the first watch from Apple with a dive rating of up to 40 meters.
Garmin MARQ smartwatches use SATIQ technology to find the best mode for your environment.
At 542mAh, the Apple Watch Ultra's battery is the largest in any watch from the company.
The first Apple Watch has a variant available in 18K Rose or Yellow Gold.
Our Pick
We earn a commission if you make a purchase, at no additional cost to you.
Garmin MARQ vs. Apple Watch Ultra: Which One Wins?
When choosing between the Garmin MARQ and Apple Watch Ultra, the first question you should ask yourself is how you plan to use the watch. If you spend more time on a boat than on land, the MARQ Captain or the Aviator for pilots is an obvious choice.
The Adventurer is more comparable to the Ultra from a fitness standpoint, although both smartwatches are rugged and geared toward the outdoors. Garmin's watches are better suited for users interested in training or a specific activity like golfing or boating. These models shine in those areas, whereas the Ultra is more of an all-around smartwatch.
Considering the price difference and general features, we feel the Apple Watch Ultra is the best choice for most users compared to the Garmin MARQ and its more specialized areas. Alternatively, the MARQ should be high on your shopping list if you have a boat, fly, or play golf.