With so many gaming computers in the market, finding the best one can be challenging. But the most significant decision you'll have to make is whether to buy a gaming laptop or a gaming desktop. Both have their pros and cons. A couple of factors could influence your decision. For example, a laptop is portable, but a desktop delivers the most power.
Upgradability also matters. Some gaming computers offer more customizable and upgradable than others. So, gaming laptop vs desktop, which one best fits your lifestyle and needs? Keep reading to learn about their differences and know which is better for you.
Gaming Laptop vs Desktop: Side-by-Side Comparison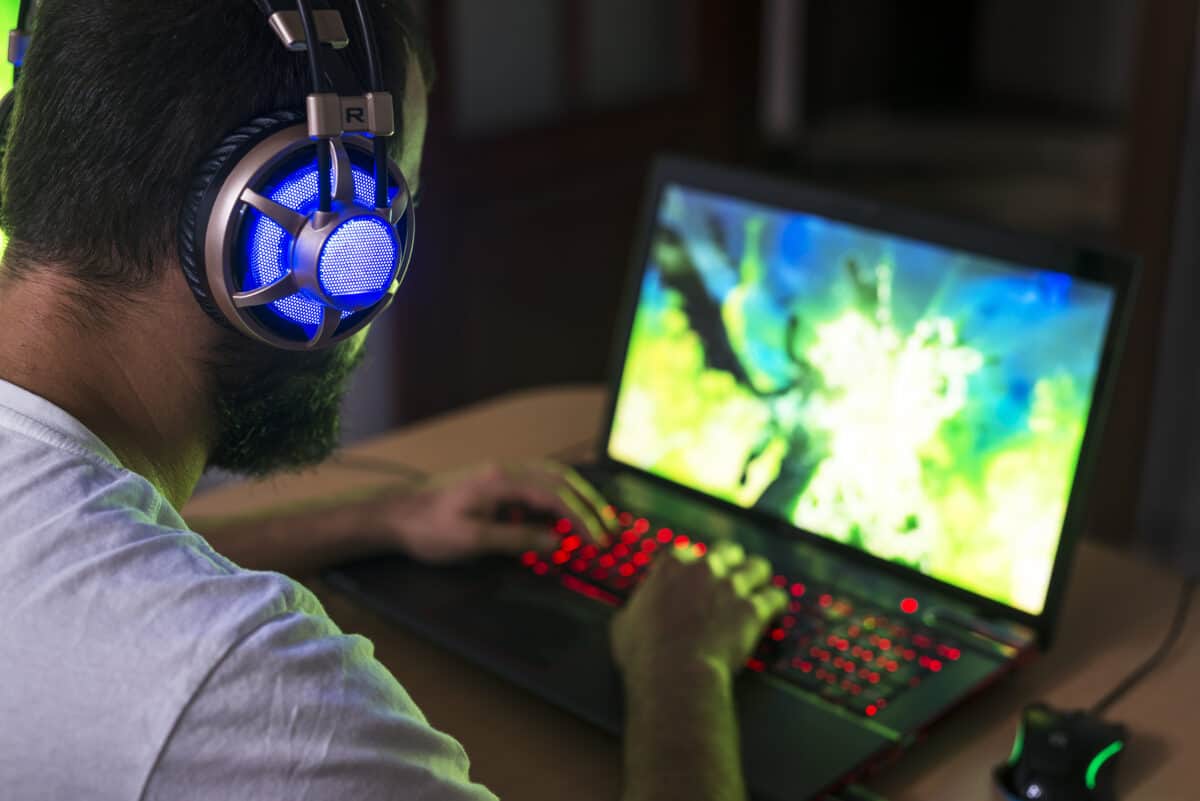 | | Laptop | Desktop |
| --- | --- | --- |
| Connectivity options | USB, Ethernet, HDMI, Power, 3.5mm Audio | USB, USB-C, Ethernet, HDMI, DisplayPort, Power, 3.5mm Audio, Optical Audio |
| Portable | Yes | No |
| Display sizes | 13″ – 17″ | Unlimited but usually 24″ – 32″ |
| Swappable hard drive | Depends on the Model | Yes |
| Cooling method | Air | Air or Liquid |
| Build it yourself | No | Yes |
Gaming Laptop vs Desktop: What's the Difference?
Laptops and desktops have some differences beyond just their external appearance. Laptops are obviously smaller and designed for portability, so many people like them for gaming. While the portability is excellent, the amount of power they can produce is a major limiting factor compared to a gaming desktop.
More importantly, gaming desktops offer lots of power but also upgradeability. While the big names like HP and Dell don't provide much in the way of customizations, custom builds do. But even a store-bought gaming desktop will still outshine a comparable gaming laptop because of cooling and power alone. Even with a laptop, you can always pick out standalone peripherals.
Portability
Both types of computers have different form factors. Desktops typically come in a large metal case, which you have to plug in a wall power to work. Additionally, desktops require extra peripherals like a monitor, keyboard, and mouse. It's unlikely you will see someone walking out of an office or down the street with a gaming desktop.
In contrast, gaming laptops are thin and portable. Most of their essential components are attached to them. For instance, a battery, keyboard, monitor, trackpad, and speakers are all bundled together for portability. Just like desktops, laptops come in several different sizes, but instead of the motherboard dictating the size, on laptops, the monitor does.
Alienware Aurora R14 Gaming PC
VR Ready gaming desktop
Delivers fast, stunning performance
16GB RAM, 512GB SSD + 1TB HDD
Bluetooth, Wi-Fi 6, USB-C
Windows 11 Home pre-installed
We earn a commission if you make a purchase, at no additional cost to you.
Power
While it is easy to see the physical differences between laptops and desktops, their power output is a little more complicated. Firstly, laptops and desktops commonly use the same processors and GPUs. The problem is that a processor in a laptop will not perform as well as if put into a desktop.
This is because of power, which is limited on a laptop. Nearly all laptops throttle performance when running on batteries to save power, then ramp up performance while plugged in. While that extra power boost is helpful, it is not enough to compete with a desktop. The difference is that a desktop has a much larger power supply which can dump plenty of power into crucial components.
Computer GPUs are some of the most power-hungry components, and a laptop cannot deliver as much power as a desktop. A desktop and laptop with identical GPU chips will perform vastly differently. For instance, an NVIDIA RTX 3060 on a desktop is about 10% more powerful than the RTX 3060 on a laptop.
Display
The difference in displays between a desktop and a laptop is not straightforward. A laptop has an attached display, whereas you can pick one for a desktop. Therefore, desktops provide a choice rather than locking you into one option. More importantly, you can easily upgrade a desktop monitor by swapping it out.
It isn't practical to replace the display on a laptop, so you need to pick the best one at the time of purchase. The good thing is that laptop displays have improved significantly over the years, and you can get laptops with high-end displays. Many laptop displays are better than what you would get with a desktop.
Desktop monitors are also bigger, hence not portable. However, you often need a higher resolution to overcome the larger size. For instance, a 32″ 1080p display looks more pixelated than a 24″ 1080p display. One upside to a laptop is that you can use a conventional monitor alongside it, so the included display isn't a downside.
Upgradeability
Razer Blade 15 Base Gaming Laptop 2020:
15.6-inch Full HD screen
Thin, compact, and durable body
Intel Core i7 processor for ultimate performance
Multiple connection options (Wi-Fi 6, USB, HDMI, Ethernet)
Cinematic-quality rendering in visually intense games.
We earn a commission if you make a purchase, at no additional cost to you.
Laptops were never designed for customizability or upgradeability like desktops are, but the last decade has seen a dramatic decline in both desktops and laptops. Desktop computers commonly used standardized components that could easily be swapped out. Especially in the 1990s and early 2000s, computer technology advanced so rapidly that it was common to upgrade components.
But today, you don't need to upgrade a computer nearly as often, and computer manufacturers don't want owners tooling around with these devices. That is unfortunate, but it is a topic for a different article. In reality, even desktop computers sold by big brands like HP or Dell have little in the way of upgradeable components thanks to proprietary parts like motherboards and power supplies.
But gaming desktops are a different story entirely. Most gamers build their computer or buy one with custom-selected components. Custom builds allow for plenty of upgrades and repairs down the road. In contrast, upgrading any part of a gaming laptop is almost impossible.
Cooling
Every computer has a cooling system, which some users overlook. Components such as the CPU and GPU generate tremendous heat that must be removed. The conventional way of doing this is with an aluminum or copper heatsink that dissipates the heat away from the chip.
A fan above the heatsink helps move air across it, removing the heat faster. But that leaves stagnant heat in the computer's case, which other fans must then remove. Desktops and laptops typically have the same process, although on a much smaller scale inside a laptop. The bigger problem is that it is difficult to cool the inside of a laptop effectively.
Because components are so tight, laptops use a unique configuration of fans and heatsinks to handle cooling. But it is nowhere near as effective as desktops and is one of the most significant tradeoffs when purchasing a laptop. Now, you may be wondering how this affects performance, and that is simple. Components like the CPU and GPU throttle performance when they start to overheat.
The solution is to get the devices cooler, which is pretty easy with a desktop. You can choose from various heatsinks and fan combinations. Similarly, you can go with liquid cooling, where the heat dissipates through a radiator. This isn't possible with laptops, as temperature limits dictate how hot the outer plastic can get for consumer protection.
Gaming Laptop
| Pros | Cons |
| --- | --- |
| Light in weight and easy to carry around | Limited power compared to a desktop |
| Dock it to use extra monitors or peripherals | Compact design makes repairs difficult |
| Multiple uses, including at school or work | Battery drains quickly when gaming |
| Better displays than other laptops | Limited customizations |
| Webcam and microphone are built-in | |
Gaming Desktop
| Pros | Cons |
| --- | --- |
| Easy to upgrade | No battery backup |
| Build it yourself | Expensive than gaming laptops |
| Better cooling for long gaming sessions | Potential for overheating |
| Better graphics and visuals | Difficult to move around |
| Desktops offer more connectivity options | |
Gaming Laptop vs Desktop: 5 Must-Know Facts
Gaming laptops have a built-in monitor, keyboard, speakers, and trackpad, saving you dollars on accessories.
Gaming desktops are highly customizable and allow for quick repairs and upgrades later on.
Both laptops and desktops come in various configurations that will let you run everything from Minecraft to Cyberpunk 2077.
Laptops let you play games and work at home, school, the office, or even when traveling.
With similar components, desktops deliver a superior gaming experience compared to laptops.
Gaming Laptop vs Desktop: Which One Is Better?
The choice between a gaming desktop and a laptop depends on your needs and budget. Laptops are convenient and portable, while desktops are more powerful. From a gaming perspective, desktops are easily the better choice. Not only do they provide a better experience, but they are upgradeable.
However, a laptop is the better option if you want to game on the go. You can use your gaming laptop on the go at work or school. A high-quality gaming laptop can play most titles but not at peak FPS.
Gaming laptops and desktops are available at different price points, but the latter is typically more expensive because of the GPU. Laptops are generally cheaper, as they don't require extra peripherals like a desktop. For instance, a gaming laptop can use a mouse, keyboard, and monitor, but a desktop must have them to work.