Smartwatches have become an essential accessory for those constantly on the go. Samsung, one of the top players in the tech industry, has recently released two of its latest smartwatches — the Galaxy Watch5 and Galaxy Watch5 Pro — to join the famous Wear OS family. These watches are packed with features to cater to your lifestyle and preferences.
Building on the success of their predecessors – Galaxy Watch4 and Galaxy Watch4 Classic – the Watch5 lineup has seen improvements in durability, design, and health-tracking capabilities. They are Samsung's yet most powerful wearables. But how do the two models compare? Our handy guide compares both wearables. Read on below to find out how the Galaxy Watch5 vs. Galaxy Watch5 Pro stack up against each other.
Galaxy Watch5 vs. Galaxy Watch5 Pro: Side-By-Side Comparison
Galaxy Watch5
Galaxy Watch5 Pro
Release Date
26, August 2022
26, August 2022
Display
44mm model: 1.36 inches (450 x 450px)
40mm model: 1.19 inches (396 x 396px)
1.4 inches (450 x 450px)
Storage
16GB
16GB
Battery
Li-Ion 410 mAh, non-removable
Li-Ion 590 mAh, non-removable
Dimensions
44mm: 43.3 x 44.4 x 9.8mm/
40mm: 39.3 x 40.4 x 9.8mm
45mm: 45.4 x 45.4 x 10.5mm
Price
From $280
From $450
CPU
Exynos W920
Exynos W920
Weight
40mm: 29g/44mm: 32.8g
45mm: 46.5g
Color Options
40mm: Silver, Graphite, Pink Gold/44mm: Sapphire only
Black Titanium, Gray Titanium
Water-resistant
Yes
Yes
Advanced Health and Fitness Features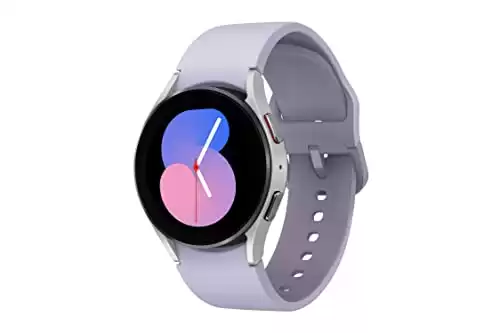 We earn a commission if you make a purchase, at no additional cost to you.
Galaxy Watch5 vs. Galaxy Watch5 Pro: What's the Difference?
Galaxy Watch5 and Galaxy Watch5 Pro differ in four areas: design, durability, battery capacity and price. Watch5 is more minimalist with a lighter, sleeker design than Watch5 Pro, which has a classic and timeless look and resembles a high-end luxury watch. The Watch5 Pro has a titanium casing, making it a little tougher than the Watch5 and more suitable for outdoors. If you are torn between both models, these key differences will help you make an informed decision.
Design and Display
Galaxy Watch5 closely resembles the Watch4, which isn't bad given how modern, stylish, and contemporary the Galaxy Watch4 is. Its circular design looks like that of the Watch5 Pro. However, it has a bigger titanium case with a recessed 1.4-inch sapphire crystal display. It weighs 10 grams more than the 44mm version of Watch5 and has a more substantial appearance. This may appeal to individuals who want to make a bolder statement.
Watch5 is available in 44mm and 40mm models, whereas the Galaxy Watch5 Pro is only available in a 45mm model. The 40mm model of the Watch5 features a 1.2-inch Super AMOLED display, while the 44mm model, as well as the Galaxy Watch5 Pro, features a 1.4-inch Super AMOLED panel. With all models providing a crisp pixel-per-inch count of more than 450, you get a high-quality screen regardless of your model choice.
Battery life and Charging
No one fancies running out of battery right when actively using their watch. Fortunately, the Galaxy Watch5 and Galaxy Watch5 Pro offer turbo-charged battery life. So, you can rest safe knowing your smartwatch will keep up with your busy lifestyle. The Galaxy Watch5 Pro offers a massive 590mAh battery capacity, lasting up to 80 hours. This is a huge boost compared to its precursor, the Galaxy Watch4 Classic having a 361mAh (typical) battery capacity.
In contrast, the Galaxy Watch5 40mm model has a 284mAh battery capacity, while the 44mm model comes with a 410mAh battery. Both can decently keep you powered up through the day and night, which is an improvement from Galaxy Watch4, having a 247mAh (typical) battery capacity.
With the improved charging capabilities, you can now spend less time charging. Both smartwatches can charge twice as fast as their predecessors, the Galaxy Watch4 Classic and Watch4, which is an upgrade to 10W charging. So you can get up and running in no time. With the upgrade, both watches can charge from 0-45% in 30 minutes, which is perfect if you need charging while on the go.
Durability
Having a smartwatch that can withstand wear and tear is a plus. The Galaxy Watch5 and Watch5 Pro are equipped with a Sapphire Crystal always-on display, which makes them more resilient than ever. This specialized glass-like material is highly resistant to damage and scratches, ensuring durability and strength. Additionally, its chip-resistant, which adds to the watch's longevity.
For improved protection, both Galaxy Watch5 versions come with an IP68 and 5ATM water and dust resistance rating. This implies they can withstand a 5ft water depth for up to 30 minutes without damage. So, you can confidently jump straight to shower after a heavy workout without worrying about damaging your device.
Also, the Galaxy Watch5 Pro features a new improved titanium casing that is thin and tough. As titanium is a stronger material, it makes the Galaxy Watch5 Pro casing slightly more durable than the Galaxy Watch5's aluminum case.
Price
Galaxy Watch5 Pro, comes with a 'pro' price, starting from $450, with an additional $50 for the LTE version. In contrast, Watch5 Pro obviously costs more than the Galaxy Watch5, with the price starting from $280. The 44mm version starts from $310, which is a $39 premium over the smaller (40mm) version.
The Galaxy Watch5 is a little more pricey than the Galaxy Watch4. That's justifiable, given features like longer battery life and the sapphire crystal glass. However, it might be challenging to justify the Galaxy Watch5 Pro's $170 increase over the Watch5 for the same reasons. The sturdy construction and long-lasting battery life imply the wearable can last a few years.
Fitness and heath-tracking features
When it comes to fitness, both smartwatches are almost similar, but we sure have some slight differences. They both come with Sumsang's BioActive Sensor, which has an enlarged surface area for better reading accuracy. With this feature, you can monitor sleep, blood pressure, blood oxygen levels, and body fat levels. However, one substantial difference is the GPS on the Watch5 Pro has been improved with the "GPX" feature allowing users to share their locations, retrace their steps, and see turn-by-turn directions.
This makes Galaxy Watch5 Pro more suited to long-distance walkers and hikers, as does the larger battery on the watch. Even though this feature gives the Watch5 Pro some slight advantage over the Watch5, it isn't enough to declare it the winner in this round.
Galaxy Watch5 vs. Galaxy Watch5 Pro: 7 Must-Know Facts
Watch5 is available in 40mm and 44mm versions, with color options Silver, Graphite, and Pink Gold for the 40mm model, and sapphire only for the 44mm. Galaxy Watch5 Pro is available in only 45mm having Black Titanium and Gray Titanium as the color options.
Both watches have an enhanced battery capacity compared to their predecessors, the Galaxy Watch4 Classic and Watch4, with Watch5 varying between 284mAh-410mAh depending on the watch model, while the Galaxy Watch5 Pro comes with a 590mAh battery capacity.
Galaxy Watch5 Pro has a long-lasting battery than the Watch5 as it can last up to 80 hours, whereas the Galaxy Watch5 can last up to 50 hours on a single charge.
Watch5 Pro costs $450 and $50 more for the LTE version, a higher price to the Galaxy Watch5, whose price starts from $280-$310 depending on the model.
Galaxy Watch5 Pro is more durable than Watch5, thanks to its titanium casing.
Both smartwatches have LTE connectivity options, allowing them to make and receive calls and texts without having a smartphone.
Watch5 and Watch5 Pro have a water resistance rating of 5ATM, meaning they can go underwater for up to 30 minutes at a 5ft depth.
Technology Updates to the Galaxy Watch5 and Watch5 Pro
This article compares the two popular watches from Samsung, which we hope is a helpful guide for you to choose the best smartwatch possible. Both versions are expected to have more improvements on previous Samsung watch designs when they're released in late 2023.
The Watch5 will have a new processor that's more powerful and makes this model more responsive than the traditional Galaxy Watch. The Watch5 also has a brighter display, a better sensor for blood oxygen and heart rate, and a more durable stainless steel design.
The Watch5 Pro is expected to run on the Wear OS 3.5, along with the Watch5, which is a new operating system based on Andriod 13 and is speculated to have a better user interface and will better integrate Google apps with the watch.
BEST WOMEN'S SMARTWATCH FOR ANDROID
Samsung Galaxy Watch 5 Pro
An advanced tracker that monitors sleep and wellness throughout the day.

Tracks your daily workout activities from running and hiking to swimming.
Amazing battery life for prolonged use outdoors.
Built to last with a titanium case and Sapphire Crystal glass.
Compatible with all Apple devices
Easily customizable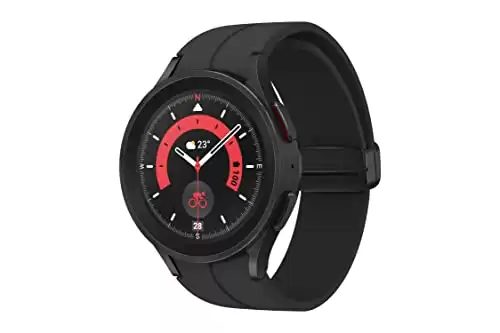 We earn a commission if you make a purchase, at no additional cost to you.
Galaxy Watch5 vs. Galaxy Watch5 Pro: Which Is Better? Which One Should You Choose?
Watch5 offers great value for its price, as it runs on Google's latest software and includes Samsung's health tracking features, providing users with plenty of functionalities for that outlay. The extra $170 you pay for the Watch5 Pro will get you a significantly larger battery, a bigger screen, and a more durable build quality. Unless the improvements matter to you, getting the regular Galaxy Watch5 makes more sense.
However, the pricey Watch5 Pro model might, after all, turn out to be an excellent option for the majority of people. Whether you're an outdoor sports enthusiast or not, the bigger battery means less frequent charging, and the more premium materials offer resistance against scratches and damages. The Galaxy Watch5 Pro is ultimately an incredible WearOS device.
What Come Next
Samsung has not yet announced the details of their next Galaxy Watch, however, here are some future product and technology enhancements that are speculated for future Samsung watches:
Even better fitness and health tracking
Longer battery life and quicker charging
Software advancements, such as making calls or connecting with smart home devices
Sleeker design and improved comfort
Better integration with Samsung products, more on par with Apple's integration
The image featured at the top of this post is ©AronX/Shutterstock.com.