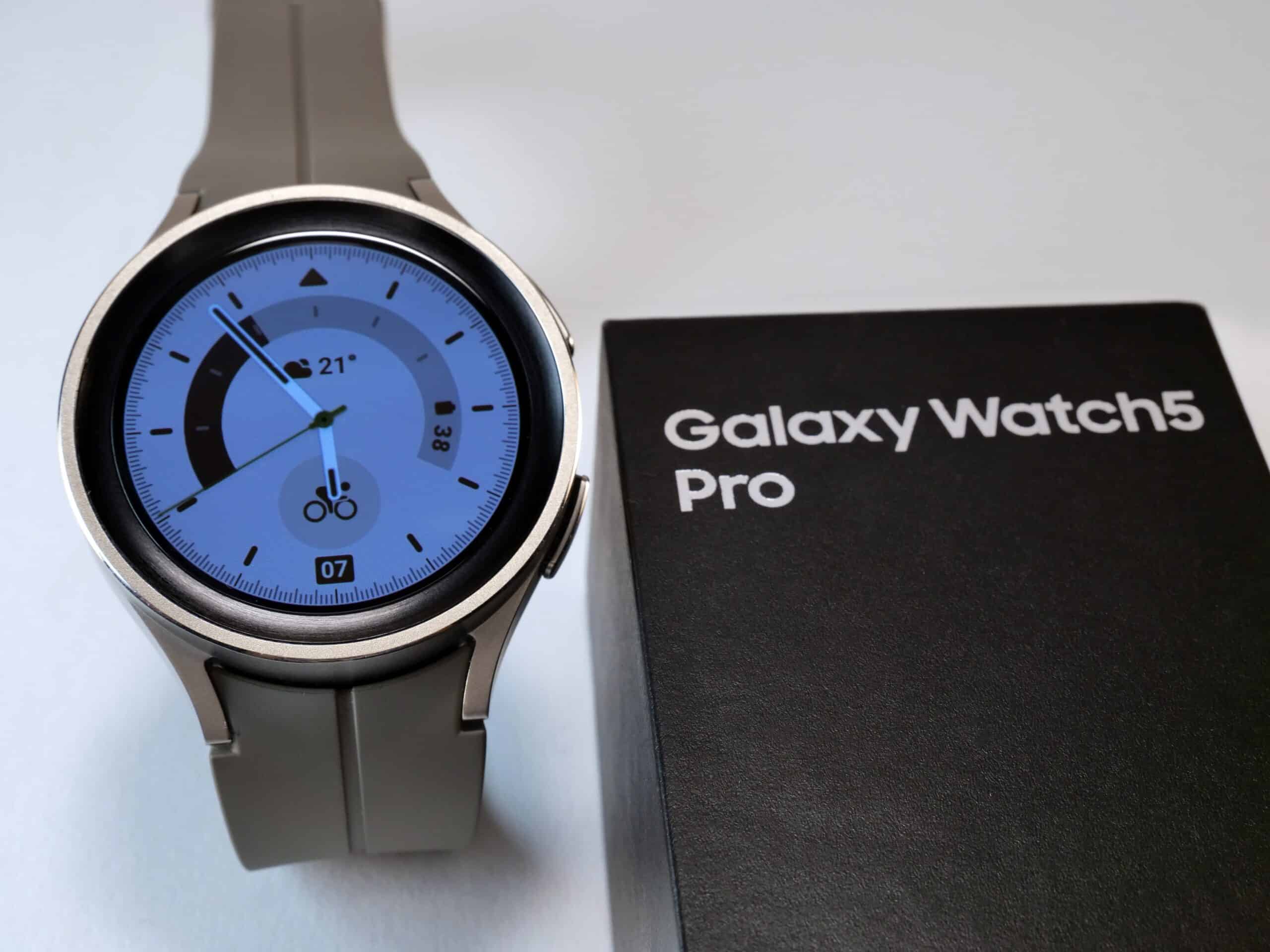 Smartwatches have grown by leaps and bounds in recent years, and now they're the perfect accompaniment to your smartphone. Packed with functionality, these wearables make it easy to keep track of your fitness routine, check notifications quickly and play music on the fly. With this in mind, a smartwatch is a logical buy for tech lovers. Samsung has developed some fantastic smartwatches, with the Galaxy Watch 5 Pro being the latest in the series. Although the Galaxy Watch 4 was released a year earlier, it's still a fairly advanced model, and, as you can expect, more affordable. But how exactly do these devices stack up? Read on for a full Galaxy watch 5 Pro vs Galaxy Watch 4 comparison.
Galaxy Watch 5 Pro vs Galaxy Watch 4: Side-by-Side Comparison
| | Galaxy Watch 5 Pro | Galaxy Watch 4 44 mm | Galaxy Watch 4 Classic 46 mm |
| --- | --- | --- | --- |
| Dimensions | 45.5 x 45.5 x 10.5 mm | 44.4 x 43.3 x 9.8 mm | 45.5 x 45.5 x 11.0 mm |
| Weight | 46.5 g | 30.3 g | 52 g |
| Colors | Black Titanium, Gray Titanium | Black, Green, Silver | Black, Silver |
| Display | 1.4" Super AMOLED | 1.4" Super AMOLED | 1.4" Super AMOLED |
| RAM | 1.5 GB | 1.5 GB | 1.5 GB |
| Operating system | WearOS 3.5 | WearOS 3.5 | WearOS 3.5 |
| Processor | Exynos W920 | Exynos W920 | Exynos W920 |
| GPU | Mali-G68 | Mali-G68 | Mali-G68 |
| Connectivity | Wi-Fi, Bluetooth, LTE, NFC, GPS | Wi-Fi, Bluetooth, LTE, NFC, GPS | Wi-Fi, Bluetooth, LTE, NFC, GPS |
| Battery | 590 mAh | 361 mAh | 361 mAh |
| Storage | 16 GB | 16 GB | 16 GB |
| Price | From $399.00 (Bluetooth model) | From $156.00 (Bluetooth model) | From $164.00 (Bluetooth model) |
| Release date | August 10, 2022 | August 27, 2021 | August 27, 2021 |
Our Premium Pick
Samsung Galaxy Watch 5 Pro 45mm
An advanced tracker that monitors sleep and wellness throughout the day.

Tracks your daily workout activities from running and hiking to swimming.
Amazing battery life for prolonged use outdoors.
Built to last with a titanium case and Sapphire Crystal glass.
We earn a commission if you make a purchase, at no additional cost to you.
Galaxy Watch 5 Pro vs Galaxy Watch 4: What's the Difference?
Design
Galaxy Watch 4 and the Classic is available in different sizes. Watch 5 Pro is roughly 45 mm, and comparable in design with the Galaxy Watch 4 (44 mm) and the Galaxy Watch 4 Classic (46 mm). As for size, the 5 Pro is similar to the 4 Classic, but incorporates different materials. While the Watch has an aluminum case, the 4 Classic uses stainless steel, and the 5 Pro boasts a durable titanium case. As well as this, the display cover is made of scratch-resistant sapphire crystal instead of glass. These upgrades are definitely welcome, as smartwatches tend to receive a lot of use and movement.
Aesthetically, the 5 Pro is more akin to the 4 Classic than the standard Watch 4 as it looks more like a conventional type of watch than a sports watch. It differs from the 4 Classic because it uses the more common touch-sensitive bezel of the Watch 4, and not the Classic's rotating bezel. Fans of the 4 Classic's bezel will probably be disappointed with this change. Without this bezel, it does mean that the 5 Pro is a bit sleeker than the 4 Classic, being thinner by 0.5 mm. Weight-wise, the 5 Pro is considerably heavier than the standard Watch 4 but still lighter than the 4 Classic.
Colors
Color options are fairly limited. Black and Gray are available for the 5 Pro. Black, Green and Silver are available for the Watch 4 and Black and Silver for the 4 Classic. If color matters to you, this may sway your decision, but the options aren't that extensive for any models. Overall, the 5 Pro lacks the rotating bezel of the 4 Classic but boasts much greater protection and a sturdier band clasp, so it comes down to a contest between durability and aesthetics.
Display
All these models have Super AMOLED displays. So, you can expect sufficiently sharp displays. The smaller Watch 4 and 4 Classic models have lower resolutions, but the larger models all have the same 450 x 450 resolution that the 5 Pro does. Additionally, the always-on-display mode is a feature of all these devices, which helps to reduce energy consumption by offloading CPU tasks. All in all, you're getting a bright and crisp display with any model, but since smartwatches are much smaller than smartphones, any change in size is more easily noticeable. For this reason, you may want to go with the biggest model, the 4 Classic but only by a small margin.
Sensors
One of the major reasons for buying a smartwatch is the sensor's capabilities. These are the features responsible for health tracking. The Watch 4 series can measure parameters like heart rate, oxygen levels, steps, and even monitor your heart health by using ECG. There's also a sensor to measure BMI and bioelectrical impedance, which calculates a body fat reading. You will need a Samsung smartphone to use these extra features. Other sensors can measure stress and even detect falls, which is especially handy if you're alone or have impaired mobility.
Smart upgrades
Th5 Pro has all these features but reportedly gives better accuracy due to a more snug fit. In addition, the watch also includes what Samsung refers to as personalized Sleep Coaching. This monitors your sleeping habits and guides you to improve your sleep hygiene. A nifty feature built into the 5 Pro is a temperature sensor, which hasn't been used for anything yet. It's thought it could detect sickness or monitor women's menstrual health. Either way, it could be incredibly useful if implemented. Blood pressure tracking isn't currently available due to health regulations in the U.S.
5 Pro also has GPX functionality, meaning that you can display your running routes and record them. In addition, you can share them with your friends and keep track of your route so you can make your way back safely. These features are fairly standard, with watches specifically designed for sports, but it's nice to see them incorporated into Samsung's new smartwatch. Extras aren't that many, but improved accuracy and technology for runners cinch it for the 5 Pro and the future possibility for temperature sensing.
Battery life
5 Pro's battery size is around 60% larger than the Watch 4 and 4 Classic models. Use cases have shown that the Watch 4 models generally need recharging after daily use, whereas the 5 Pro has been reported to last up to 3 days of casual use. With intensive use, this will naturally be shorter, such as using the always-on-display and continuous health tracking. The battery boost is nothing to sniff at and very welcomed. Faster charging is also possible with the 5 Pro, which can reach almost a half charge in 20 minutes and a full charge within one and a half hours. It's hard to beat 5 Pro battery life.
Tech Specs
Not much difference exists between Watch 4 series and the 5 Pro's specs. An upgrade from Bluetooth 5.0 to Bluetooth 5.2 results in higher quality audio with less of a draw on the battery. The same goes for performance. Chipsets and built-in RAM are pretty similar. So, speeds will be virtually identical across models. All models also have access to Google Assistant for voice control, but the 5 Pro has an improved typing interface. Whichever model you go for, you'll have to decide between Bluetooth and LTE functionality. While Bluetooth tends to be cheaper, LTE allows you to make phone calls without using your smartphone nearby, so that's a bonus for some.
Price
At launch, the Watch 4 and Watch 4 Classic came in at $249 and $349 for the smaller, Bluetooth-enabled models. These prices have come down recently. So, you can now grab the Watch 4 or 4 Classic for around $160, including a discount. On the other hand, the 5 Pro with Bluetooth comes in at $399 with a discount included. Considering it's only recently launched, this price isn't higher than the original price for the older models. Given that the 5 Pro is significantly sturdier than the previous series, you can expect a lot of longevity from it.
Galaxy Watch 5 Pro vs Galaxy Watch 4: 8 Must-Know Facts
Galaxy Watch 4 has an aluminum case, whereas the Watch 4 Classic has a stainless steel case. The 5 Pro has a titanium case, which is the sturdiest.
Galaxy Watch 4 and 4 Classic are similarly priced to date, but the 5 Pro comes in at over double the price
The battery life of the Galaxy Watch 5 Pro is significantly improved by around three times.
All models use the same operating system, chipset, GPU, RAM and storage, and similar performance.
Watch 5 Pro has more accurate sensors as well as a currently unused temperature sensor.
Galaxy Watch 4 Classic is the only model with a physical rotating bezel.
The Galaxy Watch 5 Pro has GPX functionality for tracking, recording and sharing run routes.
Watch 5 Pro and 4 Classic are available in two colors each, and the standard Watch 4 has three colors.
SAMSUNG Galaxy Watch 4 (Silver)
Get readings for your BMR. body water, MBI, skeletal muscle and more
Monitor your heat and oxygen levels at night
Advanced workout tracking for six activities
Better your run with coaching technology
Call, text, and stream music from your wrist
We earn a commission if you make a purchase, at no additional cost to you.
Galaxy Watch 5 Pro vs Galaxy Watch 4: Which One is Best?
While both watches go neck-to-neck in terms of functionality, the Galaxy Watch 5 Pro wins the race. More accurate measurements, improved functionality for runners, a vastly improved battery life, and a much sturdier give the Watch 5 Pro an edge. Performance is almost identical for all the watches, but the 5 Pro also has an easier-to-use typing interface. Fans of a rotating bezel will likely be interested in the Watch 4 Classic, as it's the only model with this. If budget is a concern, choosing between the Watch 4 and the 4 Classic is easy. The 5 Pro will get you there if the sky's the limit.
Up Next…