Key Points:
Some of the most popular NFT's (non-fungible tokens) are from toy brands and companies that have a presence on the silver screen.
One of the first releases from Funko Digital Pop was TMNT x Funko, which sold out in seconds. Star Trek, Bob Ross, and Avatar Legends have all seen digital releases since launch.
One of the first sports NFT projects was NBA Top Shot. While still listed in Beta, the platform gives users a way to own digital highlights from their favorite NBA players.
Pop culture is a phenomenon like nothing else, and something that drives fans to spend millions of dollars each year.
Pop culture NFTs are one of the latest crazes to take the world by storm. It's a new way to collect digital items from popular franchises and a way for companies to expand their reach to new audiences.
The world of non-fungible tokens grows larger by the day, and there are more pop culture NFTs on the market every month. While it's impossible to track them all, there are a few companies that have made producing NFTs from licensed IP their specialty.
Pop Culture NFTs
The term pop culture encompasses a variety of areas, from movies, music, and sports to the toys of yesteryear.
With NFTs, you can find the same endless array of options as new brands enter the space. That includes automakers like Lamborghini, Porsche, and Chevrolet with a unique, even if unsuccessful, Corvette NFT.
You can buy soft drink NFTs from brands like Coca-Cola on OpenSea, along with Pepsi NFTs. There's even a company in BlockBar that offers consumers NFTs tied to physical bottles of liquor. From fashion designers to luxury brands, there are plenty of options to choose from.
Some of the most popular are from toy brands and companies that have a presence on the silver screen, however.
Funko Digital Pop
No brand does pop culture better than Funko—it's just a fact. The company has lines covering sports, video games, movies, television, art, and print. They also produce NFTs featuring some very popular characters through the Wax blockchain.
Funko Digital Pops are card-based versions of Funko Pops. They have the same style, but the digital versions are animated and come in limited print runs. Each character from the series comes in different rarities adding to collectability. There are also special NFTs that you can redeem for physical versions of the NFT.
One of the first releases from Funko Digital Pop was TMNT x Funko, which sold out in seconds. Star Trek, Bob Ross, and Avatar Legends have all seen digital releases since launch. You can even put together a set of Hanna-Barbera NFT cards or stock up on Scooby Doo NFTs featuring Shaggy and the gang. Prefer robots to old-school animation? Then you may want to consider Transformers x Funko NFTs.
Funko NFTs had some issues early on with the drop system, but things have smoothed out considerably since that time. The company has regular releases that are ideal for pop culture fans, and they are easy to trade, buy, or sell after the initial drop through Wax.
VeVe
One of the larger collections of pop culture NFTs comes from VeVe. They are the only place you can pick up Disney NFTs and are also the exclusive home to Marvel and brands under the Disney corporate umbrella.
Disney and Marvel NFTs are the most popular choice on this platform, but there are some interesting brands once you begin to dig through their catalog. The United States Postal Services has a series of official themed NFTs, and you can pick up a drivable version of the Delorian from Back to the Future or KITT from Knight Rider.
Those are perfect for children of the 80s while sci-fi fans can play with a 3D version of the Enterprise or a Borg cube at a 1:1 scale. Prefer dinosaurs to space ships? That's an option through the Jurassic Park collection, which features posters and animated 3D dinosaurs from the franchise. Voltron is available through Dreamworks, and there are several collectibles from Coke as well.
VeVe is a self-contained platform at the moment, so you can't take your pop culture NFTs to other sites like OpenSea. They have some interesting mechanics in place for collectors, however, and provide cash out to many regions across the world. They have mobile apps and a web portal, although the latter is a bit rough around the edges.
Virtua
Previously known as Terra Virtua, this collectible company has a similar approach to VeVe. Users can buy, sell, and trade pop culture NFTs, and they sell comic books along with posters and 3D animated collectibles.
Virtua's brands are a bit of a mixed bag, with comic books from independent studios like Dynamite. Their Netflix partnership has produced some interesting NFTs, however, with creatures and characters from Pacific Rim Black and Lost in Space. Want to hang some memorabilia from the Godfather in your virtual cave? That's an option as well.
Godzilla vs. Kong is one of the larger properties from Virtua, and the only place you can purchase these creatures as an animated 3D NFT. The company also has a sports section featuring footballers from SC East Bengal and ATK Mohun Bagan among others. Their collectibles range from 2D to 3D animated figures, and Virtua is interoperable.
Unlike VeVe, you can transfer NFTs from Virtua to OpenSea, and the company is minting virtual land on Cardano Island. Virtua has cash out and deposits in multiple formats, but the mobile app is in the early stages. To take full advantage of their pop culture NFTs, you'll need a PC.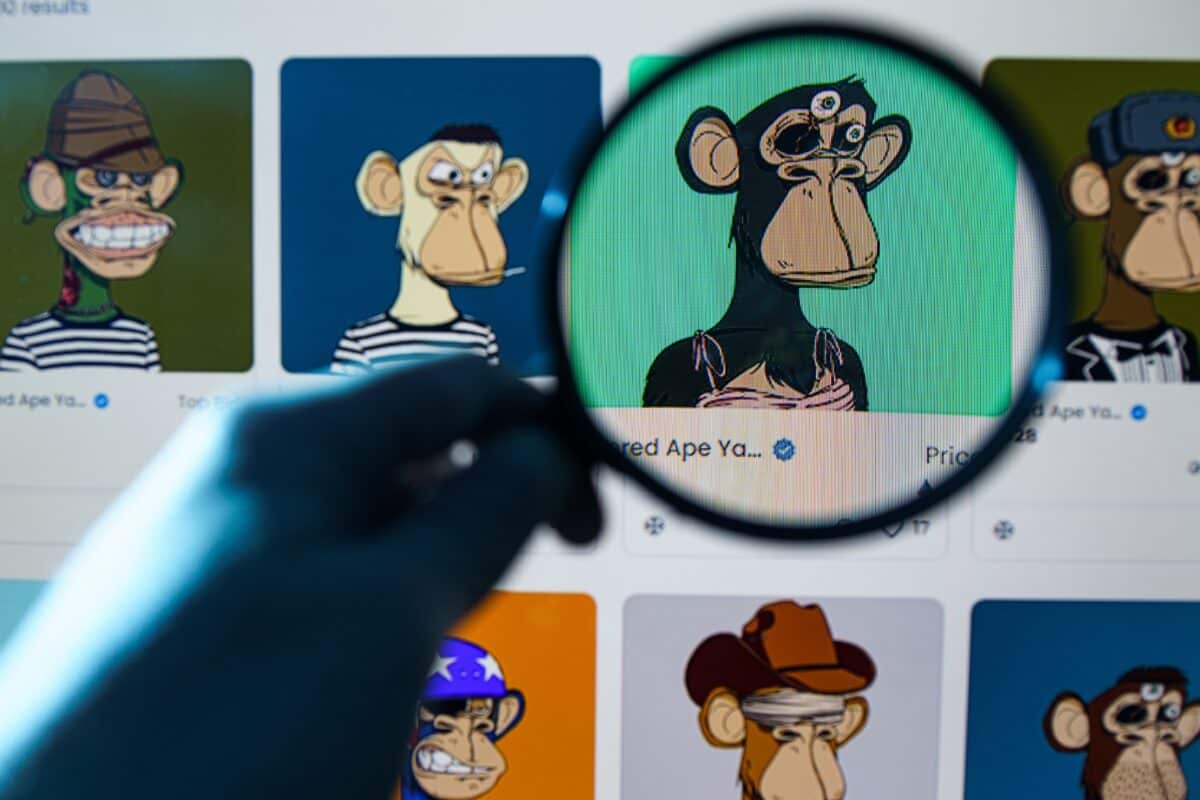 Recur
One of the newer companies to jump into pop culture NFTs is Recur. They have taken a different approach from others in the space with a mix of formats. Each brand they represent has a separate marketplace, so while you can't access them from a central location, their products lean heavily into pop culture.
The first launch from Recur was actually a college sports product with NFTU, but they followed that up with Star Trek NFTs. Each had different formats, but the Nickelodeon NFTs are what really got people's attention across the internet. Nickelodeon NFTs allow users to purchase a randomly generated PFP from Rugrats or Hey Arnold.
Those NFTs bring a slimy mechanic to the table with additional utility, and you'll find a similar feature through Care Bears NFTs. Care Bears Forever features challenges, badges, and mystery chests. It's the second generative PFP project from Recur, and Hello Kitty will be their third. This collection features popular characters from Sanrio and is guaranteed to sell out in seconds.
At the moment, Recur doesn't have much in the way of 3D NFTs or figures as they've taken a more traditional approach with generative pop culture NFTs. Recur NFTs are sold through a drop mechanism and are available to purchase and sell through secondary markets, including OpenSea. They also have a Recur Pass that provides additional benefits to their users.
Curio NFT
Curio NFT is a unique NFT platform with an interesting selection of pop culture NFTs. They don't have the name recognition of VeVe, Virtua, or Recur, although they have an eclectic collection of brands from American Psycho to the Goodie Mob.
Have you ever dreamed of owning a digital recreation of Gideon Graves' Cane Sword from Scott Pilgrim? Curio makes that dream a reality, but you can also purchase fried chicken and waffles through a Goodie Mob NFT. Mars Attacks and American Gods are well represented along with Dynamite Entertainment and Serj Tankian.
Remember the classic magazine Heavy Metal? They are making a comeback through Heavy Metal NFTs on Curio, and the company runs frequent events to keep their fans engaged. They have a marketplace for their pop culture NFTs on-site, but no mobile app, although their NFT collections are interoperable with OpenSea.
Sports Pop Culture NFTs
Sports NFTs fall under the pop culture category, and for every digital batman, you'll find 100 NFTs of athletes. That includes basketball players, boxers, and soccer teams, although cricket, lacrosse, and other sports are also well represented.
Top Shot, NFL All Day, and UFC Strike
One of the first sports NFT projects to capture the public's attention was NBA Top Shot. While still listed in Beta, the platform gives users a way to own digital highlights from their favorite NBA players. That includes current stars like Ja Morant and Zion, along with classic superstars from the last few decades.
NFL All Day is the NFL version of Top Shot NFTs from Dapper Labs. It's newer, so there aren't as many NFTs to choose from, although they've gotten off to a good start with a nice roster of classic and current players. They run contests like Top Shot to keep users engaged-–just like UFC Strike. If you prefer MMA to NBA or NFL, you'll appreciate digitized highlights of MMA fighters knocking out their opponents.
All three of these projects are from Dapper Labs. They all take a similar approach to lure consumers in through pack drops and challenges, but Top Shot has more users than the other platforms combined at the moment.
Draftkings NFTs
Another relatively new company in the NFT scene is Draftkings. They have released a number of NFTs in a very short time, including a new product designed specifically for fantasy football season.
Reignmakers NFT games are the latest offering from Draftkings' NFT division. It's a new way to play fantasy sports, as the players on your team are represented by NFTs. Users can build up their NFT collection to construct their teams and compete for prizes throughout the season. It's officially licensed and easy to play.
Draftkings also has a partnership with Tom Brady's company Autograph.io and Metabilia for unique NFT collectibles. Athletes represented include Tiger Woods, James Harden, Tony Hawk, and Wayne Gretzky along with Brady himself. You can also find pop culture NFTs from the Saw franchise and Slam magazine, among others.
Like most of the companies selling pop culture NFTs, Draftkings makes it easy to buy their products and you can sell them through the website or their mobile app. Moving them off-platform is a different story, however, and where you'll want to read the fine print for each collection.
Panini NFTs
Panini is one of the largest trading manufacturers on the planet, so it's only natural they test the waters with NFTs. The company has a "Blockchain" section on its website, where users can access packs of NFT cards, participate in auctions, and collect their favorite athletes digitally.
The selection of NFT trading cards through Panini is impressive. You can find athletes from the UFC, Major League Baseball, Soccer, the NBA, and collegiate sports. The public auction section allows you to bid on and browse items from every collection. The marketplace is also incredibly easy to use, considering you can browse by sport, athlete, team, or collection.
Panini's NFT platform has Dutch Auctions and several other perks that help it stand out from other marketplaces. At this time, you can only buy and sell on the platform, although the NFTs could become interoperable down the road.
More Pop Culture NFTs…
While the companies and brands we've covered are sold through sites that specialize in certain areas of pop culture, it's just the tip of the iceberg. There are billions of NFTs minted on various blockchains, so you can find Barbie and other classics in NFT format if you know where to look.
Quidd is one of the oldest names in digital collectibles, although they are fairly new to the world of NFTs. They don't have as many mintable items as you'll find through Funko or VeVe, but they have interoperable NFTs from Atari, Jim Henson, and others. They also have some of the more unique NFTs like Cheeses of the World.
Do you like NFT comic books but not Dynamite or Marvel? Oddkey is a collaboration between Todd McFarlane and Steve Aoki in the NFT space. This Sol-based project has comic covers from Spawn comic books in NFT format along with art from Aoki. They have also brought some interesting utilities to their community in a short period.
The Metaverse has been compared to the Matrix, although you can skip the line if you purchased a Matrix NFT. These avatars were minted through Nifty in partnership with Warner Brothers as a promotion to the latest Matrix film. Warner has also made its presence felt through HRO and Palm Studios courtesy of DC comics.
HRO is a company we talked about when comparing Marvel and DC NFTs. The company produces physical trading cards with DC heroes and villains that can be redeemed for a matching NFT. They also put out themed digital exclusive releases and have leaderboards to keep their audience entertained. Palm Studio also produces DC NFTs but in different formats.
Palm launched the DC NFT Universe marketplace where you can find several different collections. There are comic covers disguised as floppy disks from DC Fandome 2021 and Bat Cowls from a generative collection. Harley Quinn is set to arrive in September with more heroes and villains arriving throughout the year.
Conclusion
The number of pop culture NFTs is staggering, considering how new the world of NFTs is, even if the general masses are still coming to grips with NFTs. Major brands are already establishing footholds in this space, including companies working on the metaverse and involved in virtual real estate.
Up Next…