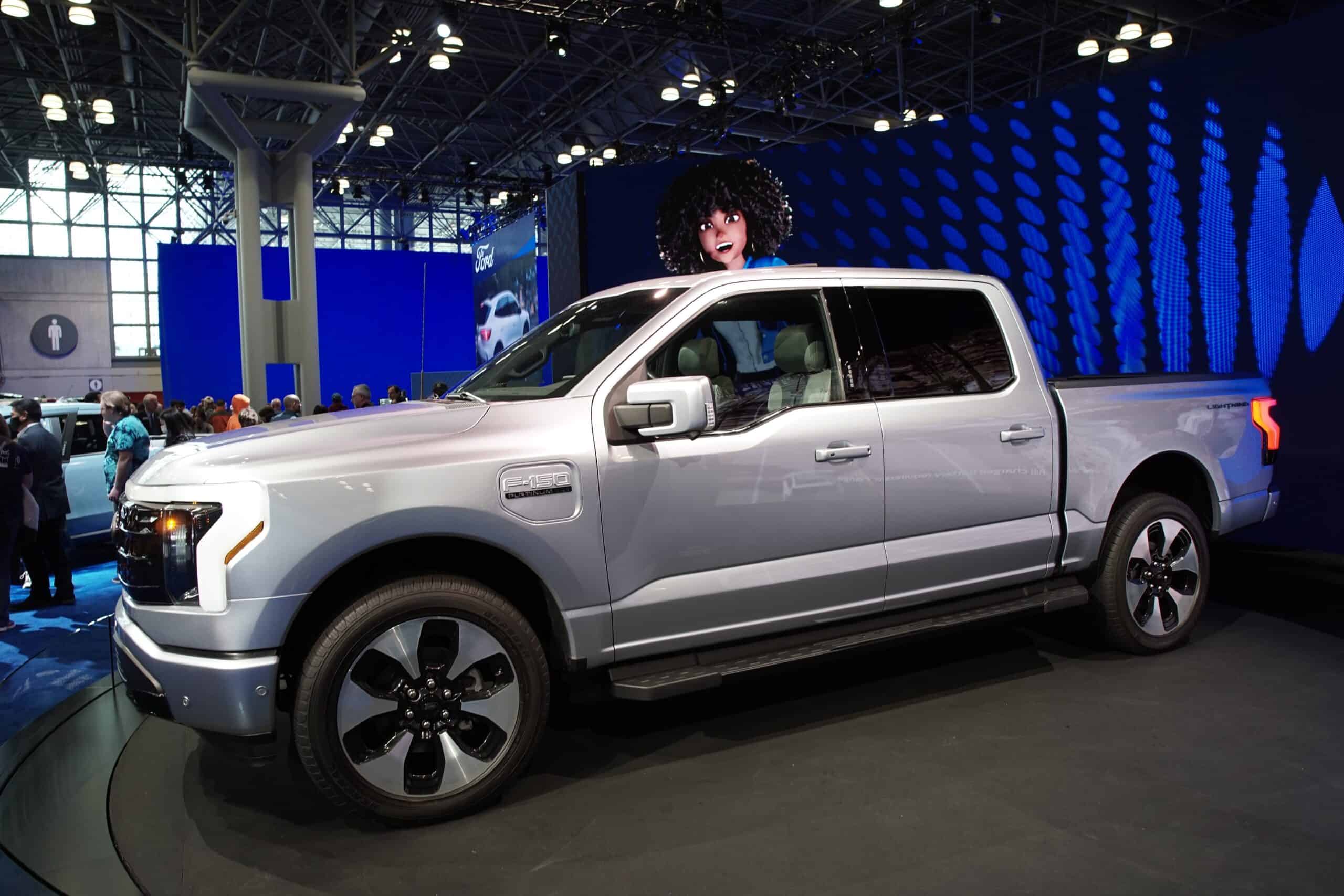 Key Points
Ford announced the F-150 Lightning EV pickup truck in 2021 most likely in response to the consumer enthusiasm around Tesla's Model 3. They touted it as an EV truck for everyday people who wanted an electric pickup that didn't have an outlandish futuristic design.
The F-150 Lightning has four different trim levels that vary its price, battery range, towing capacity, convenience features, etc.: the Pro, XLT, Lariat, and Platinum. Its base price runs around $50,000, while its highest trim levels cost about double that price.
It has a battery range of 230-320 miles and a towing capacity of 5,000-10,000 lbs depending on the trim level. Most trim levels allow you to max out those capacities with the purchase of additional packages, though there are some exceptions (like the Pro trim being limited to only the standard 230-240 battery range).
Looking to gain a foothold in the electric vehicle revolution, the 2022 Ford F-150 Lightning EV pickup is a light-duty truck design electrifying an American favorite. The Blue Oval's engineers developed a workhorse EV pickup that's also a competent off-road truck. Some trims and options packages push the vehicle's range to 320 miles. The F-150 Lightning's towing capacity ranges from adequate to robust, but trailer aerodynamics seriously reduce its range.
The basic Pro model is more affordable than other EVs like Rivian R1T and the GMC Hummer EV. Higher trim levels offer more features and utility but sometimes surpass the $90,000 base price. Ford manufactures all current variants with a single cab choice, a Supercrew cab seating 5 people. All trims likewise feature a 5.5-ft bed, though a large "frunk" or front trunk increases carrying space.
Quick Facts
Release Date

26/04/2022

Original price

$39,974

Units Sold

200,000+ (pre-orders)
Ford F-150 Lightning EV Pickup: Specs
| | Pro | XLT | Lariat | Platinum |
| --- | --- | --- | --- | --- |
| Price | $46,974 | $59,474 | $74,474 | $96,874 |
| Range | 230/240 miles | 230/240 miles (Standard battery), 320 miles (Extended battery) | 230/240 miles (Standard battery), 320 miles (Extended battery) | EPA-rated 300 miles |
| Seating | 5 | 5 | 5 | 5 |
| Top Speed | 111.8 mph | 111.8 mph | 111.8 mph | 111.8 mph |
| 0-60 Time | 4.4 seconds | 4.2 seconds | 3.8 seconds | 4 seconds |
| Bed Length | 5.5 ft | 5.5 ft | 5.5 ft | 5.5 ft |
| Maximum Payload | 2,000 lbs | 2,000 lbs / 1,800 lbs with Extended battery | 2,000 lbs / 1,800 lbs with Extended battery | 1,480 lbs |
| Maximum Towing | 5,000 lbs | 5,000 lbs, 7,700 lbs, or 10,000 lbs | 5,000 lbs, 7,700 lbs, or 10,000 lbs | 8,500 lbs |
| Wheelbase | 145.5 in | 145.5 in | 145.5 in | 145.5 in |
Where to Buy
Reservations for the 2022 Ford F-150 Lightning are closed as of August 2022. Dealers and private owners may have vehicles for sale, however. Ford reopened ordering for the 2023 year model, with prices hiking by 17.5%. The Blue Oval boosted prices because of rising raw material costs and the growing expense of other inputs.
You can create a build and place an order for a Lightning directly through Ford's website or route it through a local dealership. Direct financing is available through Ford Credit, and trade-ins are also done online.
With F-150 Lightning now "in the wild," you can buy your pickup at a dealership or a private seller. However, as of summer 2022, sellers are adding extreme markups on the vehicles. Motor Biscuit reported up to $50,000 in markups as early as May. Price has seen the EV trucks selling for $130,000 to $150,000. These prices far exceed the maximum price of a top-trim Lightning with all possible options.
The History of the Ford F-150 Lightning: What to Know
Ford's flip from a legacy automaker to a vigorous trailbreaker of EVs started in earnest in 2017. The Blue Oval possibly got inspired to try a new initiative base on the public's enthusiasm over the Tesla Model 3's unveiling in 2016. Drivers loudly signaled their hunger for EVs, with 325,000 reservations racked up by Elon Musk's company within one week.
Ford launched its "Team Edison" electrification team shortly after the first Model 3s rolled off the production line in 2017. The team developed the Ford Mustang Mach-E electric SUV and started work on the Ford F-150 Lightning concept, AutoBlog reports.
After spending almost four years in its development, Ford debuted the F-150 Lightning on May 19th, 2021. The Dearborn event saw William Ford, company chairman, and CEO James Farley present the EV pickup in spectacular fashion. They pointed out Lightning is built for everyday use by regular Americans. A company representative, Jasen Turnbull, said the Lightning is for people who do "not want their truck to look like a doorstop or a spaceship." CNBC noted this is an apparent reference to the Tesla Cybertruck's unusual styling.
The public responded by reserving 70,000 Lightning pickups within four days of the event. The Blue Oval stopped taking orders in December 2021 when reservations reached 200,000, Electrek reports, though it reopened ordering in August 2022.
Ford F-150 Lightning Versions: Each Edition
Pro
Ford builds the Pro F-150 Lightning as the EV's basic workhorse trim. The vehicle features the standard extended cab, a 5.5-foot bed, and a fairly plain grille design. While not the fastest Lightning model, the Pro achieves 0-60 in 4.4 seconds, equaling or bettering many gasoline muscle cars.
Pro purchasers have only one battery option: standard range. The 2022 model can go for 230 miles on a full charge while 2023 betters this with 240 miles range. The standard battery truck outputs 452 horsepower and 775 ft-lbs of torque. The extended battery raises output to 580 horsepower, but torque remains the same.
At 5,000lbs, the Pro has the lowest towing capacity of all four trims. What it lacks in towing capacity, it makes up for in cargo capacity, hauling a 2,000 lb payload. In contrast, Platinum has a max payload of 1,480 lbs.
XLT, Lariat
Ford makes two mid-level Lightning trims, the XLT and the Lariat. Each model has its grille and front lighting setup to give it a distinct look. The XLT has a 360° camera, larger running boards, cloth upholstery, and several other premium features. The Lariat adds higher-end details, including specially sculpted wheels, heated and ventilated leather front seats, a power tailgate, and an optional moonroof. Its control area centers on a 15.5-inch touchscreen instead of the 12-inch screen in the Pro and XLT. Both can be upgraded with Ford Copilot360 Active 2.0 driver assistance.
XLT and Lariat carry a standard battery, which you can upgrade to an extended range battery. Standard batteries provide 230 miles of range per charge for the 2022 Lightning and 240 miles for the 2023 model. Extended batteries have a longer range of 320 miles and boost towing capacity to 7,700 lbs, or 10,000 lbs, with an installed Max Tow package. Max tow capacity drops to 9,400 lbs with 20-inch all-terrain tires fitted. The Lariat is the fastest trim, going from 0-60 mph in 3.8 seconds.
Platinum
The elite model in Ford's F-150 Lightning lineup is the Platinum, a $96,864 base price beast with many possible upgrades built in as standard. Riding on 22-inch, machine-polished aluminum wheels, the Platinum comes standard with Ford Copilot360 Active 2.0 driver assistance for a more pleasant, relaxing ride. Ford also builds it with a standard two-panel moon roof, upgraded leather seats, and a top-end Bang & Olufsen sound system. It also has an exclusive chrome grille.
The Platinum, like the Pro, has only one battery choice, but at the opposite end of the scale with an included extended range. Towing capacity is slightly reduced by the Platinum's greater weight, topping out at 9,400 lbs with a Max Tow package. It's also a little slower than the Lariat, reaching 60 mph after 4 seconds of acceleration.
Other F-150 Lightning Features
All F-150 Lightning trims have a 5.5-foot bed and a crew cab with seating for 5.
The omitted engine at the vehicle's front frees up space for a large "frunk." This can hold 14.1 cubic feet of cargo. It also includes four 120v power outlets plus several USB charging ports.
Ford engineered the Lightning to power the owner's home in the event of an outage. Before this is possible, an electrician must set up hard wiring to enable the connection. Ford claims the Extended Range truck can power a home for 3 days with unlimited electricity use or 10 days with rationing.
The engineers built 10 120v outlets into this EV pickup, including four in the "MegaPower" frunk, two in the cab, and four in the bed. Optionally, the bed can also include a single 240v outlet in addition to the 120v plugs. The truck's lights can also provide 360° illumination around the vehicle in some configurations.
The onboard Intelligent Range feature uses real driving data feedback and conditions to estimate the remaining range along various routes. Intelligent Range also provides range estimates when towing based on user-input data such as trailer weight plus driving feedback.
The Public Response
Ford F-150 Lightning pickup has had a gung-ho response from the public so far. Order banks filled up quickly with reservations after the unveiling, forcing Ford to halt pre-orders at 200,000. Enthusiasm was high enough, so the Blue Oval threatened a $25,000 penalty for dealers who sold demo vehicles to eager customers, InsideEVs notes. The move reveals the demand intensity, as do mark-ups up to $50,000.
Ordinary drivers' reviews are scanty with only a few thousand F-150s in consumers' hands in mid-2022. Owners and those able to take a demo drive report the vehicle is comfortable, quiet, drives smoothly, and has plenty of space.
Testers and reviewers from automotive news sites are strongly positive about the F-150 Lightning, too. AutoBlog points out Lightning's downsides as having limited availability, shorter ranges than ICE vehicles, and lack of bed and body options. However, it also vigorously praises the EV pickup's acceleration, dexterous handling, driving comfort, and power. The Verge is even more overjoyed, praising the truck's strength, competence, sizzling acceleration, and all-around comfort. The reviewer noted a change to an improved computer, the truck's one mild weak point, would make it "historically great."
Up Next…
GMC Hummer vs. Ford Lightning – Want to see how the Lightning stacks up to the new EV Hummer? Check out our detailed side-by-side comparison.
EV vs. Regular Car Insurance – Learn more about the differences between car insurance prices and coverage for EVs in comparison to regular vehicles.
Tesla Cybertruck vs. Other EV Trucks – See how the Lightning and other popular EV truck models stack up against the iconic Cybertruck.