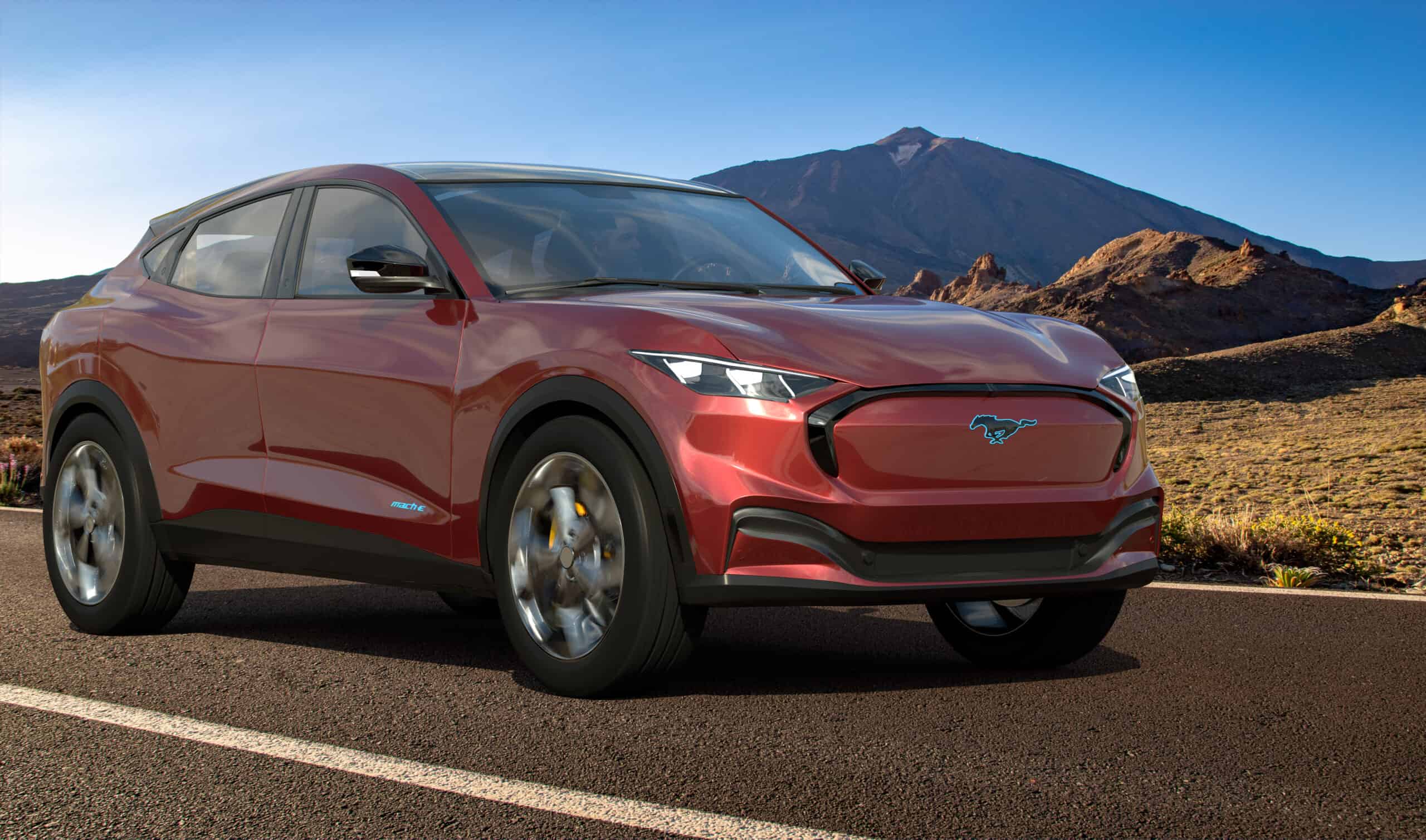 The electric vehicle market continues to grow and evolve. As vehicle manufacturers worldwide expand their EV catalogs, picking the right battery-powered car becomes much more challenging. It's even a lot harder to pick the best EV when multiple options exist. Take the Mustang Mach-E vs Volkswagen ID.4, for instance. Which EV SUV is the one for you? Is the option from Ford or the option from VW?
Either of these new and exciting electric vehicles can be your ideal EV SUV. But first, let's see how they stuck up against each other in terms of specs, then look at their key differences. From there, we'll review their histories and pros and cons. Ultimately, we'll be able to confidently say which EV SUV is superior between the Mustang Mach-E vs Volkswagen ID.4.
Side-By-Side Comparison: Mustang Mach-E vs Volkswagen ID.4
Ford Mustang Mach-E
Volkswagen ID.4
Model Year
2022
2022
Starting Price
$43,895
$40,760
Miles Per Gallon Equivalent
City: 105 MPGe
Highway: 93 MPGe
Combined: 100 MPGe
City: 121 MPGe
Highway: 102 MPGe
Combined: 112 MPGe
Drive Type
RWD
RWD
Horsepower
266 HP
295 HP
Torque
317 lb-ft
339 lb-ft
Range
247 miles per charge
280 miles per charge
Fast Charge Time
80% in 40 minutes
80% at 38 minutes
Mustang Mach-E vs Volkswagen ID.4: Key Differences
The Mustang Mach-E and the Volkswagen ID.4 have some key differences. From the BEV's MSRPs to their battery range per charge, from their overall horsepower to their MPGe equivalent, a couple of things set the Mustang Mach-E and the Volkswagen ID.4 apart.
Price
The Ford Mustang Mach-E and the Volkswagen ID.4 are pretty evenly matched in this regard, but they're not identical. Price will also vary from region to region, depending on availability. The Ford Mustang Mach-E has an MSRP of $43,895, while the VW ID.4's is $40,760. That's a difference of more than $3,000, and that's just for the base models. The more fully loaded the two EVs get, the more expensive they'll be. Still, as far as MSRP is concerned, the VW ID.4 wins.
Range
An EV's range is something worth considering. After all, you need to know just how far you can go between charges, like you need to know how many gallons of gas your gas-powered car can hold. The 2022 Ford Mustang Mach-E offers 247 miles per charge, while the 2022 Volkswagen ID.4 offers 280 miles per charge. Neither is necessarily groundbreaking, but the VW ID.4's is undoubtedly better. 247 miles per charge is quite poor, and while 280 isn't much better, it's still better.
Horsepower
What good is an affordable price or a dependable range if the BEV can't deliver some decent power? The base model Ford Mustang Mach-E offers 266 HP to start with. The base model Volkswagen ID.4, by comparison, offers 295 HP. Both are good, to be sure, but the VW ID.4 is once again the vehicle that wins out. That 295 HP puts it above a gas-powered 2023 Ford F-150 with a 3.3-liter V-6 engine. It's pretty remarkable when you think of it like that.
MPG Equivalent
Experts consider a single gallon of gas equivalent to 33.7 kWh of battery power. This, in effect, is how MPGe is calculated. The Mustang Mach-E boasts 105 MPGe for city driving, 93 MPGe for highway driving, and a combined MPGe of 100. The VW ID.4 offers 121 city, 102 highway, and a combined MPGe of 112. It's yet another area where the Volkswagen ID.4 comes out ahead of the Mustang Mach-E.
History of the Mustang Mach-E
As Ford's most recognizable and iconic car models, it makes a lot of sense why Ford would want to use the Mustang name for their new battery-electric compact crossover SUV. As one of Ford's most popular and sought-after cars in modern history, the Mustang Mach-E continues this pattern by being a highly desirable EV. Complete with that legendary horse emblem on the front bumper, the Ford Mustang Mach-E is a remarkable electric offering and a great Mustang in one.
First made public back in November of 2019, the Ford Mustang Mach-E was not officially produced in America until December of 2020. Labeled the 2021 Ford Mustang Mach-E, the EV offered a rare First Edition trim in addition to four other variations. These included:
Select (i.e. the base trim)
California Route 1 Edition (i.e. the mid-level trim)
Premium (i.e. the well-equipped trim)
GT (i.e. the performance-based trim, which also served as the basis for the First Edition trim)
You could also add a GT Performance Package to the GT trim as a bonus.
At launch, the 2021 Ford Mustang Mach-E comes in two distinct battery pack sizes and a trio different power outputs: Standard Range and Performance Range, and RWD or AWD. Of course, despite all these impressive options, there was still skepticism over the idea of an electric Mustang. Once it hit the streets, though, it was clear these skeptics were off base. The Ford Mustang Mach-E soon won Car and Driver's inaugural "EV of the Year" award in 2021. It beat out top models from Audi, Porsche, Tesla, and Volvo for the award.
Development of the Volkswagen ID.4
If the Mustang Mach-E vs Volkswagen ID.4 debate boiled down to who made it to the streets first, then the VW ID.4 would have it in the bag. First teased at Auto Shanghai in 2017, the VW ID.4 finally made its official debut in September 2020. Serving as Volkswagen's first fully-electric crossover SUV, the VW ID.4 was cleverly advertised as an electric vehicle for the millions, not for the millionaires — a critique of other, pricier EV rivals on the market. (As if the VW ID.4's $40,760 MSRP is by any means cheap.)
The VW's ID.4 stands alongside the brand's ID.3 (a small family-size BEV), ID.5 (an electric coupé crossover SUV), ID.6 (an electric crossover SUV), and ID. Buzz (an electric van in the same style as VW's iconic bus). The German motor vehicle manufacturer has plans for ID.1, ID.2, and ID.7 models in 2023, though they have yet to be seen. There are numerous other ID. concept cars in various stages of development, as well. Above all other ID. models, Volkswagen hopes to mass produce the ID.4 on a large scale.
Currently, the ID.4 is available in two drivetrains (RWD and AWD) and various different models: The ID.4 Pure, the ID.4 Pure Performance, the ID.4 Pro, the ID.4 Pro Performance, the ID.4 AWD, and the ID.4 GTX. Most of these became available in the spring of 2021, except the last two, which hit the streets in the summer of that same year. The ID.4 Pro is the one you're most likely to find here in the U.S. In 2021 alone, these American ID.4s sold 16,742 units. The vehicle manufacturer hopes to surpass Tesla's sales figures by 2024. This remains to be seen.
5 Must-Know Facts About EVs in 2023
2023 is poised to be one of the most prolific years in the history of electric vehicles thus far. With nearly 150 distinct BEVs expected to arrive in America before the end of 2026, 2023 will undoubtedly bring rapid expansion for the electric vehicle industry.
GM is expected to debut the newest vehicles in 2023.
If all goes according to plan, the long-awaited (and much-delayed) Tesla Cybertruck should finally hit the streets in 2023.
Polestar — Volvo's ever-popular BEV brand — is expected to debut both the Polestar 3 and Polestar 4 by 2023's end.
Electric vehicles are estimated to surpass 8.6 million units sold in 2023.
Mustang Mach-E vs Volkswagen ID.4: Pros and Cons
Mustang Mach-E
| Pros | Cons |
| --- | --- |
| Overall a dependable, functional electric vehicle | Not a very high range per charge |
| Equipped with fast speeds and quick acceleration | Trims grow increasingly more expensive |
| Great visibility on all sides despite its size | MPGe leaves much to be desired |
| Lots of frunk space for storage | "Fast charging" isn't very fast at all |
Volkswagen ID.4
| Pros | Cons |
| --- | --- |
| Great battery range for the price | No frunk storage |
| Bears a similar look and feel to a gas-powered VW counterpart | Users report some frustration with a few of the ID.4's touchscreen controls |
| More affordable than rival EVs, namely the Mustang Mach-E | No option to extend the vehicle range with a long-range battery |
| Free charging at Electrify America stations nationwide | Has a low top speed of just 99 MPH |
Mustang Mach-E vs Volkswagen ID.4: Which Is Best?
So, now that we have a firm grasp on all there is to know about the Mustang Mach-E vs Volkswagen ID.4, can we safely say which EV is best? From their side-by-side specs to their biggest differences, from their individual histories to their particular pros and cons, is the Mustang Mach-E or the Volkswagen ID.4 the superior BEV? Volkswagen ID.4 comes out on top.
Mustang might be a familiar name, but the truth is that the Volkswagen ID.4 is the winner of this debate. The showdown between the Mustang Mach-E vs Volkswagen ID.4 boils down to price, range, horsepower, and MPGe, and the VW ID.4 wins in all four aspects. Sure, the Ford Mustang Mach-E looks nice, and yeah, it offers greater customizations and trims the higher up in price you go. However, when looking simply at base models, it's the VW ID.4 all te way. Time will tell how well these two EVs will improve over the years, but for now, the Volkswagen ID.4 wins.