These days, it seems that every major vehicle manufacturer has released their own take on a battery electric vehicle. From GM to Toyota, from Ford to Volkswagen, from Nissan to Volvo, there are more BEVs to choose from than the average consumer knows what to do with. For this reason, it helps to narrow down your options to just two choices and compare and contrast from there. Here, we'll do exactly that with the Ford Mustang Mach-E vs Polestar 2.
They're two remarkable EVs, to be sure, but how do they actually compare? It's an important question to ask, especially when trying to settle on the best EV for you. For this reason, we'll work to provide the most thorough and comprehensive comparison of the Ford Mustang Mach-E vs Polestar 2.
From a side-by-side comparison of specs to a more in-depth examination of their key differences, you'll have a much better idea about which of these two EVs is ultimately the superior one.
Ford Mustang Mach-E vs Polestar 2: Side-by-Side Comparison
Ford Mustang Mach-E
Polestar 2
Model Year
2022
2022
Starting Price
$44,995
$47,200
Miles Per Gallon Equivalent
City: 105 MPGe
Highway: 93 MPGe
Combined: 100 MPGe
City: 113 MPGe
Highway: 100 MPGe
Combined: 107 MPGe
Drive Type
RWD
FWD
Horsepower
266 HP
231 HP
Torque
317 lb-ft
243 lb-ft
Range
247 miles per charge
270 miles per charge
Fast Charge Time
80% in 40 minutes
80% in 35 minutes
Ford Mustang Mach-E vs Polestar 2: What's the Difference?
While the specs above are no doubt helpful in visualizing the differences between the Ford Mustang Mach-E vs Polestar 2, it's absolutely worth diving deeper into a few key differences between the two.
From their respective power, battery range, and performance to the total price you can expect to pay, these are the main factors that distinguish the Mustang Mach-E from Polestar 2.
Power
Firstly, there's power. There might not be a more important thing to consider when purchasing a car than power. From horsepower and torque to drive type and beyond, power tells you everything you need to know about how your car is going to perform out there in the real world.
For this reason, let's examine the power of the Mustang Mach-E vs Polestar 2 — beginning with MPGe, or miles per gallon equivalent. The Mustang Mach-E delivers 105 MPGe for city driving and 93 MPGe for highway driving, amounting to a combined 100 MPGe.
The Polestar 2, however, brings 113 MPGe in the city and 100 MPGe on the highway for a combined 107 MPGe. That puts Polestar at a clear advantage, but not for long. Despite the Mustang Mach-E's inferior MPGe, the EV has superior horsepower and torque. (That's 266 HP and 317 lb-ft of torque compared to 231 HP and 243 lb-ft of torque.)
Battery
Secondly, there's the battery. All of these particulars about power mean nothing if your EV doesn't have the battery life, range, or charge time to make it all worth it. This is why it's so relevant to the Mustang Mach-E vs Polestar 2 debate. After all, their batteries and charge time differ pretty significantly.
For starters, the Ford Mustang Mach-E offers just 247 miles per charge. The Polestar 2, by comparison, offers a much greater 270 miles per charge. Neither are necessarily record-breakingly efficient with these middling ranges, but Polestar 2 is obviously superior in this respect.
Going hand-in-hand with range is the charge time. When your battery's low, how long is it going to take you to get it back up to an appropriate range again? Battery life will continue to be a big hangup for those reluctant to hop onto the EV bandwagon, especially when it only takes a few minutes to fill up your gas tank.
Neither the Mustang Mach-E nor the Polestar 2 can beat that time. It takes the Mustang Mach-E nearly 40 minutes to fast charge to 80%. The Polestar 2, by comparison, takes around 35 minutes to hit 80%. Neither is particularly impressive, but the Polestar 2 wins again.
Price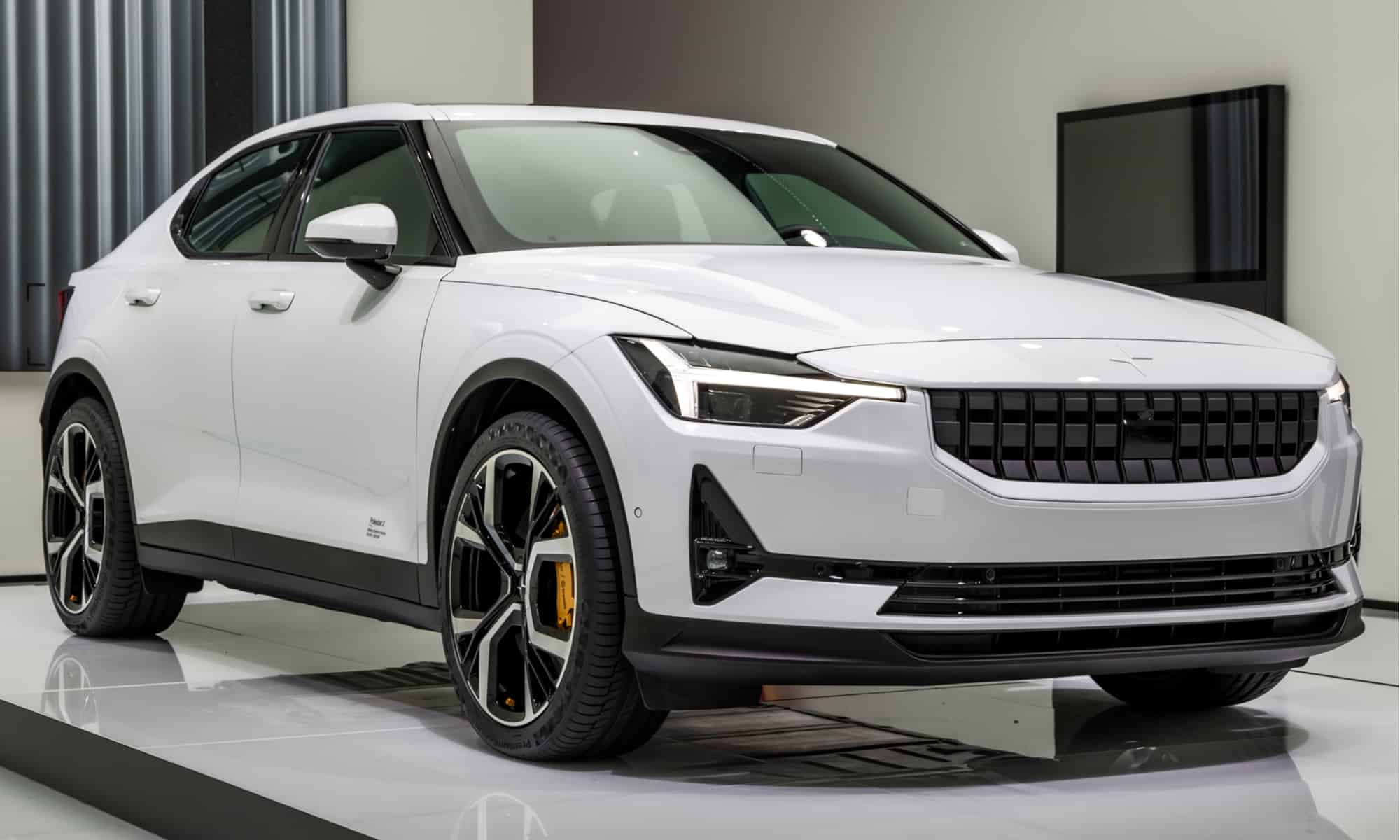 Thirdly, the price. What's it all for if the EV falls way outside of your price range? It's another major hurdle that EVs will continue to work hard to overcome in comparison to gas-powered vehicles. But both the Mustang Mach-E and the Polestar 2 are solid examples of reasonable, not-too-pricy EVs.
The Ford Mustang Mach-E has a suggested starting price of $44,995, but this is merely for the Select base model trim. The true price could be as high as $69,895 or higher for the GT model trim, with the Premium and California Route 1 models falling in between the two extremes.
The Polestar 2, on the other hand, is a lot more firm in its pricing. With only two options to choose from in the United States — the Long Range Single Motor and the Long Range Dual Motor — you can be a lot more confident in your bottom line price. (No $20,000 price difference between trims here, unlike the Mustang Mach-E.)
The 2022 Long Range Single Motor has an MSRP of $47,200, while the Long Range Dual Motor has a not-much-higher MSRP of $51,200. Neither vehicle is as affordable as, say, your basic gas-powered sedan, but the upper-$40s to upper-$60s isn't too astronomical for an EV.
The History of the Ford Mustang Mach-E
The Ford Mustang has the honor of being one of the most iconic and instantly recognizable car models in the history of the motor vehicle. It only makes sense, then, that Ford would choose the Mustang brand name to market their battery-electric compact crossover SUV, the Mustang Mach-E.
While hardly matching the look or the feel of a gas-powered Mustang (save for the vehicle's horse emblem on the front bumper), the Ford Mustang Mach-E is nevertheless an impressive electric offering from the Ford Motor Company.
First announced in November 2019, before being officially released in December of 2020, the first-generation 2021 Ford Mustang Mach-E offered a limited-edition First Edition trim in addition to four other staples. These include Select (the base trim), California Route 1 Edition (the mid-level trim), Premium (the well-equipped trim), and GT (the performance-based trim the First Edition trim was based on).
Consumers can also opt for a GT Performance Package in addition to the GT trim. At launch, the 2021 Mustang Mach-E offered two battery pack sizes and three power outputs. These two battery pack sizes have been dubbed the Standard Range and the Performance Range.
Beyond this, and the aforementioned trim options, consumers can also choose between RWD or AWD powertrains and a variety of different colors. The vehicle won the Car and Driver's very first EV of the Year award in 2021, beating out various models from Tesla, Audi, Volvo, and Porsche.
Sales figures for 2022 aren't quite known just yet, but the 2021 model sold 27,140 units in America and 23,054 units in the United Kingdom.
Polestar 2's History
When looking at the history of the Ford Mustang Mach-E vs Polestar 2 in such quick succession, it's easier to see where the two diverge in their respective journeys to the streets. While the Mustang Mach-E was a product of the Ford Motor Company, the Polestar 2 hails from Volvo by way of their electric vehicle brand Polestar.
Volvo — or, rather, Polestar — first conceptualized the Polestar 2 after the success of the Polestar 1. However, while the Polestar 1 was a hybrid, the Polestar 2 would be made as the brand's first fully-electric vehicle.
Dubbed the Volvo Concept 40.2 during its initial conception in 2016, the Polestar 2 name officially emerged in 2020 following the teaser of an early production version one year prior. Designed with safety in mind — an important decision after so much bad press about safety for Tesla and other rival EV brands — the Polestar 2 uniquely features battery disconnecting capabilities that protect both driver and battery after a collision.
Instead of potentially catching on fire, as other EVs have done in similar situations, the Polestar 2 disconnects its battery in the wake of a crash. In North America, the Polestar 2 offers two different vehicle types: the Long Range Single Motor and the Long Range Dual Motor. European drivers can opt for an exclusive Standard Range Single Motor option, as well.
All single-motor models boast an FWD powertrain, while the dual-motor model offers AWD. The EV brand sold nearly 30,000 Polestars in 2021 alone, but hopes to increase that number exponentially year-over-year to hit nearly 300,000 by 2025. Whether or not this happens remains to be seen, but the Polestar 2 undoubtedly remains a very impressive EV from Volvo.
Ford Mustang Mach-E vs Polestar 2: 5 Must-Know Facts
While the Mustang Mach-E looks decidedly more SUV than a traditional sports car, it includes many classic Mustang features including its fastback roofline, its signature long hood, Mustang haunches, and even rear-wheel drive.
In addition to all the impressive performance specs that come with the Mustang Mach-E, the vehicle also boasts an enormous 15-and-a-half-inch center display in the front of the vehicle's interior.
The Mustang Mach-E was originally going to be called the Mach-E, but the public backlash against the association with the Mach-1 name made Ford tack on the Mustang name and incorporate the iconic look into the design.
Polestar 2 vehicles are equipped with 360° panoramic Park Assist Cameras, dubbed the PACPark Assist Camera.
The Polestar 2 also comes with Volvo's unique keyless entry, dubbed Phone-as-Key, that allows drivers to sub a physical key with a simple smartphone app.
Ford Mustang Mach-E vs Polestar 2: Pros and Cons
| Pros of Ford Mustang Mach-E | Cons of Ford Mustang Mach-E |
| --- | --- |
| The Ford Mustang Mach-E is a solid, sturdy, well-made electric vehicle | Middling range per charge |
| Boasts high speeds and fast acceleration | Higher-end trims can be quite pricy |
| Great visibility despite its size | Less MPGe than rival EVs, namely Polestar 2 |
| Lots of storage space | Fast charging isn't all that fast |
| Pros of Polestar 2 | Cons of Polestar 2 |
| --- | --- |
| Gorgeously sleek design inside and out | Torque pales in comparison to competing EVs |
| Better battery range and faster charge time than the Mustang Mach-E | Less horsepower than other rival battery EVs |
| Impressive combined MPGe of 107 | The base model is more expensive than the Mustang Mach-E's base model |
| More affordable than rival EV brands and models | The range is less than that of Tesla and other rivals |
Ford Mustang Mach-E vs Polestar 2: Which One Is Best?
That was a lot of information all at once, so let's simplify things: between the Mustang Mach-E vs Polestar 2, which EV is ultimately superior? You know by now that the answer isn't a simple one whatsoever. We've taken a lot into consideration here: their specs, their key differences, their respective histories, and their unique pros and cons.
All these things were done in an effort to highlight a winner. Thinking back, one EV came out on top slightly more than the other. It's a seriously close call, but the winner has to go to the Polestar 2. While the Ford Mustang Mach-E has a lower base model price, a higher horsepower, and greater torque, the Polestar 2 proves to be superior in a few more important areas than the Mustang Mach-E.
These areas? For one, range. The base model Polestar 2's 270 miles per charge beats the Mustang Mach-E's. Same for the combined miles per gallon equivalent, which is 107 compared to the Mustang Mach-E's 100 MPGe. Neither car is a bad EV whatsoever, but Polestar 2 manages to inch ahead for a true photo finish.
The image featured at the top of this post is ©ParabolStudio/Shutterstock.com.