Electric vehicles have gained significant traction recently as consumers look for more sustainable and efficient transportation options. Many major automakers have committed to producing and selling more EVs, and Ford is no exception. Ford's EV sales have seen impressive growth recently, with a 103% increase compared to the same time last year.
In this article, we will take a closer look at Ford's EV offerings, the reasons behind their success in the EV market, and what the future holds for the company in this area. We will also consider the broader implications of Ford's EV growth and its commitment to sustainability. Has Ford found the perfect formula for successful EV production? Let's find out!
Ford's EV offerings
Ford's recent success in the EV market is due to a few factors. Since the company initially launched its electric efforts several years ago, its EVs have become more powerful, efficient, and convenient. As prices become more attractive, buyers flock to Ford to pick out a new electric car.
To top it all off, Ford offers some of the most competitively priced EVs in the industry. With potential tax incentives of up to $7500 and savings on fuel costs, many buyers are happy to save money with an EV. As a result, the company has captured an ever-increasing share of the electric car market, particularly in North America.
With three unique vehicles in their lineup, Ford will likely have an EV to suit your needs. Let's check out the company's current offerings.
F150 Lighting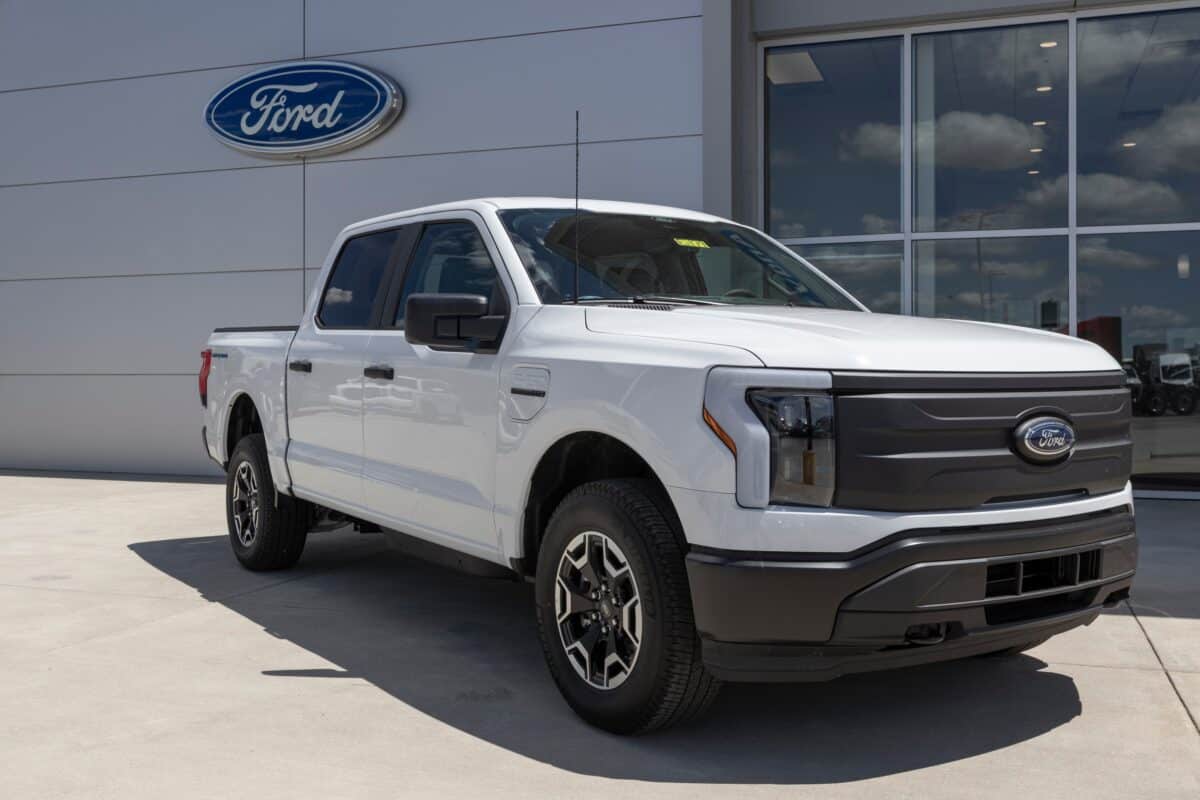 Ford reimagined its legendary F150 series pickup truck as an all-electric beast. With an entirely new look and an eye-watering 0-60 time of sub-4 seconds, this truck is a far cry from Ford's early pickups. With a towing capacity of 10,000 pounds and a maximum payload of almost a ton between the frunk and the bed, the F150 does not sacrifice any functionality.
On top of the impressive specs, the F150 Lightning also offers some remarkable range and charging times. With up to 320 miles of range under ideal conditions, you won't be stranded in this vehicle.
Additionally, this truck is an efficient powerhouse, with almost a dozen standard outlets for plugging in your tools and equipment. Features like advanced onboard power systems give the F150 Lightning the ability to power your whole house, similarly to a backup generator. With so much cutting-edge tech, it's no wonder the F150 Lightning is enjoying stellar success.
In November, the F150 Lightning sales equaled 2,062 units, making it the most popular electric truck in North America. While this number only represents 3.7% of all F-Series sales for the month, it shows the increasing popularity of electric vehicles in the pickup truck market.
Mustang Mach-E
With the release of the Mach-E, Ford takes on competing manufacturers like Tesla and Rivian. Taking its badge from the legendary and historic Mustang series, Ford reimagined the iconic "Pony Car" as an all-electric SUV. While purists were outraged at first, successful sales figures don't lie.
The Mustang Mach-E has been leading the pack for Ford's EVs. Packed with the latest tech from top to bottom, the Mach-E is designed to deliver a futuristic driving experience while sipping electricity conservatively with its efficient electric motors.
With a wide variety of models to choose from, a prospective buyer can pick from the standard, GT, Premium, or California Route 1 Edition. With a range of between 224 and 312 miles, the Mach-E is highly competitive.
What makes it even more attractive for most buyers is the starting MSRP of just $46,895. While not as cheap as budget-minded internal combustion vehicles, the Mach-E offers stunning looks and impressive performance on par with more expensive electric cars.
Sales of 3,539 Mustang Mach-Es increased 14.6% from last year. Additionally, the production of Mustang Mach-Es worldwide has now surpassed 150,000 units, putting this model on track to be one of the most popular EVs on the market.
E-Transit
Ford did not forget about the commercial EV sector. Now that electric cars are taking over the roads, many businesses are looking for electric solutions, too. Hauling goods via truck or van can come with astronomical fuel costs, not to mention excessive maintenance and emissions. As a result, Ford launched the new E-Transit van to offer a more efficient commercial EV solution.
The E-Transit van starts at roughly $50,000, making it competitively priced for a van. With seating for two and several different chassis variations allowing for creative cargo storage, the E-Transit offers something we haven't seen in any EV to date. While most electric cars are intended to provide a comfortable ride with sporty features, the E-Transit is all business.
And while the EV range might not be the most impressive, at roughly 100 miles average range on a single charge, the E-Transit packs plenty of additional features to make it worthwhile. For example, the built-in "E-Telematics" software allows commercial fleets to monitor and maintain their fleet remotely to ensure charge status and software updates.
With so many innovative features, it is no surprise that the Ford E-Transit is leading the commercial EV industry with a whopping 80% market share. Ford Pro sold 654 E-Transits in November alone, accounting for 6.3% of all Transit van sales. Companies like DHL are buying up E-Transit vans on a massive scale, with plans to leverage the new EV for the company's global shipping fleet.
Ford's Impressive EV Sales Growth
According to Green Car Congress, "Ford electric vehicle sales in the US were up 103% for November 2022 compared to a year ago." As a result, Ford is quickly becoming one of the best-selling EV brands, competing with Tesla, Rivian, Mercedes, and other EV makers. While Tesla still leads the pack, Ford is catching up fast.
Ford's electric car sales sat at 6,255 units for the month of November, adding up to 4.3% of total sales. This is an impressive jump compared to this month last year when Ford's EVs accounted for a measly 2% of all vehicle sales.
As a result, Ford captured even more of the EV market share from competing brands. Although total US auto sales were down in November, Ford managed to maintain a positive trend. In fact, the company increased its market share to a whopping 8.6% of the total EV market.
We can trace this success to the release of key models like the F150 Lightning, Mustang Mach-E, and E-Transit Van. With so many new models, it is clear that Ford's dedication to electric cars isn't going anywhere. As a result, the company enjoys massive success as demand continues to grow.
The Future of Ford EVs
Ford continues to evolve and grow, with ambitious plans to expand its EV empire. The most critical component of Ford's EV strategy is expanding its reach in the commercial EV sector with more efficient vans and pickup trucks.
While Ford has always been famous in the commercial market, the company's EVs are following in the footsteps of earlier successes. As commercial EVs stand now, they are out of the reach of most consumers' budgets. Ford hopes to change that by decreasing price points.
With increased manufacturing capacity, more cost-effective battery production, and more EV-certified dealers, customers will soon find Ford EVs making up the lowest price bracket for electric vehicles. If the company can revolutionize the market as it did with the Model T over a hundred years ago, we'll see electric cars brought to the masses.
Ford is also increasing its public charging network. While most buyers cite the lack of charging infrastructure as their reasoning for avoiding buying an EV, Ford hopes to remove this roadblock by setting up an advanced charging network. With more than 63,000 charging plugs currently available and rising daily, Ford is making good on its promise to bring efficient charging to the furthest reaches of the continent.
The image featured at the top of this post is ©Dennis Diatel/Shutterstock.com.