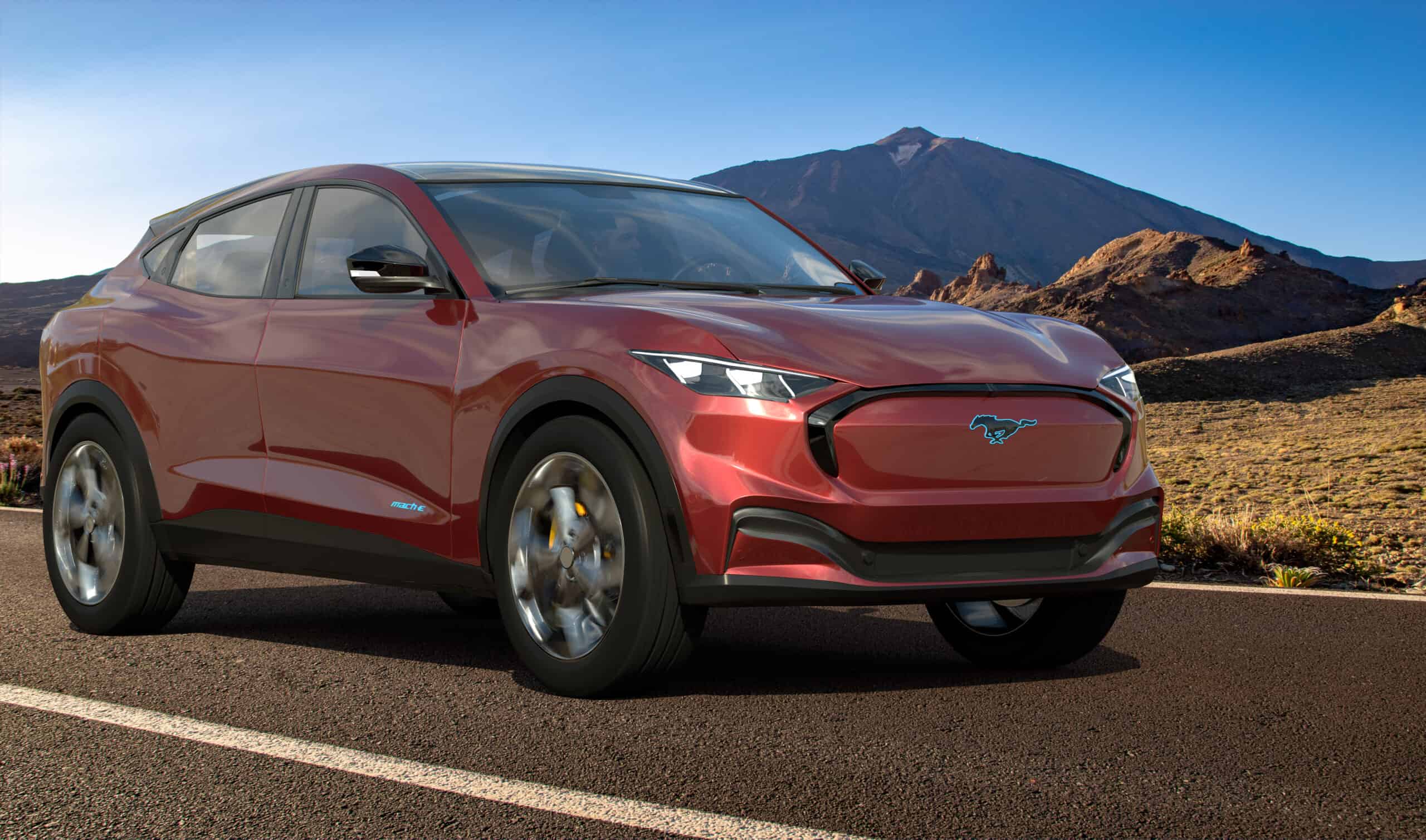 Ford Motor Company, long dismissed as a stodgy legacy automaker by electric vehicle fans, has recently begun serious work on electrification. Ford already has three EVs – the Ford F-150 Lightning EV pickup, a crossover SUV version of its world-famous Mustang muscle car, and a commercial van – in production. As of summer 2022, customer demand for Ford's EVs far exceeds its manufacturing capacity.
As a result, Ford EVs remain scarce on the roads compared to global best-sellers like the Tesla Model 3. But the company is reshaping itself to make more EVs in the future. It split itself into two divisions in March 2022, Ford Model E for EVs and Ford Blue for ICE vehicles, International Business Times reports. It also announced 8,000 Ford Blue job cuts on July 21st, 2022, to help pay for the Model E division.
2022 Ford Mustang Mach-E Crossover SUV EV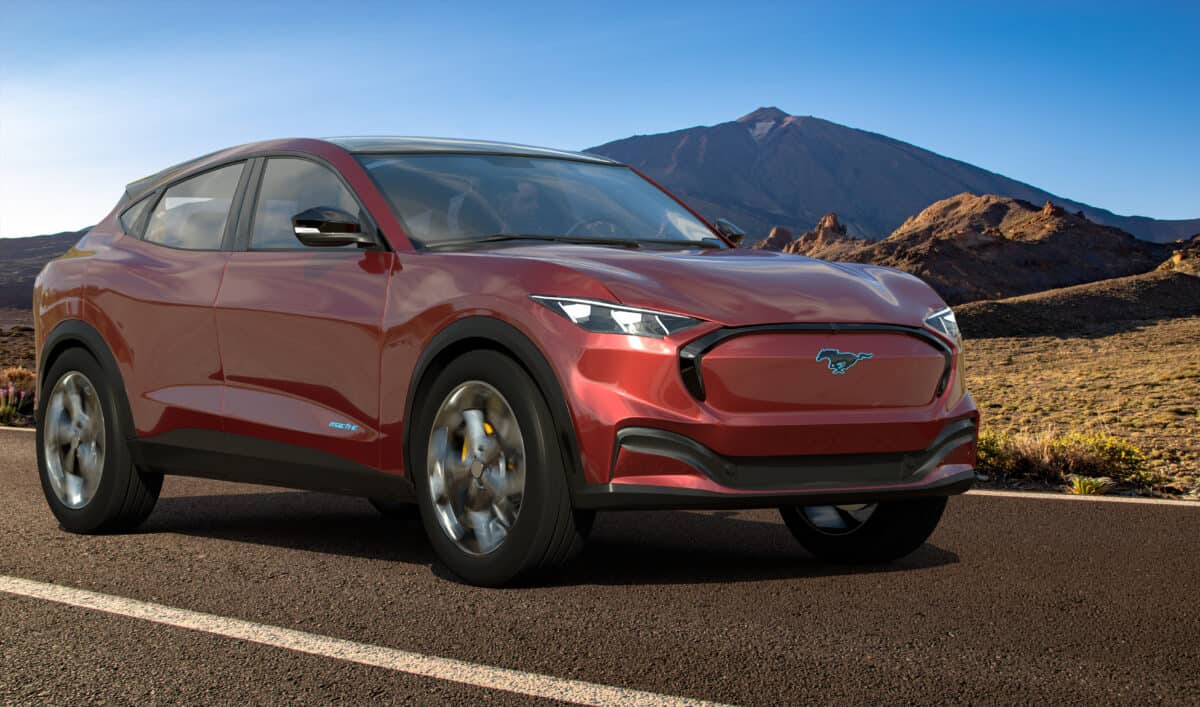 2022 Ford Mustang Mach-E SUV proved so popular the company closed orders for it by mid-2022. A few thousand remain available on dealer lots. The Verge reports Ford plans to build 270,000 units in 2023.
Seating 5 people and featuring a hatchback-style cargo area, the Mach-E offers sporty performance, especially in its higher-end trims. The crossover comes in four trims: Select, GT, Premium, and California Route 1. The Select is a basic model centered on affordability, while the Premium adds luxury features and more range. The GT is the closest to the Mustang's hard-charging muscle car roots, with outstanding acceleration, though all trims are built for performance. The California Route 1's design focuses on the maximum range.
Features include BlueCruise hands-free driving on certain highways. The Mustang Mach-E comes in more colors than some competing EVs, including light orange, red, and metallic blue. Cargo space includes a 4.7 cubic foot "frunk," 29.7 cubic feet in the rear, and 59.7 cubic feet with the rear seats folded down. Other significant stats include:
| | | | | |
| --- | --- | --- | --- | --- |
| | Select | GT | Premium | California Route 1 |
| Base Price | $43,895 | $61,995 | $48,775 | $52,450 |
| Range | 247 miles | 270 miles | 303 miles | 314 miles |
| Horsepower | 266 hp | 480 hp | 346 hp | 346 hp |
| Torque | 428 ft-lbs | 600 ft-lbs | 428 ft-lbs | 328 ft-lbs |
| 0-60 mph Time | 5.2 seconds | 3.5 seconds | 4.8 seconds | 4.8 seconds |
2022 Ford E-Transit Van
With 536 cubic feet of cargo volume on four all-electric wheels, the 2022 Ford E-Transit van can drive up to 126 miles on a single charge. The engine develops 266 horsepower and 317 ft-lbs of torque. All models include seating for 2 occupants. The design is an electrified version of the standard internal combustion engine (ICE) Ford Transit cargo van or sprinter van. Layout, style, and features closely match the ICE Transit.
The E-Transit is built in three models, the Cutaway, the Chassis Cab, and the Cargo Van. A secondary manufacturer usually finishes the Cutaway and the Chassis Cab. Buyers can add a box, dump bed, or one of many other rear sections. The Cutaway's cabin is open at the rear, enabling a walk-through rear section installation if desired. The Chassis Cab's cabin is closed off with a solid metal back wall and rear window.
The maximum payload for the Cutaway is 4,428 lbs, while the Chassis Cab's payload tops out at 4,390 lbs. Both have a 178-in wheelbase. Ford charges a base price of $49,295 and $49,825 for these models, respectively.
The Ford E-Transit Cargo Van retails for $50,185. It comes with multiple configurations of low, medium, or high roof and a regular, long, or extended length body. Its cargo volume ranges from 246.7 cubic feet (low roof, regular length) to 487.3 cubic feet (high roof, extended length). The total volume ranges from 280.9 cubic feet to 536.4 cubic feet. Maximum payload ranges from 3,880 lbs (low roof, regular length) to 3,330 lbs (high roof, extended length).
2022 Ford F-150 Lightning EV Pickup
The Ford F-150 Lightning pickup is perhaps the Blue Oval's most important EV release to date, rolling its trendy light-duty truck in an electric format. Deliveries will begin in July to August 2022, with approximately 40,000 trucks on the road before 2022 ends. This represents about 20% of total pre-orders.
The F-150 Lightning is a full-size light-duty pickup with a single cab and bed configuration – a Supercrew cab seating 5 individuals and a 5.5-ft bed. Horsepower and torque figures are impressive, as is often the case with EVs. The pickup generates 452 horsepower with a Standard Range battery and 580 with an Extended Range battery. Torque remains the same in both cases at 775 ft-lbs.
Regarding range, the Lightning can travel 230 miles on a single charge with a standard battery. With the Extended Range battery, you get up to 320 miles per charge, according to EPA. Extended Range batteries are optionally available on the mid-level XLT and Lariat models for around $10,000 extra. The elite Platinum trim features a standard Extended battery but only gets 300 miles because of its higher weight.
Charging speed is perhaps one of the F-150 Lightning's weak points. While it can charge at Level 1 (120v), Level 2 (240v), or Level 3 DC fast chargers, its charging ceiling is 150 kW. Therefore, it can't get the full benefit from 350 kW fast chargers. It will charge slower than competitors when Tesla makes its 250 kW Superchargers available to all EVs before the end of 2022. The gap in charging speed will widen once Tesla rolls out its 350 kW V4 Superchargers Electrek.
Ford F-150 Lightning Utility
The F-150 Lightning makes a solid, affordable daily driver and workhorse truck thanks to its decent range and design traits. Its stability and handling are good thanks to a heavy battery pack that gives it a low center of gravity. Like many EVs, it's quick and sporty to drive, with 0 to 60 mph hovering around 4 seconds. Ride comfort is also good, thanks to its independent front and rear suspension.
As a mass of huge batteries on wheels, the Lightning can be used as a power source for tools and even homes. The truck includes 10 120v power outlets to plug tools into, four in the frunk, two in the cab, and four in the bed. Optionally, it can also mount a single 240v outlet in the bed, bringing the total to five. With some additional installations, it can be hooked up to a house. Used this way, it provides between 3 days and 10 days of electricity during an outage.
Pickups are made to carry and haul, and the F-150 Lightning has some muscle for heavier work. The maximum payload for the 5.5-ft bed ranges from 1,480 lbs to 2,000 lbs depending on battery pack and configuration. It can also tow 5,000 lb trailers with a standard battery and 7,700 lb trailers when outfitted with an extended battery. An optional Towing Package raises this to 10,000 lbs.
Trailers, predictably, sharply reduce the aerodynamics that gives the F-150 Lightning its range. Testing by MotorTrend shows the vehicle loses almost two-thirds of its range when towing a high-profile load. Increased drag results in reduced range. Towing efficiency might increase with more streamlined loads.
F-150 Lightning Models
Pro: $39,974, Standard battery only, 230 miles range
XLT: $52,974, Extended battery optional, 230 or 320 miles range
Lariat: $ 67,474, Extended battery options, 230 or 320 miles range
Platinum: $ 90,874, Extended battery only, 300 miles range
Ford's Investment in an Electrified Future
While Ford's showrooms offer one EV and several hybrids, its less than the multiple models rolled out by Tesla or Nio. This raises the question of how deeply Ford is committed to electrification. However, a look at the automaker's recent actions quickly confirms Ford's seriousness about rapidly becoming a leading EV manufacturer.
Building Manufacturing Space
The company has earmarked billions of dollars to achieve its near-future electric vehicle goals. It expects to spend at least $30 billion on EV development and manufacturing facilities by 2025. Ford aims to electrify 40% to 50% of its vehicle lineup and achieve 100% electrification in Europe by 2030.
Ford is building a huge EV factory, dubbed BlueOval City, in Tennessee. The Korea Times confirms Ford and South Korean battery maker SK Innovation officially launched their joint U.S. venture BlueOval SK on Wednesday, July 13th, 2022. The tripartite partnership of American battery factories will manufacture 127 GWh of batteries yearly, enough for 1.6 million EVs. Ford inked a deal in late July 2022 with Ioneer Ltd for an annual delivery of 7,000 tons of US-produced lithium. This is the same year BlueOval City and BlueOval SK will start operating.
Rolling Out New Ford EVs
Ford of Europe is the company branch that will launch the next phase of Ford's aggressive strategy. According to a YouTube video published on the Ford News Europe channel, 7 more EVs are in the pipeline for European sales within the next few years. These include small and mid-size crossover SUVs and an electric version of the ultra-compact Ford Puma crossover, possibly out in 2023.