Fitbit Versa vs. Apple Watch: 4 Must-Know Facts
The Fitbit Versa is inclined towards fitness features while the Apple Watch is more lifestyle-focused and centers around integration with other Apple devices.
The Fitbit Versa is a cheaper option than the Apple Watch.
Both devices provide a great degree of customization.
The Apple Watch is the popular choice but it lacks some of the fitness-driven features of the Fitbit Versa.
If you are looking to digitize your lifestyle and look glamorous while doing it, what you may be looking for is a smartwatch. While on this search, you might find yourself trying to choose between the Fitbit Versa and Apple Watch.
Indeed, both of these are leading technology preferred by fitness trainers, athletes, professionals, and regular users alike. Both watches offer versatile functions for your needs and tons of great features.
Let's dive into their real differences so you can make the most informed decision.
Fitbit Versa vs. Apple Watch: A Side-by-Side Comparison
| | Fitbit Versa | Apple Watch |
| --- | --- | --- |
| Release Date | April 2018 | April 2015 |
| Founders | James Park, Eric Friedman | Jony Ive |
| Units Sold | 10.6 million | 100 million (estimate for 2020) |
| Average Product Warranty | 45 days | 1 year |
| Operating System | Android OS 8 | watchOS |
| Power | Li-ion Battery | Li-po Battery |
| Models and Series | Versa Original, Versa 2, Versa 3 | 1st Generation, Series 1-8, Ultra |
| Revenue (2021) | $1.21 billion | $30.6 billion |
| Country of Origin | USA | China |
What are the Key Differences between the Fitbit Versa and Apple Watch?
While comparing the Fitbit Versa and Apple Watch, there are a few crucial points that must be considered. Let's get into them below.
Customizability
Both these brands offer a good deal of customizable options. With the Apple Watch, you can customize not only the watch face but also add color pallets of your choice. You can choose any design, adjust the features and colors to your liking, and save it to your collection. The Fitbit Versa offers similar customizing options. You can easily change clock faces and customize them to your liking.
While some people would find that both watches have an equally good level of customizability, a lot of others would agree that Apple's interface and customizing options are a tad bit better than the Fitbit Versa.
Material
The Apple Watch comes with an included band that can be switched with bands of other types for style or functionality changes. Customers can mix and match their desired bands and watches as they wish, which can be helpful if you're wearing your smartwatch in different environments, like work or the gym.
Band materials are different for different users and vary from aluminum, titanium, sapphire crystal, nylon, ceramic back, and a lot more. All these materials have been tested on thousands of people to ensure safe usage for all skin conditions.
Fitbit wristbands, on the other hand, are made of an elastic polymer similar to the ones used in many sports watches, and the casings are made with stainless steel. It does not use latex in its manufacturing.
The Fitbit Versa has been known to leave a rash, so it is not particularly recommended for people with certain skin problems.
Key Features
The Apple Watch can perform most functions of a standard mobile phone, including receiving messages, notifications, and calls from a paired iPhone. It used to have a widget-like feature which was replaced by a new Control Center.
Sending content from the Apple Watch to an iOS or macOS device is also possible. Plus, it can act as a viewfinder for an iPhone camera. Siri allows for voice commands on this device, and it can be used to access other iOS features such as Mail, Phone, Calendar, Messages, Maps, Photos, iTunes, Music, and Wallet.
On the flip side, its battery lasts only for around 18 hours compared to the much longer-lasting battery of the Fitbit Versa which can go on for a couple of days.
The Fitbit Versa comes packed with similar features, allowing users to receive notifications, calls, messages, calendar alerts, and app updates. Though the Apple Watch has access to a wider range of applications, what sets the Fitbit Versa apart from the Apple Watch is its quick reply feature.
With Fitbit Versa, you can drop quick replies to messages and calls. Quick replies include "Yes," "No," "Can't talk right now," and "What's up?," as well as dozens of emojis. Moreover, you can also use this quick reply to send replies to third-party applications like Messenger, Whatsapp, and Facebook.
Another feature called Fitbit Pay connects users to banks to make contactless payments. The feature is available only with Versa Special Edition. Fitbit plans to expand its network of banks which currently covers 15 countries via Mastercard, American Express, and such. This will allow users to contact any bank that supports contactless payments in a wide network of countries.
Design and Usability
The Fitbit Versa has a simple interface. It commonly focuses on the trademark features of its parent company, namely fitness apps. It has special features for female health care and enables them to keep a record. Fitbit Versa is easy to use and customize, targeting the fitness industry as its customer base.
Recently, there has been an increase in features, some of which are specific to certain devices, like FitPay, which is available only on Versa Special Edition. Despite that, it is very user-friendly for all Android users.
The Apple Watch has a very wide range of features and the interface is very similar to iOS. It has circular icons that can be changed to a listview anytime. Apple focuses on user demand and has managed to please its customer base with a variety of updates and new features.
However, many newer features are not available on older versions of iOS. Users with old versions of iOS will need to use a paid jailbreak called Legizmo to access some features, but it doesn't work with iPhone 5 or iPhone 5C. It also doesn't allow pairing to watchOS, which restricts users to access newer features.
Price Range
When it comes to the prices of both products, there's a huge chasm, and rightly so, considering Apple's name.
As for the Apple Watch, price ranges can vary depending on the model, generation, and series anywhere from around $100 to over $1,000. Many have claimed Apple to be overpriced, but these prices are only expected to increase in the future.
On the other hand, the Fitbit Versa, considered by some to be a "mostly great reply to the Apple Watch," ranges anywhere from $150 to $200. Some call it the best smartwatch under $200.
Both can be found on Amazon for purchase.
We earn a commission if you make a purchase, at no additional cost to you.
Best for Health Tracking
Fitbit Versa 4 Fitness Smartwatch
Provides real-time stats during exercise
Water resistant up to 50 meters
Sleek and modern appearance
Easy to read time and notifications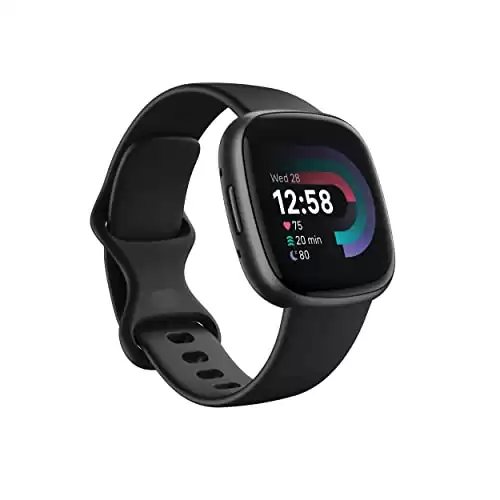 We earn a commission if you make a purchase, at no additional cost to you.
Fitbit Versa vs. Apple Watch: Overview
Let's go over each brand's smartwatch to sum up what we know.
Fitbit Versa
The Fitbit Versa was released in 2018 with three different versions: standard, Special, and Lite.
Fitbit's parent company is Alphabet and it started rolling out smartwatches at a time when there was already much competition. Although Fitbit called their watches something other than smartwatches, slowly other features found their way into the Versa and it has evolved from a fitness tracking device to a smartwatch.
Apple Watch
When Apple Watch was released in 2015, it quickly became a fan favorite. Eventually, it rose to be the best-selling wearable device. As of now, Apple, Inc. has released eight generations and eight series of the Apple Watch. There's also a lot of speculation on what's expected of the Apple Watch 8. The Apple Watch works with a number of Apple devices including the iPhone, iPod, and iPad.
Fitbit Versa vs. Apple Watch: Which One is the Best for You?
Based on the facts we presented above, it's evident that the Fitbit Versa is a great alternative to the Apple Watch. It's more affordable, has better battery life, and offers similar features and functionality. However, it doesn't have built-in cellular connectivity and its app selection is more limited.
If you're using iOS, you might want to stick to the Apple Watch due to its top-tier integration. On the other hand, if you're using Android, the Fitbit Versa is probably the better choice.
Up Next…
Interested in any other riveting comparisons? Read some of our favorite articles in this category, below: