Fitness trackers have been popular for years. Over time they have grown to include more advanced features. Fitbit, one of the market pioneers, has an impressive lineup of fitness trackers. However, since Google bought Fitbit for over $2 billion in 2019, they have been working on their smartwatch with extensive Fitbit integration. The result is the Pixel Watch, designed to compete with big names in the smartwatch industry like Apple and Samsung.
Recently, Google and Fitbit released their latest devices, the Pixel Watch and the Versa 4. In today's article, we'll explore their features, specs, differences, and pros and cons. Ultimately, we'll tell you which device is better and worth buying. Let's get into it!
Fitbit Versa 4 Vs. Google Pixel Watch: Side-by-Side Comparison
| | Fitbit Versa 4 | Google Pixel Watch |
| --- | --- | --- |
| Release year | September 2022 | October 2022 |
| Size | 1.58" | 1.2" |
| Weight | 37.64g | 36 g |
| Design | Aluminum build | Stainless Steel, Glass front Gorilla Glass 5 |
| Colors | Graphite black, Waterfall Blue, Pink sand/copper rose, and Beet Juice / Copper Rose Aluminum | Matte black, Polished silver Champagne gold |
| Display | Color AMOLED touchscreen, Corning Gorilla Glass 3 | AMOLED, Corning Gorilla Glass 5 |
| Resolution | 300 x 300 pixels | 450 x 450 pixels |
| OS | Android 9+, iOS 14.0+ | Android Wear OS 3.5 |
| Haptic Feedback | Yes | Yes |
| Waterproof | Yes, IP Certified IP67 | Yes, IP Certified IP68 |
| Battery | Li-po battery 162mAh | Li-Ion 294 mAh |
| Charging | USB Charging, 30min+ charging time | USB Charging, 1-2 hours charging time |
| Onboard storage | 4GB | 32GB |
| Band material | Silicon | Silicon |
| Band size | Small 140 – 180mm Large 180 -220mm | Small 130-175 mm Large 165-210 mm |
| Bluetooth | 5.0 | 5.0  |
| Loudspeaker | Yes | Yes |
| Voice command | Yes, Alexa | Yes, Alexa, Google Assistant |
| Sensors | Accelerometer, Vibration motor, Altimeter, Ambient light, Barometer, pulse oximeter (SpO2) | Accelerometer, Gyro, Altimeter, Compass, Multipurpose electrical sensor, Ambient light sensor |
| Sport modes | 40+ | 40+ |
| Compatibility | Android 9+, iOS 14.0+  | Android 8.0+ |
| Cellular | No | 4G, LTE |
| GPS | Yes | Yes |
| Microphone | Yes | Yes |
| Price | $230 | $350-$400 |
Best for Health Tracking
Fitbit Versa 4 Fitness Smartwatch
Provides real-time stats during exercise
Water resistant up to 50 meters
Sleek and modern appearance
Easy to read time and notifications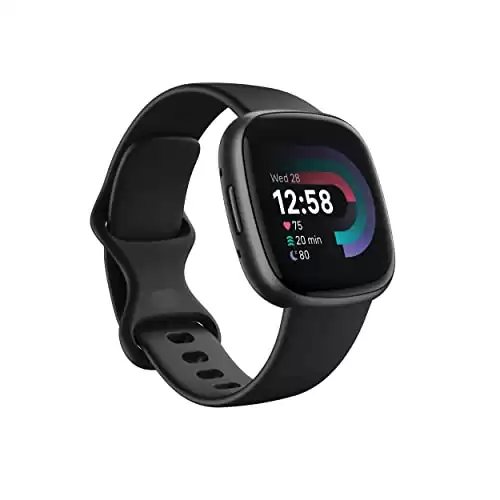 We earn a commission if you make a purchase, at no additional cost to you.
Fitbit Versa 4 Vs. Google Pixel Watch: What's the Difference?
At first glance, both devices look like your typical smartwatch. The biggest difference is probably the shape. However, when you start using either, the core difference becomes obvious. Fitbit Versa 4 is more of a health and fitness tracker, while the Google Pixel watch is a smartwatch that can track various health and fitness activities. 
Design 
Fitbit has always stuck with a square-faced design, going back to the earliest Versa models. Just like the Versa 3, the Fitbit Versa 4 rocks a stylish bezel and frame made of aluminum. Wrapping it all together are sleek silicon straps and a plain plastic back. 
One notable improvement over the previous generation Versa is the power button. While many Versa 3 users complained of the capacitive button being difficult to use, the Versa 4 has solved this issue completely. The solution? They brought back the classic stand-out button. 
In the same vein, the Pixel Watch is a sleek and lightweight smartwatch with one key design change: a rounded face. Just like you would find on any classic wristwatch, the round shape is a bolder choice on new tech like this. As a result, it's a more attention-grabbing design than the Fitbit Versa.
Display
Google Pixel Watch has a pretty small 1.2" screen and a huge bezel, making this 41mm watch look even smaller. Like the Fitbit Versa 4, the Pixel Watch also has a color AMOLED touchscreen and corning Gorilla Glass 3 screen. It has a resolution of 450 x 450 pixels giving it a colorful outlook. 
On the other hand, the Fitbit Versa 4 has a 1.58" OLED screen with a 336 x 336 resolution. Because both watches use AMOLED screens, they are also easier to use when bright outside.
Performance
Many users reported lag and overall choppiness when navigating the interface on previous generations of the Fitbit Versa. However, the improvements with the latest generation have pleased most critics. Despite this, Google's Pixel Watch still comes out ahead.
The latest Pixel Watch accomplishes all the same tasks as the Fitbit, with a noticeable difference in performance. Thanks to its Exynos 9110 System-on-Chip architecture, and 32GB of eMMC flash storage, you can enjoy an overall faster experience compared to the Versa 4.
Battery
The Pixel Watch is a super compact device with a relatively small battery. Even with the small size, it still delivers decent battery performance. Google claims the battery can last up to 24 hours, but the truth is, your actual battery life will vary depending on usage. If you're using the watch to track your activities for the entire day, you'll find the battery drains faster than you would like. Luckily charging up your Pixel is a breeze since it comes with a USB Type C charger and can be fully charged in a little over an hour. 
If you read Fitbit's official claims, you'll see that the Versa 4 has a "6-day battery life." However, the proof is in actual user experiences. Many users say the actual battery life you can expect from this device is around a day. On closer inspection, it appears that the maximum battery life is only reachable with all of the device's smart features and tracking capabilities completely disabled. 
When you look at the difference in battery capacity between the two, it starts to make sense. The Google Pixel has nearly double the capacity of the Versa 4. Even still, you can get almost a full day's charge in 12 minutes and 100% charge in less than an hour, making it just nearly as efficient as the Pixel Watch.
Smart capabilities
Pixel Watch is not all that different from other smartwatches on the market, like the Samsung Galaxy or Apple Watch. Competing against these two tech behemoths is challenging for Google since the other models have been around much longer. Still, the Pixel Watch has some cool smart capabilities.
The Google Assistant is one of the neatest things to see on this watch. We've already seen it on things like Google phones and speakers, but having it right there on your wrist is pretty handy. Like Siri on the Apple Watch, you can ask your assistant simple questions or have it perform basic tasks, like checking your texts or starting a timer.
Another cool feature is Google Pay, which lets you tap your watch against the NFC reader of any merchant who accepts it. Don't take your phone or wallet out of your pocket next time you're in line at Starbucks–tap your Pixel Watch and be on your way.
Looking at the Versa 4, you get all the basic capabilities. You can count your daily steps, track your vitals, and receive a sleep and weather report. But you'll run out of things to do before too long, and this is where Fitbit shows its weakness.
You can't install third-party apps or access WiFi connectivity or a music player. Plus, your Google capabilities are limited. Luckily, the device still has Bluetooth for connecting to your phone, but it remains fairly basic compared to the Pixel.
Activity Tracking
Both watches can track various activities, including heart rate, sleep, steps, calories, stress, menstrual cycle, VO2 Max, swimming, and on-screen workouts. Fitbit has always been the king of fitness trackers, but since Google acquired them not too long ago, anything you can track on the Fitbit you can do so on Google Pixel. All you have to do to get these capabilities on your Pixel is connect your Fitbit account. Simple enough, right? 
Price
Google Pixel Watch and Fitbit Versa 4 differ greatly in Price. The Google Pixel Watch goes for $350, making it pricier than the Fitbit Versa 4 and other smartwatches in the market. If you compare it to something like the Apple Watch, you realize both devices are nearly head-to-head.
However, the Fitbit Versa 4 is a significant step down from the Pixel and Apple Watch.
Though it costs $230, the Fitbit Versa 4 has a six-month premium subscription of $80 every year or $9.99 monthly. You might need this subscription service because Fitbit only gives access to basic metrics and has locked the majority of necessary health tools. 
Our Pick
Google Pixel Watch – Android Smartwatch
Beautiful circular, domed design with Wear OS
Convenient activity tracking for fitness enthusiasts
Track heart rate and learn your sleep activity
Contactless payments, notifications and directions
Make calls or respond to text messages
We earn a commission if you make a purchase, at no additional cost to you.
Fitbit Versa 4 Vs. Google Pixel Watch: # Must-Know Facts
Huawei P8 Lite, Huawei P20 Lite, Huawei P9 Lite, and Xiaomi Mi 6 are incompatible with the Fitbit Versa 4.  
Both devices are water-resistant up to 50 meters, meaning you can take them for a stroll in the rain.
Pixel Watch and Versa 4 both have AMOLED displays.
You can set up Amazon's Alexa on the Versa 4 and Pixel Watch. 
Battery life is similar on both devices; each can charge fully in roughly an hour.
While the Pixel Watch might appear to charge wirelessly with its magnetic charger, it will not work with standard Qi wireless charging, like the Fitbit Versa 4 will.
Fitbit Versa 4 Vs. Google Pixel Watch: Which One Is Better? Which One Should You Use?
Since Google acquired Fitbit, the Pixel Watch has offered the capabilities and tracking features of the famed fitness tracker brand. However, the Versa 4 still makes a good buy if you're looking for an affordable device.
If you want a basic device for tracking your workouts and daily activities, the Fitbit Versa 4 will do all that without bells and whistles. On the other hand, the Pixel Watch makes a good all-around smartwatch, competing with big names like Samsung and Apple.
Already have a Google Phone? then the Pixel Watch is a no-brainer. You gain access to plenty of handy features and reliable all-day battery life. The only thing to contend with is the higher price tag. But for what you get, it is still a cheaper alternative to the Apple Watch.