Fitbit Versa 4 and the Apple Watch Ultra are two pretty squircle watches that bring smart features to the wrist and track your activity. Both launched in 2022 and look similar at first glance. But with a price tag four times superior to Fitbit, is the Apple Watch truly worth it? Find it out in this Fitbit Versa 4 vs. Apple Watch Ultra battle of the titans.
Fitbit Versa 4 Vs. Apple Watch Ultra: Side-by-Side Comparison
Fitbit is a well-loved name among fitness enthusiasts. The brand established itself as an activity-tracking authority among gym goers and weekend athletes, with the Versa 4 smartwatch appealing to Fitbit enthusiasts looking for an upgrade.
Apple Watch was born to extend the functionality of iPhones. This smartwatch pairs seamlessly with Apple's handsets, and the newest models even use digital eSIMs that increase the wearable's functionality. The latest release, the Apple Watch Ultra, proposes itself as a smartwatch and rugged tracker for outdoor activities. Its price tag is staggering compared to Versa 4, and you may wonder whether it's truly worth it. Here's a quick comparison between the two:
| Features | Fitbit Versa 4 | Apple Watch Ultra |
| --- | --- | --- |
| Release year | 2022 | 2022 |
| Display type | AMOLED | Retina LTPO OLED |
| Max brightness | 1,000 nits | 2,000 nits |
| Display lens | Corning Gorilla Glass 3 | Sapphire crystal |
| Overall dimensions | 40mm x 41mm x 11mm | 49mm x 44mm x 14.4mm |
| Bezel material | Aluminum | Titanium |
| Display size | 1.58in | 1.93in |
| Resolution | 336 x 336 pixels | 502 x 410 pixels |
| Touchscreen | Yes | Yes |
| Sports profiles | Yes | No |
| Water resistance | 5 ATM | 10 ATM |
| Battery life | Up to 6 days | Up to 60 hours |
| Charge time | ~ 120 minutes | ~ 90 minutes |
| Compatibility | iPhone, Android | iPhone |
Best for Health Tracking
Fitbit Versa 4
1.69-inch screen

Health metrics dashboard

Water resistant up to 50 meters

Daily Stress Management Score

Includes a 6-month Premium membership
We earn a commission if you make a purchase, at no additional cost to you.
Fitbit Versa 4 Vs. Apple Watch Ultra: What's the Difference?
Released in September 2022, Fitbit Versa 4 is one of the first smartwatches launched under the Fitbit name after the brand's acquisition by Google. The wearable maintains the beloved features of its predecessors but brings a Google spin with new apps and functionalities.
Apple Watch Ultra was released in the same month, a few days after the launch of the Apple Watch 8. It is the most expensive smartwatch Apple ever made, costing as much as an older iPhone. Beyond daily smart features, the Ultra watch is designed with endurance athletes in mind; its aim is to replace Garmin and other rugged activity trackers. The detailed comparison below might help you find the right wearable for you.
Design
Apple Watch inspired Fitbit Versa's design, or, at least, since the first Versa wearable came out in 2018. Things didn't change much in recent years. While both brands tweaked the size and even the shape of the watch up to an extent, Fitbit Versa 4 and the Apple Watch Ultra stay true to the iconic squircle style.
Fitbit Versa 4 maintains a squarer shape reminiscent of the first Apple Watches. This watch features a 40mm case that looks good on most wrists. At 49mm, Apple Watch Ultra joins the rugged smartwatch family, but it might be too big for people with slender wrists. Ultra also features more elongated lines reminiscent of a rectangle than a square. The bigger size has advantages such as more information displayed and easier touchscreen use.
Both watches are compatible with bands in three sizes; small, medium, and large. Fitbit and Apple work with interchangeable band models, allowing you to swap the strap with one you already have. This can be quite relieving if you're allergic to silicone or prefer woven materials or leather.
While Versa 4 is compatible with various Fitbit bands, Apple Watch Ultra only works with a 49mm or 45mm strap. The smaller strap option for the Apple Watch is only suitable for casual use, as it may not resist intense or rugged activities.
Fitbit Versa 4 comes in four different colors. Apple Watch Ultra's case only comes in a natural silver tone. The bands come in multiple colors, and you can even choose from activity-specific bands, including hiking, climbing, and swimming.
Daily Smart Features
Fitbit is an activity tracker with some smart functionality. Apple Watch was born as a smartwatch first and an activity tracker after. It doesn't come as a surprise, thus, that Apple Watch Ultra packs more daily smart features than the Versa 4.
The Ultra watch pairs seamlessly with the iPhone and brings most of the handset's functions to your wrist. You can use the watch to make and answer calls, read and send texts, receive app notifications on the wrist, use most apps on your Apple handset, or even access the App Store and download new apps on your wearable. What's more, you can also make payments through Apple Pay.
Fitbit Versa 4 doesn't have as many smart features, but it is compatible with Android and iPhones. You can use the wearable to answer calls or send them to voice mail, which is handy when working out. However, you can't make the calls yourself nor send texts (even though you can read incoming texts and notifications on your wrist).
Contactless payments include Fitbit Pay and Google Wallet, and you can also access and use Google Maps on the watch. This function only works with Android handsets, but Fitbit also promises to make it work on iOS.
Activity Tracking
Apple Watch Ultra is not your standard Apple Watch. This wearable was made with activity tracking in mind and is perfect for the hard-core outdoorsy type. No matter what activities you prefer, rest assured Apple Watch Ultra will monitor your performance and help you reach your fitness goals.
This wearable doesn't have dedicated sports profiles but incorporates a compass, gyroscope, and heart rate zones. Running Form and Track Detection are not sports profiles in the true sense, but the former can monitor running performance. The latter detects when you arrive at a track and enables the watch to use both Apple Maps data and GPS to log your pace, distance, and route.
Compatibility with third-party services allows swimmers and divers to use the Apple Watch Ultra as a dive computer. In this mode, you can monitor dive depth and calculate the ascent rate to prevent health complications. In the Heart Rate Zones mode, you can use the watch to track any activity and monitor the intensity level of your workouts.
Fitbit Versa 4 brings a lot more versatility, which isn't surprising. As explained, Apple – and competitors like Samsung with its Galaxy Watch 5 Pro – created a smartwatch to extend the functionality of a phone, not to track activity. The Versa 4 opens a sort of Pandora's box of activity-tracking features. This wearable boasts dedicated sports profiles for runners and hikers, weightlifters, yogis, cyclists, and more. Automatic exercise tracking detects when you're training, monitoring and recording your stats even if you didn't access a sports profile. The Fitbit App extends the smartwatch's functionality to your phone, allowing you to access fun workouts and keep an eye on your performance without fuss.
You don't have to be a gym junkie to use the Versa 4. This watch can also help you monitor calories consumed, steps taken, and more. The only downside is the poor water resistance compared to Apple Watch Ultra. Versa 4 is only rated at 50 meters.
Health Monitoring
While both watches support health monitoring, Fitbit Versa 4 has the upper hand in this category. Specifically, the Versa 4 tracks your blood oxygen levels, heart rate, heart rate variability, skin temperature variation, blood glucose level (in-app only), and breathing rate, to name just a few.
You can also use this wearable to monitor your sleep quality or manage your stress level. Notifications will let you know when it's time for a break or when to relax your mind through meditation. A smart wake alarm vibrates on your wrist instead of beeping, helping you feel more rested and refreshed.
Apple Watch Ultra also provides basics such as heart rate and blood oxygen level monitoring and feminine health tracking, but that's about it. You won't get lots of insights, even though the watch does help maintain your core bodily functions under control.
The added safety features are an innovation from Apple that's absent in Fitbit. This watch can detect incidents, such as falls or car crashes, and call emergency services automatically. The wearable also provides your location to dispatchers and notifies your emergency contacts. Pressing the emergency SOS button will contact the emergency services and send them your location.
Battery
Battery life is one crucial factor when buying a wearable. And, once again, Fitbit Versa 4 wins. In normal mode, you can use your wearable for up to six days. If you enable the always-on display, you can expect a shorter – but still satisfactory – battery life.
Apple Watch Ultra has a max battery life of 60 hours when used in power-saving mode. Under normal mode, you'll get around 36 hours of use, or even less if you're enabling LTE. In this case, battery life can go as low as 18 hours.
While it drains the battery faster, the Apple Watch Ultra charges faster than the Fitbit. You can recharge the battery in about 90 minutes. Fitbit requires around 120 minutes of charge time.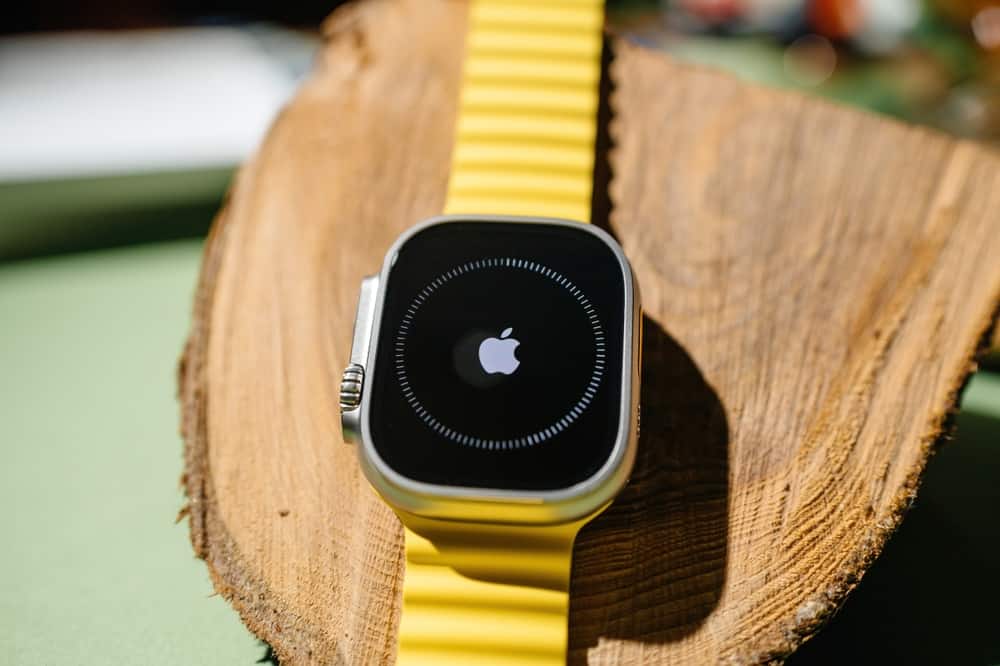 Price
The price is perhaps the most crucial difference between Apple Watch Ultra and Fitbit. The former costs around $800. You could spend under $200 if opting for a Versa 4. This discrepancy is explained by the fact that Ultra is Apple's top-of-the-range smartwatch. It is designed to satisfy endurance athletes and competes with Garmin Enduro.
Fitbit Versa 4 is a capable fitness tracker, but it's more suitable for casual gym goers than pro athletes. It provides more fitness tracking than Apple Watch Ultra, but the latter tracks activities more accurately.
Fitbit Versa 4 Vs. Apple Watch Ultra: 6 Must-Known Facts
Apple Watch Ultra is designed for endurance athletes who use iPhones. Although it's a good watch, it only pairs with Apple's handsets.
Fitbit Versa 4 is a capable activity tracker designed for casual use. It is smaller than the Apple Watch Ultra and easier to pair with sports or business casual attire.
Apple Watch Ultra provides pro-level tracking of endurance activities, including climbing, hiking, and diving. It doesn't have any dedicated sports profiles.
Fitbit Versa 4 has dedicated sports profiles and pairs with Android and iPhones. It also provides more comprehensive health monitoring.
Apple Watch Ultra has more daily smart features than the Versa 4 and includes safety features like crash and fall detection.
Overall, the Apple Watch Ultra has a more robust design with a sapphire crystal face, back, and Retina LTPO OLED display. Fitbit Versa 4 features an AMOLED display covered by Corning Gorilla Glass 3 lens. It is easier to scratch and less robust.
Fitbit Versa 4 and Apple Watch Ultra: What's new?
Both the Fitbit Versa 4 and the Apple Watch Ultra have received a few updates since February 2023. The updates include:
Fitbit Versa 4
New health tracking: Support for on-device ECG (electrocardiogram) and AFib (atrial fibrillation) detection was added.
Improved sleep tracking: Sleep tracking has been improved along with the ability to track sleep stages and respiratory rate.
Support for Spotify: Support for Spotify was added. You can control music playback from your smartwatch.
Increased battery life: The battery life was increased to up to 7 days.
Apple Watch Ultra
Always-On display mode: There is a new Always-On display mode. You can see the time and other information without having to raise your wrist.
Improved fitness tracking: Fitness tracking has been improved and there are new workouts like Pilates and Tai Chi.
Fall detection support: Support for fall detection was added, which can automatically call emergency services if you fall and don't move for a certain period of time.
Increased water resistance: Water resistance was increased to 50 meters, which allows you to wear it while swimming.
Fitbit Versa 4 and Apple Watch Ultra: What's next?
Technology for smartwatches is always improving. We can expect the Fitbit Versa 4 and the Apple Watch Ultra to get even better. Here are some possible updates we could see for these smartwatches in the next six to 18 months:
Improved sensors. It is likely that smartwatches will have improved sensors that can track more health metrics, such as blood pressure, blood oxygen levels, and body temperature.
More advanced health tracking features. More advanced health tracking features can be expected, such as the ability to detect sleep apnea and diabetes.
Extended battery life. New battery technology is likely to help extend battery life.
5G connectivity. Both watches are most likely going to have 5G connectivity, which would allow them to download and stream content quicker.
Fitbit Versa 4 Vs. Apple Watch Ultra: Which One Is Better? Which One Should I Use?
Choosing the right wearable comes down to needs and preferences. Do you want a proactivity tracker packed with lots of daily smarts? The Apple Watch Ultra is for you. This watch extends your iPhone's functionality and helps you monitor activity levels and health, but you'll have to shell out hundreds of dollars to get one.
Fitbit Versa 4 doesn't provide the same daily smart features, but you can still use it to answer calls and keep smartphone notifications under control. Payments from the wrists are also available, and the tracker brings dedicated sports profiles and lots of extras to keep you motivated. No doubt, it's an excellent choice for health and fitness enthusiasts who don't feel like going over the top.
Best for Health Tracking
Fitbit Versa 4
1.69-inch screen

Health metrics dashboard

Water resistant up to 50 meters

Daily Stress Management Score

Includes a 6-month Premium membership
We earn a commission if you make a purchase, at no additional cost to you.
The image featured at the top of this post is ©Thanes.Op/Shutterstock.com.