Fitbit Sense vs. Apple Watch 7: Seven Must-Know Facts
The Fitbit has a longer battery life than the Apple Watch 7. It lasts up to six days on a single charge, whereas the Apple Watch only lasts up to 18 hours on a single charge.
Apple Watch 7 can also be used for fitness activities, but it is not designed for running or high-intensity workouts like the Fitbit Sense, which offers advanced monitoring features for running activities.
Fitbit Sense targets fitness enthusiasts and health-conscious individuals who want to monitor their heart rate and activity levels throughout the day.
Fitbit doesn't run numerous apps like a normal smartwatch, but it is directly comparable when it comes to tracking fitness.
Apple has enhanced the Heart Rate app, which now measures your resting and recovering heart rates and can notify you if anything is wrong.
The Daily Readiness Score on Fitbit Sense tracks your body's recovery after workouts. This feature is not yet available on the Apple Watch.
The Fitbit Sense is one of the most costly and sophisticated smartwatches on the market. Also, it was the first Fitbit to utilize an electrodermal scan to assess stress and provide ECG heart rhythm monitoring.
The fitness-tracking industry has blown up in recent years, thanks to brands like Fitbit and Apple, which have created devices and apps designed to track your every step. These gadgets, such as Fitbit Sense vs Apple Watch 7, are great for ensuring you stay active throughout the day, and can even help motivate you to work out more regularly. They do so by tracking your physical activity, heart rate, sleep patterns, and overall general health, providing more detailed information and valuable data on your activity levels.
Fitbit and Apple have been developing their own versions of fitness trackers for years, but recently they have begun to face off in the wearables market. So which of these two devices comes out on top? Does one stand out? Let's take a closer look at the similarities and differences between the Fitbit Sense and Apple Watch 7, so you can decide which one is best for your needs!
Fitbit Sense vs. Apple Watch 7: Side-by-Side Comparison
Fitbit Sense
Apple Watch 7
What it is
Smartwatch
Smartwatch
Release date
September 2020
October 2021
Connectivity
GLONASS, GPS, Bluetooth, and
Wi-Fi
BeiDou and LTE, QZSS, Galileo, GPS, Bluetooth, Wi-Fi, and UMTS on cellular models
Sensors
SpO2, heart rate alerts, skin temperature sensor, EDA, ECG

Fall detection, heart rate alerts, compass, SpO2, ECG, always-on altimeter
Color options
Sage Grey, Silver Stainless Steel
Red, Blue, Green, Starlight, Midnight
Price
$299
$399
Battery life
Up to 6 days
18 hours
Voice assistant
Alexa or Google Assistant
Siri
Compatibility
iOS, Android
iOS
Waterproof
Up to 50 meters
Up to 50 meters
Weight (aluminum model)
45.9 grams
32.0g, 38.8g
Display
40.5mm
41mm, 45mm
Mobile payments
Fitbit Pay
Apple Pay
Fitbit Sense vs. Apple Watch 7: What's the Difference?
The Apple Watch 7 is a smartwatch designed and engineered to give you full access to all your favorite apps, notifications, and features. It's the perfect companion for your active lifestyle. Fitbit Sense is a smartwatch that brings together your fitness and sleep data on one simple dashboard. You can track your heart rate 24/7, view real-time stats on your performance and get a clearer picture of how you're feeling throughout the day.
Fitbit Sense and Apple Watch 7 are both designed to track your activity and improve your health, but some key differences between them make each one unique. Here are some of the main differences between these two smartwatches.
Design
Stay Connected Without Your Phone
We earn a commission if you make a purchase, at no additional cost to you.
Both companies have designed sleek devices that would fit nicely into anyone's lifestyle. There are five color options for the Apple 7 aluminum case: Blue, Green, Starlight, Midnight, and Red. Midnight is a blueish black, Starlight is a milky silver tint, and the last three are self-explanatory. The Stainless Steel variants are available in four different colors: space black, graphite, gold, and silver.
Apple Watch 7's durability has improved yet again. It retains a swim-proof rating of up to 164 feet while adding IP6X dust resistance. The Sense is an extension of the rounded square form presented by the Fitbit Versa in 2018. It is unavoidably compared to the Apple Watch, which is the highest commendation because it matches the comfort and design of Apple's popular wearable while adding enough unique touches to stand out on its own.
A highly reflective gold band frames the display on the Soft Gold variant. As a result, you have a matte gold finish on the watch's bottom. The impact is more subtle if you choose the Graphite or Silver, model. The Sense is also water-resistant up to 164 feet (50 meters) and is designed to be used while swimming.
The Fitbit Sense's bands are also easily interchangeable. The smartwatch includes a large and tiny Infinity Band made of soft-touch rubber. It's a good all-purpose solution, but there are hundreds of other designs available if you want something different.
Battery Life and Charging
Fitbit Sense has a battery life of up to five days, whereas the Apple Watch 7 offers up to 18 hours of battery life. Both watches enable magnetic wireless charging, and a full charge takes around one hour for both. This is a significant increase for Apple, being around 33% faster than the Apple Watch 6. But if you don't want to deal with another device to charge every day, go for the Fitbit Sense; you'll only have to think about it once or twice a week.
Health Tracking and Sensors
Both watches include an ECG sensor approved by the FDA to monitor your heart for symptoms of A-fib, a heart rhythm abnormality that can indicate a dangerous health problem. Both also enable basic heart rate tracking, which is useful for overall health and fitness tracking.
SpO2 monitoring, which checks blood oxygen levels, is another notable sensor for both watches. Unlike ECG, neither watch is FDA-certified since the reflecting sensor it utilizes is not as dependable as the transmissive detectors used by medical practitioners. But this sensor could still save your life if it detects a big decline in your SpO2 levels, together with other signs.
The Fitbit Sense does include two distinct sensors: an EDA sensor and a skin temperature sensor. The former attempts to detect your stress levels, while the latter provides an overall health picture. While the Fitbit Sense's added sensors are intriguing, the main health aspects of each smartwatch are too similar, and Apple has a few more benefits with its app integrations that quickly transfer your information to your healthcare professional.
Pricing
Apple is always more expensive. It's like a natural law or something, but in this case, the Sense ($299, although it's currently on sale for as little as $219) costs $100 less than the base model of the Apple Watch 7 ($399 for the 41mm model and $429 for the 45mm model). You'll pay even more for the Apple Watch if you select the cellular version, which adds another $100. The ability to leave the house without your phone and still be able to make and receive calls, handle texts, and other things is pleasant, even though you might object to the additional expense.
Smartwatch Features
BEST WOMEN'S FITBIT SMARTWATCH
Fitbit Sense Advanced Smartwatch
EDA Scan app helps detect stress
Assess your heart for atrial fibrillation
On-wrist skin temperature sensor tracks your sleep each night
6+ Days of Battery Life
Menstrual Cycle Tracker
Compatible with Apple & Android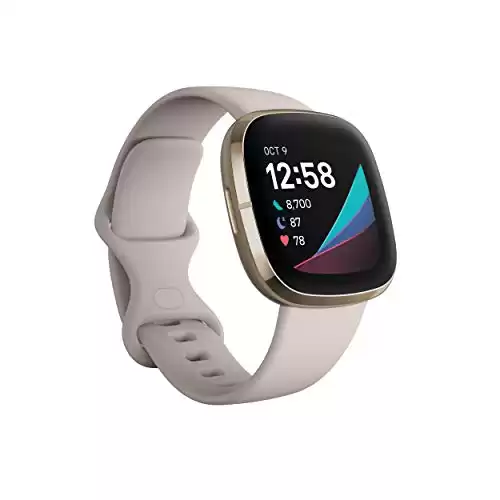 We earn a commission if you make a purchase, at no additional cost to you.
The Apple Watch 7 performs smartwatch-like tasks more adeptly than the Sense because that is its primary design focus. The best Apple Watch models receive yearly software updates, including the Series 7. The watchOS 8 operating system which is now used offers additional exercise categories, a mindfulness app, and enhanced support for virtual keys.
A built-in map and compass also allow you to use the Apple Watch 7 to find your way around unfamiliar areas. It also features all the top Apple Watch apps. On the Series 7, a QWERTY keyboard is also available for texting. The Apple Watch 7 and the Fitbit Sense let you change the watch face, but only the Apple Watch allows you to further personalize those faces with the complications you choose. However, Fitbit does provide some fantastic watch faces that highlight particular health-tracking capabilities.
Both watches also support NFC mobile payments, which is useful if you're out running without a wallet and want to pick up a water bottle. Both watches can answer calls, but the Sense can only do so from one of the top Android phones, and the Apple Watch can only do it from a specific cellular number or an iPhone. Additionally, they both allow offline playlists and notification mirroring.
While the Apple Watch 7 and the Fitbit Sense allow you to change the watch face, only the Apple Watch allows you to further customize it. Fitbit does, however, have some outstanding watch faces based on certain health-tracking aspects.
When it comes to voice assistants, the contest is between Siri, Alexa, and Google Assistant. As expected, the Apple Watch includes Siri, while the Fitbit Sense has Alexa and Google Assistant. Voice assistants can be used to ask queries, initiate discussions, or control the best smart home gadgets (as long as they're compatible).
Fitbit Sense vs. Apple Watch 7: Which One Should You Choose?
So, which one is better, Fitbit Sense or Apple Watch 7? When comparing the two health trackers, Fitbit Sense comes out on top in terms of price, health sensors, and battery life. But remember that we're comparing it to the Apple Watch, a gold-standard smartwatch that also performs health and fitness tracking very well.
It's not a simple comparison because which one you should buy depends on what you want to do with the device. As we have seen above, the Fitbit is more affordable, has a better battery life, and can track your sleep patterns. On the other hand, the Apple Watch is more expensive, offers a lot of heart-rate measurement options that aren't on the Fitbit, and can be used as a phone to make calls. It also comes with some music playback features that are not offered by Fitbit.
The Apple Watch is more versatile because it can be used as both a watch and a fitness tracker. For people who want an all-in-one device, the Apple Watch may be the better option because it does more than just track your steps. However, if you're looking for something more specific and minimalist, the Fitbit might be the way to go.
Up Next…
Interested in any other riveting comparisons? Read some of our favorite articles in this category, below:
Oura Ring vs. Apple Watch: Full Comparison with Features: Which one is more versatile, which one has a more powerful battery, which one is better at tracking your sleep? Unravel the answers here.
Apple Watch vs Samsung Watch: Which Is Superior? They are both the latest smartwatch incarnations of their respective brands. Yet one has a battery which is far more powerful than the other, while one can work with either Android or iOS. Find out which ones they are and which smartphone outpaces the other.
Fitbit Versa vs. Apple Watch: Which is Better? They both come with excellent customizable options. However, one is far more versatile in terms of functionality while the other has an impressively long-lasting battery. Discover which device is which and the better choice between the two
The image featured at the top of this post is ©Rawpixel.com/Shutterstock.com.