Fitbit Sense and Apple Watch 6 are two fantastic smartwatches that can track your fitness levels and double up as a phone on your wrist. Both smartwatches came out a few weeks apart in 2020 and have similar features but completely different operating systems. If you're shopping for your first smartwatch, Fitbit Sense vs. Apple Watch 6 can be a tough decision. Don't worry. Our guide will break down the differences between these two fitness-oriented smartwatches, and help you pick the best model.
Fitbit Sense vs. Apple Watch 6: Side-by-Side Comparison
| | | |
| --- | --- | --- |
| | Fitbit Sense (gen 1) | Apple Watch 6 |
| | September 2020 | September 2020 |
| Size | 40mm | 40mm or 44mm |
| Weight | 33.1 grams | 30.5 to 40.1 grams |
| Display | 1.58-inch OLED | 1.57 or 1.78-inch Retina LTPO OLED Display |
| Internal Storage | 4GB | 32GB |
| Sensors | SpO2, Heart, ECG, EDA, Temperature | SpO2, Heart, ECG |
| Connectivity | Dual-band Wi-Fi, NFC, Bluetooth 5.0 | Dual-band Wi-Fi, NFC, Bluetooth 5.0, LTE |
| Warranty | 1-year | 1-year |
Apple Watch 6 vs. Fitbit Sense: 5 Must-Know Facts
The Apple Watch Series 6 is the first smartwatch from Apple with a SpO2 sensor.
The Fitbit Sense can perform an EDA scan to detect changes in stress levels.
Apple uses three LEDs to measure blood oxygen levels on the Apple Watch 6.
There are more than a dozen bands for the Fitbit Sense including ones made from Horween and Vegan leather.
The Apple Watch 6 display is 2.5x brighter than the previous generation.
Fitbit Sense vs. Apple Watch 6: What's the Difference?
By the time the first Fitbit Sense rolled out in September 2020, Apple had already unveiled a half-dozen smartwatches. Both devices are geared towards similar audiences and are packed with useful features but use different ecosystems.
Design
If you're interested in a round smartwatch or fitness tracker, you'll want to look elsewhere. The Fibit Sense and Apple Watch 6 both have a squarish design although Apple gives consumers two sizes to choose from.
The Apple Watch 6 comes is available in 40 or 44mm while the Sense at 50mm. Both are lightweight and come in a variety of styles. Apple has the edge, given the sheer number of combinations and finishes. If you want the Apple Watch Series 6 in Titanium, you can get it along with unique options from Hermes and PRODUCT RED.
Fitbit doesn't provide as much in the way of style, but it's an attractive watch with a sleek stainless steel outer ring. The innards are protected by Gorilla Glass 3 and it's resistant to 50m underwater. The Apple Watch 6 has the same waterproof rating, and the glass varies by model. The aluminum editions have Ion-X glass compared to sapphire crystal on the stainless and titanium models.
While style comes down to personal preference, Apple provides more customization options with its smartwatch and uses premium materials. The Series 6 is a bit thinner and a little more streamlined overall than the Sense as well.
Smartwatch Displays
Every good smartwatch should have a bright, visible display that's easy to read. Apple is known for its stunning smartphone displays, and the same holds true for its smartwatches.
The Apple Watch 6 has a vivid retina LTPO display with a peak brightness of 1,000 nits. You won't have any trouble viewing watch faces in direct sunlight, and colors pop whether you're checking out your Activity Rings for the day or responding to a message.
Users found the display on the Fitbit Sense bright with a resolution of 335 x 335 on its 1.58-inch AMOLED display. That's on par with the 40mm version of the Apple Watch 6 at 325 x 394, but a step behind the larger 44mm model which is listed at 368 x 448. The display size between the 40mm is essentially the same, but the 44mm watch has a larger 1.78-inch panel.
You might not notice a difference in the brightness between these smartwatches depending on your settings, but many users feel the Apple Watch 6 has a move vivid display.
Best Women's Fitbit Smartwatch
Fitbit Sense Advanced Smartwatch
EDA Scan app helps detect stress
Assess your heart for atrial fibrillation
On-wrist skin temperature sensor tracks your sleep each night
6+ days of battery life
Menstrual cycle tracker
Compatible with Apple and Android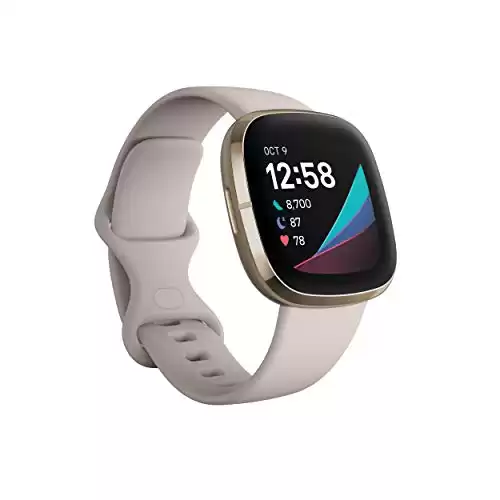 We earn a commission if you make a purchase, at no additional cost to you.
Hardware
The "average" smartphone has a staggering amount of power under the hood. Likewise, manufacturers have managed to pack a lot of tech details into smartwatches. With both models, you'll get a speedy processor and internal storage.
Fitbit wasn't as forthcoming as Apple with the technical specifications of the Fitbit Sense. It has 4GB of internal storage, although only 2.5GB is available as free space. The unnamed processor helps keep the touchscreen snappy, and you can connect with the outside using Bluetooth 5.0, dual-band Wi-Fi, or GPS + GLONASS.
Apple offers a cellular variant of the Apple Watch 6, but the rest of the connectivity options stay the same. Beneath the glass of Apple's smartwatch are custom chips including Apple's dual-core 64-bit S6 SiP and a W3 chip which was introduced with the Apple Watch Series 4. The Watch 6 is certainly snappier than the previous generations.
The Apple Watch 6 has 32GB of onboard storage and 1GB of RAM giving it a significant advantage over the Fitbit Sense in performance.
Sensors
Most smartwatches double as fitness trackers to a degree. How much they can do depends on the brand, and of course, price. Apple has added more fitness-oriented features and sensors over the years, but Fitbit is a company whose first device was a fitness tracker.
Fitbit's Biosensor Core system is made up of a variety of sensors that help track your fitness and well-being. A multi-path optical heart rate sensor can track your heartbeat while the oxygen saturation sensor uses red and infrared LEDs to measure SpO2 levels. This watch can check for signs of aFib but has two additional sensors that aren't available on the Apple Watch 6.
An EDA sensor on the Fitbit Sense can check for electrodermal activity to help determine stress levels. It works in conjunction with the watch's temperature sensor, which keeps track of your skin temperature. They are a nice touch, unique, and something that could help you detect a fever or potentially head stress off before it starts.
Apple uses the same basic sensors on its smartwatch, so there is a third-generation optical heart sensor and blood oxygen sensor. Apple's setup is a little different, however, as their SpO2 monitor uses green, red, and red infrared LEDs to measure oxygen levels. While it may seem like they don't have as much going on under the hood, that isn't necessarily the case.
The extra sensors are a great addition to the Sense, but not something everyone would use compared to the heart rate and SpO2 sensors. Based on a large number of reviews, Apple's sensors are more sensitive and accurate than Fitbit as well.
Features
When synced to a smartphone, the Apple Watch 6 and Fitbit Sense can keep you in the loop. You can receive and respond to messages, control music playback, and do all of the things other smartwatches allow you to do. Both also have payment systems built-in for contactless payments and an array of health and fitness tracking features.
These devices allow you to track your steps or calories. They can monitor you while you sleep and have specific features centered on stress relief. You can learn to breathe with Apple or run an EDA scan on the Fitbit to evaluate your mood. We found more similarities than differences when it comes to the features, but the way these smartwatches perform them is the difference.
Apple has more advanced sensors, including their ECG. Fall detection is a perk and all the features feel more polished. Fitbit also has unique features like snore detection and allows users to go more in-depth with fitness metrics. It's better suited for "fitness" compared to the Apple Watch 6 if you want to dig into data, but both provide a wealth of tools.
When it comes to app access, Apple is the winner. There are more third-party apps for the Apple Watch 6 than you'll find for the Sense. Some of the more popular options are compatible with both platforms, but Fitbit is owned by Google and Apple manufactures the Apple Watch.
Battery Life and Charging
One of the biggest drawbacks of smartwatches or fitness trackers with a display is battery life. As with smartphones and tablets, a number of variables can take a toll on the battery life including any apps in use and services running in the background. Regardless of the watch face or app, Fitbit has a significant advantage over the Apple Watch with battery life.
According to Fitbit, users will get around 6 days of battery life before they'll need to recharge the smartwatch. That's with the always-on display off, although you can expect at least 2 days from the watch with that and other features going. The Apple Watch 6 is listed at around 18 hours with the always-on display active.
Both devices recharge quickly with quick charging modes. You can use older Apple Watch chargers with the Series 6 as well, but can't with the Sense. The Fitbit Sense charges a bit faster than the Apple Watch 6, which can take over 2 hours to fully top off.
Pricing
New tech tends to be expensive, and if you've purchased products from Apple, you know theirs can carry a hefty price tag. Unfortunately, with the release of Apple Watch 8, older Series 6 won't be available to customers on the company's website anymore.
A new Apple Watch 6 starts at around $379 depending on the seller. Refurbished models are plentiful and come go for between $230-260 in a variety of sizes and styles. There is no shortage of refurbished Series 6 smartwatches, although the Series 8 is only $399.
If you're interested in purchasing the Fitbit Sense, you can do so from the company's official site or through online retailers. It's priced at $215 to $249 in a few different colorways but only one size. Whether you choose new or refurbished, the Fitbit Sense is cheaper than the Apple Watch 6.
Fitbit Sense vs. Apple Watch 6: Which One is Better?
Are you more interested in a smartwatch or a fitness tracker? That's the first question you should ask yourself when deciding between the Fitbit Sense vs. Apple Watch 6. You also have to think about your mobile phone as the Apple Watch will work seamlessly with an iPhone while the Sense is tied to Google's ecosystem.
The smarter watch is the Series 6, which has better sensors and allows you to store music on the device thanks to 32GB of storage. You're stuck with services like Pandora or Deezer with the Sense, but Fitbit provides some metrics and sensors not available from Apple. Pricing is also important when you take into account the recently released Apple Watch SE and the Fitbit Sense 2.
Up Next…
Interested in similar articles? Click on the links below:
Apple Watch 5 vs. 6: Which is Better? They will both let you listen to music, that said they use different chips, and only one will provide you with details of your blood circulation. Find out which of these smartphones you should choose..
Fitbit Versa vs. Apple Watch: Which is Better? They both come with excellent customizable options. However, one is far more versatile in terms of functionality while the other has an impressively long-lasting battery. Discover which device is which and the better choice between the two.
Fitbit Sense vs. Apple Watch 7: How Do They Compare? Which comes with more connectivity options? More sensors? A longer battery life? The answers to these questions and more can be seen right here.
The image featured at the top of this post is ©A. Aleksandravicius/Shutterstock.com.