The Echo Show is a popular smart speaker, but not without competition. One company with a similar range of products is Meta, which brings us to a Facebook Portal vs. Echo Show comparison. These speakers both have displays in a range of sizes aimed at the competition from 5.5" to over 15", depending on your needs.
We're going to take a look at both companies' lineups from the first generation to the latest products in their collections. That includes the speaker's specifications and compatibility, along with some of the flagship features that make these products stand out.
Facebook Portal vs. Echo Show: A Side-by-Side Comparison
| | Facebook Portal | Echo Show |
| --- | --- | --- |
| What is it? | Smart Speaker with Display | Smart Speaker with Display |
| Release Date | 2018 | 2017 |
| Manufacturer | Meta | Amazon |
| Products | Smart Speakers, Smart Glasses, VR headsets | Smart Speakers, Wearables, Accessories |
| Website | https://about.facebook.com/ | https://www.amazon.com/ |
Echo Show vs. Facebook Portal: 4 Must-Know Facts
YouTube was blocked from Echo devices in 2017 by Google.
Portal for Business is a software package that turns Portals into conference room machines.
The first Echo Show only had a 7-inch, 1024 x 600p display.
Facebook has been under fire for privacy practices related to the Portal.
Facebook Portal vs. Echo Show: What's the Difference?
The first thing to know about this showdown is the companies behind the products. Meta, formerly known as Facebook, is responsible for producing the Portal. It was launched in October of 2018 before a second generation followed less than a year later in 2019.
Amazon produces the Echo Show as well as the rest of the products in the Echo family, like the Dot, Echo Frames, and Echo Plus. The original Show was released in 2017, giving Amazon a year's head start. Their second generation of products rolled out roughly a month before the first Portal, making the companies instant competitors in this space.
While Amazon branched out into a variety of lines under the Echo branding, Meta kept things relatively simple with Portal. According to a recent report, the company is also moving away from consumer products with a focus on businesses and conference calling in the future.
Facebook Portal Products
Products from Meta fall under two categories at the moment with smart speaker displays and VR headsets. Each line has seen a number of releases, although some have been replaced by updated models or discontinued.
The Meta Quest is a virtual reality headset that used to be sold as the Oculus Quest. It's arguably the best virtual reality headset for beginners and an incredibly popular product from Meta. In addition to the Meta Quest, the company also has a hand in Ray-Ban Stories, smart glasses with audio-video capabilities.
Best for Social Media
Ray-Ban Stories Smart Glasses
High-resolution (2592 x 1944 px) image acquisition

Camera automatically adjusts to light conditions
Capture up to 60 seconds of video
Store up to 500 photos or 100 15-second videos
Polarized lenses deliver accurate color while blocking 95% of UV light
3 embedded microphones capture sound from all angles and discreet speakers maximize private listening
We earn a commission if you make a purchase, at no additional cost to you.
Facebook Portal Smart Speakers
In 2018, the original Facebook Portal launched with a 10.1-inch display and the 2nd generation has the same sized panel with a resolution of 1280 x 800p. The touchscreen is adaptive and sound is provided through a front-porting stereo speaker and woofer in the rear.
The Facebook Portal works in portrait or landscape modes with a 13 MP camera that relies on AI for tracking. It has a 103° field of view and comes in two colors: black and white. Consumers interested in a larger device for video calling will appreciate the Meta Facebook Portal Plus, which has a 14-inch tilting display and a resolution of 2160 x 1440p.
Meta included many of the same basic features on the Facebook Portal Plus, but it has a larger 20w woofer and two 5w speakers. The Facebook Portal Plus has a 12 MP camera, but it has a larger FOV than the 10-inch model at 131°. One of the newest devices from Meta is the Facebook Portal Go, which is an interesting mix of the regular model and Plus.
When you need to take a video call on the go, the Facebook Portal Go can handle that thanks to a battery with enough juice for 5 hours of video calls. It has the same display as the first-generation Facebook Portal and doesn't have portrait mode. The Facebook Portal Go does have better audio than the gen 2 camera, however, with the same speakers found on the Facebook Portal Plus.
While it doesn't have a touchscreen or even a display, the Facebook Portal TV is one of Meta's more intriguing products. This module turns any television set with an HDMI port into a large video screen. You can use AR filters for some fun, and it has an 8-mic array compared to the 4-mic setup on the other smart speakers.
The Facebook Portal Mini is an 8-inch version of the company's popular device. It's still available to purchase but was discontinued by Meta in 2021 a few years after its introduction.
Facebook Portal Mini - Smart Video Calling 8" Touch Screen Display with Alexa - Black
Easily video call with friends and family using your Messenger or WhatsApp account, even if they don't have Portal.
Keep up with the action. Smart Camera automatically pans and zooms, keeping everyone in frame while you move and talk freely.
Hear and be heard. Smart Sound enhances your voice while minimizing unwanted background noise.
Easily disable the camera and microphone, or block the camera lens with a single switch. All Portal video calls are encrypted.
See and do more with Alexa Built-in. Control your smart home, listen to your favorite music, watch the news, get the weather, set a timer and more.
We earn a commission if you make a purchase, at no additional cost to you.
The Echo Show Family
Amazon has released close to a dozen styles of the Echo Show since it first hit the streets in 2017. Things have changed cosmetically and under the hood since that time, so now you can find pint-sized models alongside the large Echo Show 15.
The newest version of Amazon's flagship Echo is the 3suprd/sup gen Echo Show 10. It has a 10.1-inch display with a resolution of 1280 x 800p and a 13 MP camera for video calling. The smart speaker also has a 3-inch woofer and two 1-inch tweeters. It turns in the direction you're facing as you move around a room, although the smaller version of the Show has better resolution.
The Echo Show 15 is a beastly device sporting a 15.6-inch display. It has a resolution of 1920 x 1080p, but only a 5 MP camera compared to the 10-inch edition. It also doesn't have Zigbee smart hub built-in, although it's wall-mountable and functions in both portrait and landscape modes. It's the only Echo Show that can do that, while the Echo Show 10 is the only model that turns to follow.
Consumers looking for a smaller smart speaker display with just as many features should consider the Echo Show 8. It has a slightly smaller display than the Echo Show 10, but with the same resolution and camera. It has a far more streamlined design that the larger model, making it more suitable for nightstands and smaller locations.
Even smaller is the Echo Show 5, which is on the 2nd generation, like the Echo Show 8. This display is only 5.5 inches with a resolution of 960 x 480p and a 2MP camera. It doesn't have features like Visual ID but is a nice entry-level system in the Echo Show lineup.
Best Smart Display
Echo Show 10
Powered by Alexa, use your voice to control your home including security cameras, doorbells, and lights
10.1" touchscreen display for video calls and content
Motion tracking with auto-framing keeps users in the picture at all times
Zigbee and Matter compatible along with an array of smart devices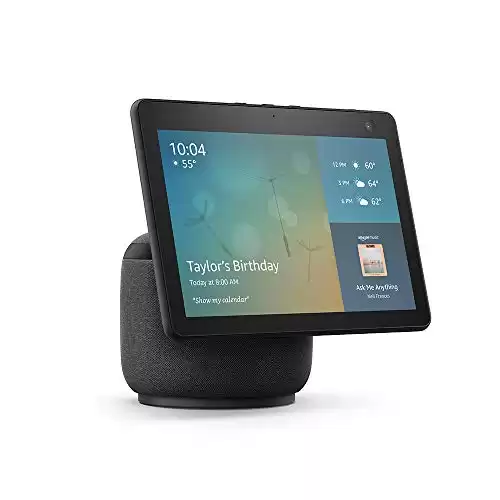 We earn a commission if you make a purchase, at no additional cost to you.
We earn a commission if you make a purchase, at no additional cost to you.
Best Overall Smart Home Device
Echo Show 8 (2nd Gen)
Crisp 8-inch touchscreen display

Smart device support through Alexa

13MP camera

Auto framing
We earn a commission if you make a purchase, at no additional cost to you.
Echo Show 5 (2nd Gen, 2021 release) | Smart display with Alexa and 2 MP camera | Deep Sea Blue
See your day clearly with Alexa at the ready - Set alarms and timers, check your calendar or the news, make video calls with the 2 MP camera, and stream music or shows - all with your voice.
Add Alexa to your nightstand - Ease into the day with a routine that turns compatible lights on gradually. Or wake up to your news update, the weather forecast, and your favorite music.
Manage your smart home - Look in when you're away with the built-in camera. Control compatible devices like cameras, lights, and more using the interactive display, your voice, or your motion.
Connect with video calling - Use the 2 MP camera to call friends and family who have the Alexa app or an Echo device with a screen. Make announcements to other compatible devices in your home.
Be entertained - Ask Alexa to play TV shows and movies via Prime Video, Netflix, and more on the 5.5" screen. Or stream favorites from Amazon Music, Apple Music, Spotify, and others. Subscriptions for some services required.
We earn a commission if you make a purchase, at no additional cost to you.
Please note: As of July 18, 2023, the Echo Show 5 (2nd Gen, 2021 release) | Smart display with Alexa and 2 MP camera | Deep Sea Blue is out of stock on Amazon. If you'd like to purchase this item, check back with Amazon at a later date.
Features and Compatibility
One of the reasons people buy the Facebook Portal or Echo Show is for video calling, even if both devices are capable of doing far more. Both can sync up to smartphone devices in various ways, and allow you to surf the web a bit or load specific apps.
With the Facebook Portal, you'll have access to Facebook Messenger, WhatsApp, and Zoom out of the box. It also has Alexa integration, which shortens the gap between it and the Echo Show. Facebook Portal devices aren't compatible with Skype and calling is tied to select apps, including Messenger and WhatsApp.
Things are more open on the Echo Show given it's an Android-based device. Skype is an option and the star on the Echo Show line, and you can't use WhatsApp. Both companies have updated things to a degree, but you'll want to read the fine print when it comes to compatibility.
Facebook Portal vs. Echo Show: Pricing and Availability
Echo Show pricing begins at $84.99 for the 2nd gen Echo Show 5 and tops out at $249.99 for the Echo Show 15. While the Echo Show 5 is the only one under $100, Amazon has done a great job of spreading pricing out across its lineup.
The most expensive device from Facebook Portal is the Meta Plus with a price tag of $269-299. It's more expensive than the premium model from Amazon, but the Facebook Portal 10 is only $49 on Meta's official site, compared to the Echo Show 10 at $249.99.
Facebook Portal Go is $149, which is comparable to the Echo Show 8 price at $129.99. Meta has Echo beat on pricing, but there's a reason for that.
Facebook Portal vs. Echo Show: Which One is Better?
As we mentioned, Meta is going to discontinue the Facebook Portal as they focus on the business sector and conference calling for these devices. While they will still work, the line is essentially dead from a consumer standpoint.
We have no doubt that Meta will get back into the smart display game eventually, but the Echo Show lineup is a clear winner for that fact alone. You can also count on the latest version of the Echo Show to receive more updates, and they have better quality audio than Facebook Portal speakers as well.
NEXT UP…
The image featured at the top of this post is ©iStock.com/Mario Arango.