Key Points
Ford F-150 Lightning is the first real work-ready electric truck on the market, with towing capacity up to 10,000 pounds.
VW Scout EV Truck is a recent announcement with limited information on its performance and capabilities.
Ford F-150 Lightning has a range of 230 miles, while the upcoming Chevy Silverado EV can achieve over 400 miles on a single charge.
Ford F-150 Lightning is already available for purchase, while the VW Scout EV Truck won't be released until late 2025.
Ford F-150 Lightning starts at $51,990, while the pricing for the VW Scout EV Truck is still unknown.
Which electric truck wins between the Ford F-150 and the VW Scout EV Truck? Ford made waves by providing the first real work-ready truck with an all-electric drivetrain. While competition is just now starting to make it to the market, they've had a substantial headstart.
VW isn't really known for providing all-terrain work-ready trucks. However, the recent announcement of the Scout imprint's revival has led to some speculation about an upcoming SUV and truck using an all-electric powertrain.
Does VW have what it takes to challenge Ford head-to-head with an electric truck? This shootout plans to get to the bottom of it. After all, if you're planning on buying an electric truck, it helps to be aware of what you're getting.
Ford F-150 vs. VW Scout EV Truck: Side-by-Side Comparison
| | Ford F-150 Lightning | VW Scout EV Truck |
| --- | --- | --- |
| Price | Starting at $51,990 | Estimated to be $40,000 |
| Horsepower | 452 horsepower (with the standard-range battery) | Rumored to be around 300-400 horsepower |
| Range | 230 miles | Speculated to be over 400 miles |
| Towing Capacity | 7,700 pounds with the standard-range battery, 10,000 pounds with the extended-range battery | Unknown |
| Fuel Economy | Combined 54 miles per gallon equivalent (observed) | Unknown |
| Charging Port | J1772 | J1772 |
| Battery Capacity | 98 kWh | Unknown |
| Torque | 775 lb-ft | Unknown |
The Ford F-150 Lightning benefits from being on the market for a number of years. As such, there is hard data for its performance. The VW Scout EV Truck is a recent announcement, so most specs are based on the scant details provided by Volkswagen.
Ford F-150 vs. VW Scout EV Truck: What's the Difference?
Now that the broader specs are out of the way, it's time to take a deeper dive into these two EVs. The 2023 Ford F-150 Lightning is the production model for this comparison.
Performance
Ford really proved to everyone what a real working EV could look like with the initial release of the F-150 Lightning. The electric truck is capable of towing over 7,000 pounds with just the standard battery. If you opt for the higher-capacity battery, you can tow around 10,000 pounds.
This isn't like the usual towing either, the acceleration is smooth and strong. You aren't going to notice the trailer hitching or the vehicle struggling to get the torque it needs. This is thanks to the all-electric powertrain developed by Ford.
Ford's F-150 Lighting isn't short on torque and provides an ample supply regardless of the battery chosen.
The VW Scout EV only has speculation about what the overall performance of the truck will be like. Given Volkswagen's track record, you could readily expect around 300 to 400 horsepower, depending on how the vehicle is designed.
Towing capacity and the like are currently unknown; the Scout imprint isn't really being pushed forward as a fleet or work vehicle.
Range
Ford's electric truck has a fairly decent range. The standard battery can coax 230 miles off a single charge. Opting for the more expensive long-range battery pack extends this out to 320 miles. This isn't the best, especially when looking at what the next generation of electric trucks has to offer.
The F-150 Lightning's range suffers supremely when towing anything. You'll notice a sharp and sudden decrease in the overall range of your EV when hauling a trailer.
Chevy's upcoming Silverado EV can easily get over 400 miles off a single charge. The range could be the one area where the VW Scout EV Truck can really excel.
Now, Volkswagen has been making strides in more efficient power delivery. Its future lineup is filled with electric vehicles with ranges well over 300 miles. Consequently, this could lead to VW being an industry leader in terms of range.
Expected Release Date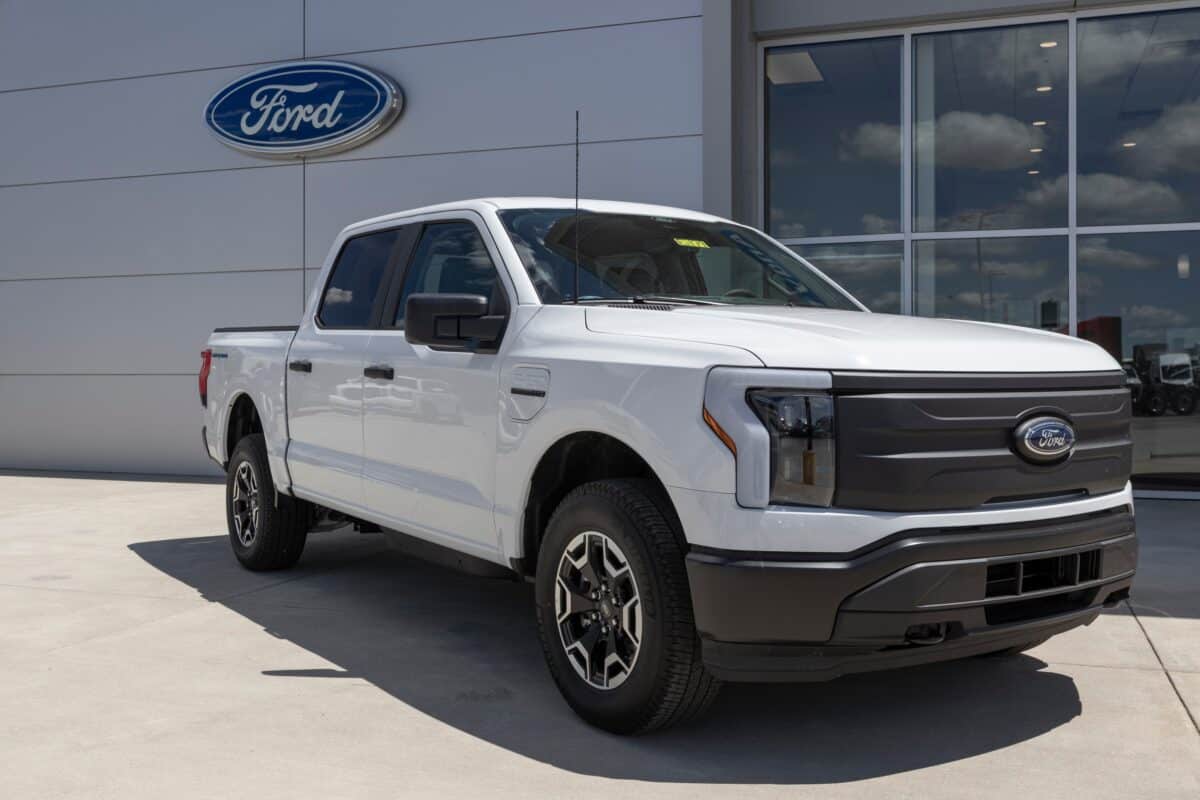 The Ford F-150 Lighting is already on the market. You can even find used models readily available. The electric truck has been one of the more popular EVs to emerge out of the recent push toward renewable fuel sources.
Ford is due for a product refresh, which will likely see a release at the end of this year. It isn't really known what improvements or changes will be made for the latest F-150 Lightning, but Ford has been steadily refining its EV line.
The VW Scout EV Truck isn't available for purchase anytime soon. While the announcement is still fairly recent, consumers aren't likely to see one at dealerships until late 2025.
VW is developing an all-new infrastructure for handling the new Scout imprint. As such, it'll be a little while before customers can get behind the wheel of the planned SUV and truck.
Pricing
Ford's F-150 Lightning starts at $51,990, which is fairly middle of the road. This is for the basic trim level and the basic capacity battery. Adding the extended-range battery readily adds another $10,00 to the price tag.
The F-150 Lightning gets into luxury car territory fairly easily, with the Platinum Extended costing $93,900 out the door.
It isn't known what pricing VW is targeting with the Scout EV Truck. Some automotive journalists and experts have speculated it could cost below or around $40,000. This would place it well below the F-150 Lightning and more in league with the upcoming Silverado EV.
That said, it is impossible to assign a price to a vehicle that exists as a handful of images and press junkets. Time will tell if the Scout EV Truck is an affordable electric truck.
Ford F-150 vs. VW Scout EV Truck: 6 Must-Know Facts
The F-150 Lightning has a very spacious front trunk ("frunk") for storing cargo.
The F-150 Lightning uses the same body and chassis as the normal F-150.
The F-150 Lightning greatly benefits from the Extended Range battery option.
The Scout EV Truck is VW's first electric truck on the market.
The Scout imprint is going to exist as its own entity, much like Audi and Porsche.
The Scout EV line is going to be manufactured in South Carolina.
Ford F-150 vs. VW Scout EV Truck: Which One Is Better? Which One Should You Choose?
So, which of these EVs is the real winner of this comparison? You can actually go down to your local Ford dealership and purchase a F-150 Lightning. That alone puts it above the VW Scout EV.
Now, the Scout EV is likely going to be a reliable and dependable vehicle when it is officially launched. However, with details being so sparse it is a little harder to tell what VW plans to do with the Scout imprint.
The F-150 Lightning has had plenty of time to be used and abused in work and daily driving contexts. It isn't the perfect electric truck, but it is one of the first viable options on the market. As such, it comes heavily recommended if you're looking for an eco-friendly vehicle capable of doing some real work.
Otherwise, keep your eyes peeled for more details on the VW Scout EV, hopefully, everyone is able to get a better grasp on what the vehicle can do in the coming months.
The image featured at the top of this post is ©Mike Mareen/Shutterstock.com.