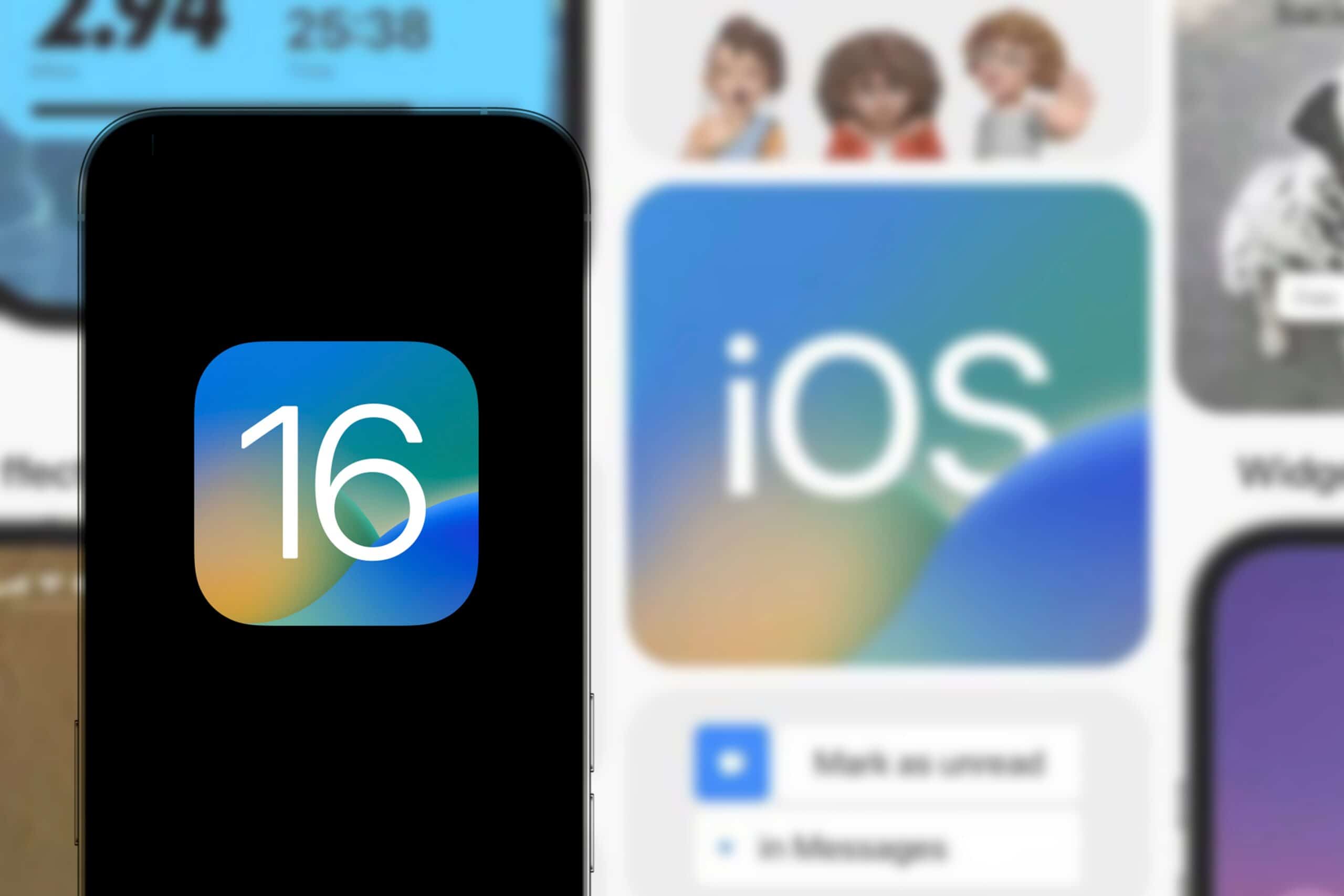 After some rigorous beta testing with some highly publicized new features, Apple has officially released iOS 16.2 and iPadOS 16.2. Released December 13th of 2022, iOS 16.2 and iPadOS 16.2 make some key improvements to certain security measures and bring some fun new apps and additions to the table, as well.
It's the second time Apple has released one major update for iOS 16 and iPadOS 16 before — iOS/iPadOS 16.1 — but 16.2 feels different. Let's break down everything to do with Apple's iOS 16.2, paying close attention to all the fun new features included in the download.
Everything New in Apple's iOS 16.2
Let's go over everything new in Apple's iOS 16.2, giving plenty of space to each new feature and describing why it matters. From its new apps to its much-needed security upgrades to its minor bug fixes and beyond, this is everything that'll be brought to your iPhone and/or iPad when you download this newly released OS.
Freeform
Apple describes the new Freeform app as a way for friends, colleagues, and professionals to collaborate together on creative projects. Dubbed a "flexible canvas" (but, honestly, just a virtual whiteboard), the Freeform app presents users with the ability to share files, images, stickers, and even illustrations with a shared network of users.
Similar to something like Google Docs, the Freeform app is a space for multiple people to collaborate together on a project in real-time. Staying true to its name, the Freeform app offers a space for total creative freedom on its flexible canvas.
Sing
Not to be confused with the animated movie series of the same name, the new Sing feature is an ingenious new feature for Apple Music. Allowing listeners to turn down the vocals on a track, the Sing feature gives you the ability to automatically turn every track into an instrumental track.
Couple this with the on-screen lyrics provided by Apple Music, and you've got an instant karaoke night whenever you please. No need for a designated machine or artist-supplied instrumental track whatsoever. The vocal track volume is as adjustable as your standard volume, allowing you to choose the ideal levels.
Apple Music's new update also makes key improvements to the lyrics feature. Now, lyrics can be set to appear beat by beat instead of line by line. This makes karaoke even easier. (Or, if you don't feel like putting on a performance, the beat-by-beat feature works just as well for simply reading along with the lyrics as you listen.)
Sing has been one of the most-hyped features since iOS 16.2 entered beta testing in the summer of 2022, and now that it's here, Spotify can probably expect to see a number of subscribers leaving their service for Apple Music.
Security Improvements
Apple is constantly making security enhancements and improvements with little micro-updates in between its more major ones. For example, iOS 16 and iOS 16.1 saw mini updates in the form 16.0.1, 16.0.2, 16.0.3, 16.1.1, and 16.1.2.
However, Apple's iOS 16.2 brings several more major updates to its device security than any of these minor updates. Cybercriminals and hackers will do whatever it takes to get through Apple's industry-leading cybersecurity measures, so these frequent security improvements are more than necessary.
Apple's iOS 16.2 brings with it even more iCloud security than ever before. Now, iPhone users can stretch the number of protected iCloud data categories to 23. With this, users can now implement end-to-end encryption for their iCloud Backups, their Notes, and their Photos.
With this, more of your most private info will remain encrypted — even if there's a cloud data breach. This is in addition to a number of other little security improvements, such as AirDrop's new automatic default to "Contacts Only" to prevent any unwanted AirDrops from strangers and pranksters alike.
Lock Screen Updates
The new and improved lock screen was one of the biggest surprises of Apple's iOS 16 debut in September of 2022. Now, Apple has continued to make little tweaks here and there to ensure it's running as seamlessly as possible.
Naturally, Apple's iOS 16.2 brings further updates to this still-new lock screen look. Firstly, iPhone 14 Pro and iPhone 14 Pro Max users can now hide their wallpaper and their notifications when their Always-On display is enabled.
Additionally, users can now add the Sleep and the Medications widgets to their lock screen, making it easier for users to see this specific info.
Other New Additions
While most of the major new additions have already been said, there are some other little things that Apple's iOS 16.2 brings to the table worth mentioning. Game Center now supports SharePlay, meaning group FaceTime callers can play games together.
Game Center's new Activity widget also lets users share their stats and achievements with friends on their lock screen or home screen. There's also a new Live Activities widget through the Apple TV app. This widget lets you track live sports scores on the lock screen (or, for iPhone 14 Pro and iPhone 14 Pro Max users, right in the Dynamic Island).
There's more. Your smart home accessories now receive more reliable and efficient communication from your Apple devices. You can now search for animals, vehicles, people, or text in your iMessages by typing in keywords to the search bar.
Apple's iOS 16.2 also brings a new iCloud Private Relay setting, Turn Off Hide IP Address, to let users temporarily shut off the feature on specific sites when using Safari. The Weather app now shows relevant region-based info and articles right in the app. Furthermore, Notes adds Participant Cursors to show you who's making updates on shared notes.
Minor Bug Fixes
Naturally, Apple's iOS 16.2 also makes an assortment of minor bug fixes. There's always likely to be something somewhere that somebody missed in the development stage. Apple always appreciates receiving tips and suggestions from beta testers.
But, inevitably, some bugs make it through the cracks and end up being released in a full-fledged update. Apple's iOS 16.2 squashes a number of these bugs, ultimately making the iOS better, safer, and more functional than it was before. It might not seem like it, but bug fixes are one of the most important parts of an iOS update.
What About iPadOS 16.2?
In addition to all these new features and fixes in Apple's iOS 16.2, there are some iPad-exclusive things to discuss, as well. Though much of what's included in iOS 16.2 can also be found in iPadOS 16.2, these new additions can be found only on iPadOS.
Stage Manager
The Stage Manager feature allows iPad users to organize their apps and home screen so that they can remain free from clutter and distractions while working. With iPadOS 16.2, compatible devices can now support external displays with as much as a 6K resolution.
What's more, iPad users can drag and drop both windows and files from the iPad to the external display and back again. iPadOS 16.2 now supports as many as four apps per display for a total of eight across the iPad and external display. These new additions take a useful feature and make it even better than before.
General Additions and Improvements
iPadOS 16.2 also delivers a number of basic additions and improvements exclusive to the iPad. For instance, the new Tracking Notifications feature lets you know if a person's stolen or missing AirTag is in your vicinity.
What's more, Multi-Touch gestures have also been tweaked and improved for use with the Zoom accessibility feature on the iPad. These general additions and improvements come in conjunction with the aforementioned bug fixes of Apple's iOS 16.2. All in all, both iPhones and iPads will come out on the other side of the update looking and functioning better than ever.
Apple's iOS 16.2: Compatible Devices
As the first iOS to drop support for the iPod Touch, the devices listed below are the only devices compatible with iOS 16.2.
iPhone 8
iPhone 8 Plus
iPhone SE (2nd generation)
iPhone SE (3rd generation)
iPhone X
iPhone XR
iPhone XS
iPhone XS Max
iPhone 11
iPhone 11 Pro
iPhone 11 Pro Max
iPhone 12
iPhone 12 Mini
iPhone 12 Pro
iPhone 12 Pro Max
iPhone 13
iPhone 13 Mini
iPhone 13 Pro
iPhone 13 Pro Max
iPhone 14
iPhone 14 Plus
iPhone 14 Pro
iPhone 14 Pro Max
Apple's iPadOS 16.2: Compatible Devices
The following iPad models can all support iPadOS 16.2.
iPad (5th generation)
iPad (6th generation)
iPad (7th generation)
iPad (8th generation)
iPad (9th generation)
iPad (10th generation)
iPad Air (3rd generation)
iPad Air (4th generation)
iPad Air (5th generation)
iPad Mini (5th generation)
iPad Mini (6th generation)
iPad Pro 9.7-inch
iPad Pro 10.5-inch
iPad Pro 11-inch (1st generation)
iPad Pro 11-inch (2nd generation)
iPad Pro 11-inch (3rd generation)
iPad Pro 11-inch (4th generation)
iPad Pro 12.9-inch (1st generation)
iPad Pro 12.9-inch (2nd generation)
iPad Pro 12.9-inch (3rd generation)
iPad Pro 12.9-inch (4th generation)
iPad Pro 12.9-inch (5th generation)
iPad Pro 12.9-inch (6th generation)
How to Download Apple's iOS 16.2
Downloading Apple's iOS 16.2 (and iPadOS 16.2) is actually remarkably simple. Oftentimes, your Apple device will even do the update automatically while you sleep with your iPhone or iPad plugged into the charger.
If you'd like to do the update manually, however, here's what you need to do. These steps will work no matter if you're on an iPhone or an iPad.
Step 1: Go to Settings
To begin, go to your device's Settings app. This can be found via the home screen or by swiping down on the home screen and searching "settings" in the search bar. Once there, tap the tab labeled General.
Step 2: Go to Software Update
Once in General, scroll down until you see the tab labeled Software Update. Tap this, at which point you'll be taken to the appropriate page to update to Apple's iOS 16.2.
Step 3: Download and Install Apple's iOS 16.2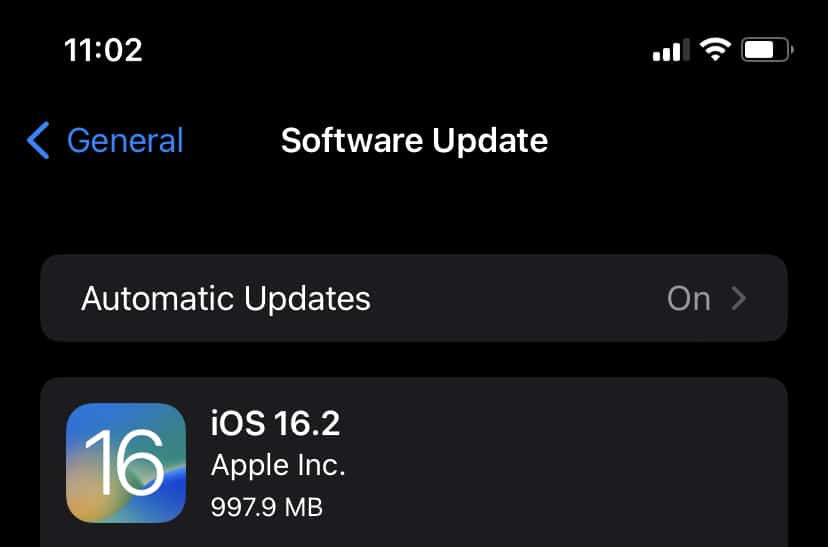 Now, once on the Software Update page, you'll be greeted with a rundown of Apple's iOS 16.2. The page will give you two options: Download and Install Tonight, or Download Now and install overnight.
Determine which option is best for you, then make your decision. The device will then ask for your passcode, then prompt you to read and accept or decline the terms and conditions of the update. After you accept, your device will move forward with the option you chose. It's that simple!
When Will iOS 16.3 Enter Beta Testing?
Typically, Apple wastes no time getting out the beta version of the next software update following the official release of the latest iOS upgrade. As a matter of fact, many beta testers had their hands on Apple's iOS 16.2 before iOS 16 had even been officially released. With this in mind, beta testers can safely assume they'll have their hands on iOS 16.3 before the end of this week.
Apple has a number of previously announced upcoming features that didn't make their way into iOS 16.2 — including the Advanced Data Protection feature for international users, Apple Pay Later integration, Security Keys, an Apple Pay Savings account, and more — that beta testers can hopefully expect to see in the iOS 16.3 beta. As soon as we know more, you can be sure to find the info here.