In the world of automobiles, SUVs gain more popularity every year. So it's no surprise that almost every vehicle manufacturer now has a crossover or full-size SUV option. There are so many types of SUV brands that choosing the best one can get confusing.
Today's SUVs have so much technology you'll think you're on a science field trip. Of course, you'll get just about every comfort and safety feature you desire:
USB and wireless device charging
Infotainment systems with large screens and hands-free control
Automatic high beams
Panoramic moon roofs
Drive mode select options
Big wheels
Increased viewing range
Rugged styling
You can get everything from a smaller SUV on a car chassis to a luxurious ride that your whole family (plus the annoying neighbor kid) fits into. But, first, let's delve into the major SUV brands available today.
Luxury SUV Brands Available Today
When it comes to the types of SUVs, you can't get cushier than these luxury road yachts. Drive in style and comfort with every accessory you could want in an SUV brand available today. Leading luxury types of SUVs include the following brands and models.
BMW Types of SUVs
BMW is synonymous with beauty and style in premium vehicle manufacturing. And their SUVs are no different. However, they don't call them SUVs. Instead, BMW manufactures SAVs, Sports Activity Vehicles.
The company's ultramodern luxury cars have all the latest technology and safety features to keep your family arriving in elegance.
BMW X1 through X7
BMW X3 M through X6 M
BMW iX and XM
Other Luxury Brands of SUVs
Other strong competitors in the luxury SUV market include:
Cadillac Escalade ESV
Infiniti QX80
Jeep Grand Wagoneer
Land Rover Range Rover Autobiography LWB 7
Lexus GX
Lincoln Navigator L
Lincoln Aviator MT midsize
Mercedes GLA, GLB, and GLC SUV
Mercedes G-Class SUV
Crossover SUV Brands Available Today
Crossover SUV brands available today drive and they feel more car-like than truck-like. In addition, they're among the smallest SUVs, so they get more fuel economy than some of the larger SUV versions.
While crossovers aren't explicitly made for off-roading, they can reasonably handle a gravel road. So, you can still take your family to remote camping spots. But don't expect to take the crossover types of SUVs onto super rugged backroads.
Drivers appreciate the all-weather functionality of crossover SUV brands available today. They'll handle torrential rains and slushy snow while keeping your passengers safe on the road. Crossovers generally have front-wheel drive, with all-wheel drive (AWD) as an option.
Some of the most popular crossover brands of SUVs are listed below.
Dodge Journey
Honda CR-V
Jeep Renegade
Kia Sportage
Land Rover Defender
Mazda CX30
MINI Countryman
Nissan Murano
Subaru Crosstrek
Toyota RAV4
Mid-Size SUV Brands Available Today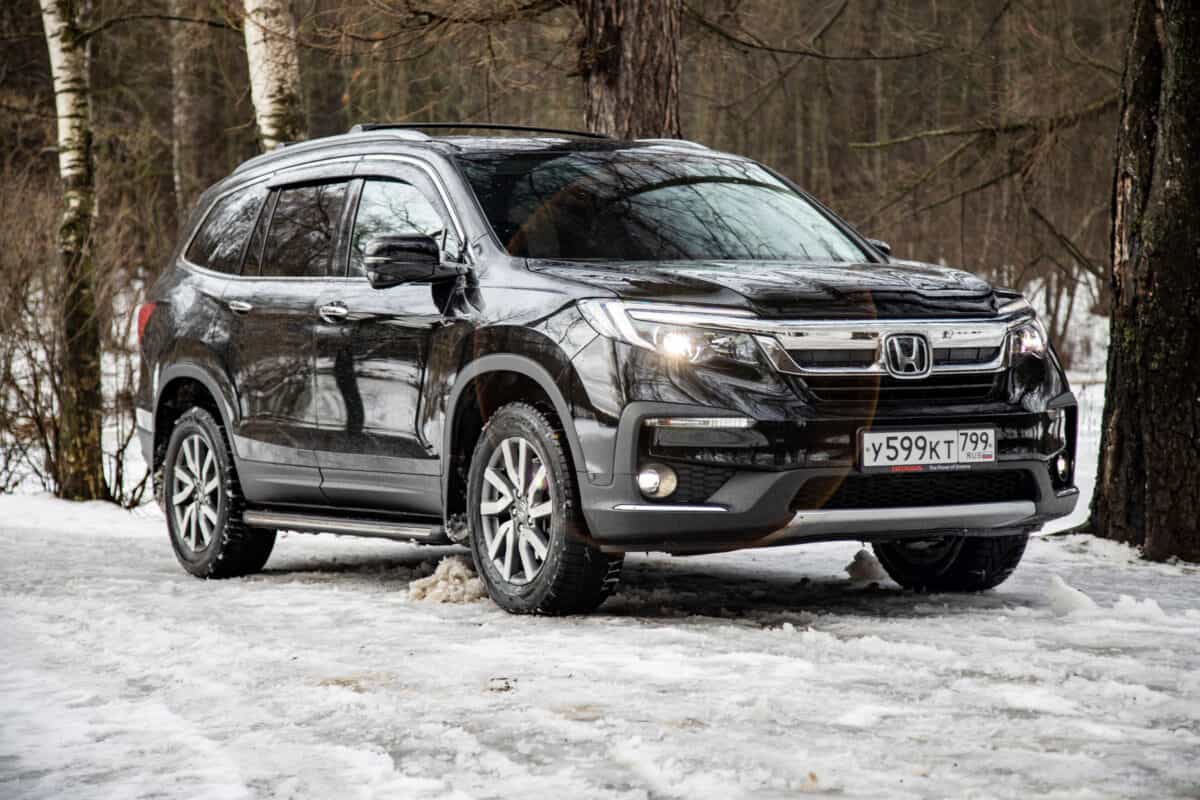 Mid-size SUVs use a truck-like platform to handle rougher terrain than crossover SUVs. Additionally, because they're larger than their smaller counterparts, you'll have more cargo space in mid-size SUV brands available today.
The cargo space is a crucial difference between sedan vehicles and SUVs. Rather than separately enclosed trunk space, an SUV has cargo space readily open to the vehicle's interior. So your passengers can simply reach behind the rear seat to grab a sandwich from your cooler on long road trips.
Some mid-size types of SUVs offer up to three rows of seats, but the back row often only has legroom for smaller passengers. These vehicles don't handle the road as smoothly as smaller crossovers but offer more passenger and cargo space. So it's a trade-off.
Types of Mid-Size SUV Brands
Here are some major mid-size SUV brands and models available today.
Chevrolet Blazer and Traverse
Ford Escape, Bronco, and Explorer
GMC Acadia
Honda Pilot
Kia Telluride M and Sorento
Mazda CX-9
Nissan Murano
Subaru Ascent
Toyota 4Runner
Volkswagen Tiguan S and Atlas
Full-Size SUV Brands Available Today
Full-size SUVs are the most truck-like of all types of SUVs. You can haul an RV for family vacations or a trailer filled with landscaping supplies for your next yard project.
These SUVs are taller, so the driver's visibility increases over smaller vehicles. Their height also makes it easier for elderly passengers to step into a full-size SUV rather than lowering (our parents have been known to plop) themselves into smaller cars.
Full-size SUVs provide increased traction for poor road conditions, but their sheer size makes them more challenging to maneuver. You may have difficulty parking these large vehicles in smaller garages. And, unfortunately, this type of SUV has the highest rollover potential during a crash due to its high centers of gravity.
On the other hand, full-size SUVs have powerful engines to transport your large family. And many major SUV brands available today compete for the best safety features and standards to get you and your passengers anywhere without worrying.
Full-Size SUV Brands
Here are some of the major full-size SUV brands and models available today.
Audi SQ7
Buick Enclave
Cadillac XT6
Chevrolet Suburban
Chevrolet Tahoe
Ford Expedition MAX
GMC Denali
GMC Yukon XL
Hyundai Palisade
Jeep Wagoneer
Lexus LX
Nissan Armada
Toyota Sequoia
Hybrid SUV Brands Available Today
Hybrid SUVs team hybrid electric motors with combustion engines for excellent gas mileage and powerful performance. In addition, plug-in hybrids give you SUV ruggedness and a combination of all-electric or gas engine driving.
In plug-in hybrids, you'll get about 30 miles of all-electric driving. But don't worry about the distance because the gas/electric hybrid engines extend your range.
City drivers will also appreciate driving in the HOV lanes usually reserved for carpools since hybrids and electric cars get preferential treatment in many urban areas.
Regenerative braking converts your wheel's energy into electricity, which it stores in the battery for later use. But that's not the only hi-tech feature. You'll also experience the latest vehicle technologies, like digital keys and wireless device charging.
Hybrid SUV Brands
Here are some major SUV brands and models available today for hybrids.
BMW X5
Dodge Hornet
Hyundai Tuscon Hybrid and Santa Fe HEV
Jeep Wrangler Sport Hybrid
Kia Sportage and Sorrento Hybrids
Lexus RX
Maserati Grecale GT
Subaru Solterra and Crosstrek Hybrid
Toyota Highlander Hybrid MT, Sequoia, and Venza
Volvo XC40, XC60, and XC90
Electric SUV Brands Available Today
Tesla brought electric cars to the forefront of vehicle manufacturing discussions on environmentally friendly driving. Today, you'll find stiff competition in the electric SUV market.
BMW Electric Types of SUVs
BMW brings technology and luxury together in its midsized electric SUV. As a result, you'll get the cutting-edge performance that BMW owners expect in an electric car.
The xDrive 50 gets up to 307 miles per charge, so you can drive around town or confidently take a road trip. Charge faster at home with BMW's Wallbox, or charge up on the road with two years of complimentary Electrify America on-the-go charging. These 30-minute charges will give you about 200 more miles of range.
BMW iX Sports Activity Coupe xDrive 50
BMW iX M60
Hyundai Electric Types of SUVs
Hyundai ups the electric SUV game with its increased awareness of all things eco-friendly. For example, Hyundai uses sustainable-sourced materials for its seats and soft furnishings. So, you'll find eco-processed leather that gets its color from flaxseed oil.
Other cabin soft furnishings come from sustainable fibers made from used PET plastic bottles, sugar cane bio components, and wool yarns. These electric cars strive for eco-friendliness from top to bottom.
Other Electric SUV Brands
The image featured at the top of this post is ©KateStudio/Shutterstock.com.