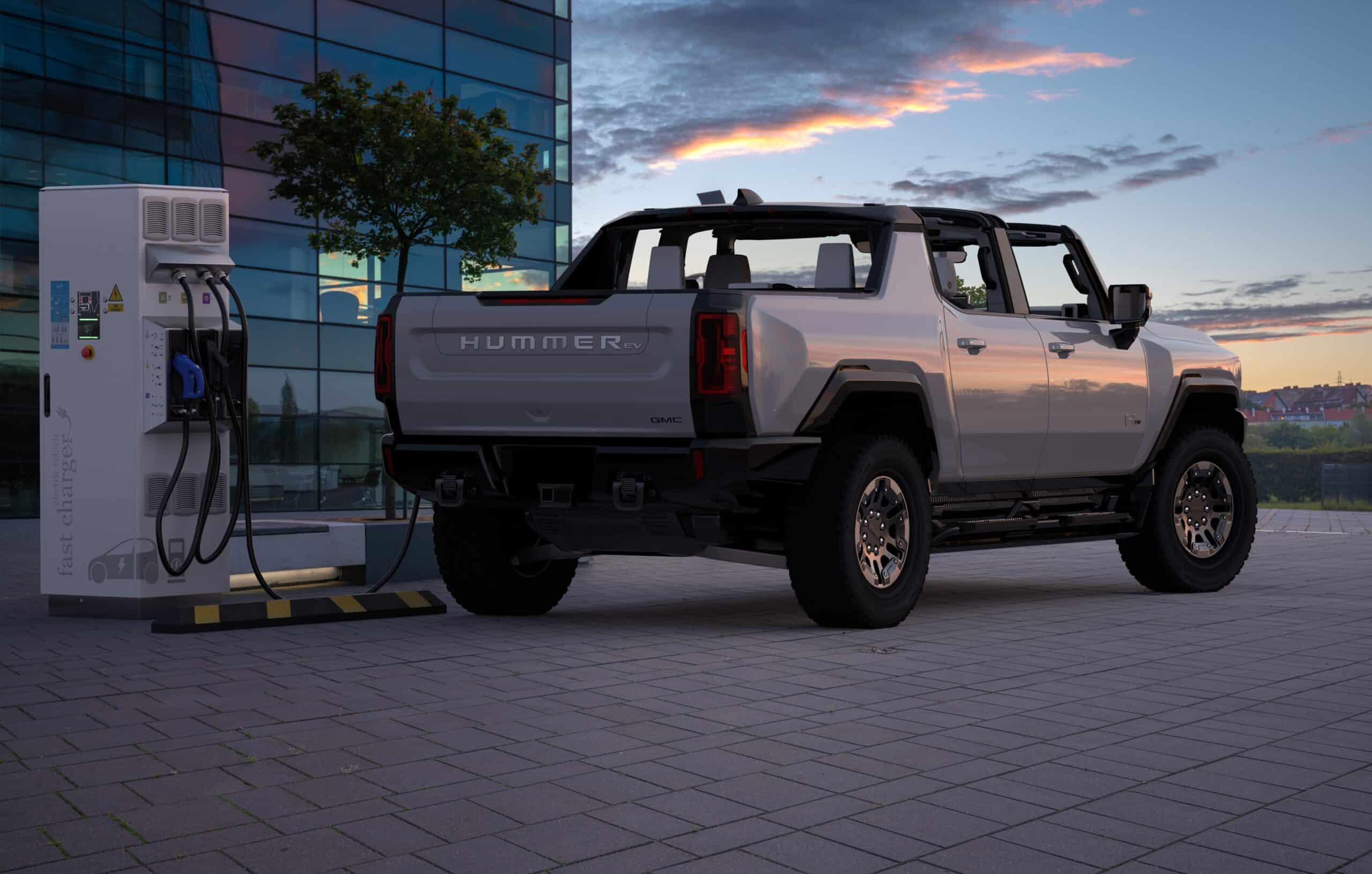 EV pickups are growing in popularity because of their ability to combine the utility of a truck with the environmental friendliness of an electric vehicle. Trucks are thought to be the best delivery vehicles. As technology advances, many improvements have been made to EV trucks.
As a result, these trucks have fantastic features that set them apart from the competition. These cars are robust, reliable, and enjoyable to drive. They can also maneuver through mud and dirt.
These enormous beasts can rocket from 0 to 60 mph at rates equal to, or even better than, the fastest EVs on the market. Here are our top picks for electric trucks and pickups that have premium features, offer a variety of amenities, and are distinctive in their style.
Hummer EV
A mighty monster, the HUMMER EV pickup can go more than 300 miles on a single charge. The Hummer EV's best feature is its ability to "CrabWalk," or travel diagonally in some fashion.
Given how much the outside of the Hummer EV resembles the classic HUMMER, it isn't easy to imagine that this enormous car is an EV. The most extreme model, the HUMMER EV Edition 1, boasts 1,000 horsepower and a towing capacity of 7,500 pounds. 
It's uncommon for HUMMER to rebrand itself as a maker of electric vehicles. GM might have electrified an existing brand instead of revitalizing one that's never been associated with efficiency. Yet, the outcome is an electric car that is both enjoyable and robust. 
Ford F-150 Lightning
Ford's decision to produce an electric version of its conventional F-150, a bestseller in North America for the past 40 years, is a significant step. Ford offers two battery pack variants for the F-150 Lightning: a 98.0 kWh unit with a range of 240 miles and a 131.0 kWh unit with a maximum driving range of 320 miles. 
Models with the smaller pack generate 452 horsepower, while those with the larger one generate 580. The latter configuration also gives the truck a 10,000-pound towing capacity.
The exterior and interior styling of the F-150 Lightning is not particular to the model. However, some features, like the front light bar, are unique to the truck.
Rivian R1T
The Rivian R1T can pull around 11,000 pounds and travel up to 300 miles before recharging. That explains why it's ranked higher than other trucks, although it has a payload of 1,760 pounds.
The impressive list of specs on this truck should be enough to let you know that you're dealing with a top-quality vehicle, but the affordable price of $69,000 makes it clear that it's a fantastic mid-range choice for the ordinary driver.
Despite its relatively small size, the R1T is incredibly fast, reaching 60 mph in 3.3 seconds. The interior is also impressive, with a huge touchscreen controlling its features. Overall, the R1T is an awesome truck.
Ram 1500 Electric
The third-most familiar truck brand in America, Dodge Ram, will soon be available in electric vehicle form. Given that many electric Ram ProMaster models are already available on the European market, don't get misled by the claim that this is a brand-new, revolutionary model. 
You probably weren't aware that none of these are the original Ram Electric Vehicles; instead, they are customized versions of the company's standard trucks. 
Since the Ram 1500 EV's battery packs can store up to 200 kilowatt-hours of electricity, giving it a range of more than 500 miles, there's no reason to doubt its expected performance. It has 1341 horsepower and can tow up to 10,000 pounds.
Ram has yet to adopt the Cybertruck approach fully. Still, it has stuck out a little more than its top rivals, providing a futuristic-looking design that clarifies that this isn't just another Ram.
Atlis XT
The Atlis XT is a powerful pick-up truck with a maximum payload of 5,000 pounds and a towing capacity of up to 20,000 pounds. It has a fair price of $45,000.
The Atlis XT's long driving range and quick charging features make it a contender for the best electric pick-up truck. Range anxiety or the dread of power running out is a typical worry for EVs. But, the XT largely allays this worry with a range of up to 300 miles. 
Even more remarkable is the XT's ability to charge quickly. Atlis says you can attain a full charge in 15 minutes. The charging time is faster than most EVs' on the market today.
Alpha Wolf
The Alpha Wolf is another good option. It has a towing capacity of more than 7,000 pounds and a charging range of roughly 250 miles. It's fantastic because it means you won't have to worry about having to go to the next big city every several days to recharge your car. If you live in a more remote area, this is very helpful. 
Another model is anticipated to be available by the end of 2023. This one will propel the company to new heights if all goes as planned.
Hercules Alpha
The Hercules Alpha is unquestionably an intriguing alternative. Its towing capacity of 12,500 pounds more than makes up for its low load capacity of just 2,500 pounds. The 300-mile range on a single charge is more than sufficient for convenience. 
The Hercules Alpha is generally described as rugged, though the interior has luxurious materials, daring designs, attractive displays, and unmatched features with exceptional attention to detail. 
Canoo Pickup Truck
The Canoo Pickup Truck's creators promise that it will give the Dodge A100 and Volkswagen Transporter a run for their money, and early signs suggest this might be the case. The Canoo pick-up is projected to draw more customers than the competition, despite being specially created with significantly fewer "conventional" lines than its rivals and a ton of innovation.
It sports a front gate resembling something from an 80s science fiction movie and a cab-forward design that eliminates the usual hood. The Canoo Pickup Truck is scheduled to debut in 2023 and boasts a range of 200 miles per charge. The 600-hp truck has a towing capacity of 7700 pounds and a payload of 1800 pounds.
GMC Sierra EV
Although the GMC Hummer packs enormous strength, it doesn't meet the expectations of its brother, the Sierra EV. By the end of 2023, this car will rule the market. 
The Sierra EV truck will give drivers a remarkable 400 miles of range with its 754 hp. It can tow 10000 pounds and has a payload of 1300 pounds. 
The starting price for the 2023 GMC Sierra EV truck will be around $55,000, while the top-of-the-line Denali will cost $75,000 with the largest 200 kWh battery pack and most powerful motor combo. 
Tesla Cybertruck
This list would appear incomplete if we didn't feature the Tesla Cybertruck. Despite its peculiar looks, the Cybertruck is unquestionably one of the most futuristic vehicles ever made available to the public. 
Looking at the prototype, the flat stainless steel plates that make up the Cybertruck are not painted. This reduces production costs, making it simpler to construct. Also, new triangular mirrors weren't included in the concept.
The taillights are housed within a single light bar, and the tailgate is flat. Also being tested is a new electronic tonneau cover for the bed.
The interior is what you might anticipate for Tesla. There isn't much else besides the enormous screen in the middle. The steering yoke for the Cybertruck is absent. In its place, there's a square-shaped steering wheel with two spokes.
Final Thoughts
A few years ago, there were no options for pickup truck drivers who wanted to switch to EVs. Now, they have a few options, and more are coming. These trucks can hold an electric charge for a good range, making daily tasks easy. 
Several automakers that have already shown they can produce and market automobiles have hinted that they will eventually make electric pick-up trucks. So, expect more technologically advanced EV trucks in the future.