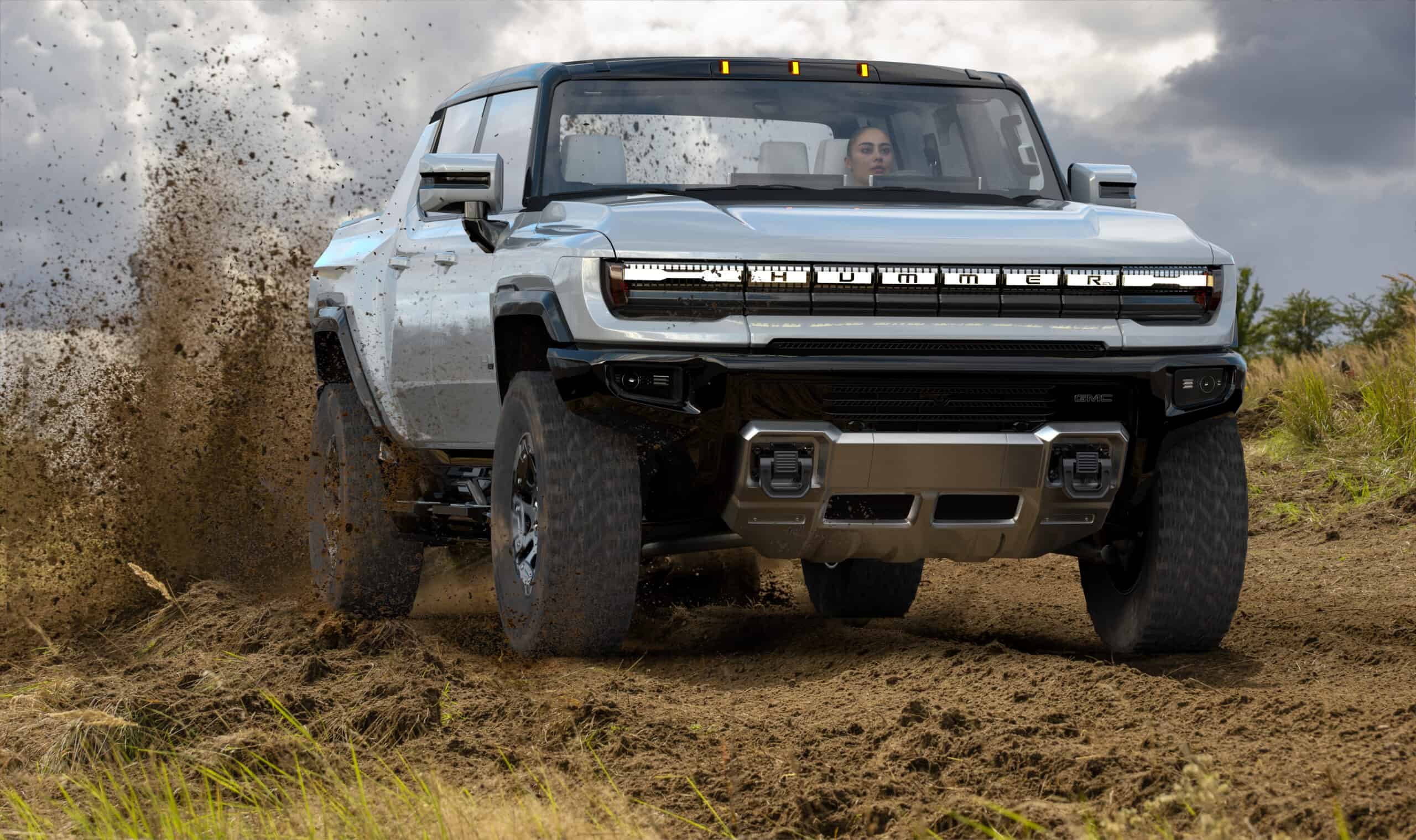 Key Point
While gas and diesel-powered pickup trucks have long been considered the standard for power and performance, the recent growth of the EV market has shown that electric trucks can have just as much (if not more) utility as their gas counterparts.
When buying an EV truck, it's important to consider factors like power, battery range, tow capacity, and charging times to find the right model for your needs. Also remember that EV trucks are still fairly new to the market, so they tend to cost more than traditional trucks and have a wait time of years from announcement to release.
Our top choice for EV trucks is the 2022 Rivian R1T, which offers a nice balance of performance, range, and power at an affordable price.
Pickup trucks were traditionally made to be rough vehicles with significant horsepower and durability as they were for farm work or industrial purposes. Due to their large engines and fuel consumption, trucks were a significant representative of petrol power, so an EV truck may sound a bit weird at first.
Over the past few years, brands have implemented the concept of a highly capable workhorse EV with significant range and performance capability. These will do everything the former trucks did and even more in terms of utility. Some of these models are scheduled for release, while others are still in the pipeline.
Best overall: Rivian R1T
Best budget option: Alpha Wolf
Best payload and towing capacity: Atlis XT
Best for performance: GMC Hummer EV
Best range: Tesla Cybertruck
Best Overall: 2022 Rivian R1T
The R1T was initially announced in 2018, though the first deliveries are slated to be made in late 2022. Considering the concept was proposed so early, it is one of the models that kick-started the electric truck trend and ranked highly in every department.
Exterior-wise, the Rivian has a futuristic aesthetic featuring a light bar across the front and two oval stadium headlights. The rear also has a single light bar to complete the signature Rivian look. 
Rivian gave the pickup a quad motor system, producing 835 horsepower and 908 pounds per foot of torque, so it goes from 0 to 60 within three seconds. The company also claims the R1T can tow 11000 pounds and has a payload capacity of 1760 pounds. These figures are impressive, yet the R1T is only priced at $67,500. 
Best Budget Option: 2023 Alpha Wolf
The Alpha Wolf is one of the future EV models, slated to be released in 2023. Like the Bollinger, the Alpha Wolf has opted for a retro look as it resembles an 80s Toyota pickup. The sharp edges, spaced-out headlights, bull bar, and roof-mounted lights give a futuristic but mad max theme.
The Wolf will cost an estimated $36,000, which is well below the average pricing for EV trucks. Others, like the Rivian and the F-150 lightning, average at $70,000, so the Wolf will most likely be the cheapest EV truck for some time.
The Alpha Wolf will have a towing capacity of 6,724 pounds and a range of 275 miles. One of the probable reasons for its economical pricing is the Wolf is a bit smaller than the competition. Alpha Motor also claims the Wolf will have a digital center display, driver-focused digital speedometers, and multi-layered center console storage. 
Best Payload and Towing Capacity: 2023 Atlis XT
The Atlis XT was also announced a while ago in 2019 and is set to be released in 2023. Sporting boxy and simplistic lines, the XT has a distinctively intimidating look that is popular within the truck segment.
Atlis says the XT will produce 600 horsepower and 12,000 pounds per foot of torque hence the utility capacity. It will also tow up to 35,000 pounds using a 5th wheel and have a 5000-pound payload capacity which will be the highest recorded for an electric vehicle.
The cherry on top of the cake is the 250 kWh battery which can be fully charged in 15 minutes. At the base level, the XT will have a 300-mile driving range, though Atlis claims the highest trim will be capable of 500 miles per charge. It will cost customers $45,000 when released to the market.
Best for Performance: 2023 GMC Hummer EV
The GMC Hummer EV is an ironic comeback considering the previous iteration was one of the least fuel economic models in the market. However, GMC retained a few characteristics like the off-roading ability and upgraded the power.
While Hummer's previous 6.2 liter V8 produced 393 horsepower, the three-motor Hummer EV makes 100 horsepower. That means an acceleration to 60 miles per hour in 3.3 seconds and a government-limited top speed of 106 miles an hour. The Hummer will be able to charge 100 miles of range in 12 minutes and achieve a range of 300.
Though production has already begun, the first Hummer EV models will be available in 2023. Like the previous petrol-powered Hummer, this is one of the more expensive EV truck models as the Edition 1 package is priced at $110,295.
Best Range: 2023 Tesla CyberTruck
When Tesla revealed the CyberTruck, there were mixed reactions from the market. The wild-looking electric vehicle has a polarizing design that looks both like the future and the past.
It looks a bit like the 80s DeLorean, but there are more cool features, including bulletproof bodywork and no exterior cameras. At the highest level, the Cyber-truck will achieve a 500-mile range. Tesla claims it will produce 800 horsepower and go from 0 to 60 within 2.9 seconds.
The CyberTruck will also come with full self-driving software with modifications for the truck. Tesla has priced the CyberTruck at $39,900, making it one of the more economical truck options in 2023.
How To Pick The Best EV truck: Step by Step
Electric vehicle trucks are quite new to the market, so it may be hard to know how to pick the best one. A potential approach would be considering the best way to pick a conventional gas-powered truck with the difference it is an EV. Fortunately, you will not have to worry about fuel, but there may be charging costs and vehicle amenities that increase the vehicle's overall price. This is how to make truck shopping easier by narrowing your options so you can get to the right truck.
Prepare to spend more 
Consider EV truck power and range
Assess payload and towing capacity
Charging time
Prepare to wait
Prepare to spend more
One of the first things you might notice when getting an EV truck is that it is more expensive than the average electric passenger hatchback or even SUV. The cheapest EV truck so far is the Alpha Wolf which will retail at $36,000, while others like the Rivian R1T cost almost twice as much at $67,500.
Typical affordable electric vehicles like the Nissan leaf, though only cost $19,900. The difference is that these trucks are meant to perform the same utility as the conventional options. That means they are required to have a lot of power and good range to be effective workhorses, which in turn costs a bit more to produce.
Consider EV truck power and range 
The current electric cars have different driving ranges from 100 to 350, with the sweet spot being 300 miles. Electric trucks are more powerful than SUVs and hatchbacks due to their utility duties. It is because they need to work more effectively than petrol-powered versions.
The Rivian R1T, for example, produces 835 horsepower and achieves a range of 315 miles per charge. The Alpha Wolf may cost less though the tradeoff is a smaller range at 275 miles and a towing capacity of 1,360 kg. Your choice should marry the available power options with the set budget for the EV truck.
Assess payload and towing capacity
It is important to select a truck that fulfills your payload and towing needs. The powertrain specifications have a hand in determining this because a pickup with less horsepower would work harder than the bigger options to move the additional weight.
That, in turn, affects the range, which is important if you plan to charge it only once a day. Those planning on towing a lot will want to look at potent powertrains. Luckily EV trucks are not short in that department, as the GMC EV, for example, produces 1000 horsepower. It makes sense then that its towing capacity is 7500 pounds. However, the Hummer EV does cost over $100,000 due to these amenities. 
Charging time
Electric vehicle charging times are key factors because it determines how long to wait before taking the car out for a full day of errands. Most electric trucks are new or haven't yet reached the market, so they will utilize the latest charging technology. The charging times will probably be on par with the market's best. Rivian claims the R1T will charge from 10 to 80 percent within 42 minutes, for example, while the Hummer recoups 100 miles in 10 minutes. It would be advisable then to select a truck than can fully charge in less than an hour, especially if it is for daily use.
Prepare to wait 
The demand for electric vehicles has increased due to delayed releases and a shortage in the global supply of batteries. Most electric vehicle trucks are still in production. Some are scheduled to be delivered in 2022 or 2023, yet they were announced in 2018 like the R1T.
Anticipation has since increased and caused the public to pre-order the models causing a long waiting list for current customers. The Hummer's waiting list is 17 years at the current production rate considering they already have 70,000 reservations. You may want to consider that while choosing which pickup truck you want in the next year or so.
What To Know before buying EV trucks
Pickups are the next frontier for electric vehicles as they become more mainstream in the market. The other reason why electric cars seem like a good buy is the variety. However, purchasing one can be a daunting task, and there are a few factors to consider before buying an EV truck.
Range 
Range anxiety increases when you have a work truck with several errands to complete before the next charge. You need to purchase a truck with an estimated range of 250 miles and above to be confident enough to complete your daily tasks without recharging.
Home charging options 
The most cost-effective way to charge your electric vehicle pickup is by using a home charging system, which is free to use. The installation costs depend on different factors like the condition of your panel and the distance between the electrical panel and the wall charger. That being said, a 48A Wallbox Pulsar charger with an output of 11.5 kW is priced at $700.
Tax credits
Some governments like the United States, Germany, and France strongly support the use of electric cars through tax credits and other incentives. It is aimed at attracting more electric vehicle customers. In short, you would be eligible for certain tax credits should you buy an electric truck. 
Using EV trucks: What it's Like
By now, it is evident that EV trucks have significant power to achieve their daily tasks, and therein is a built-in advantage. Due to the single-speed transmission available in every electric vehicle, such a truck would provide immediate torque and power.
That would mean accessing 1000 horsepower on command with the Hummer EV immediately you press the accelerator without having to build it from the rev counter. That should be quite the experience. 
Electric trucks also have increased utility, considering you get front trunk space and unique storage compartments. The Hummer EV and Rivian will also come available with tank turning abilities allowing the vehicle to do a 180-degree turn on the spot. These incentives make electric trucks attractive, but there are tradeoffs. Chief among them is the apparently high pricing. It would also be advisable to set up a home charging station rather than rely on public outlets, especially if the goal is to have a farm truck. 
Up Next…
EVs vs. Hybrids – Find out the pros and cons of EVs and hybrids in our extensive guide.
What Are Rare Earth Minerals, Why Do EVs Need Them, and Why Is the Ecology at Stake? – While EVs are considered more environmentally friendly than gas vehicles, they still raise some ecological concerns.
See Every Automaker's Full List of EVs Available Today – Discover which EVs are currently on the market with our complete list.