Pet cameras were invented as a way for animal lovers to keep tabs on their pets while they are away. They range from budget-friendly options to premium models, including the Eufy Pet Camera. This camera is in the premium class, which means it can do far more than the average pet cam.
That's due in part to the company behind the Eufy Pet Dog and Cat Camera—Anker Innovations. Eufy is a sub-brand under Anker's umbrella along with Soundcore, Nebula Bolder, and Roav. While the brand got its start on Amazon, you can now find their products through retailers like Best Buy, Target, and Walmart.
With that in mind, the Eufy D605 is considered an investment by most homeowners—not just a simple gadget. In our Eufy pet camera review, we're going to break down all the key factors of this high-tech pet camera, like performance, pricing, and features, while comparing it to the competition.
Best Deal Today
Eufy Pet Camera D605 Overview
The Eufy Pet Camera D605 isn't your average pet cam. Read on for a comprehensive breakdown of pricing and what to expect in the device.
Release Date and Price 
Eufy has launched a range of cameras, but the D605 is their first dedicated pet camera. It began to appear online in July 2021 with a retail price of $199. It has remained a top seller on every site where it's listed.
This camera is also sold in bundles alongside other Eufy products. Pet water fountains and Security Solo IndoorCam, which can double as a pet video camera. Unless you catch it on sale, the price of the Eufy D605 has remained the same since its release.
Eufy Pet Camera Features
With close to a hundred pet cameras available today, it can be challenging for brands to make an impact in the market. One way they accomplish this is through features, something the Eufy pet camera has in ample supply.
The video camera on the Eufy Pet Camera provides 1080p video with 2.5x zoom. It's capable of a 360-view, despite only having 270 degrees of rotation, courtesy of a wide-angle lens and smart tracking technology.
The Eufy camera has detection for humans and pets. It can even send you notifications if your dog goes on a barking spree or gets a case of the zoomies while you're away.
The camera has night vision capabilities, and while your furry friend can't see you, they will be able to hear you. The Eufy Pet Camera D605 has 2-way audio, so you can listen in on your pets and they can listen to you. The audio capabilities serve a dual purpose on this pet camera as well.
This pet camera can dispense treats on command, including any commands recorded in your voice. You can add three customizable commands to the D605. It tosses the treats at three different distances and has an anti-clog design. That's a bonus, and so is the dishwasher-safe treat container.
Whether you want to save a cute video of your pet the camera captured or you need to get a better idea of their behavior, storage is key. There is 16GB of storage space on this pet camera; Although, it is fixed at 16GB, and it's not expandable through a micro SD card slot. It provides up to 2 months of storage according to the company.
Connectivity
When you have a device that relies on connectivity, it's important to take a closer look at those specifications. The Eufy Pet Camera utilizes an app from Eufy, so you'll need a stable Wi-Fi connection wherever you set the camera up.
According to Eufy, the D605 will only work on 2.4 GHz Wi-Fi networks. It uses Bluetooth for the app but is not wireless despite what some Eufy pet camera reviews imply. With no battery backup, you'll need to ensure it's located in a place where it can stay plugged into a wall outlet.
As for the app itself, it has an array of useful features. You can set up two zones for your pets or take a look back at the day through Doggy Diary. It works with Android and iOS devices, but there is no Alexa or Google Home integration at this time.
Eufy Pet Camera D605: Specifications
| | |
| --- | --- |
| Size | 5.7 x 5.7 x 12.44 inches |
| Weight | 4.13 lbs. |
| Range of Motion | 270 degrees |
| Video | 1080p |
| Audio | 2-way half-duplex |
| Expandable Storage | No |
| Onboard Storage | 16GB |
| Connectivity | 2.4GHz Wi-Fi, Bluetooth |
| Subscription Required | No |
| Warranty | 12 months |
Eufy Pet Camera D605: Review
From a design standpoint, it's hard to find a more stylish option than the Eufy Pet Camera D605. It won't take up a lot of space on a countertop and certainly won't look out of place in your home, considering it won the iFdesign Award in 2022.
The design works for both dogs and cats while producing a minimal amount of noise when tracking. Consumers felt that the night vision capabilities weren't gimmicky and actually provide value. The treat feature works as advertised, and we didn't see any reports of jamming—just keep the size of the treats in mind.
Giving users the ability to send treats flying at three distances is definitely a nice touch. We also like that you can speak to your pet directly whenever desired.
The alerts system is a bit basic compared to combination cameras used for indoor security and pets. It's also expensive when you take a look at alternatives, from PetCube and others.
The Eufy Pet Camera D605 doesn't require a subscription, however, and it's one of the few systems that can entertain and monitor your pets.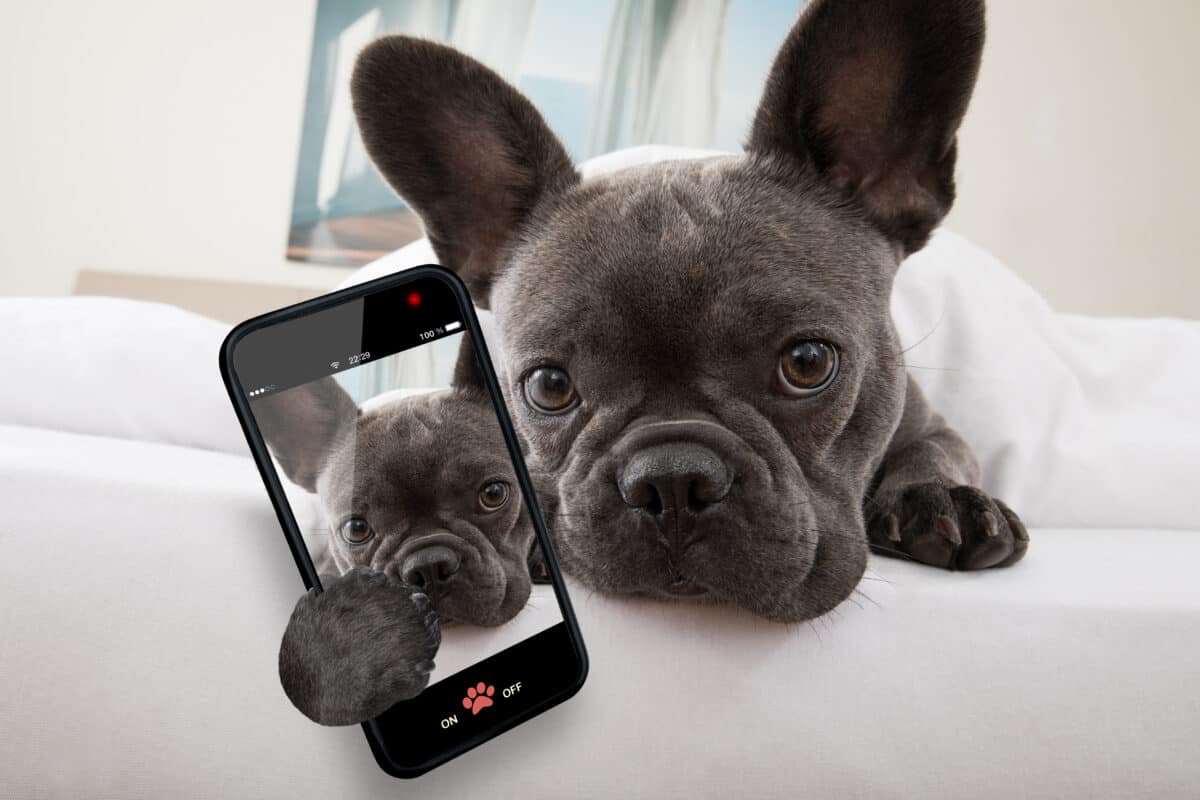 Eufy Pet Camera Pros and Cons
Pros
Dispenses treats and monitors pets
Stylish design
Night vision
Voice commands
FHD video
Cons
High price tag
No voice assistant support
Storage isn't expandable
Buy It If… 
The pet camera niche may be vast, but not many cameras provide a combination of features and styles like the Eufy Pet Camera D605. This award-winning pet cam has gained a large following in a short time, and we love the fact that it functions as well at night as it does during the day.
While the storage is tight, it can hold around 2 months of video. It's also a camera most pets don't seem to mind, considering it dispenses their favorite treats. The Eufy Pet Camera is a great buy if you're looking for a dedicated pet camera that dispenses treats, and you aren't put off by the price.
Don't Buy It If…
Consumers that just need to check on their pets occasionally or aren't quite sold on the idea of a pet camera will want to consider other options. Eufy's pet camera is a great choice, but there are cheaper alternatives that have the same audio and video capabilities. They just won't be able to give your dog or cat any treats.